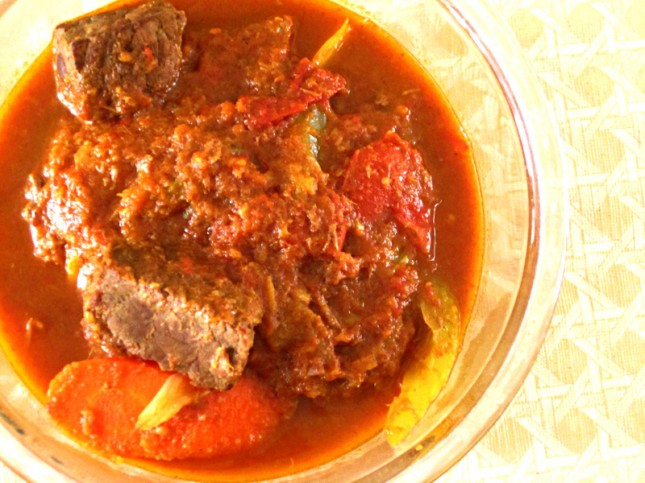 I love making beef stew because it's super simple and you can almost throw whatever ingredients you have in your current pantry. There's no hard rule and stew is pretty much fool proof recipe, I'd say. Besides, if you have a slow cooker, it's the staple dish to make as you can just "set and forget".
However, I am a practical person and I don't have a slow cooker because it just uses too much electricity for cooking a dish (2 hour-4 hour cooking? – Dang my electricity bill will be sky rocketing!) although I don't deny that it does have its own upside as well. For making any stews/soup/braising dish, I opt to my beloved pressure cooker! It cooks tough cut meat in shorter time, like less than 1 hour, 30 minutes tops!
And since I have some herbs and lemon grass from my Southeast Asian Chicken Satay, Satay Sauce, and left over my homemade Tomato Sauce, might as well I use them up to make another dish.
Lemon Grass Tomato Beef Stew
Ingredients:
3 lbs beef rump roast- cut into cubes – trim off all the visible fat
1/2 garlic cloves
1″ ginger knob
1″ galangal root
Chopped onions
3 tsp curry powder
1 tsp chipotle pepper powder
3-4 celery stalks – diagonally chopped
1 big carrot – diagonally chopped
3-4 lemon grass – white part only – bruised
5 small roma tomatoes
2 Tbsp homemade apple sauce
About 1 cup homemade Tomato Sauce or you can use 1 small can tomato paste
1 Tbsp Red Boat Fish Sauce
1 Tbsp coconut oil
4 cubes of frozen coconut milk (about 1/2 cup coconut milk)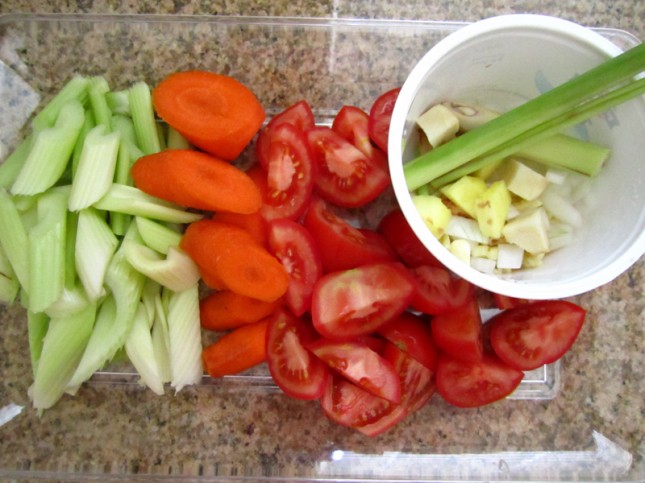 Directions:
1. Blend the onions, garlic, galangal and ginger root until they become a paste – set aside.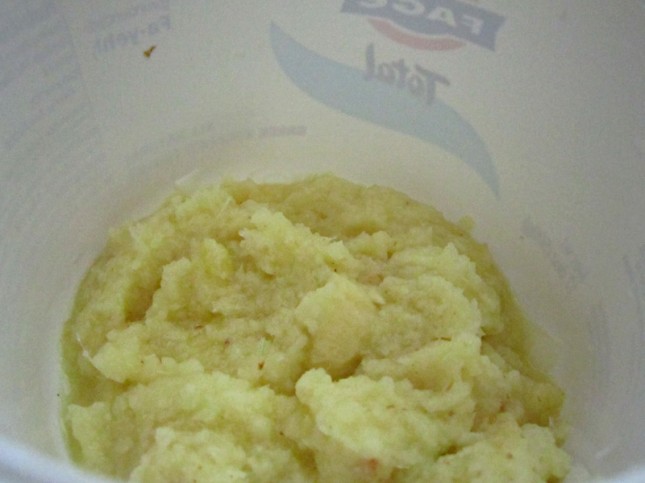 2. Coat the beef cubes with 2 tsp curry powder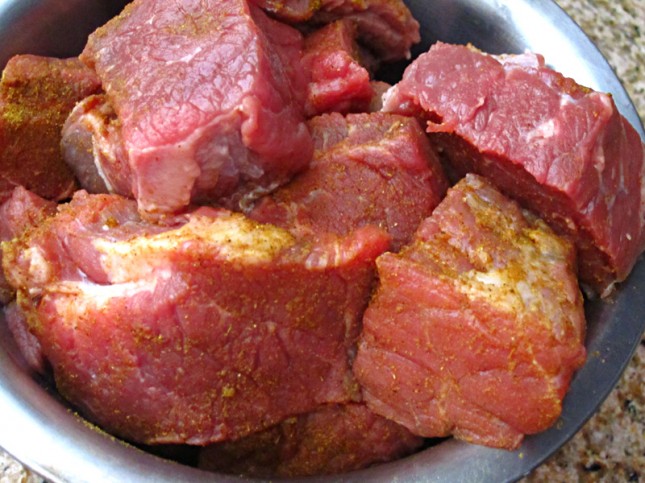 3. Heat the skillet with 1 Tbsp coconut oil in medium heat. Brown the beef cubes on each sides as much as possible. Resist the temptation to flipping them too often. Let them sit a bit so you'll get them nicely browned 🙂 Dump them in the pressure cooker.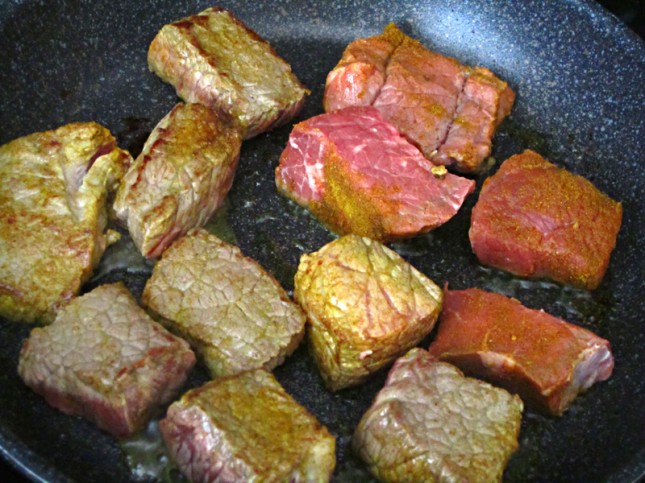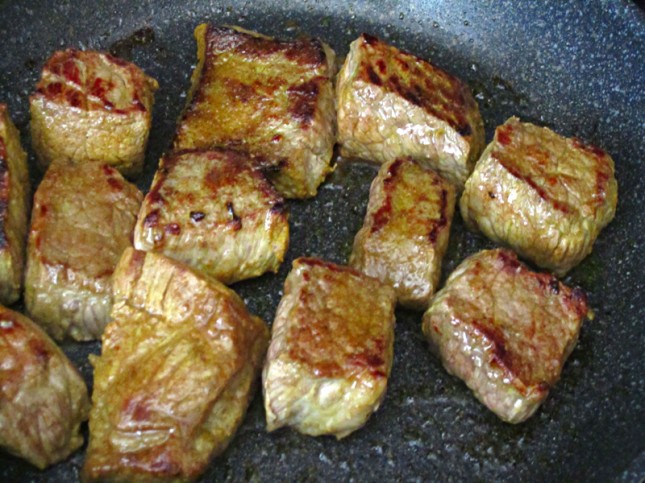 4. Saute the herb paste until fragrant. Dump them with the beef in the pressure cooker.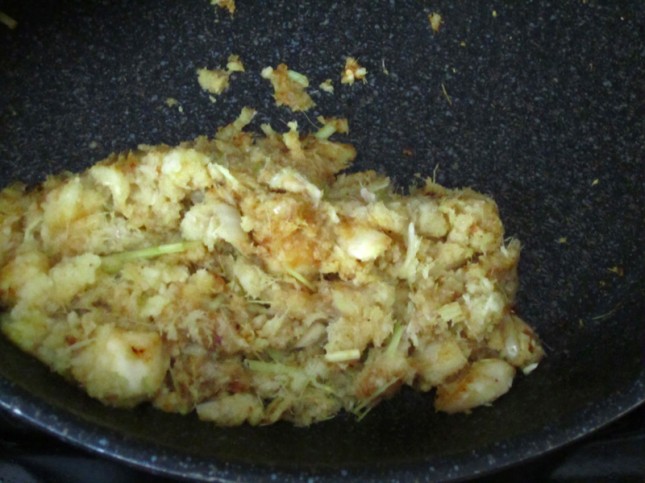 5. Next, dump the tomatoes, tomato paste, lemon grass in the pressure cooker. Add the curry powder, fish sauce, salt, and chipotle pepper powder.


Turn on the heat, cover the pressure cooker and cook on high heat until the pressure is up then lower the heat without lowering the pressure, cook in medium heat for about 20 minutes. Turn off the fire, and let the pressure comes down before opening.
6. After the pressure is down, open the pressure cooker, dump the rest of the ingredients (celery and carrots) and the coconut milk cubes. Adjust the seasoning to taste. Cover and let it cook on high heat for about 5 minutes and turn off the heat.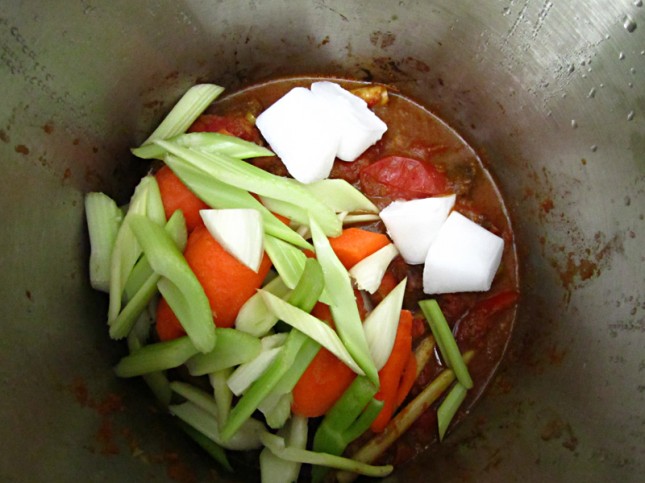 7. After the pressure is down, open the pressure cooker, scoop out the stew and serve with your favorite side dish. This might be good to eat along with kelp (seaweed) noodles! 😀 Too bad I don't have any now, but I might wanna get some now.