Holy smokes! I just realized this week is my last week of Whole30! Time surely flies fast huh?! Strangely, even though I'm getting closer to the end of Whole30 challenge, I don't have the urge to what do I want to have as my treat for Day 31. In fact, I was even thinking to keep maintaining this eating habit as much as I can, unless I got caught in some unexpected situation.
Anyway, today I was pretty productive in the kitchen as both of my kitchen experiments turned out great! More on that later.
I had a decent morning workout and I worked myself up quite good. I know sweating a lot doesn't necessarily mean I work hard, but I know that I did. Plus I also keeping up with my daily 5 unassisted Pistols challenge (which I might want to increase to 10 for each leg).
Post workout/breakfast: 1 skinny purple yam and 2 hard boiled eggs drizzled with Coconut Aminos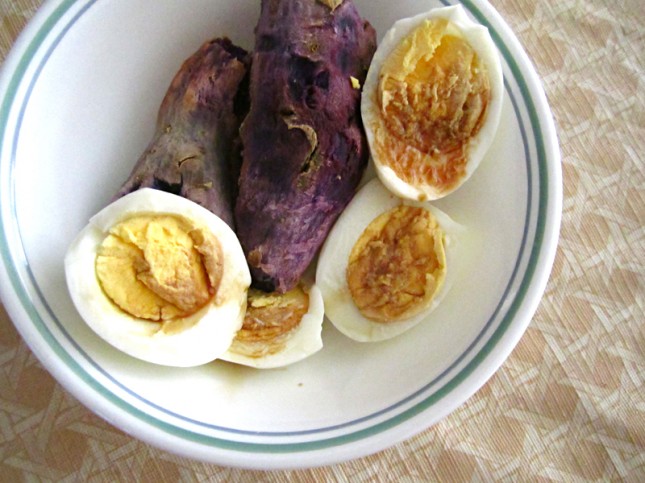 Ok, I'll be honest – after I polished off the entire bowl, I had another 1/2 of purple yam. Couldn't help it, especially watching Hubby K eating the other purple yam right in front of my face!
I was completely strapped of any cooked emergency protein other than eggs and for sure I didn't want to have another eggs for my lunch, so I quickly butchered the whole chicken which I've defrosted for 2 days in the fridge and made Sweet and Sour Braised Chicken, which was super yummy!
With usual steamed veggies (Chinese bok choy this time) and chopped whole avocado, lunch plate was FABULOUS!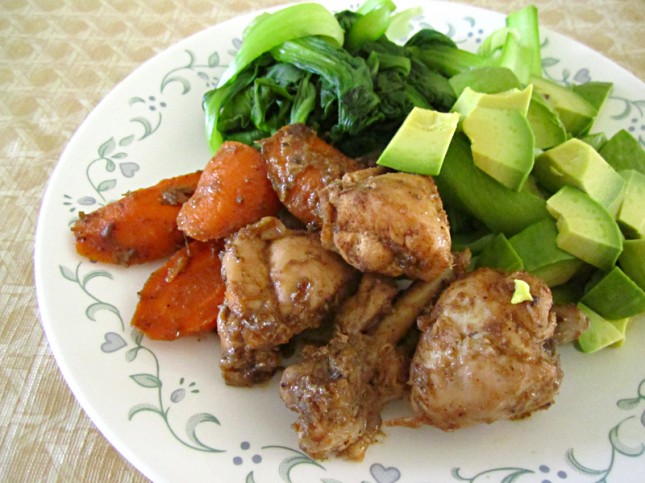 Btw yesterday my Amazon orders arrived and one of them was this gem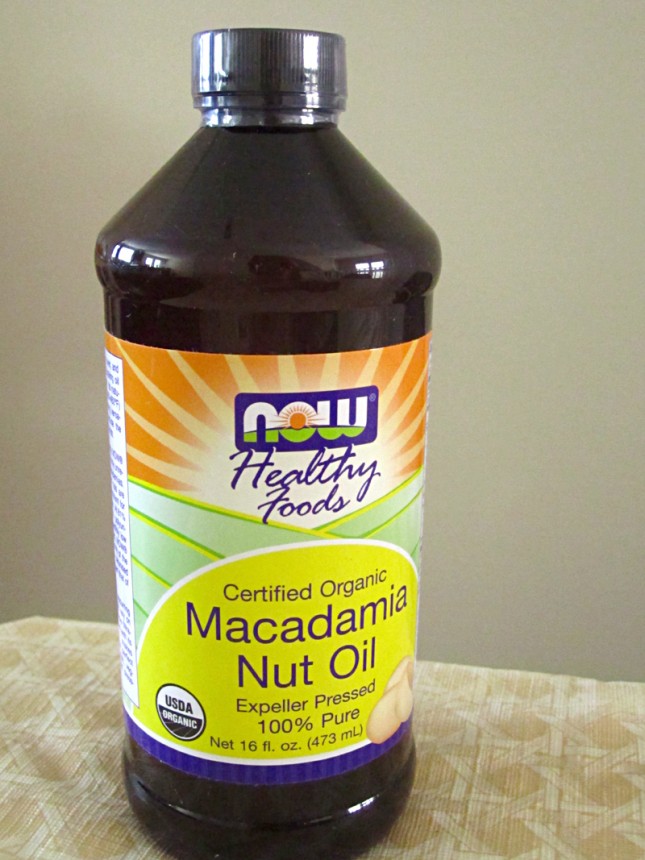 Yes, this oil is VERY EXPENSIVE (even more than coconut oil and avocado oil) but it surely smells very nutty and yummy! It also has a high smoking point (400-450°F) which makes it ideal for stir frying and other high heat cooking. But since it's very pricey, I doubt I'd ever to use it just to make some stir fries. So why did I buy this? Well I need to make a good use of my Amazon card reward points plus I want to try making my own paleo mayo again. Remember the failed paleo mayo I made last time?
I haven't given up! This time I tried Nom Nom Paleo's mayo recipe, which she also used macadamia nut oil. The only adjustments I did was I used all lemon juice (don't have white vinegar), yellow mustard powder instead of dijon and only used 1/2 cup macadamia nut oil instead of 3/4 cup. Dang that thing was super expensive and I tried to savor it as much as possible. Another reason I chose her technique? Because her recipe only used the egg yolk thus I won't have to use so much oil.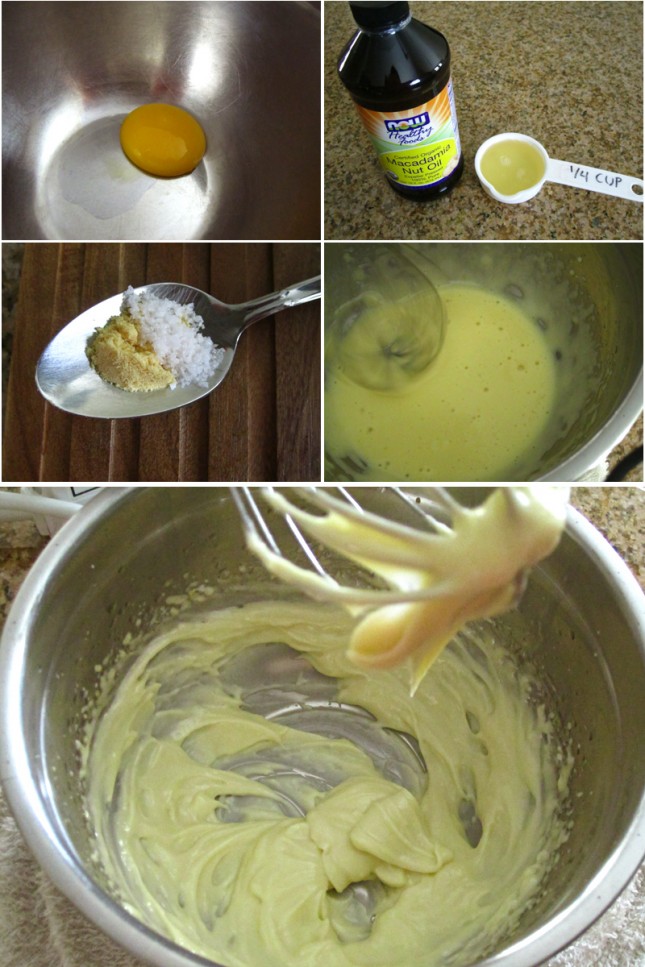 Low and behold, I succeed!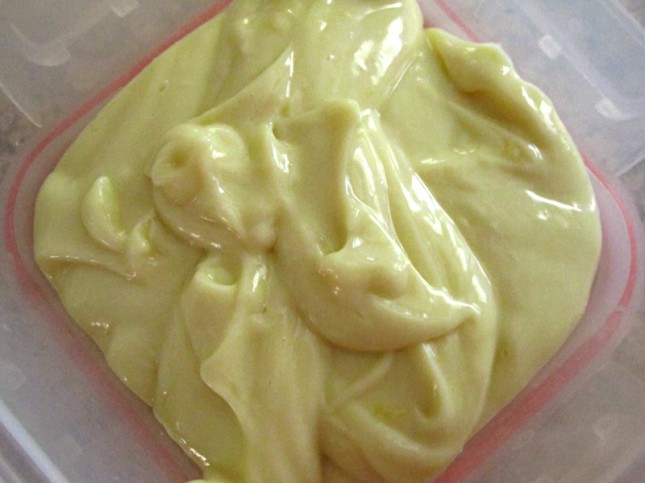 To "reward" myself, I had a yellow peach as my afternoon treat!
For dinner I made another batch of Satay Sauce, but this time I added waaay too much lemon juice so the sauce was SUPER SOUR! My bad also cuz I was too damn lazy to make a batch of apple sauce. *sigh* A store bought unsweetened apple sauce would be great for time like this.
So dinner was a plate of chopped romaine lettuce, Sweet and Sour Braised Chicken pieces, some steamed Chinese veggies and a dollop of SUPER SOUR Satay Sauce. Even though I have a tangy taste buds, but this sauce was waaay too sour..haha.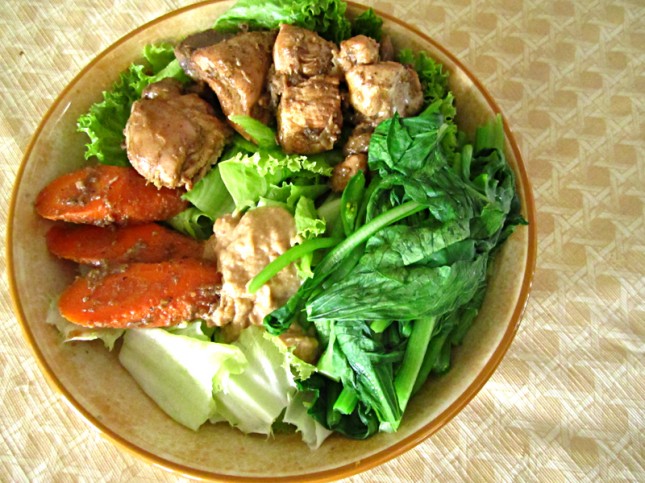 Whole30: Day 26 – I'm glad that Whole30 is almost over not because I can finally eat whatever I want, but because I feel I will have my choices back under my own control again and this time for sure I could make better choices even at the unexpected situation.
Have you made your own mayo?