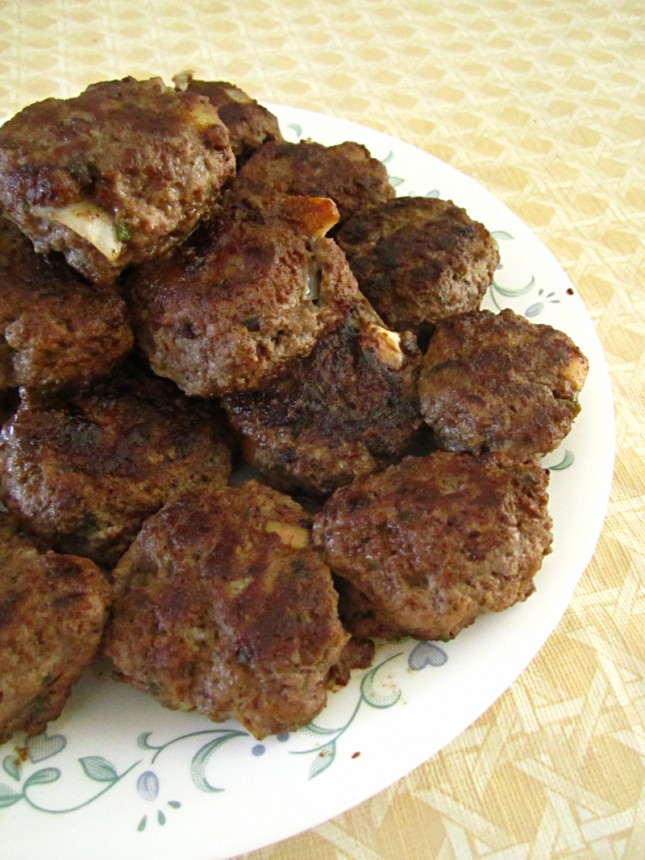 Ingredients:
2lbs lean ground beef (93%/7% ratio) – if using grass-fed ground beef, no need to worry about the fat 🙂
1-2 Tbsp Spicy "Sausage" Seasoning Mix
1-2 tsp ground mixed peppercorns or black pepper
1 Tbsp Red Boat Fish Sauce or 2 tsp salt
1/2 organic cameo apple (mine was about tennis ball size)- chopped
1 Tbsp homemade mayo
1/4 cup chopped white onions
2 Tbsp dried chives
1 beaten egg
Directions:
1. Mix all the ingredients until everything incorporates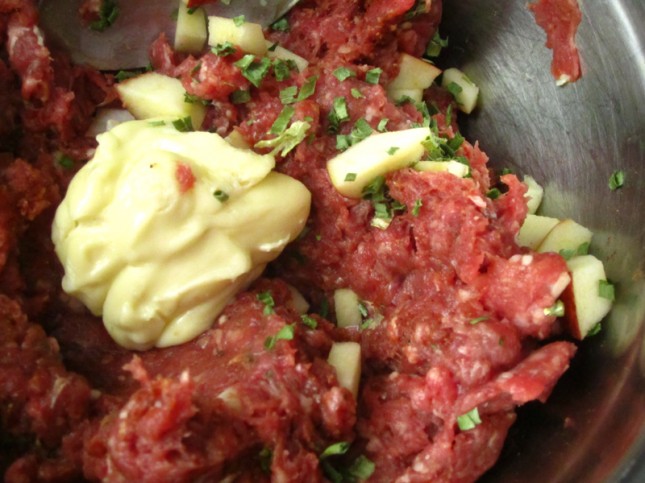 2. Shape into mini burgers (mine were between golf ball and tennis ball size, slightly flatten) with your hands. Do not overworked the patties.
3. Heat the skillet with 1-2 Tbsp avocado oil or coconut oil in medium heat. Pan fry the patties for about 3-4 minutes each side.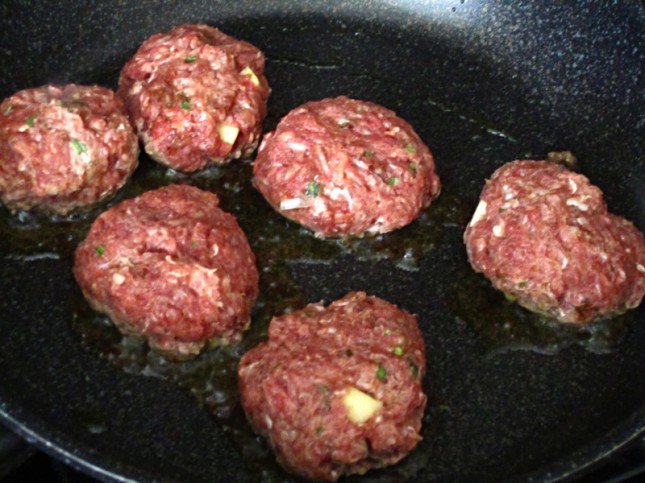 4. As you are cooking, the skillet tends to get hotter so you might need to reduce the heat to medium low to prevent burning your burger patties too quick. While waiting for the other batch cooking, I covered the uncooked patties with plastic wrap to prevent them getting dry.

5. Remove the patties from the heat and let them rest for about 10 minutes before digging in.
Whether you serve them with Homemade Tomato Sauce, wrap them in romaine lettuce or eat them withPortobello mushroom buns to get a real presentation of burger, it's all your choice! Be creative and have fun! There's no limit on how you can enjoy burger patties the Paleo way! 😀