I had been trouble falling asleep for this week (probably since Monday?) and last night was the worst. Even though I was super tired, I just.could.not.fall.asleep…DAMN! There were a couple times something like this happened, but not for straight 3-4 days in a row. I got cranky if I didn't get a good night sleep so today I didn't do any workout at all. When my body wasn't fully rested, it's better not putting more stress to it by pounding some high intensity training.
Speaking of which, there's something that I haven't shared with you all. Remember how I usually have my morning tea with my breakfast/post workout meal every day? Well, I didn't exactly cut out tea until my Whole30 Day 12 (not exactly sure if it's the actual day). So ever since then I stopped drinking tea altogether until I finished this Whole30. I wasn't planning to incorporate it into my Whole30 until one time I figured I might as well cut it out to see if it makes a difference. So now I'm thinking, could it be by stopping my morning tea actually affect my sleep?
But at the same time, it's also that time of the month and today was the time when I got cramps and felt bloated….FUN.
Hm…
Anyway since I got up super late today, I just grabbed half baked purple yam as my breakfast.

For lunch I made Thai Basil & Onions Braised Chicken Drumsticks which turned out FANTASTIC!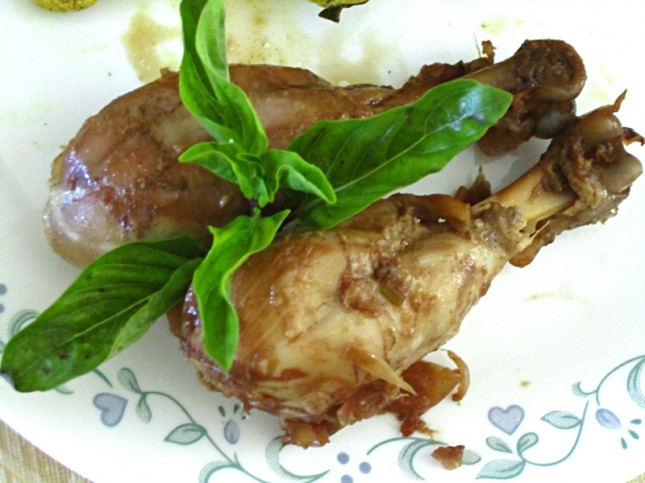 Paired up with Roasted Curried Cauliflower, I happily munched my lunch away.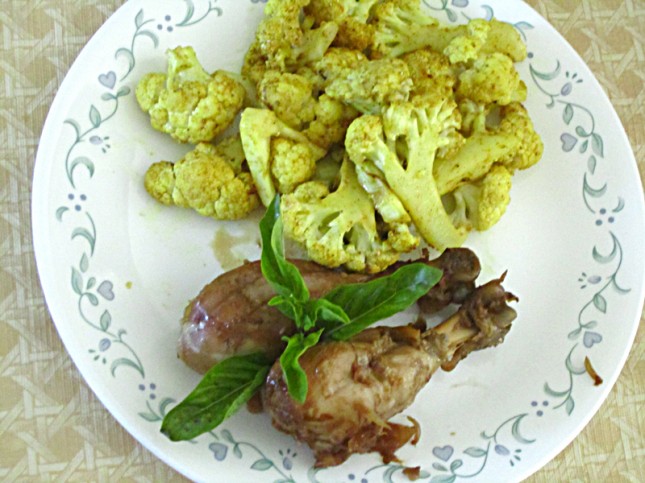 Juicy yellow nectarine as post lunch dessert.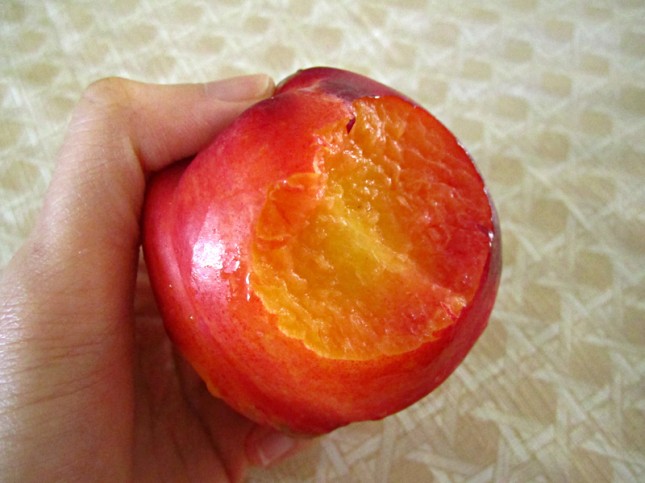 Spent entire afternoon sending out more resumes to job posting (damn I haven't got a single reply from any of the jobs that I applied to recruiters- start to wonder if these postings are just fakes or not). I wasn't feeling good today from the cramps and my stomach felt so bloated..ugh.
But that didn't stop me to experiment with roasting more veggies – this time was an Italian Eggplant. Super simple – slice thinly, sprinkled with salt, pepper and avocado oil – roasted in 400°F for about 15 minutes (flipped once) and then drizzled with Red Wine Vinegar. SO DELICIOUS! I'm totally in love with roasted veggies! 😀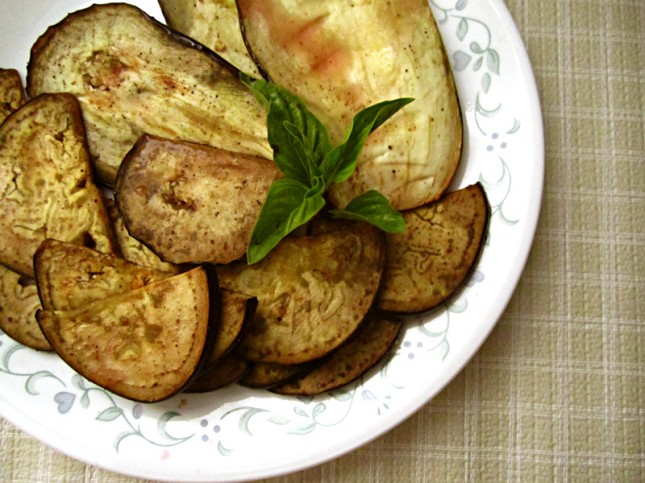 My dinner plate: roasted eggplant with whatever left overs I got in my pantry.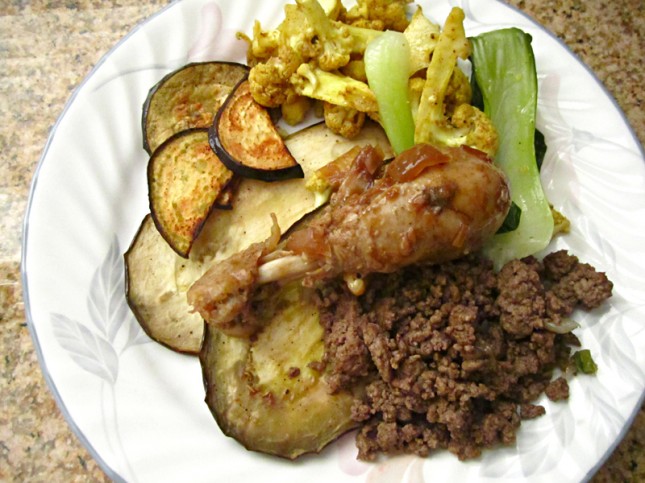 Whole30: Day 21 – Everything is fine until I got this problem for falling asleep. Not sure exactly what's the cause. Stress? Can't think of any. For now I just rule it out as part of my monthly cycle thing.
*Sigh* Hopefully I could snooze well tonight. Wish me luck!