Wait, what, another recipe post?
Yup I've been on the roll! Remember I was talking about how hot the weather recently? So in order to keep me sane, I've also been using my slow cooker. A slow cooker is very handy to have, especially if you need to do batch cooking and you don't have time to baby sit.
This recipe is adapted from Nom Nom Paleo's Thai Curry Chicken. I've tried her way before and it was great and yummy. However I needed to baby sit the chicken in front of the stove until it's done. By the time I was done cooking, I was pretty much drenched in sweat!
So I decided to use my handy dandy slow cooker to make it.
Another adaptation I did was I didn't use any fructose based sweetener (apple juice, honey or any fruit juice). I used Erythritol but I think by utilizing the grated chayote, carrots and onions, the dish has enough sweetness already. Another option you could do is use yam or any winter squash such as banana nut squash or even kabocha like Michelle's (Nom Nom Paleo) original recipe.
Thai Red Curry Beef

Print recipe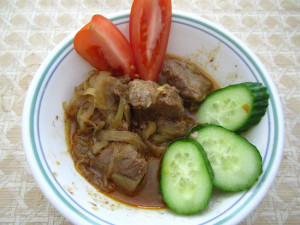 Ingredients
2.3lb beef top round roast
3 tablespoons coconut butter (coconut manna) (I measured as 50gram to be more accurate)
1 cup hot water
6oz carrot (cut into small pieces)
8oz chayote (grated)
1 tablespoon Aroy-D Red Thai Curry Paste
1/2 teaspoon salt
1 tablespoon Red Boat Fish Sauce
1 tablespoon sweetener of your choice (I used Eryhtritol or you can use some sweet potatoes to balance the salty/spicy flavor.)
Optional
Directions
Step 1
Cut the beef into cubes and place in a slow cooker
Step 2

Add in the vegetables that you are using (carrots and chayote) along with onions into the slow cooker

Step 3

Mix hot water with 50 gram (about 3 Tablespoons) Aroy-D Red Curry Paste, fish sauce, salt and stir until everything is combined.

Step 4

Pour in the mixture to the slow cooker.

Step 5
Cover and cook with low heat for 4.5 hours
Step 6

When it's done, take out the beef and the veggies on a dish.

Step 7

This step is optional, but I dislike having watery curry broth so I pour the liquid to a pan and heat on high heat on the stove to reduce it a bit. It takes about 8-10 minutes, depending how thick you want the gravy to be. You could try to adjust the taste while doing this too.

Step 8
When the sauce has been reduced to your liking, pour it back to the dish. Now you could enjoy your homemade Thai red curry beef!
Note
INGREDIENTS YOU MIGHT NEED:
Red Boat Fish Sauce
Aroy-D Red Curry Paste
MACROS:
For Serving size: 8
Approximate macros for 1 serving
Calories: 277
Fat: 15gr
Protein: 30gr
Net Carbs: 3gr