Howdy readers!
It's been a while since I posted a recipe in this blog! Phew. I've been cooking a lot, especially during weekends, since those are the time for me to make batch cooking for the upcoming week.
So in order to keep things simple and keeping myself sane at the same time, I always sought for ways to streamline my kitchen time, especially during this heat! We've been having a very hot and humid weather in SoCal lately, so standing in front of the stove for an extended period time isn't bueno.
Anyway, this recipe is one of my go-to if I need to make a batch of protein dish. It tastes yummy, no need to baby sit a lot and if you are using a convection countertop oven like I do, it won't heat up the house. It's a win win situation!
The base of this recipe is basically tamari (gluten-free) soy sauce and fish sauce, salt, pepper, onions, garlic and ginger. You can experiment with different spices (I used star anise) and herbs (I used basil leaves one time).
The method of this recipe is basically braised the chicken in the oven. The liquid helps cooking the chicken while at the same time letting the flavor seeps into the meat. I have to thank my co-worker who told me about this method.
Enjoy the recipe and let me know if you like it.
Oven Braised Chicken Legs

Print recipe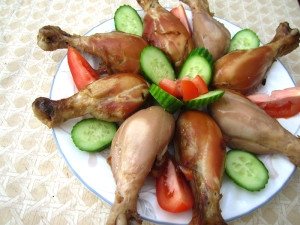 Ingredients
8 pieces bone-in skinless chicken drumsticks
1 teaspoon salt
1/2 teaspoon ground black pepper
1/4 cup tamari soy sauce
1-2 tablespoon fish sauce
3oz onion (sliced)
4 cloves garlic
1oz ginger (thinly sliced)
1/2 tablespoon onion powder
1-2 cup water
Optional
2-3 pieces basil leaves
2-3 pieces star anise
1 tablespoon sweetener of choice (I used Erythritol)
Directions
Step 1
Mix salt and pepper and rub it all over the chicken drumsticks. Set aside.
Step 2
In a deep dish bowl, combine, tamari soy sauce, fish sauce, ginger, onions, garlic, star anise (if using), basil leaves (if using), sweetener of choice (if using) and water. Taste the brine to make sure it has enough taste for the chicken legs.
Step 3

Submerge the chicken legs in the brine, and let it sit in the fridge for about 2 hours or overnight for best taste.

Step 4
When you are ready to cook the chicken, pre-heat the oven to 400ºF.
Step 5

Line your deep baking dish with foil and place the chicken legs and the brine in it. Make sure the chicken legs are half submerge with the brine.

I used a countertop convection oven, so I had to divide them into 2 baking dish, and placed them on top rack and bottom rack.

If you are using a big oven, just use a big baking dish to fit all 8 chicken legs.

Step 6

Bake the chicken for about 1.5-2 hours. If you use 2 racks, rotate them halfway so they cooked evenly.

Step 7
When it's done, take them out and let them cool down a bit before transferring the chicken legs to a serving plate. Discard the brine, onions, spices and the herbs.
Note
INGREDIENTS/TOOLS YOU MIGHT NEED:
Red Boat Fish Sauce
Edens Food Tamari Soy Sauce (Gluten-free)
MACROS:
For Serving size: 4 (about 2 drumsticks)
Approximate macros for 1 serving
Calories: 300
Fat: 11gr
Protein: 47gr
Net Carbs: 3gr