Merry Christmas and Happy Holidays!
I know it's been a while since I have updated this blog. If you want, you can always follow me either on Facebook or Instagram where I could randomly post things around.
Anyway today I finally used my big oven to make turkey.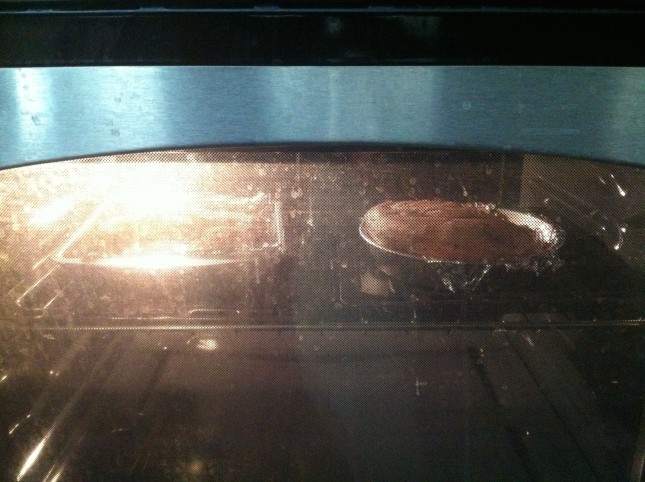 No..not the whole turkey. I am still not brave enough to cook a whole turkey! Instead, I baked two piece of bone-in half turkey breasts. Just like a whole turkey, I brined them overnight so for sure they would turn out moist!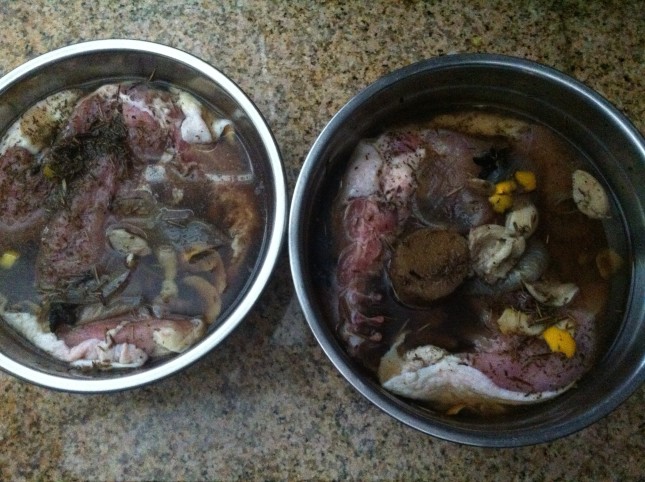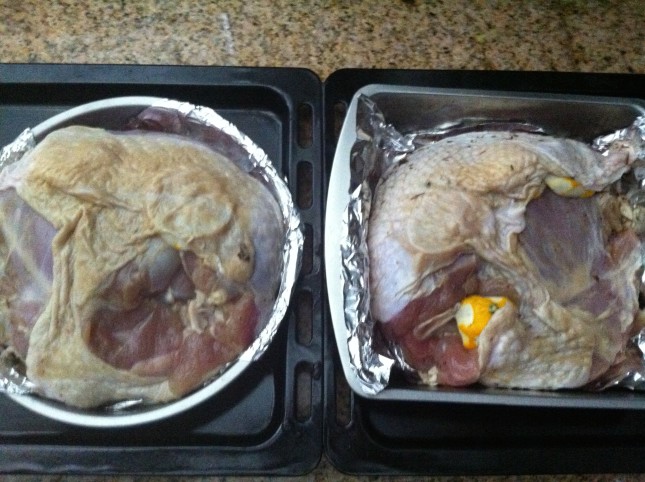 And they did turn out GREAT!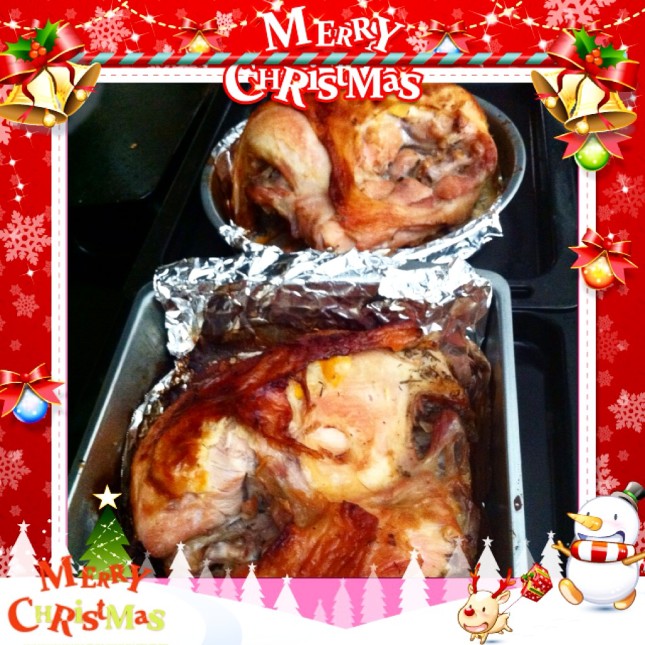 Feeling fancy, I went ahead and made some side dishes (roasted brussels, tomatoes and kabocha)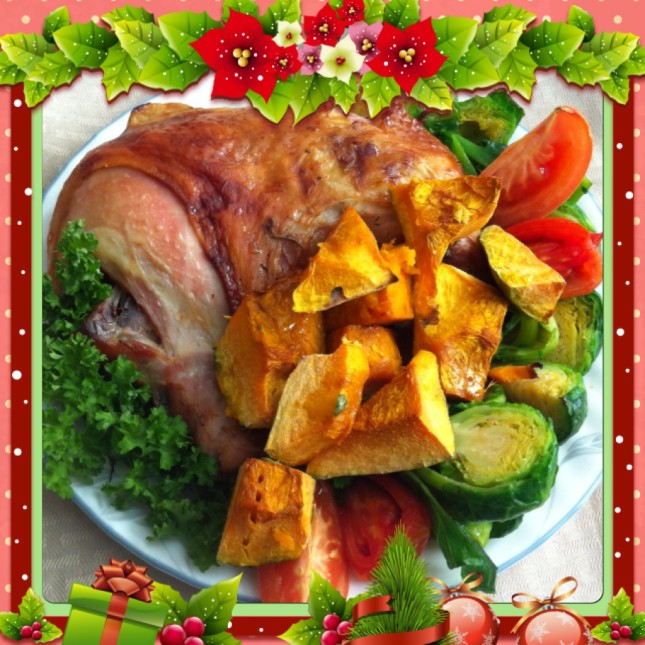 And since I haven't been posting for a while, here's a little gift for you: a NEW recipe!
I haven been wanting to make a hearty comfort chicken soup and since I didn't have the whole day, I whipped out my pressure cooker. Within an hour, I had a hot piping soup ready for me to devour. This soup used winter melon (dong gua – 冬瓜) as part of the ingredient.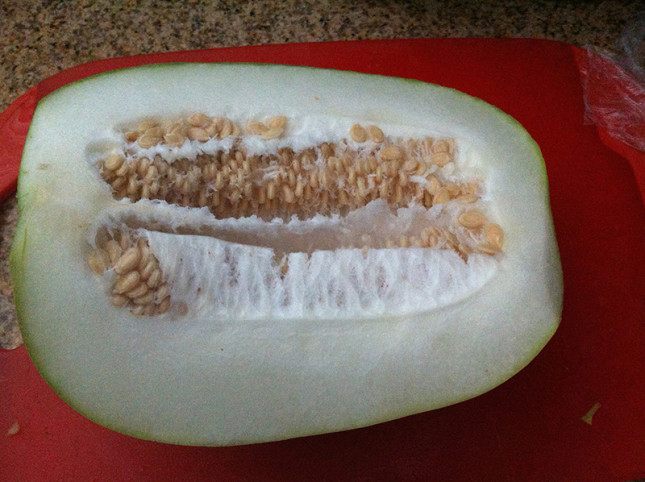 You can find winter melon (冬瓜) at any Asian grocery market. They usually already pre-cut. If you want a whole thing, it's HUGE!
I hope you enjoy this recipe. Until next time.
Hearty Winter Melon Chicken Soup

Print recipe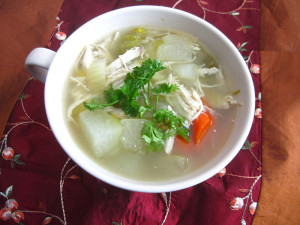 Ingredients
1 piece bone-in skinless chicken breast (About 1lb or 500gram)
4 pieces garlic cloves
1oz ginger root
10oz carrots (About 4 medium size carrots or 500 gram)
10oz celeries (About 4 medium size celeries or 500 gram)
1-2 teaspoon salt
1-2 teaspoon fish sauce
4 cups water (about 1 liter)
10oz winter melon (about 500 gram)
Optional
1 sprig parsley (for decoration)
Directions
Step 1
Heat about 1-2 cup of water and bring to boil. Blanch the bone-in skinless chicken breast. This step is necessary in order to keep the soup clear from impurities. Discard the water.
Step 2

Fill up your pressure cooker with 4 cups of water, and put in the blanched chicken breast along with onion, garlic, and ginger and some of the celery pieces. Drop in the seasonings as well: salt and fish sauce (if using). Don't worry about the taste as for now. You can always adjust later. I didn't have to add any.

Step 3
Close the pressure cooker and cook in medium pressure for about 20 minutes. I used on stove pressure cooker so I had to adjust the heat accordingly. If you are using an electric pressure cooker (such as InstaPot - lucky you!), use the medium setting and cook for about 20 minutes.
Step 4
While your chicken is cooking in the pressure cooker, chop the celeries and the carrot into medium size pieces.
Step 5
Turn off the heat after 20 minutes and wait until the pressure gone down. Do not try to open it when the pressure is still high or you'll risk the cover to blow up in your face. No bueno. If you have an electric pressure cooker, there should be a setting to release the pressure safely. Make sure to read the instruction manual carefully.
Step 6
After the pressure has gone down, open the pressure cooker, discard the onions, celery pieces, garlic and ginger. Take out the chicken breast and set aside.
Step 7
Pour the chopped carrots, celery and winter melon into the pressure cooker. Cover and cook for another 10 minutes under medium pressure.
Step 8

While the veggies are cooking, shred the chicken meat with 2 forks. It should be tender enough that the meat would fall off from the bone. No elbow grease needed!

Step 9

Lastly mix in the shredded chicken back to the soup. Adjust the taste accordingly. If you are fancy enough, sprinkle in some parsley to be festive!
Note
INGREDIENTS YOU MIGHT NEED:
Red Boat Fish Sauce