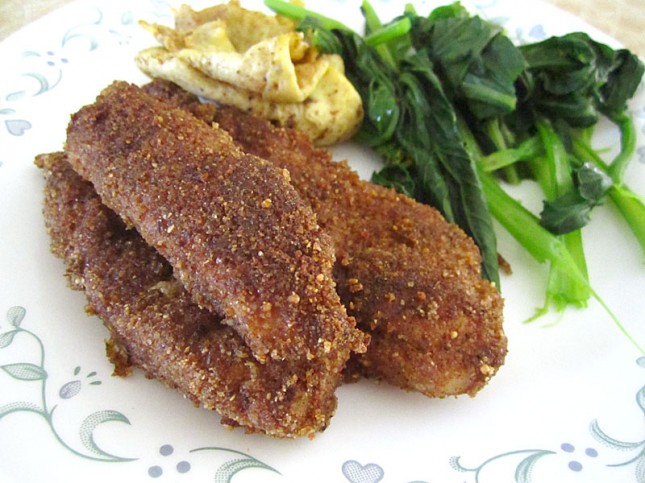 I can't give enough credit to Paleo Comfort Foods for inspiring me to create this recipe. It's true that I love my Oven Fried Curried Chicken Fingers, but there's something about the breaded chicken fingers taste that quite different from shredded coconut. Also big thanks to Nom Nom Paleo video demonstrating one of Paleo Comfort Foods recipe that I finally got an idea how to use up my almond meal as a result of almond butter failure.
Breaded Fried Chicken Fingers (inspired by Paleo Comfort Foods Fried Chicken)
Ingredients:
2 lbs boneless skinless chicken breasts, thinly sliced lengthwise
1-2 tsp salt
1 tsp ground mixed peppercorns
2-3 cups almond meal
1-2 tsp ground cumin
1 tsp grated nutmeg
1 tsp ground coriander
2 tsp garlic powder
1 tsp chipotle pepper powder
3 Tbsp coconut oil
2 eggs
Directions:
1. Marinate the chicken with salt and ground mixed peppercorns. Let them sit for about 30 minutes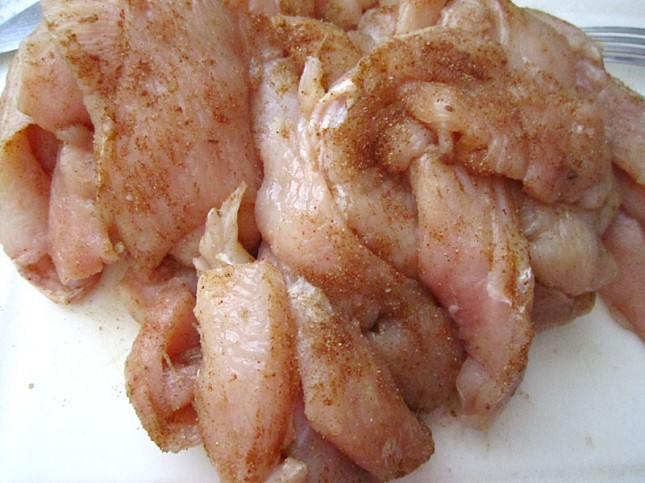 2. In a separate container, mix the dry seasonings with almond meal
3. In another container, lightly beat 2 eggs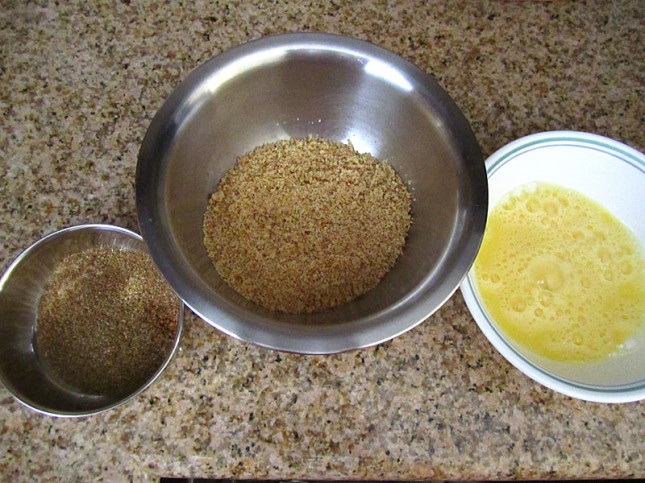 4. Heat the skillet with coconut oil in medium low heat. To test if the oil is hot enough, sprinkle some almond meal. If the crumbs rise up, then the oil is hot enough.
5. Dip the chicken meat into the egg then in the almond meal mixture then brown each side on the skillet. Transfer them on the baking rack. Repeat until you fill up the entire rack.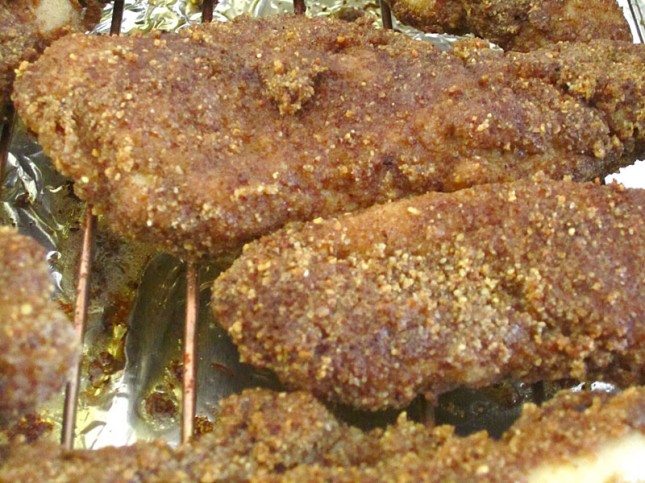 6. Pre heat oven in 350-375°F and bake the chicken fingers for about 15-20 minutes, turn them around once.
7. Remove from the oven and let them cool down a bit. Taste the best when it's still warm!
Definitely a keeper! If you are interested, you can preorder Paleo Comfort Foods cookbook from Amazon. I'm sure the book is full of yummy Paleo recipes. Too bad in my current situation, I'll just put this book as my Christmas wish.. *wink wink*