For those in the US, how's your Labor Day Weekend? Mine was great, even though I wasn't exactly on Paleo bandwagon 100% to the boot but at least I made the most out of it.
The biggest highlight was Saturday dinner, when Hubby K and I were invited to one of his distant relative's wedding banquet.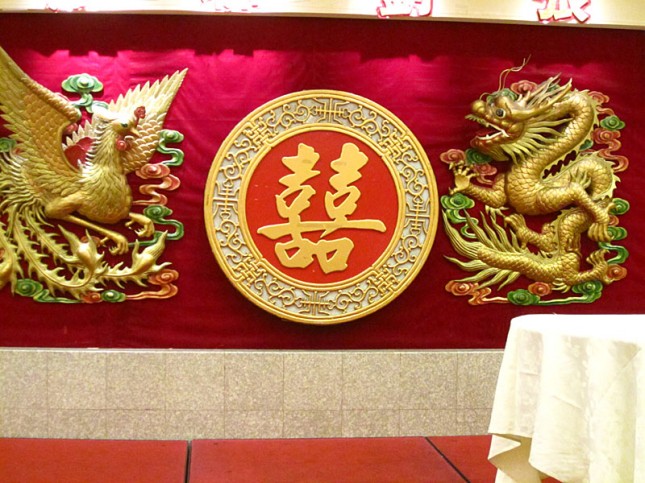 As a typical Chinese wedding banquet, there were about 10 dishes total. I heard they already had their wedding at Northern California and they specifically flew down here so they could invite some of the relatives. Truthfully speaking, Hubby K didn't even know them too well. In Chinese wedding, most of the guests usually are parents' relatives or sometimes close friends rather than the groom/bride's friends. The good thing about it is the groom and bride will make most of the banquet money back because in traditional Chinese wedding, guests usually bring cash gift instead of gift registry. Cool huh?
Ok let's go on to the food!
First dish, typically a cold appetizer dish. We were served a plate of mixed seafood- fruit salad with jellyfish.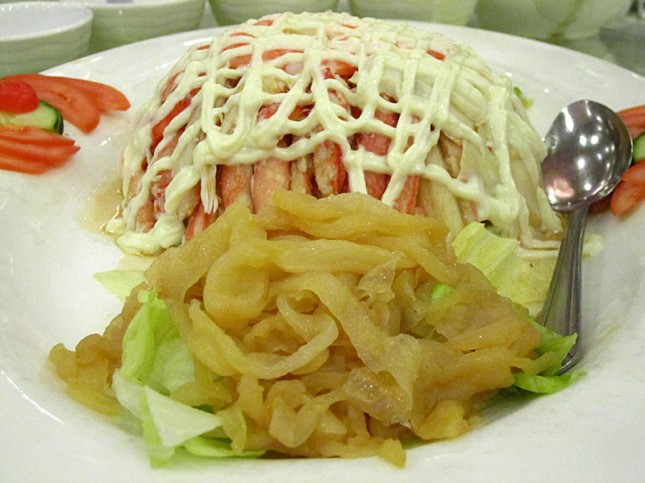 My plate – I even took the veggie decor on the sides (thinly sliced cucumbers and tomatoes)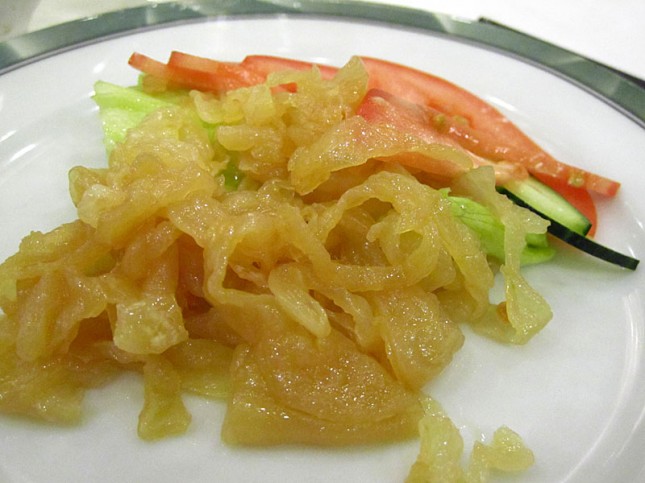 Second dish – Broccoli with bacon wrapped scallops doused in thick oyster sauce/soy sauce.

Did you know September 3 was International Bacon Day? I wasn't aware of it but I was glad I took part in it by having bacon! 😀

Third dish – Stir fried shrimp (some breaded fried shrimp) with sugar snap peas, mushroom and carrots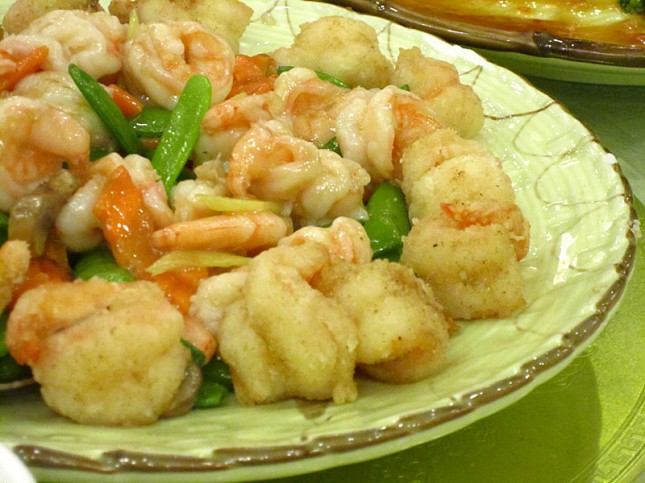 I maxed out on the sugar snap peas. Love them!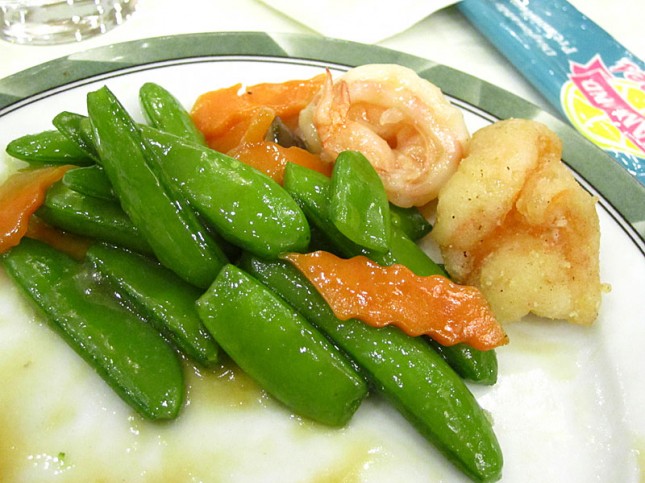 Fourth dish – Shark fin/mixed seafood soup- I bet they put some starch in there because it was pretty thick. I still finished the entire bowl though.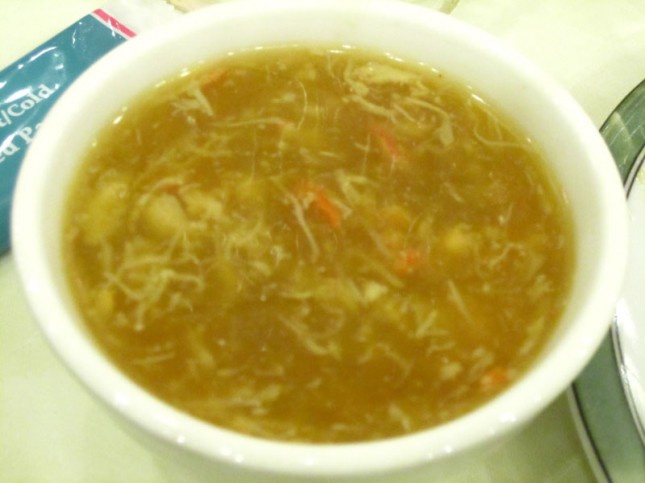 Fifth dish – Bitter vegetables with abalone, shiitake mushroom and sea cucumber doused in a very thick oyster sauce/soy sauce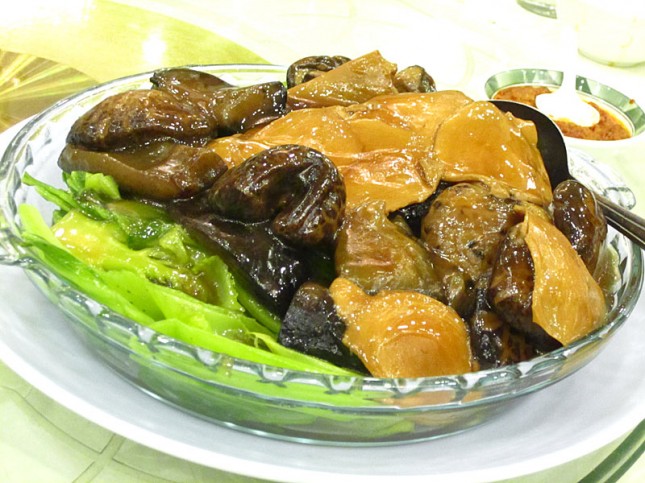 Yup, the black slimly looking thing on right hand side was the sea cucumber. I love those when I was little but now I'm ok with it. I tried my best to scrape off the thick sauce as much as possible.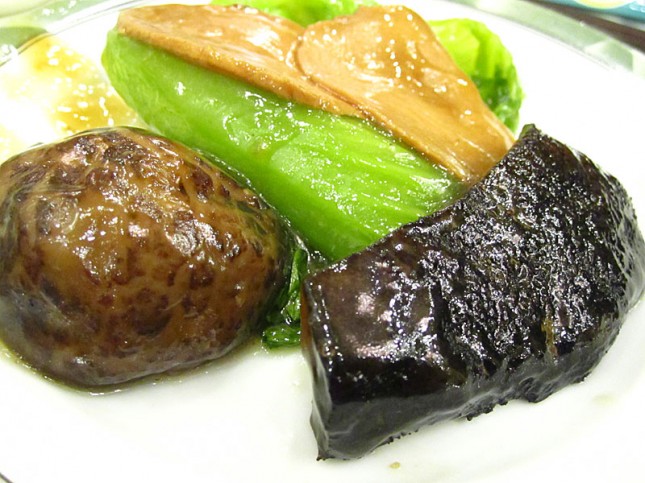 Sixth dish – Fried lobster – the lobster wasn't that meaty and the restaurant tried their best to trick us by breaded them in tapioca starch to make them look more "meaty"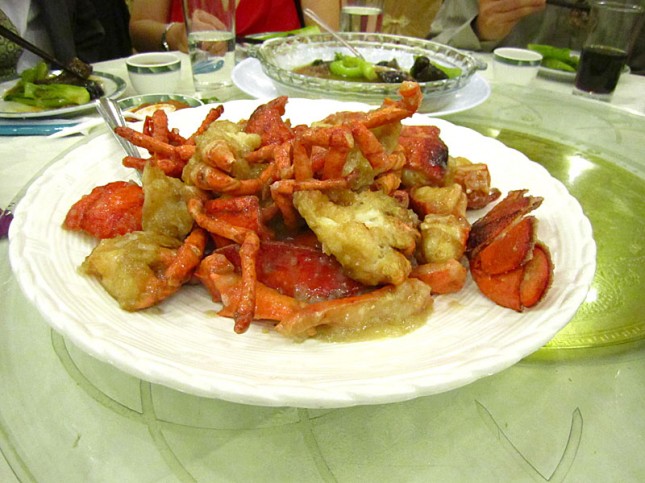 Seventh dish – Steamed whole fish with soy sauce – Anyone of you scared eating an entire fish?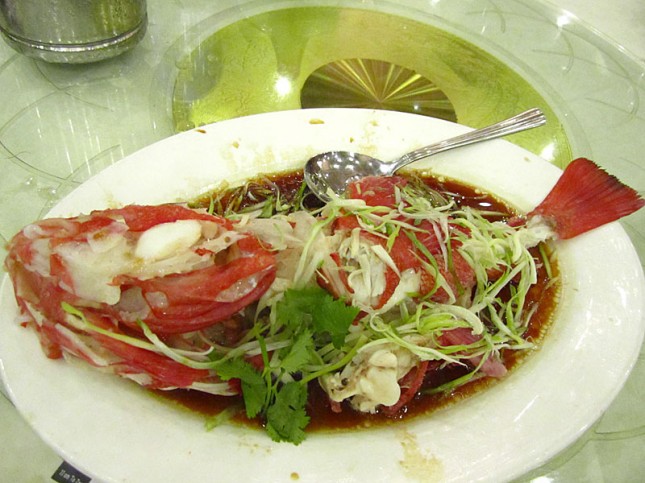 Some people couldn't stand the idea of their dinner is staring back at them. Heh, as someone who grew up in a third world country, I could careless about it. Yep, I've ate chicken and fish from head to tail, but not beef and pork…yet!
Eight dish – Stir fried noodles with seafood. This was the only dish I didn't touch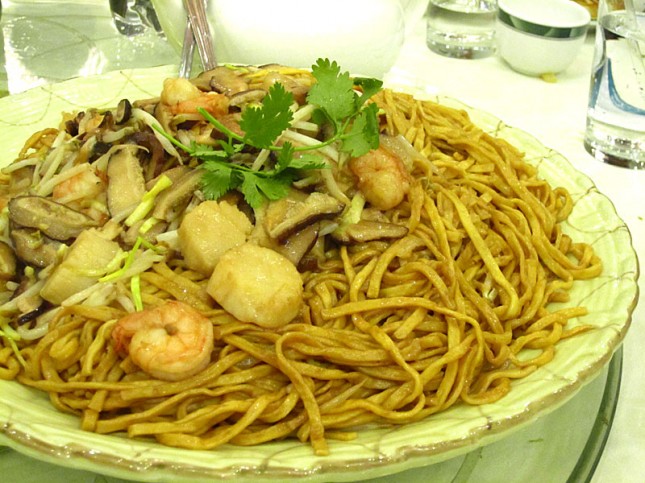 Ok, I lied, but not completely! I didn't have the noodles, but I nibbled some of the scallops, shrimps and mushrooms.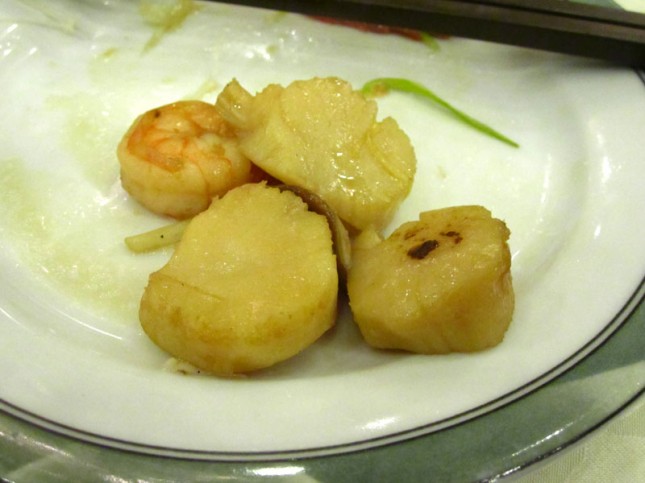 Ninth dish – Some kind of dessert made from taro paste with ginko nuts and jujube (red dates). I only had a little bite of the nuts and the dates but that was it. It was very very sweet and I couldn't handle it.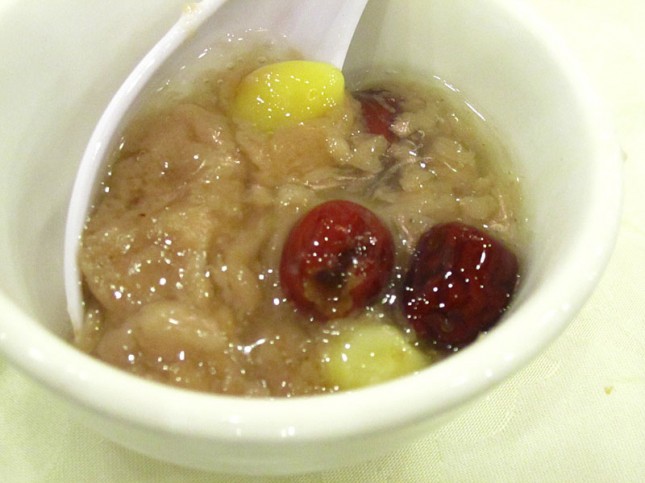 Ok wait the minute, there were only 9 dishes total? Hm, maybe the rules has changed already? Not sure. Anyway, there was no wedding cake since this was a pretty small wedding but I didn't sweat it.
Plus we took home this!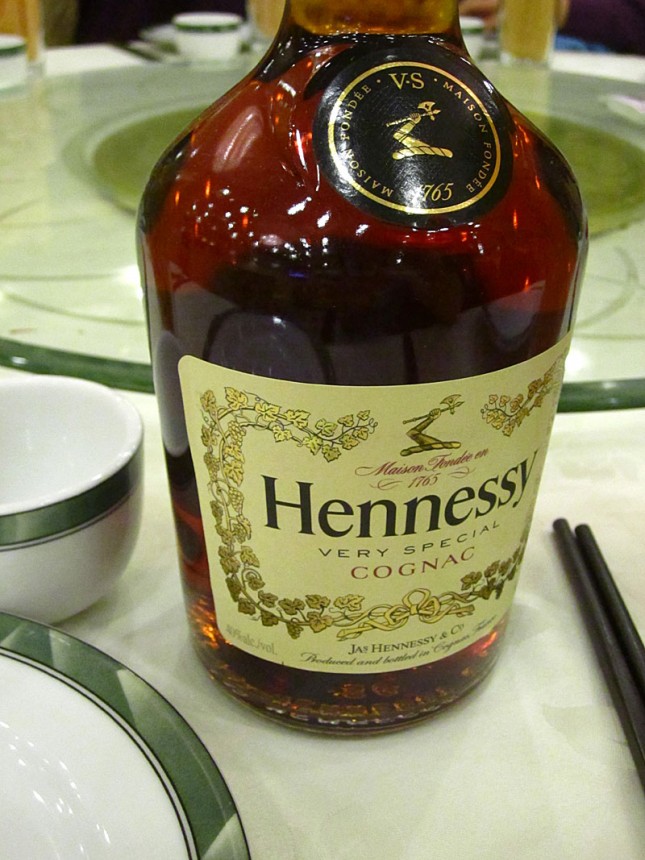 None of us a drinker but I'm sure I could give this to someone who might be interested 😀
So apart from this, my typical eats were pretty similar one day to another. We are currently on a mission of fridge clean-up so my eats for the past couple days look something like these:
Breakfast/post WO meal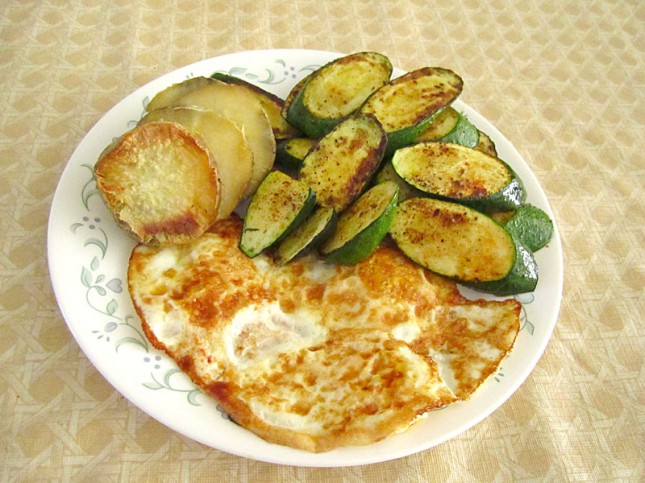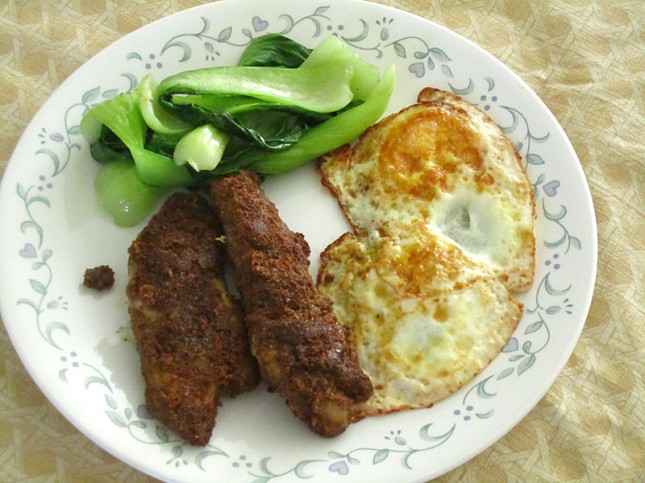 Today I only had baked sweet potato as my breakfast since we ran out of eggs.
Lunches/dinners/linners (lunch+dinner combined)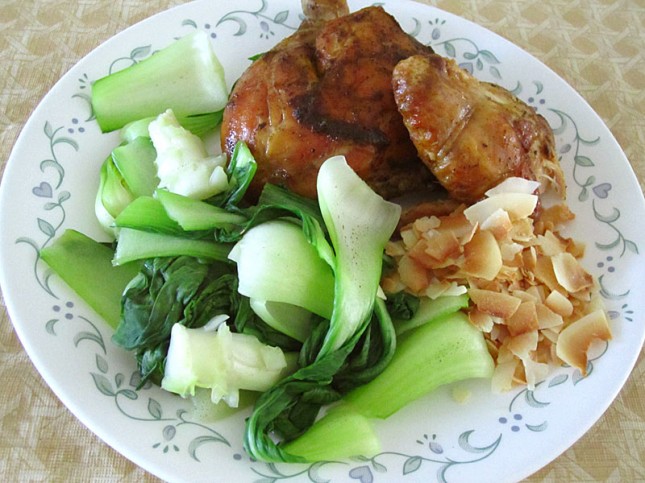 But I wasn't a total bum though because I got inspired by Paleo Comfort Foods to come up with Breaded Fried Chicken Fingers!
When you had a wedding (or going to have a wedding), would you prefer cash gifts or gift registry?
I had cash gifts because I had a Chinese-style wedding 😀