Today I improvised my own workout which left me had a good upper back sore, which was a good thing, right? Usually, I either picked whatever workout from Bodyrock.tv or from any CrossFit Bodyweight workout, but today I was feeling a bit creative. And I'm glad I did it! Next time I might do this again! It's kinda fun to see how far I can push myself to do it. In some ways I felt a bit differently doing my own workout, not sure how to explain it.
The usual post workout/breakfast. If you wonder why I always consume sweet potatoes with protein as my post WOD instead of fruits like banana with fat, you can read this informative post from The Lazy Caveman regarding post-workout meal.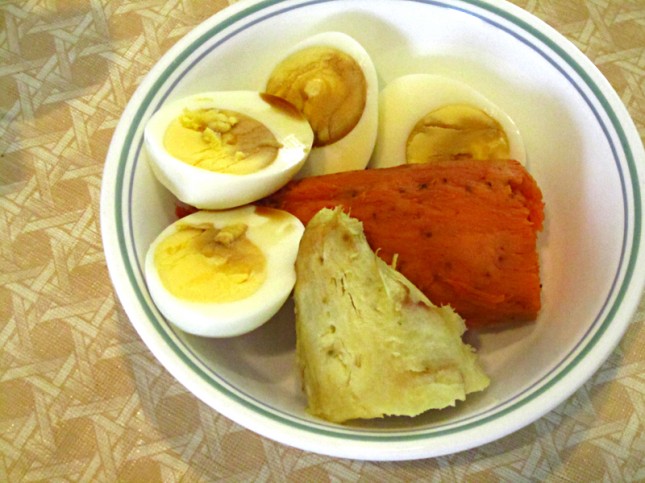 Today is Wednesday, which means double-ads at Henry's Market (yeah I know I'm such a cheapskate and frugal :P) so I drove myself to stock up more proteins!
Came back home and I made Apple and Spice Mini Burgers, another successful improvised recipe. Truth to be told most of my recipes were born from my own improvisations. But of course there are some that I got inspiration or modified from recipes that I saw from another blog or book.
Topped my plate with lots of greens, sliced of whole avocado, Homemade Tomato Sauce and 3 Apple and Spice Mini Burgers, my belly surely happy with this!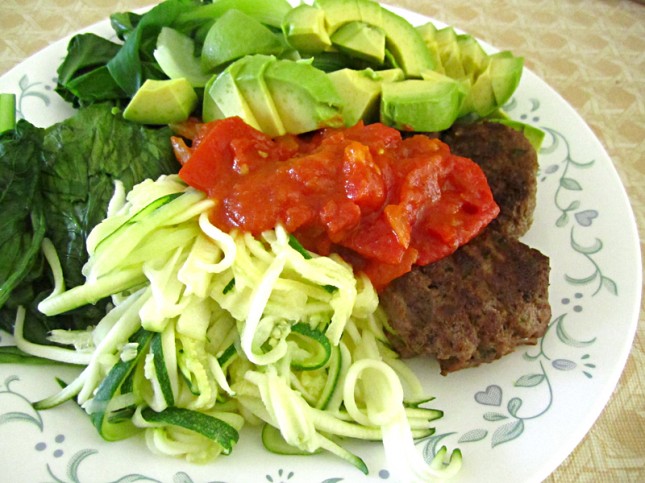 And you know what I usually have for my afternoon treat!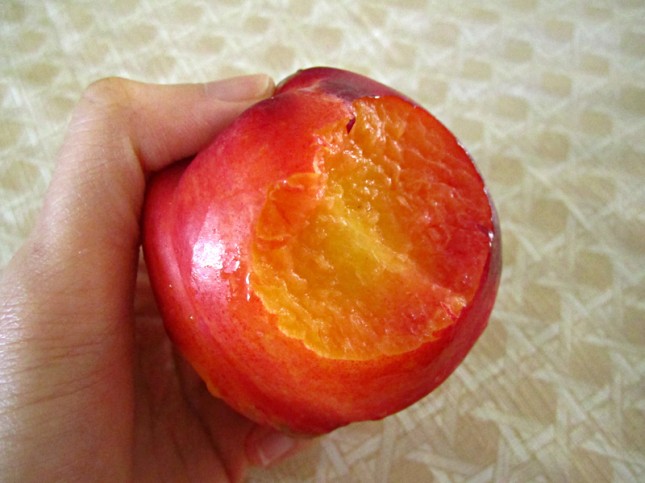 But that might change after I received my order from SeaSnax!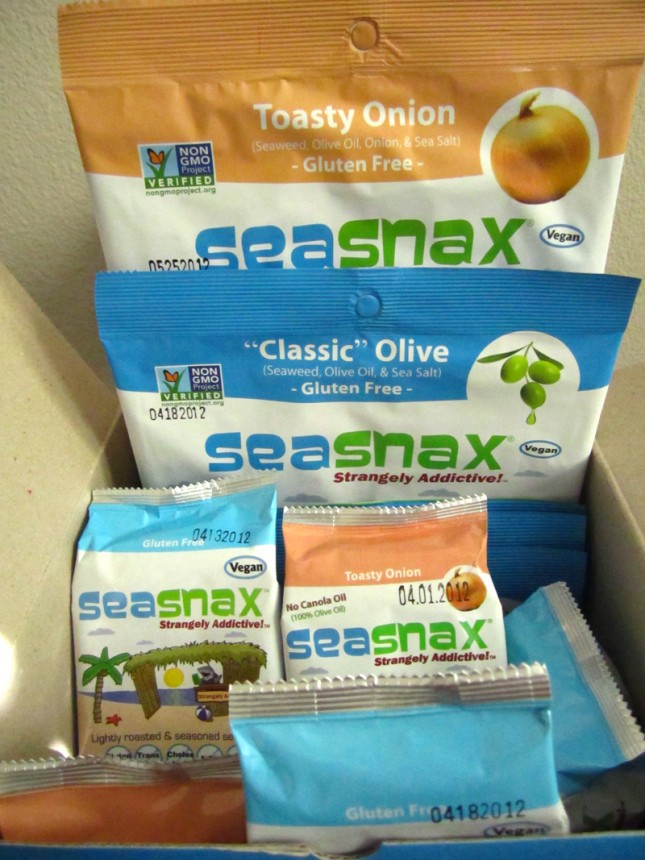 I always love roasted seaweed as snacks but unfortunately the ones that most Asian markets carry always contain roasted in either yucky vegetable oils or seed oils. So when Whole9 mentioned about this Whole30 approved snacks, I immediately ordered it from their site (Free shipping for orders more than $30 OR you can use Whole9 code w9fs for free shipping from now through the end of this year). Also read about Whole9 informative review on their blog! SeaSnax roasted their seaweed in 100% olive oil and no other preservatives. The main ingredients for the original flavor are only seaweed, sea salt and 100% olive oil. Roasted seaweed doesn't have any fishy taste, I promise!
Ok, wait the minute, olive oil, even though 100% is still not the ideal for roasting right? I had this little doubt when reading it and decided to ask folks at Whole9 FB regarding it. Here's their answer: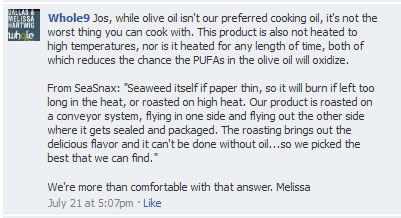 Jos, while olive oil isn't our preferred cooking oil, it's not the worst thing you can cook with. This product is also not heated to high temperatures, nor is it heated for any length of time, both of which reduces the chance the PUFAs in the olive oil will oxidize.

From SeaSnax: "Seaweed itself if paper thin, so it will burn if left too long in the heat, or roasted on high heat. Our product is roasted on a conveyor system, flying in one side and flying out the other side where it gets sealed and packaged. The roasting brings out the delicious flavor and it can't be done without oil…so we picked the best that we can find."

We're more than comfortable with that answer. Melissa
Finally I can enjoy my favorite snack that's not only Paleo approved but Whole30 approved as well!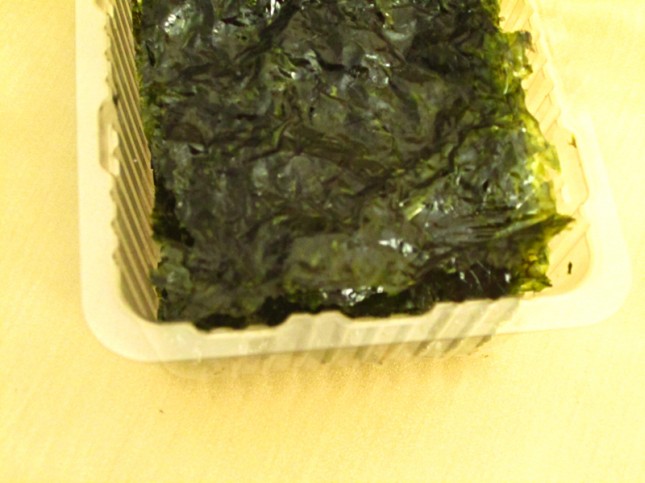 Even Hubby K was totally digging it and threatened me he would the whole box after I went to sleep..haha. My order came in two flavors: Original and Toasty Onions. Both Hubby K and I agreed that we love the original flavor the most. Did I mention we already ate 3 of the smaller packages in one sitting already?
Seriously, SeaSnax is DANGEROUSLY ADDICTIVE and I won't lie to to you that I might be able to devour 5-6 small packages in one sitting. They're so light and very addicting and not really filling, unlike Coconut Chips. I might need to have more self control over this or I'll just slowly slip back into my old bad habit of mindless snacking.
Since Brother A went out for a dinner and Hubby K decided to treat himself with more FAILEO Carl's Jr burgers, dinner was easy peasy for me. Whatever left from lunch!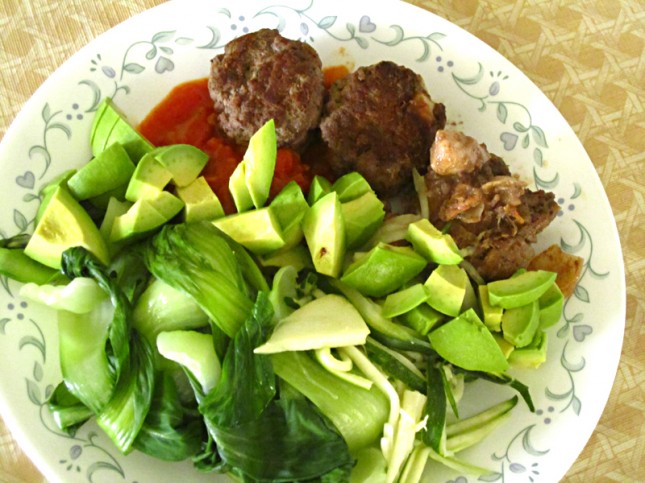 Whole30: Day 27 – I love it when my improvised recipes came up GREAT and everyone LOVES it.