It's been a ages since I've posted a recipe on this blog. I gotta live up to my blog name, right?
Anyway I am a big fan of easy and quick recipe that's also delicious, nutritious and versatile.
This is one of my go to dish to make especially when I'm pressed in time or just freaking lazy to do anything too complicated.
Spiced Chicken Breast Scallions and Shallots

Print recipe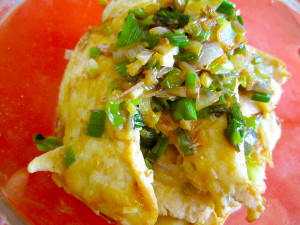 Ingredients
20oz boneless skinless thinly sliced chicken breast (I got presliced chicken breast from Stater Brothers)
1/2 teaspoon salt
1 teaspoon ground coriander seeds (I grounded whole seeds myself)
1 teaspoon Red Boat Fish Sauce (to taste)
2-4 Medium shallots (chopped)
2 Large scallions (chopped)
1-2 tablespoon coconut oil (for cooking)
Directions
Step 1
Take out the chicken breast fillet from the fridge and let them sit in room temperature for 20 minutes.
Step 2
While the chicken is waiting, prepare the rest of the ingredients - chop the scallions and shallot.
Step 3
Mix the dry mixture (salt and ground coriander) and rub it to the chicken fillet, let them sit for 15 minutes.
Step 4
Heat a non stick skillet in medium high (about 1 minute)
Step 5
Pour in 1 tsp coconut oil and then carefully place the sliced chicken breast into the skillet. Do not overcrowd or the chicken breast will release too much liquid. We want to pan fry the chicken fillet, not stewing them.

Cook for 1-2 minute on each side (or depends on how thin your chicken breast slices are). Mine was pre-sliced so they are pretty thin (0.25 inch-0.5 inch) so I only neede about 2 minute per side (when they are golden brown). Repeat until you pan fry all the chicken breast fillet. Add some coconut oil as needed.
Step 6
After all chicken fillet have been pan fried, add another 1 tsp coconut oil and stir fry the chopped scallion and shallots until they are wilted
Step 7
Mix in the cooked chicken breasts and stir until everything incorporated. Add in some fish sauce and adjust the taste accordingly.
Step 8
And you're DONE! Time to enjoy! 🙂
Note
Some spice variations you can try:
Variation #1:
1 tsp ground nutmeg
1 tsp salt
1/2 tsp black pepper
Variation #2:
1-2 tsp curry powder
1 tsp salt
Variation #3:
1 tsp aleppo chili pepper
1/2 tsp ground cumin
1/2 tsp ground coriander
1/2 tsp ground nutmeg
1 tsp salt
REMEMBER: Combining different spices is the KEY here! Go wild and crazy and experiment!