It's been freezing cold here in Southern California. For you East Coasters and others who live in a colder places, I'm sure our cold weather is nothing to you guys! Well let's say anything below 50°F is considered cold for peeps like us in SoCal!
Anyway the good news is, I have a simple recipe to warm yourself in this frigid weather. It's dairy free and it's super simple to make too.
Note: If you like it creamier, you can always double up the amount of the full fat coconut milk. I personally can't handle full fat coconut milk in a large quantity as it upsets my stomach so I prefer to thin it out with hot water.
Another note would be using unsweetened almond milk.
I hope you enjoy this recipe and stay warm!
Have a good weekend!
Dairy Free Hot Chocolate

Print recipe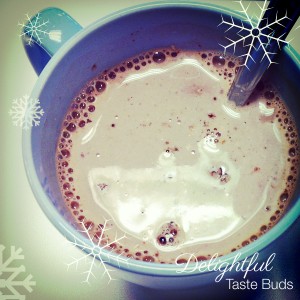 Ingredients
4fl oz full fat coconut milk (120 ml)
1 tablespoon unsweetened cocoa powder (5 gram)
1 teaspoon liquid pure vanilla extract
1/2 teaspoon sweetener of choice (I used NOW Foods powdered stevia)
Optional
Directions
Step 1
Mix all ingredients, stir and enjoy! It's that EASY! 🙂