I love those Chinese roasted whole duck. But unfortunately, they are usually marinated with lots of sugar and might be even basted with icky vegetable oil. YUCK.
So I tried and experiment with cooking a whole duck! Believe me, on the T-Day, it was my very first time cooking an entire duck!
In order to make sure the duck is thoroughly cooked but still keeping it simple, I utilized both my slow cooker and oven to accomplish this.
The results? It was super yummy! So I'll end my yapping yapping here so you can read below how I prepared this Roasted Whole Duck!
Leave some comments if you've tried making this and share your thought!
Five Spice Roasted Whole Duck

Print recipe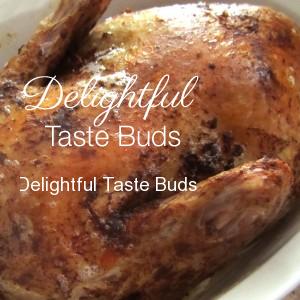 Ingredients
1 Whole duck (head and feet removed - save them for bone broth!)
2 teaspoons five spice powder
1 teaspoon white pepper powder
1 teaspoon cinnamon powder
5 cloves garlic
1 " fresh ginger root (sliced)
5 pieces star anise
Directions
Step 1
Rinse and pat dry the duck
Step 2
Mix the dry seasonings in a bowl and generously rub it on the duck, under the skin, and inside cavity, Cover and refrigerate for about 4 hours or overnight
Step 3
Insert some ginger slices and garlic cloves in the duck cavity.
Step 4

Place the duck (breast side down) in a 6 quart slow cooker. Place the remaining garlic cloves, ginger and also don't forget the star anise!

Step 5

Cover and cook the bird on high for about 2-2.5 hours.

Step 6

Preheat the oven in 400F in broil setting. Carefully remove the duck from the slow cooker and transfer it to a baking dish. I put mine breast side up.

Step 7

Broil the bird for about 30-40 minutes (depend on how hot your oven is) or until the duck skin is brown and crispened up I had to do mine for about 20 minutes each side.

Step 8

While the bird is roasting away in the oven, pour the liquid from the slow cooker into a bowl. DON'T you dare tossing this away!

Step 9

After the broth/fat cooled down, carefully scoop the fat above the broth into a separate bowl. You've got yourself a bowl of duck fat! Cover and refrigerate for future use!

For the broth, you can totally add it to your existing bone broth or you can add a bit more water and drink it as bone broth or make a soup!

Step 10

After the bird is done roasting, carefully remove it from the oven and let it cool down a bit before slicing.