I've been using my slow cooker a lot to cook my protein dish, especially during weekdays. It's super easy, doesn't require much time prepping and the dish mostly turns out yummy. Of course I had my snafu moments when I first using it. Mostly the meat turned out a bit too chalky and soft because I cooked it too long.
After a couple of trial and errors, I've finally figured out the "sweet spot" timing for cooking different meat cuts and types. Plus I got a nice tip from Debby for slow cooking. The rule of thumb is to cook the dish at high during first hour just to warm it up then turn down the heat to low.
You might not be able to find some ingredients that I use in this recipe such as lime leaves, galangal root and lemon grass. Don't let it discourage you from making this dish. It will still turn out super yummy.
For the fish sauce, I highly recommend Red Boat Fish Sauce. You can buy it from Amazon as well.
So here's my easy peasy recipe for Beef Short Ribs.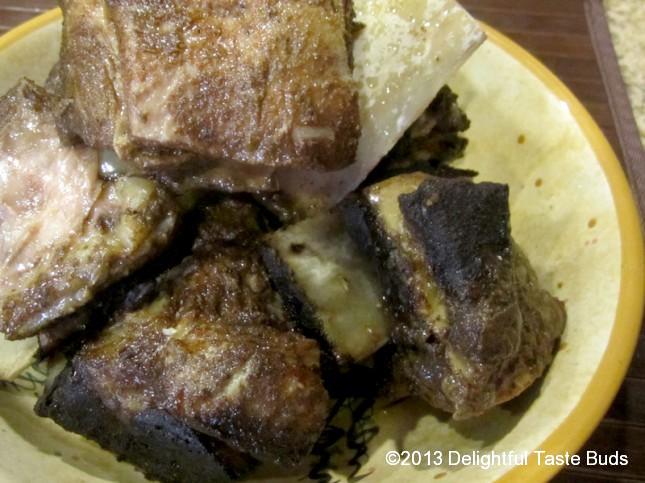 Slow Cooker Beef Short Ribs

Print recipe
Ingredients
6lb grass-fed beef short ribs (mine came in big pieces so I could only slice them into big chunks)
1 teaspoon ground coriander
1 teaspoon ground cumin
1 teaspoon smoked paprika
1 teaspoon salt
1 teaspoon black pepper powder
2 stalks lemon grass (cut into 4)
1 knob ginger root
Optional
1 handful lime leaves
1 knob galangal root
Directions
Step 1
Mix all the dry seasonings in one bowl. Rub generously on the cut up short ribs.
Step 2
Store the seasoned ribs in a zip lock bag to let it marinate for at least 1 hour or overnight. Personally I prefer to marinate meat overnight prior cooking for better taste
Step 3

By the time you're about to cook the ribs, place the seasoned ribs in the slow cooker. Add cut up ginger, lime leaves, lemon grass and fish sauce (if using any). You don't need to add anymore liquid at this point.

Step 4
Cover the slow cooker and set to cook on high for about 1 hour. I usually do this to "warm up" the meat to ensure even cooking. If you're pressed in time, you could totally skip this step and proceed to the next step.
Step 5
An hour later, set the slow cooker to cook on low for 6 hours. So technically it's 7 hour cooking time.

Also I set it the time to be a bit longer since the ribs that I got were in big chunks. If yours are thinly sliced ribs, you could totally cook the short ribs on high for about 2 hours.
Step 6

Once the ribs are done, take them out from the slow cooker. I usually don't keep the liquid that yield from the cooking process.

Step 7

The ribs are super tender, juicy and falls out from the bones.