I've been a big fan of this single serve protein cup for my breakfast. They are versatile, yummy, nutritious and simple to make. There's no one set rule on how you want to have this to be. The best thing is, it uses most of my left overs.
The one below had tuna, zucchini and 1 egg on top, sprinkled with my homemade mushroom seasonings.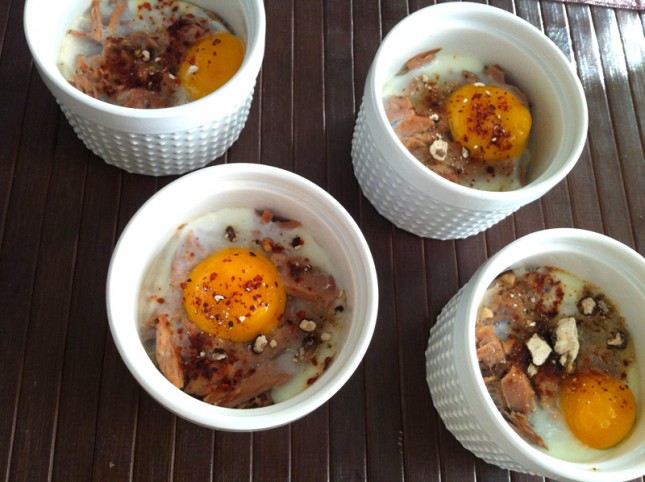 Here's the recipe from the one I made before. Originally I used 2 eggs for each serving but in the end I changed my mind and decided to use just 1 egg. The nutrition breakdown below is for 1 serving with 1 egg.
Single Serve Egg Meat Cup

Print recipe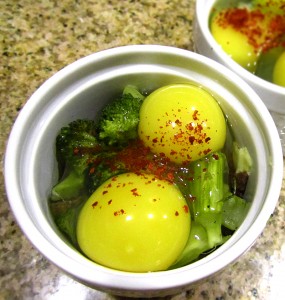 Ingredients
1 3/4oz cooked grass-fed ground beef (85%/15%)
1 cup chopped broccoli florets
1 tablespoon unsalted grass-fed butter (cold, not melted)
1 Large free range organic egg
1 teaspoon red hot chili pepper flakes (I used Aleppo Chili pepper powder)
Directions
Step 1
Preheat oven to 350F
Step 2
Place 1 Tbsp cold butter at the bottom of ramekin
Step 3
Line the cooked ground beef and broccoli.
Step 4
Crack 1 egg on top of the mixture
Step 5
Bake for about 10-15 minutes of until the eggs are set to your likeness. I personally don't like overcooked eggs because the egg white will have rubbery texture.
Note
Originally, I used 2 eggs hence you see 2 eggs in the picture. But then I decided to change it to 1 egg instead.
Nutrition Facts
Serving Size (193 g)
Servings Per Recipe 1
Amount Per Serving

Calories 295

Calories from Fat 207 (70%)

% Daily Value *
Total Fat 23 g
35 %
Saturated Fat 10 g
50 %
Monounsaturated Fat 9.5 g
Polyunsaturated Fat 1.4 g
Trans Fat 0 g
Cholesterol 268 g
89 %
Sodium 206 mg
9 %
Potassium 466 mg
13 %
Total Carbohydrate 6 g
2 %
Dietary Fiber 2 g
8 %
Sugars g
Protein 16 g
32 %
Vitamin A
24 %
Vitamin C
137 %
Calcium
7 %
Iron
11 %
* The Percent Daily Values are based on a 2,000 calorie diet, so your values may change depending on your calorie needs. The values here may not be 100% accurate because the recipes have not been professionally evaluated nor have they been evaluated by the U.S. FDA.
What's your favorite quick and easy breakfast that could be prepared in advance?