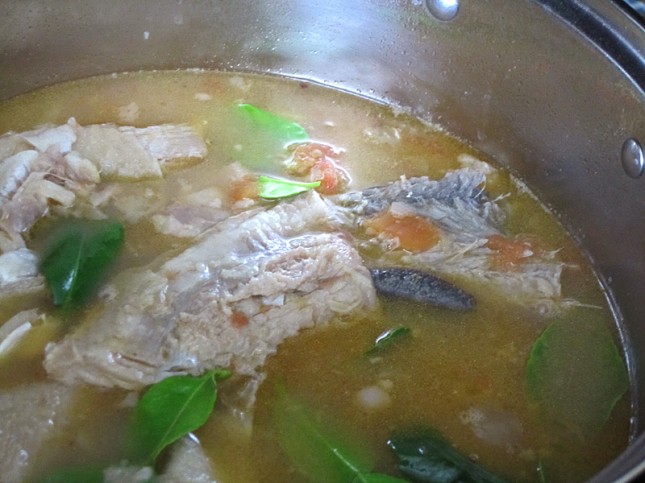 Before you say EWWW to fish soup I could assure you if you get the right combo of herbs and ingredients, the soup won't have any fishy smell or taste to it unless your fish has gone bad. Besides this is a great way to use any odd cut fish such as fish head or other fish scraps which still has some fish meat on it. It might not look pretty but it's also another good source for non dairy calcium, just like bone broth, only this doesn't take as much time. Since wild caught fish is quite pricey, I try my best not to waste them. It's a win win situation.
Oh another note, salmon might not be the good choice to make into soup. I'd suggest any white fish should be ok. The one I'm using here is called Featherback Fish.
Sweet and Sour Fish Soup
Ingredients:
1-2lbs fish heads/bones/scraps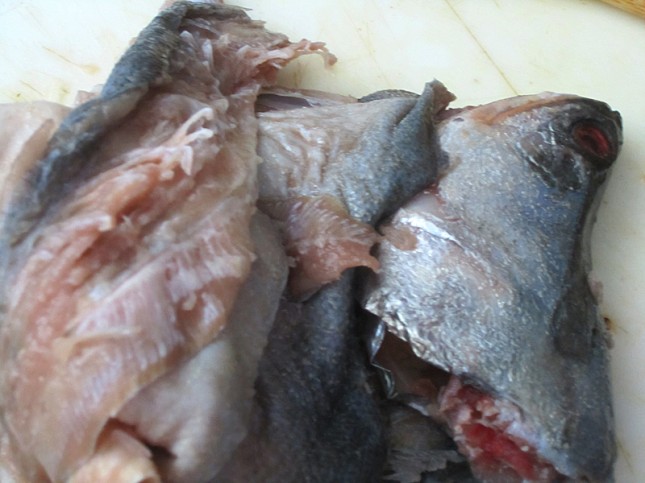 2″ galangal knob – sliced (or you can use regular ginger if you can't find any fresh galangal root)
3 stalks of lemon grass – chopped and bruised (if you don't have any no worries)
A handful of lime leaves
4 tomatoes – chopped into pieces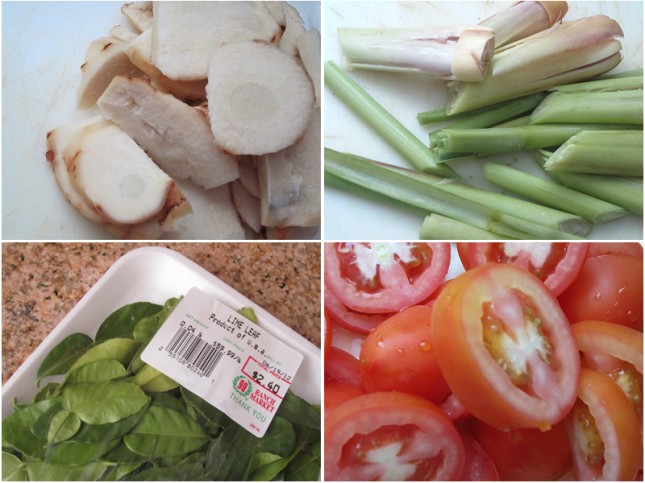 3 garlic cloves
3-4 shallots (or you can use regular chopped onions but the taste might be a bit different)
1 Tbsp tamarind paste – dissolved with 1-3 Tbsp hot water (or you can use juice from a whole lemon if you are on Whole30)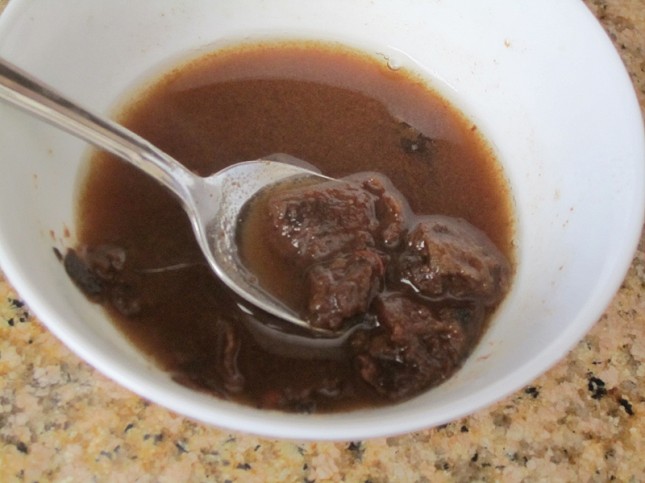 1-2 Tbsp Red Boat Fish Sauce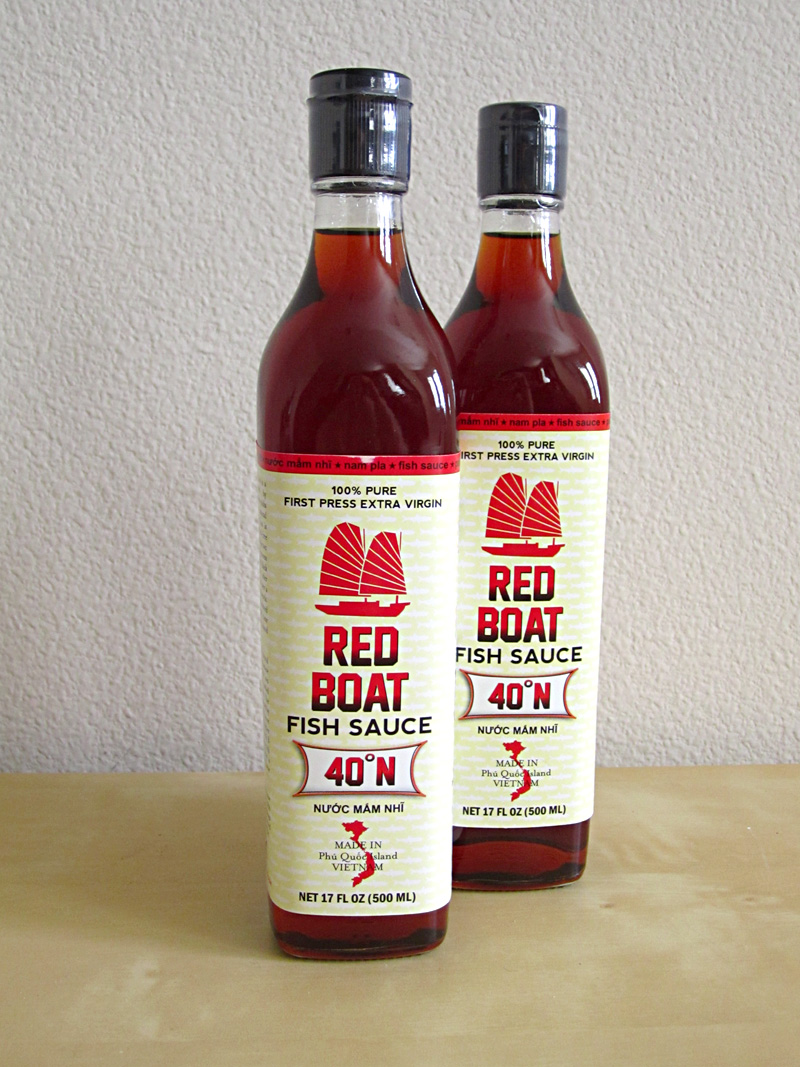 1-2 tsp salt or to taste
1-2 Tbsp coconut oil
1-2 quart water
Directions:
1. Mash the garlic and shallots until they become paste. You can use blender but I love using my mortar and pestle since my Magic Bullet can't really mash them completely like this: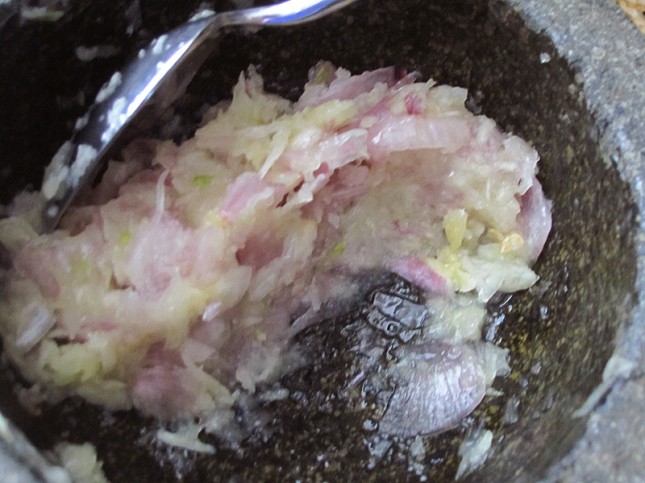 2. Heat 1-2 Tbsp coconut oil on the soup pot in medium heat. Saute the mashed garlic-shallot until fragrant but not burned.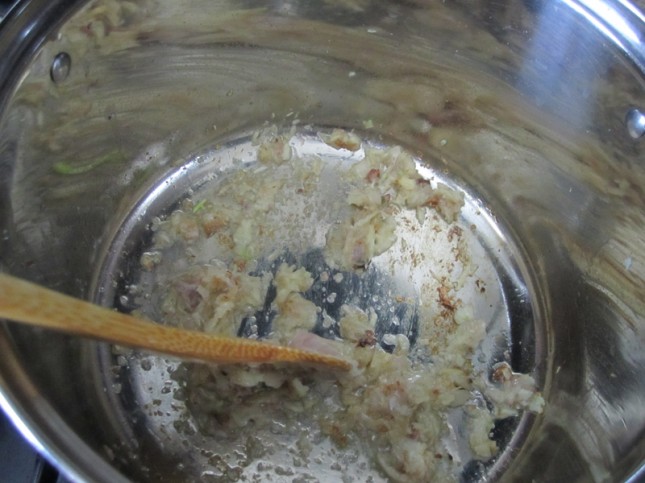 3. Saute the chopped galangal (or ginger) and lemon grass for a minute.
4. Pour in 1-2 quarts of water, add in tomatoes, cover the pot and bring it to boil. When it's boiling, reduce the heat to medium and cook for at least 10 minutes so the lemon grass and galangal root (or ginger root if you use that) will release their fragrance to the soup.
5. Mix in the fish scrapes you have (be it the head, bones, bellies etc). Cover and bring it up to boil again.
6. When it's boiling, turn down the heat to medium. This is where your tastebuds will be tested. Season with salt, fish sauce and tamarind (or lemon juice) and keep tasting until it reaches your desired taste.
7. When the taste is good enough for you, lastly mix in the lime leaves and let them sit for about 5 minutes before turning it off.
Since the flavor is all in the soup, I usually just drink the soup itself and not bothering eating the fish scrapes but it's really up to you.
Hope you enjoy this recipe!