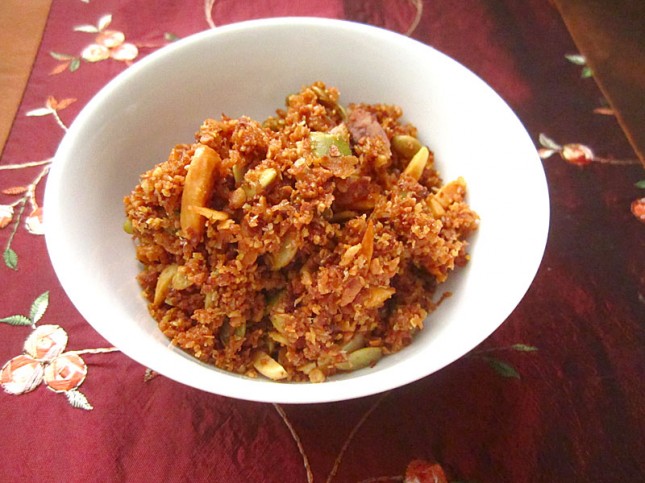 I love crunchy stuff..from potato chips to granola bars! However, ever since I drank Paleo kool aid, I stopped eating those and missed them once in a while. Although I've finally gotten over my potato chips addictions by having Oven Fried Taro Fries or any kind of oven fried squash fries or sweet potatoes or even yucca fries, I've never had any good granola bar/cereal substitute until I tried Steve's Original Paleo Krunch Cereal.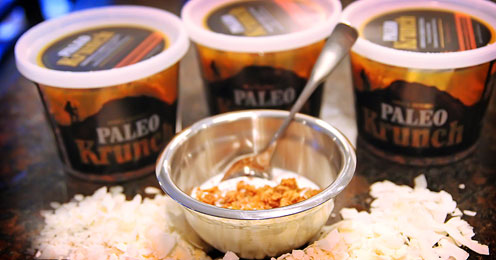 This cereal crunch seriously reminds me a lot of those crunchy granola bars that I used to love so much, or even better since it's not as sweet as the regular ones. But I can't really afford the price and shipping just for the cereal so I got creative by re-creating this on my own and it turned out to be a HUGE SUCCESS! The best part? This was my first attempt!
Grainless Crunchy Granola Cereal
Ingredients:
1 cup almond meal (I saved the almond crumbs from my Homemade Almond Milk)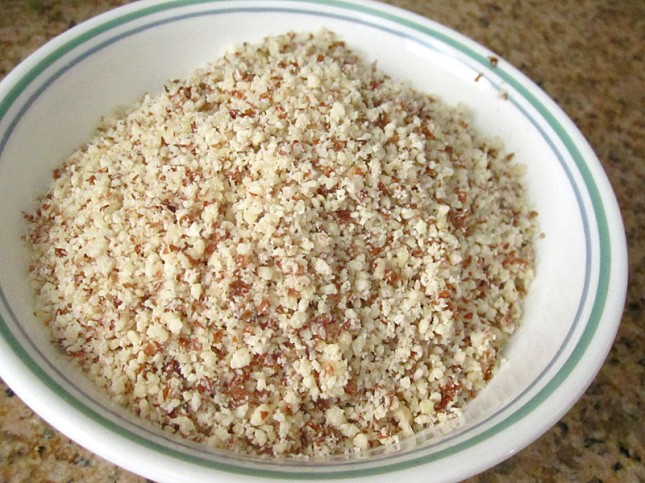 1/2 cup slivered almonds (got them from Sprouts)
1/2 cup unsweetened shredded coconut (Let's Do Organic brand)
1/2 cup unsweetened coconut flakes (Let's Do Organic)
1/2 cup raw pumpkin seeds (got them in bulk from Sprouts)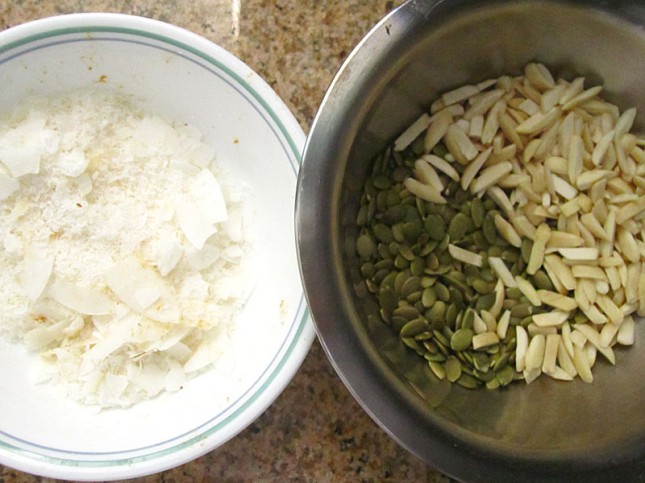 1 tsp vanilla powder
1/2 tsp cinnamon powder (more if you like cinnamon)
1/2 tsp of salt
1/4 cup melted coconut oil (Nutiva)
1/4 cup + 1-2 Tbsp raw honey (from Sprouts)
Directions:
1. Mix the dry ingredients (almond meal, pumpkin seeds, coconut flakes, shredded coconut, salt, vanilla powder) in a bowl or on an unheated skillet like me. I found it was way easier to incorporate all the ingredients on the skillet than in a bowl.
2. Pour in the melted coconut oil and 1/4 cup of honey and mix until everything incorporated.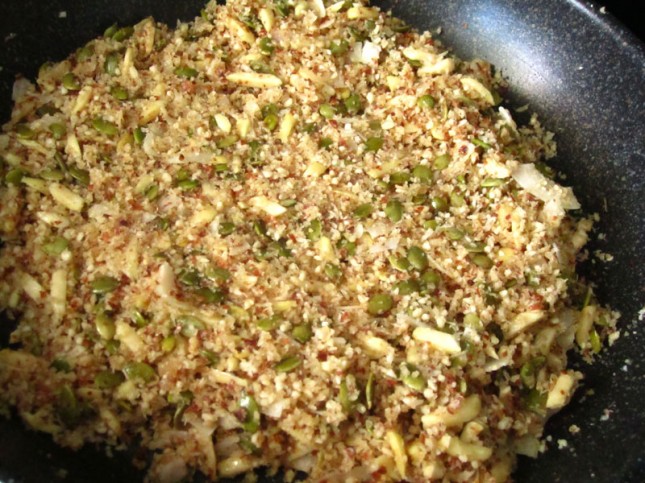 3. Pre heat oven to 325°F. LIne your baking sheet with a piece of parchment paper. Spread the mixture evenly and make them as thin as possible. I had to do them in 2 batches since my countertop oven could only fit one 9″ square baking pan.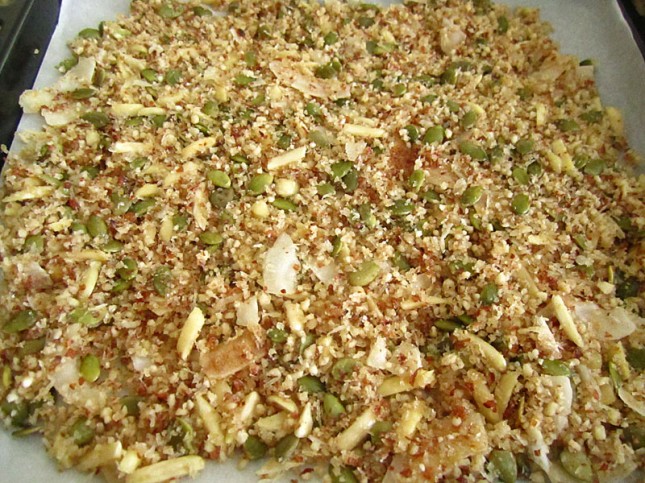 4. Bake for about 25 minutes and keep checking and stirring them every 10 minutes. The last 10 minutes was the crucial part since it could go from golden brown to being charcoal in a nick of time if you didn't take them out from the oven at the right timing! When the mixture is evenly golden brown (not just the sides) remove from the oven. They'd be crumbly but that's okay because we're going to fix that!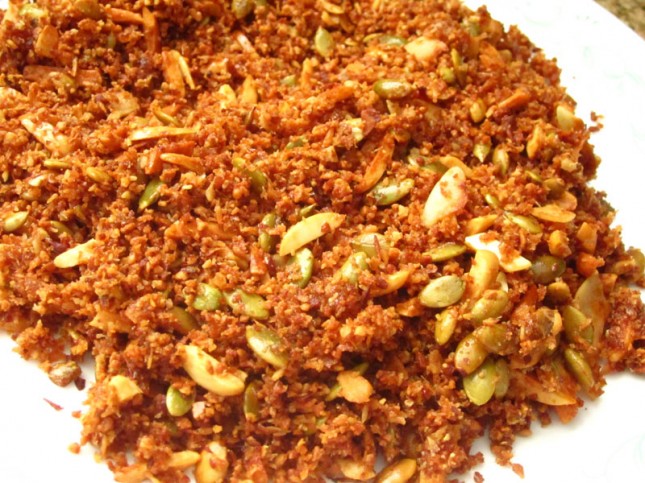 5. Here's an extra step that I did. Pour back the cooked mixture on a skillet, turn the heat to the low setting and add in about 1 Tbsp of honey and keep stirring until the mixture stick together a bit more. I went a bit overboard at my first batch so it got a tad bit sweeter than I expected but it was still good. If you like sweet, you could add about 2 Tbsp honey.
Note: I purposely didn't go crazy adding the honey prior baking the mixture to avoid them being burned way too fast before the nut meal, seeds and the coconut got toasty and crunchy enough.
6. When the mixture started to stick a bit, turn off the heat and place them on the plate to cool down. It will harden as it cools down and let me tell you it's very tempting to snack on these because they ARE ADDICTING! I couldn't stop munching on them once they cooled down a bit!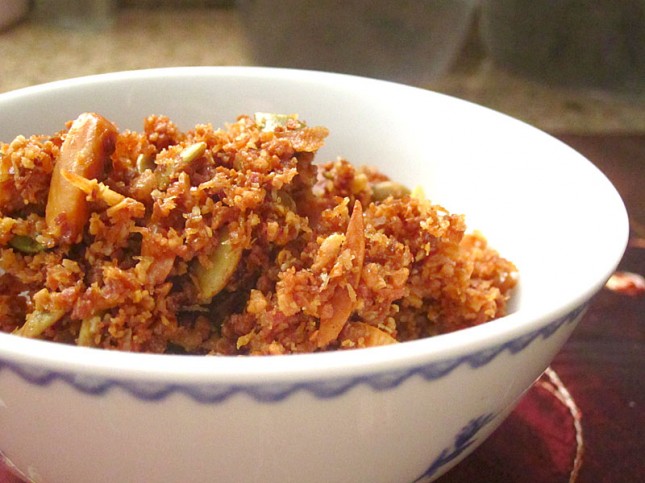 Store in an airtight container and now you can enjoy your grainless crunchy granola cereal with your favorite milk. Be that almond milk, coconut milk or hell just eat them straight!
Thanks to Steve's Original Paleo Krunch Cereal for inspiring me to create this!
As usual, this considered to be cheats/treats so have them in moderation. Even though the ingredients are 100% Paleo approved, they still can't replace nutrients from whole foods like meats, veggies, and fruits!