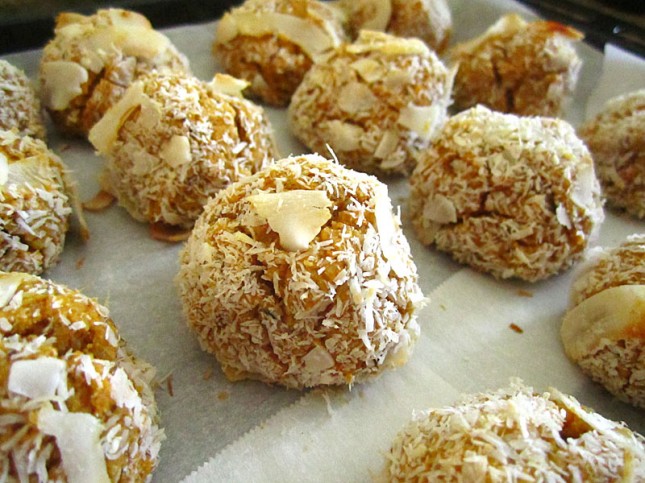 One other reason I love Bodyrock.tv other than their free workout videos is the recipe. Recently Zuzana posted her Power Balls recipe which interest me to try making it as well but I had to modify certain ingredients to make them grain free and lower in sugar content.
Grain Free Power Balls (adapted from Zuzana's Power Balls)
Ingredients:
1 medium size cooked sweet potato
2 cups almond meal
1 tsp vanilla powder
3 tsp baking powder
3 egg yolks
4 Tbsp melted Coconut Oil (I used Nutiva brand)
1-2 tsp honey (I used Sprouts Raw Honey)
3 Tbsp coconut flour (I used Coconut Secret brand)
1 cup of unsweetened shredded coconut and coconut flakes (I used Let's Do Organic brand)
Directions:
1. Peel and mash cooked sweet potato until no more chunks left.
2. Mix in almond meal,vanilla powder, baking powder until everything incorporates.
3. Mix in the wet ingredients (egg yolks, melted coconut oil and honey), stir until everything combines.
4. Add 3 Tbsp coconut flour. Notice the mixture will be less wet but not too dry. Do not try to put too much coconut flour as it absorbs a lot of moisture and the balls would be too dry and flaky.
5. Line a baking sheet with a parchment paper. Pre-heat the oven for 350°F
6. Shape the balls into ping-pong ball size and roll each of them in the bowl of unsweetened shredded coconut and coconut flakes. Just like Zuzana mentioned, the dough would be a little bit sticky on hands but not too sticky that you can't even shape the balls. If it's too sticky, you can add a tad bit more coconut flour. (I made about 16 balls total)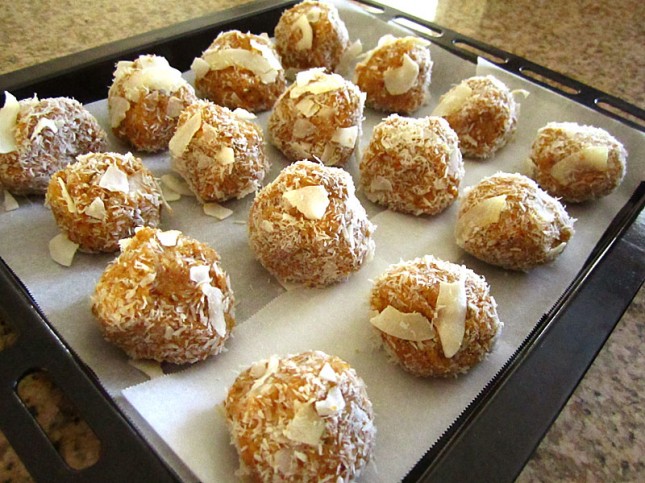 7. Bake the balls in 350°F for about 25 minutes or until the edges turned golden brown or they are dried out already. Remove from heat and let them cool down. The balls are soft when they're still warm but as they cooled down, they should be more firm. After they cooled down, put them in a fridge so they'll be more firm.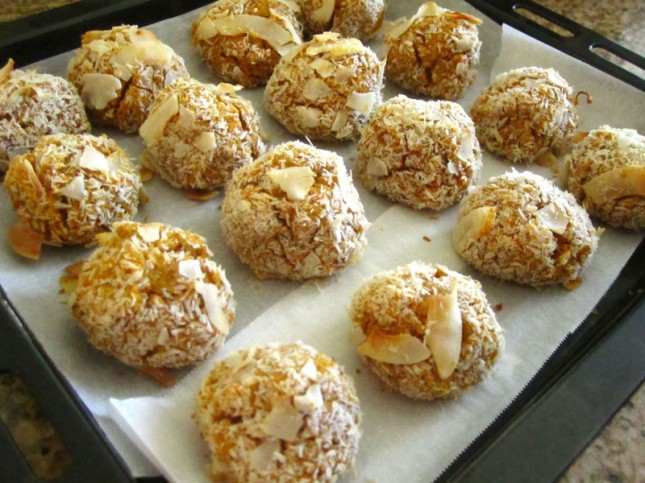 These balls would be a perfect post workout snack when I am on the go. Thanks Zuzana for providing this great recipe!