Hey everyone! Hope everything is well. I know I've been pretty quiet on this blog BUT I was actually quite active on the Facebook. So if you want to follow my random food/thoughts posts, Like "Delightful Taste Buds Facebook" and you're good to go 🙂
So what happened today? Eh it was quite a stupid and wasted day. Before I go there, let's start with the good thing first, like breakfast! It was such a gloomy and chilly day and I was in a mood for a wrap! So I made an omelet wrap with chopped half avocado and half of canned Wild Planet Wild Alaskan Sockeye Salmon.

I kept my breakfast light because we were planning to go to have a Hot Pot in Rosemead to use our soon to expire Groupon (it expires tomorrow!). So after we finished our grocery shopping, we drove for about 24 miles and by the time we got there, we found out they were about to close in 30 minutes and there were at least 5-6 people ahead of us. BUMMER! They would re-open again for dinner around 5 pm but who wanted to stay around the area for that long?
So feeling disappointing, no lunch plus Hubby K was battling with nasty sore throat (this time he lost his voice just like I did last week), we drove back home. Good thing I was the one behind the wheel, couldn't imagine if Hubby K drove he must be feeling very tired and cranky.
After we got home, it was kinda between lunch time and dinner time. I wasn't too hungry and to ease up my disappointment of wasting my gas and time for nothing, I busted out Bodyrock.tv workout and I felt a bit better afterward, especially I actually beat most of my old PR!
Hubby K on the other hand prepared small lunch meal for both of us. I wasn't hungry and didn't want to stuff myself too much since we might be having dinner soon, so I kept my linner (lunch/dinner) meal small. Hubby K felt much better after eating btw.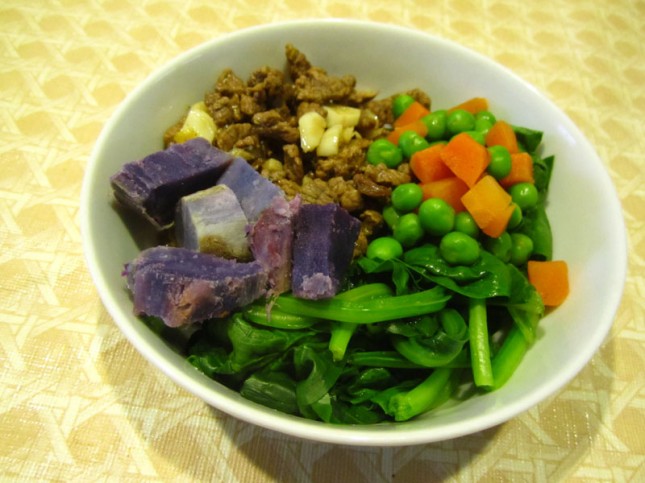 Another good thing was my Baked Smoked Paprika Free Range Turkey Thighs came up AWESOMELY YUMMY!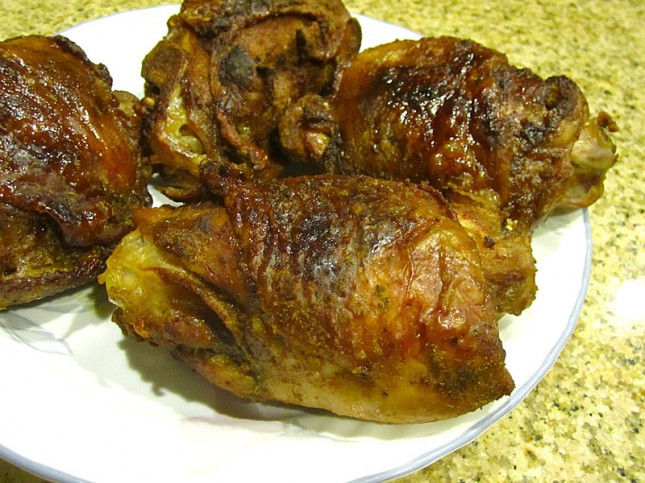 Paired up with some simple yet comforting bok choy and carrot soup and fried wild perch fish – a small dinner for me. I only had a little bit of turkey thigh meat.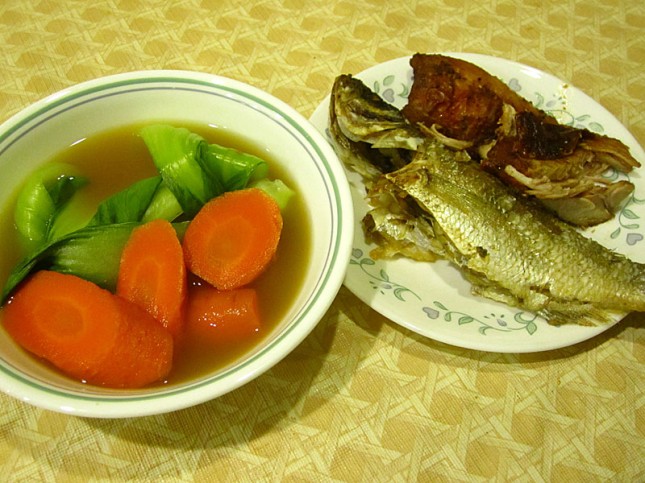 Oh well we still have ONE MORE chance to go using this Groupon to that Hot Pot place tomorrow! Wish us luck!