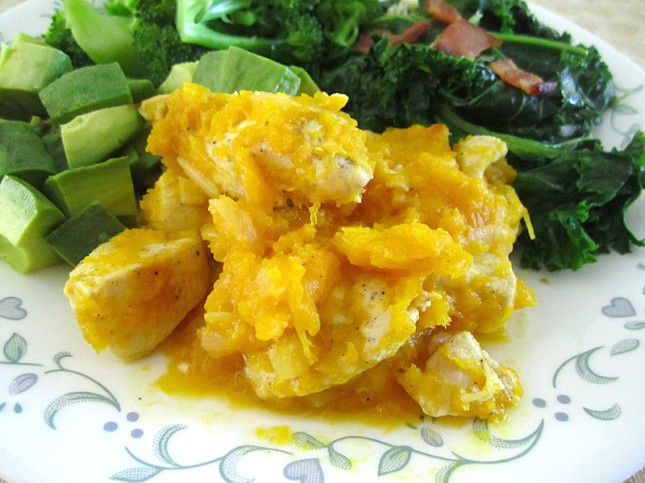 It's been forever since I posted recipe on this blog, my apologies. After adjusted to the new timing and stuff, finally I was able to whip up a yummy comfort food. Recently I got my fist order of CSA box ever by using Groupon ($15 for $31.50- not bad!) and there was this small pumpkin in the mix.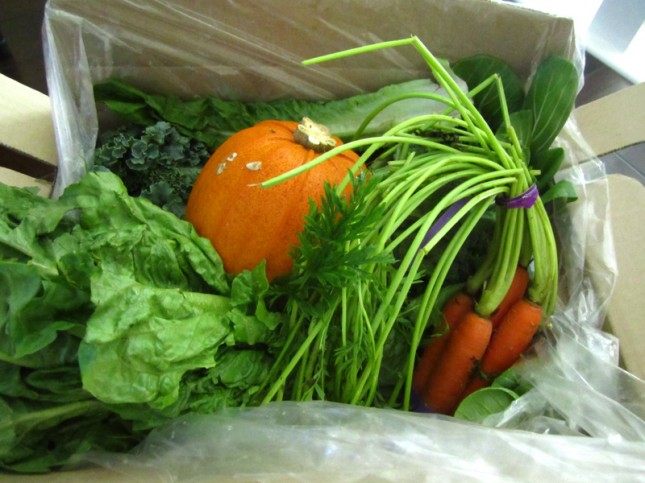 I've never cooked a pumpkin before so this would be an interesting challenge for me. So when I saw Zuzana's Chicken with Ginger Carrot Sauce recipe, I perfectly knew what to do! 🙂
Chicken with Pumpkin-Ginger Gravy (adapted from Zuzana's)
Ingredients:
1 small pumpkin
2 lbs boneless skinless chicken breasts – cut in cube
1 tsp grated nutmeg
1 tsp coriander
1 inch of ginger knob – peeled and finely chopped
3-4 garlic cloves -finely chopped or use garlic press if you have one
1/2 white onion – finely chopped
Juice from 1 lemon
1-2 Tbsp coconut oil
Salt and pepper to taste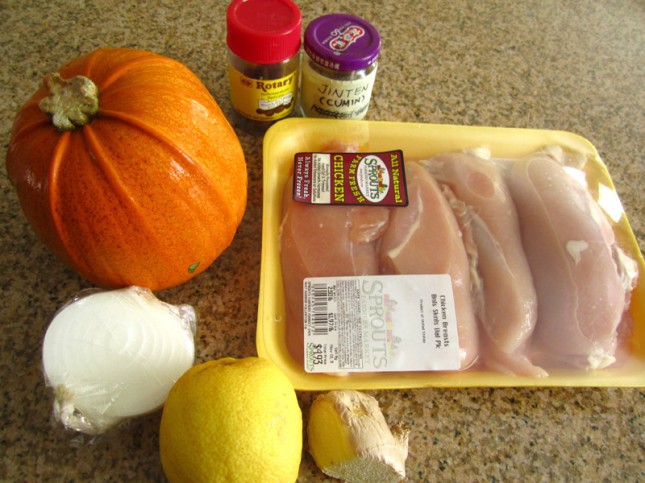 Directions:
1. Cut the pumpkin into half and cook in a pressure cooker with 1 cup of water for about 10 minutes. If you don't have a pressure cooker, you can microwave them in a shallow dish with a bit of water (flesh side down) for about 5 minutes (check every 2 minutes). It makes it easier to peel the pumpkin when it's half cooked. 🙂 When the pumpkin is cold enough to handle, peel and cut them into cubes.
2. Chopped the rest of the ingredients. Season the chicken with salt and pepper. Be mindful, use your own judgement on how much salt and pepper to use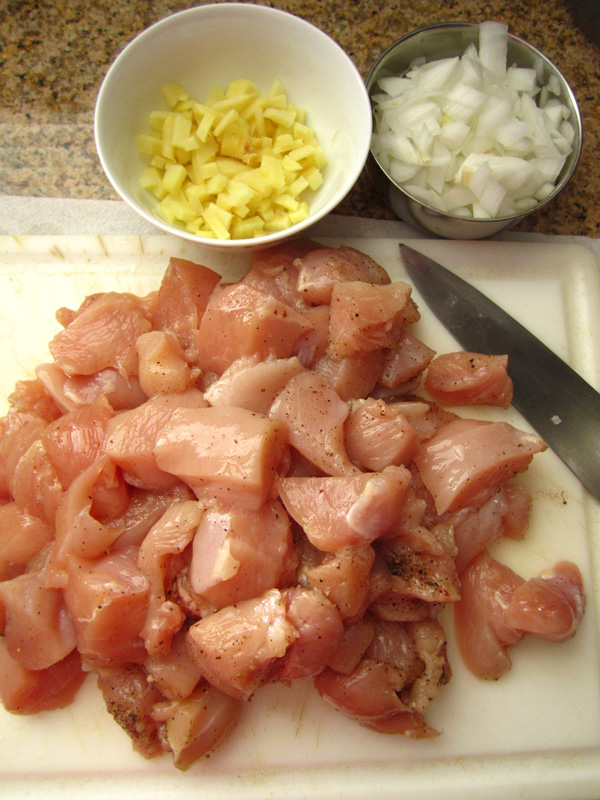 3. Heat the skillet with 1 Tbsp coconut oil in medium high heat. Saute the chicken meat until they release the liquid. Collect the liquid on a separate bowl and set the chicken aside.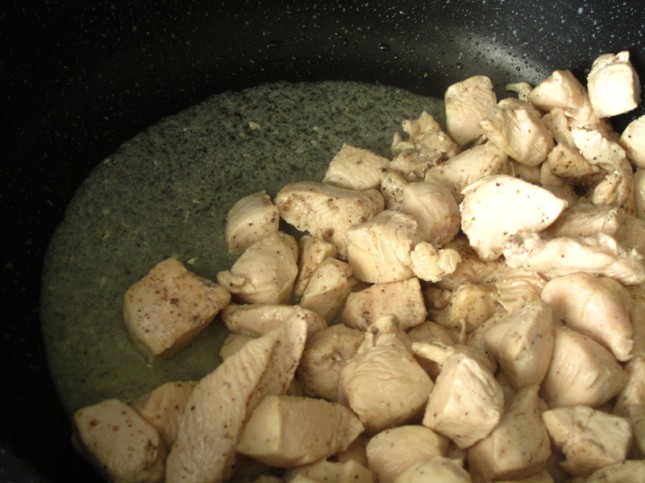 4. Heat another 1 Tbsp coconut oil in the skillet in medium high heat. Saute the chopped onions, garlic and ginger until translucent. Mix in the chopped pumpkin. Add grated nutmeg and coriander powder, a bit of salt and pepper. Adjust the taste accordingly.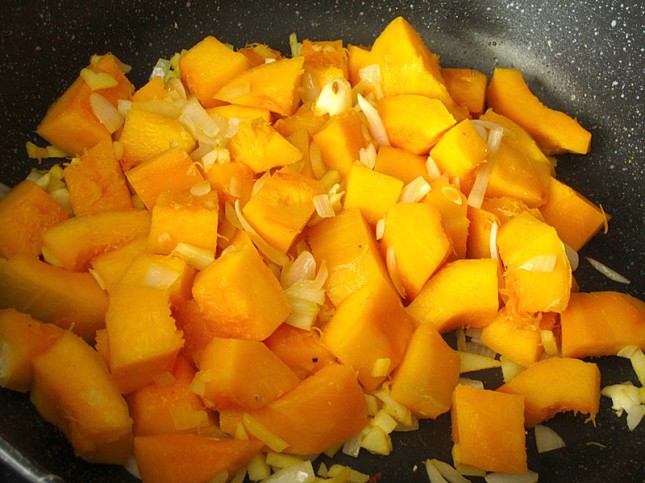 5. Transfer the pumpkin-onion mixture in a pressure cooker. Add in the chicken broth and lemon juice, cover and cook under pressure for about 15 minutes. If you don't have a pressure cooker, just use a regular pot, cover and cook for about 30 minutes or until the pumpkins are soft.
6. While the pumpkin is cooking, you could brown the chicken meat that you cooked earlier to give them extra texture. 🙂
7. Here's the beauty of using a pressure cooker. After it's safe enough to open, I could just mash the pumpkin using potato masher, otherwise I have to use my food processor to puree the pumpkin.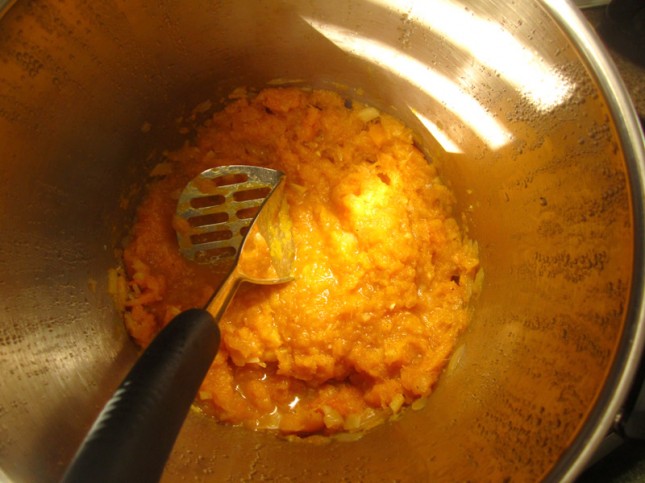 8. Taste it and adjust it according to your like. Last, mix in the cooked chicken and it's ready to be devoured! 🙂
Serve with your favorite veggies. Btw this dish makes a good cold dish as well! 🙂