My first business trip ever was cool. Since I was one of the new hire, there weren't anything important for me to do other than observing the entire event to get to know more about the company. And of course I just helped whoever needed some help but there weren't anything crucial. The biggest highlight of the event for me was the costume party. At least I didn't have to carry my super heavy backpack and walked for about 8 blocks. It won't be a big deal if I didn't have wear a dressy flat shoes (geez, what's wrong with wearing sneakers? They are more comfortable to walk around!)
Anyway, on the last day of the event (Sunday) all of the staff got a chance to be on stage for staff recognition. Got a little bit of taste of how does it feel to be on a big stage. Plus we got a good shoulder and neck massage from our boss' personal masseuse. WOOT!
Some downtown Atlanta pictures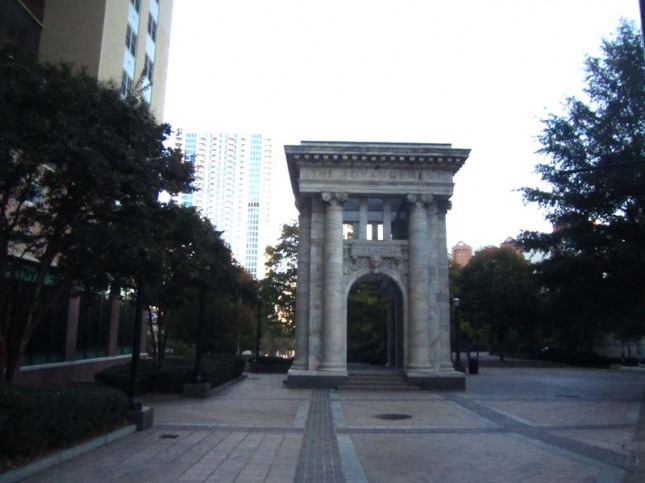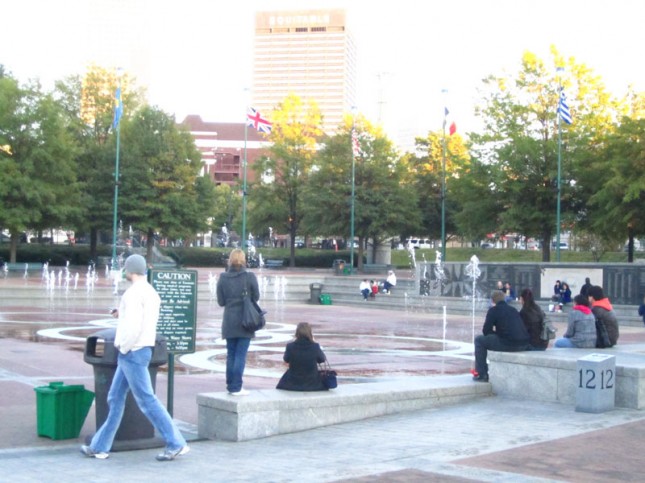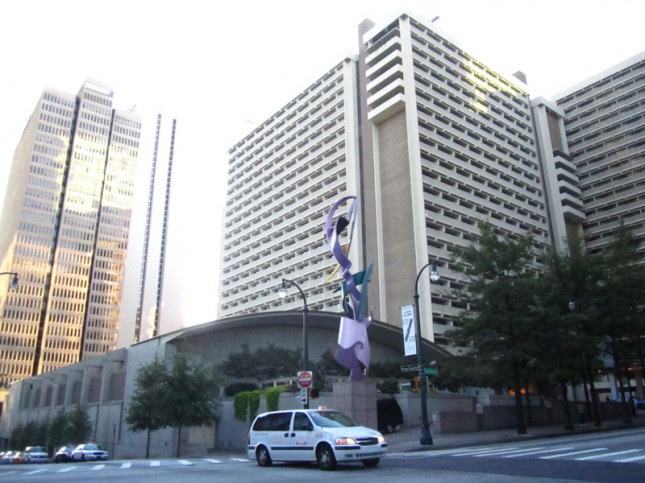 Overall it was a nice company event although in my personal opinion was a bit unorganized. A lot of stuff was done last minute but despite those turned out pretty good. Oh well enough about the event, don't you wanna know my sort-of Paleo nosh during the trip?
Friday, October 21, 11
Breakfast: left over from dinner: roasted curried cauliflower, purple yam and sauté ground beef seasoned with Spicy "Sausage" Seasonings.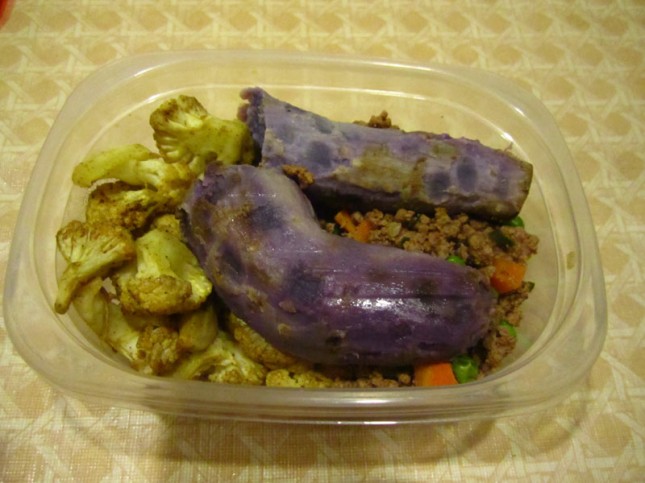 4 hour flight – watching Cars 2 movie and halfway The Caller. Snacking on hardboiled eggs and some purple yam (no I didn't eat this entire bag in one sitting!)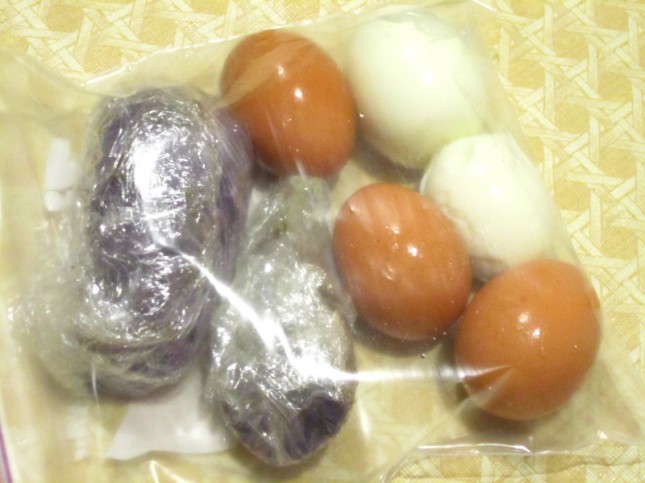 Checked in to the hotel and munched some hardboiled egg and small Primal Pacs.
Each staff got his/her own room! Wohoo, I got an entire king size bed all to myself 😀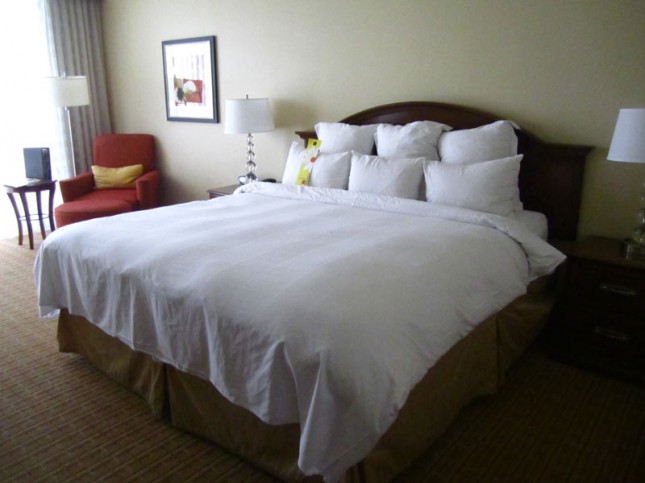 View from my room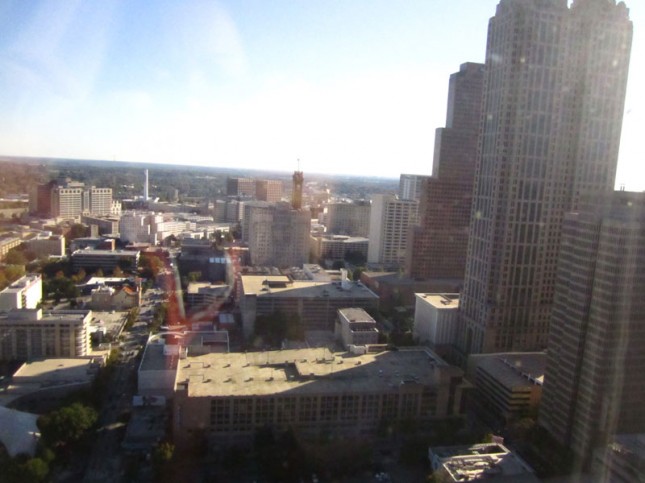 Does this give you a vertigo? This was from the floor where I stayed (37th floor). We had to take a glass elevator and everytime it went down, we got that "stomach drop" feeling. 😛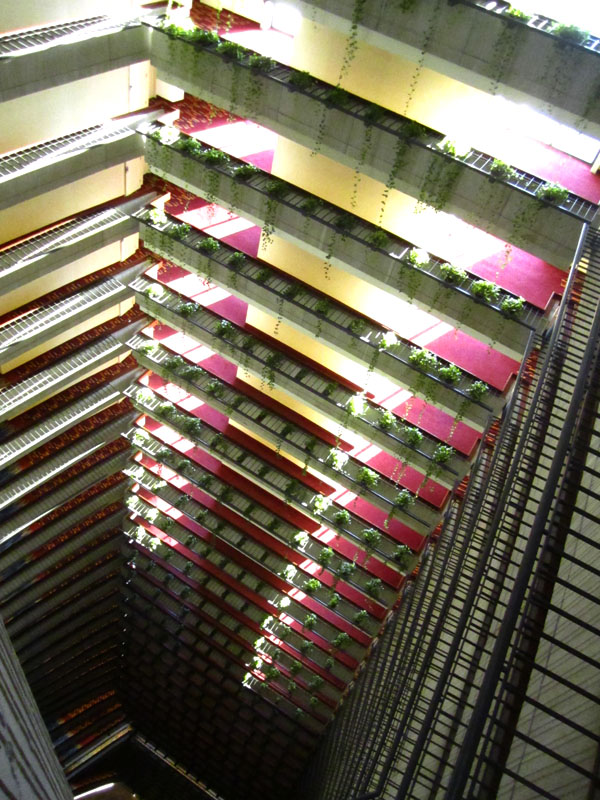 Lunch/Dinner: Pacific Rim Bistro: baked Sea Bass marinated in miso sauce and sake, with bok choy underneath. Substituted white rice with steamed veggies instead.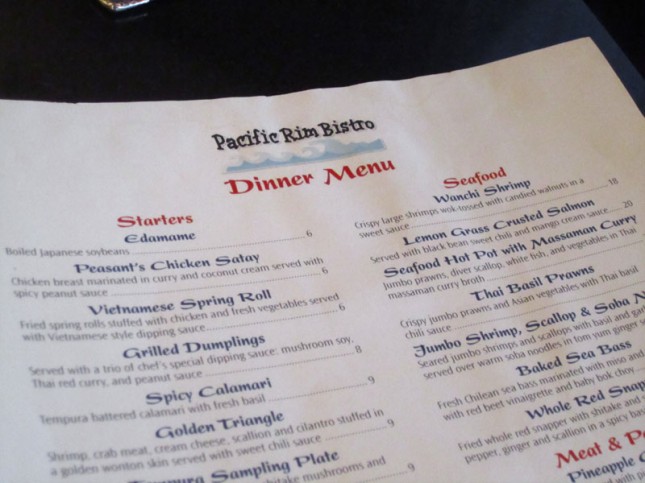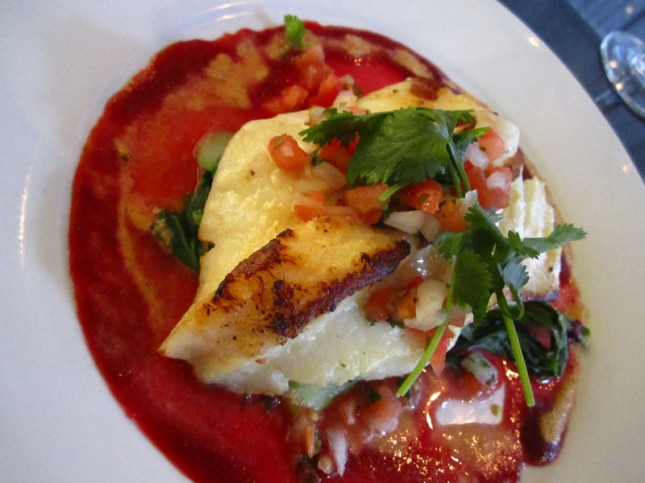 Dinner 2: After the event, some of us went to Max Largers to grab a bite. I was still a bit full from the meal earlier but I was sure I'd be dead starving it would look weird if I didn't order anything so I just ordered lamb sliders minus the buns and spread.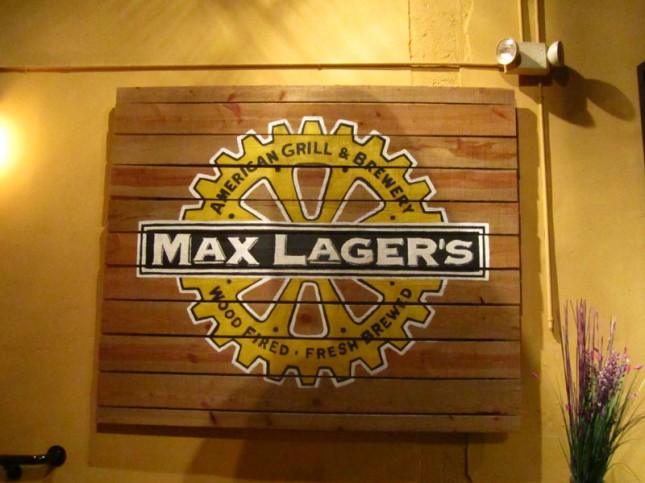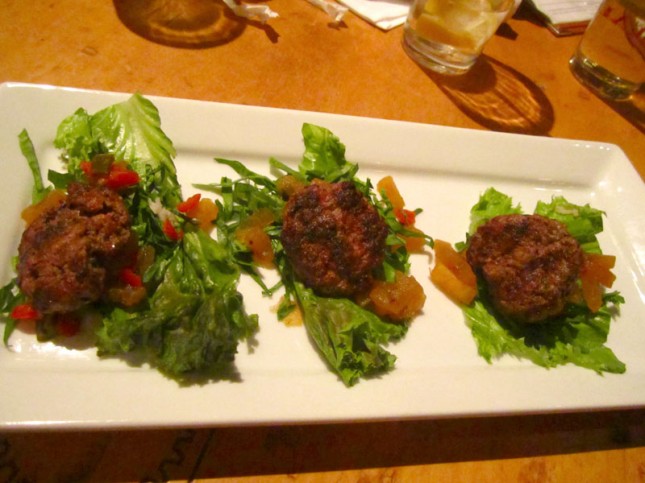 Saturday, October 22, 11
Breakfast: Hotel room service which was outrageously over priced for 2 well done fried eggs, a slice of ham, hash brown and a cup of hot tea.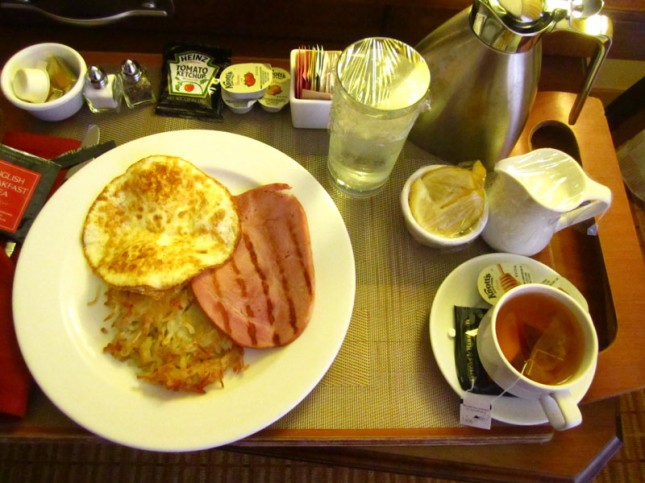 Good thing the company reimburses our food expenses. If you ask me, I'd never pay for any room service in a hotel. I actually requested to have bacon and sausage as well for the meat part, but apparently it wasn't allowed. Instead they gave me hash brown. No biggie, once in a while, white potatoes won't kill me. One funny thing was, I didn't order any toast and they still gave me some, but I told the server to take them back.
Lunch was provide which was Mexican food. I skipped all the mumbo jumbo tortilla, chips, beans and got a plate full of meat and fat: chicken fajita, pork carnitas, generous amount of guacamole and some salsa. The salsa and the guacamole were the yummiest. The meat was a bit on the salty side.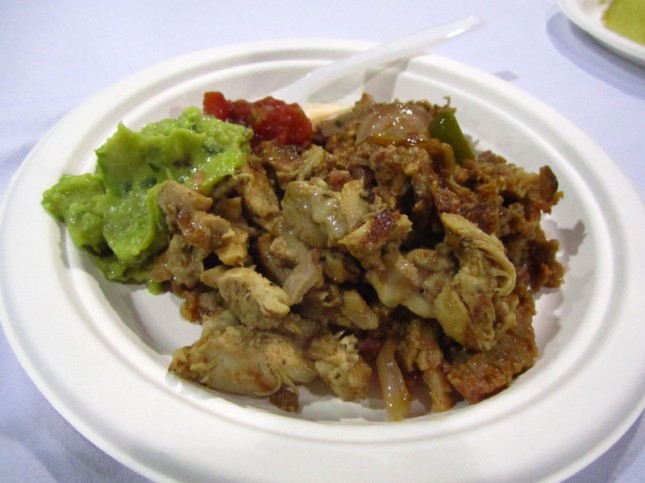 I and some other new hire were allowed to go back to our hotel room before the custom party started at night. My heavy backpack totally killed my shoulders and so did my feet. Apparently I wasn't used to wearing any dressy type shoes to walk around a lot.
Instead joining my other 2 colleagues to have a super early dinner at Hard Rock Café, I went back to my room and chilled. Plus I snacked on the last purple yam and Primal Pacs Jerky.
Then we took a cab back to the convention center for the costume party.
We didn't stay long so we headed back to our hotel. Across from the convention center was CNN center. One of my colleague's dream was to work at CNN so she was so excited when she could see the inside.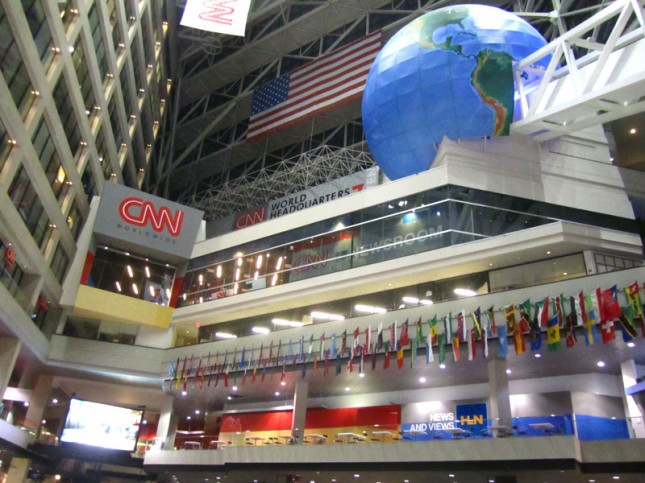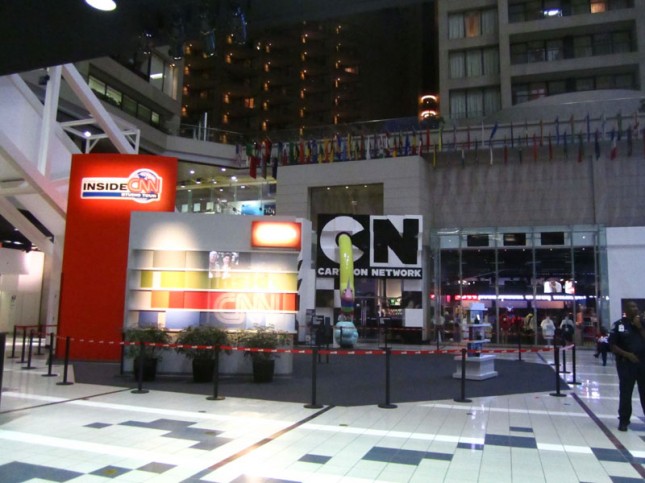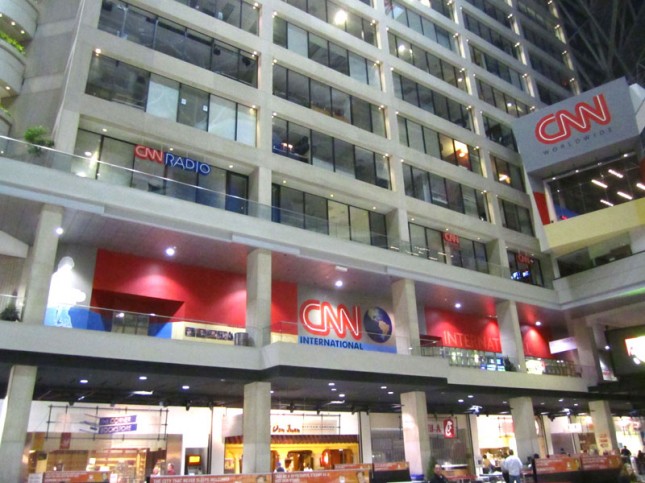 While the other girls had their late night sugar fixes, I opted for a big ass Greek salad with some gyro. I didn't finish it as I didn't want to eat too much before bed.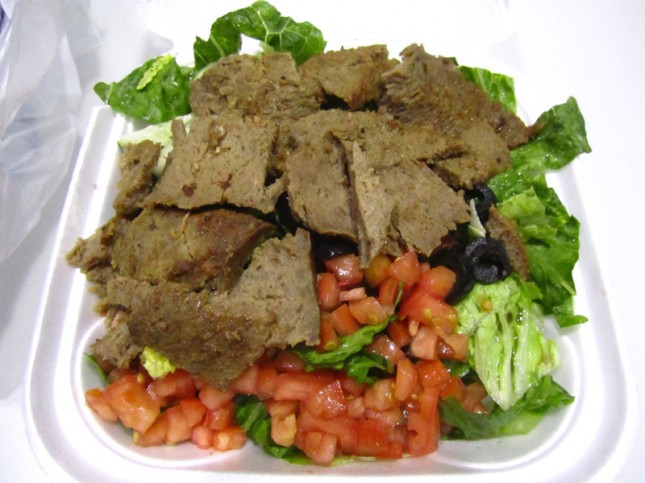 Sunday, October 23, 11
There was something in the Atlanta air as my colleagues and I woke up with scratchy throat and stuffy nose in the morning.
Apparently the left over from last night was my big savior! Originally we were going to have breakfast at Corner Bakery (one of my co-worker told me Corner Bakery served pretty good breakfast and she knew about me not eating pastries and grain/gluten laden stuff). Sadly they closed on Sundays..BLAH!
We opted to have breakfast at Starbucks. Not much Paleo choices for me other than this little protein box and a big cup of hot green tea.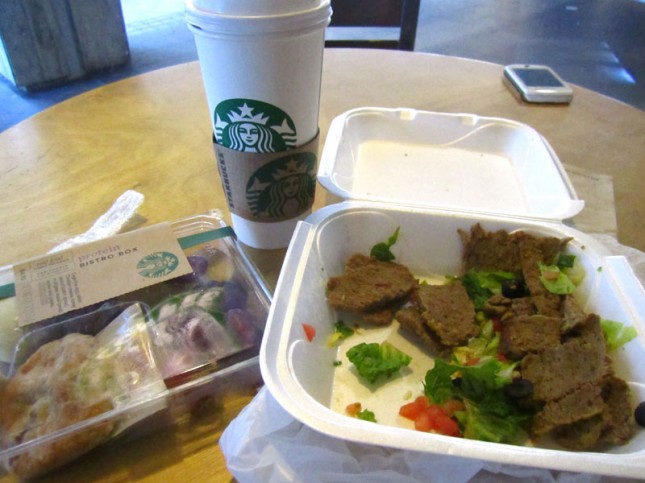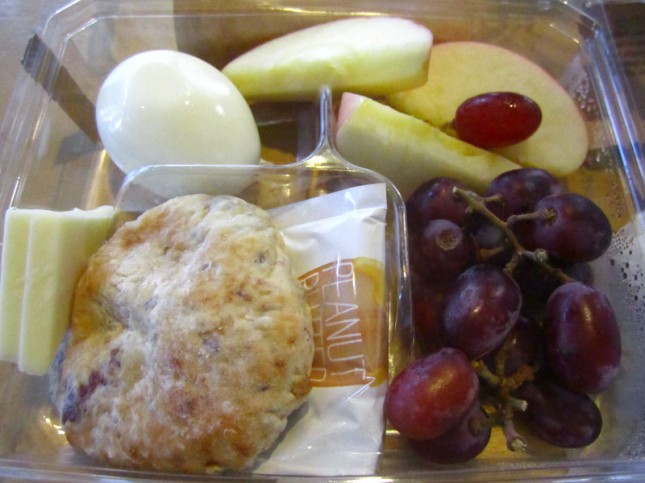 Lunch for the day was meatball pasta with Caesar salad. I worked my way around just getting the meatballs and the salad.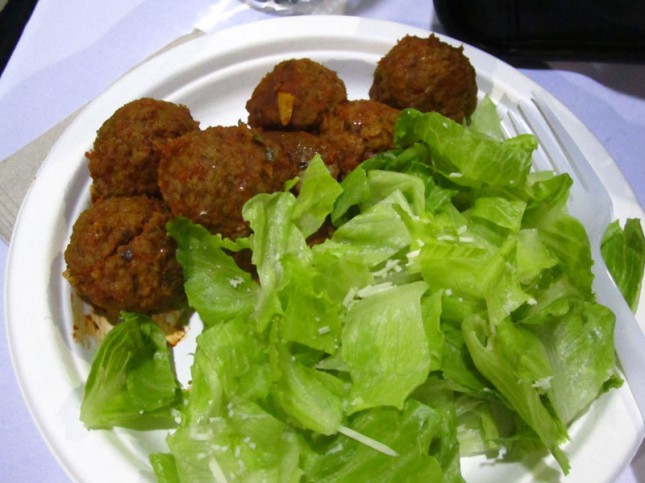 After we helped out as much as possible packing up after the event ended, we went back to our hotel to relax a bit before heading out to Two Urban Licks for staff dinner. Originally, I was going to pitch in a good locally sourced restaurant from one of the list that I got a while back, but they decided to go to this one since one of the staff recommended this. She's from Atlanta and she mentioned they had a company dinner at this place before.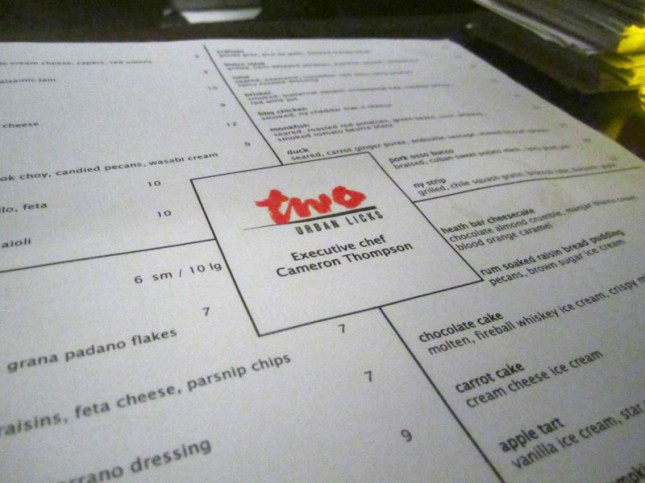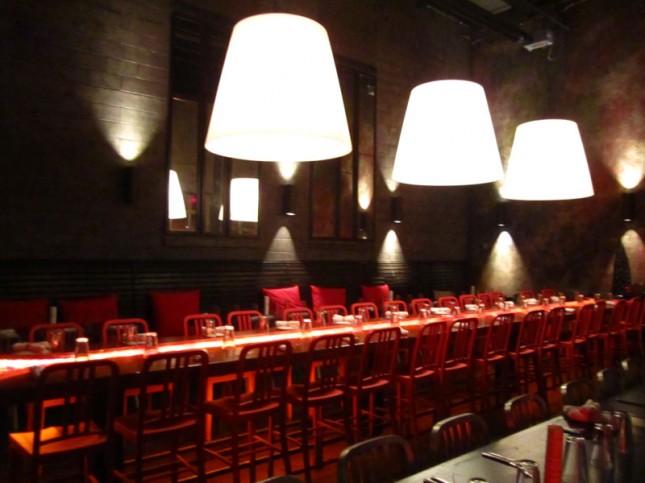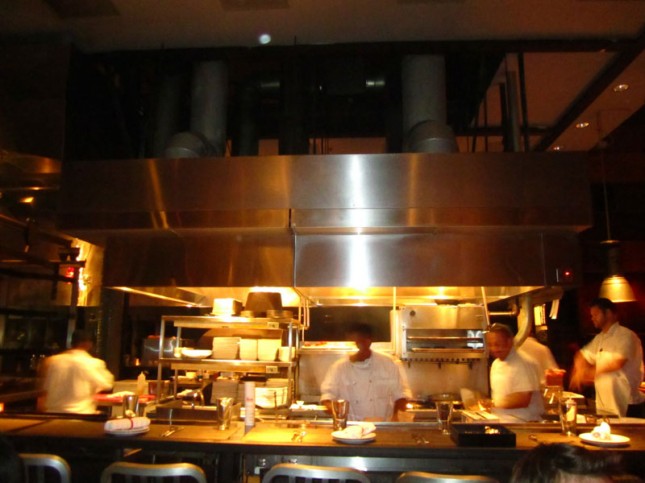 I ordered Baby Arugula salad with shredded apples with dressing on the side and Bistro Steak (sub the mashed potatoes with veggies instead) as the entree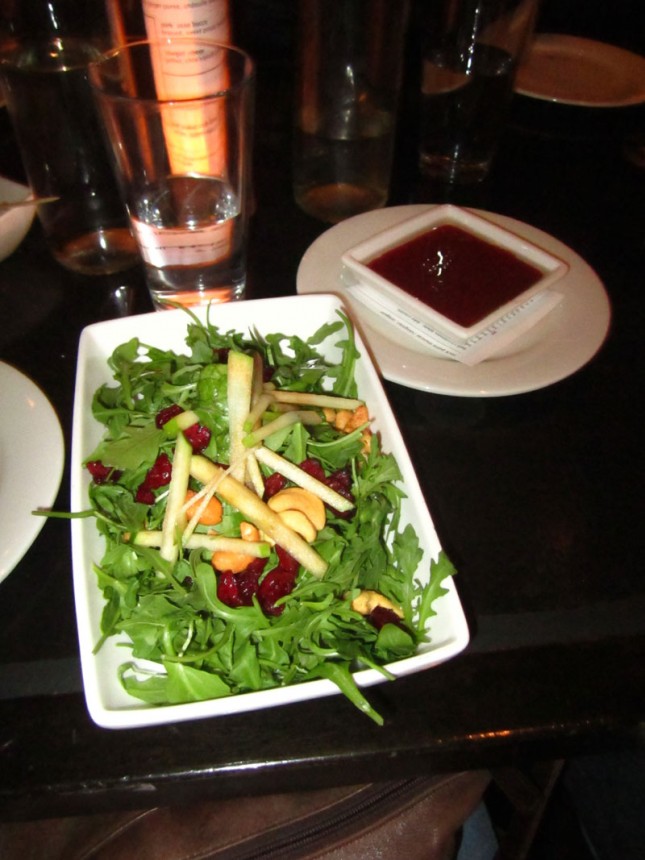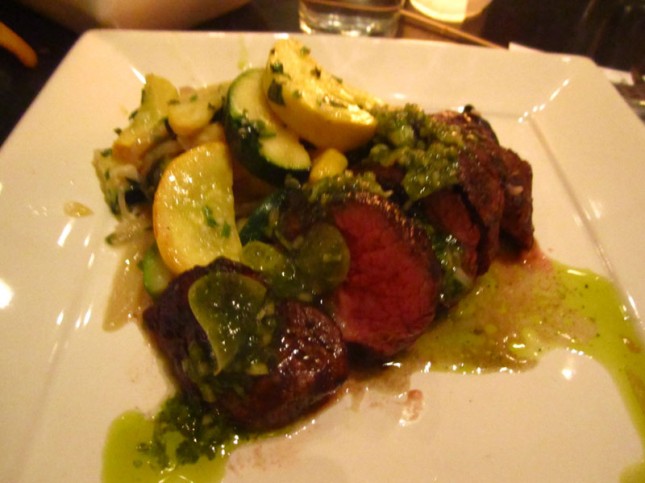 I got some of my fair share of appetizers from my co-workers.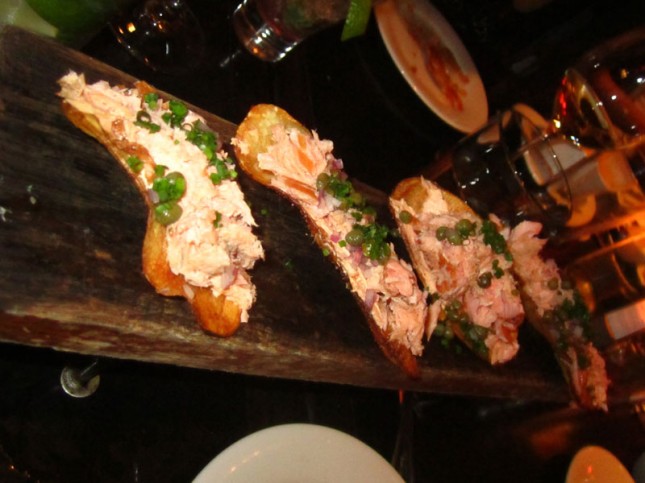 And some fried green tomato (at back) – sorry for the flash. It was super dark and I had to use flash otherwise pictures won't come up good.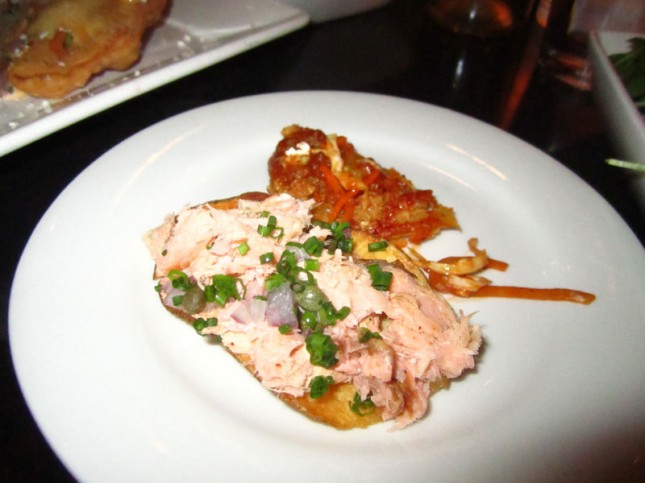 I had enough food to satisfy my hunger thanks for skipping this gluten laden bread. Everyone else felt over stuffed

Some people ordered sugary desserts (wait, didn't they say they were full earlier?) and I had fun by taking the pictures 😛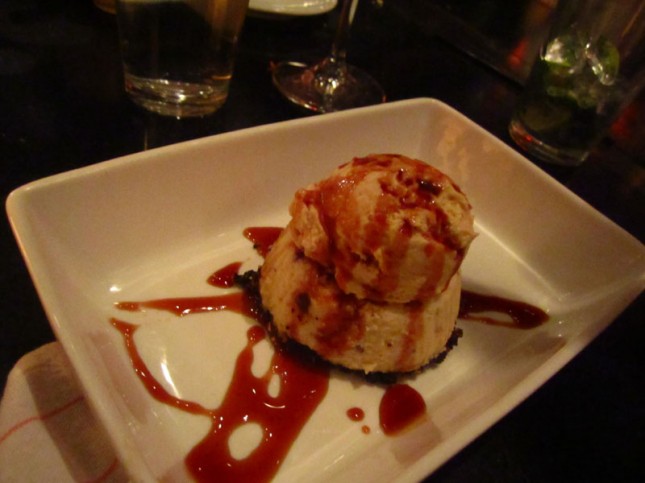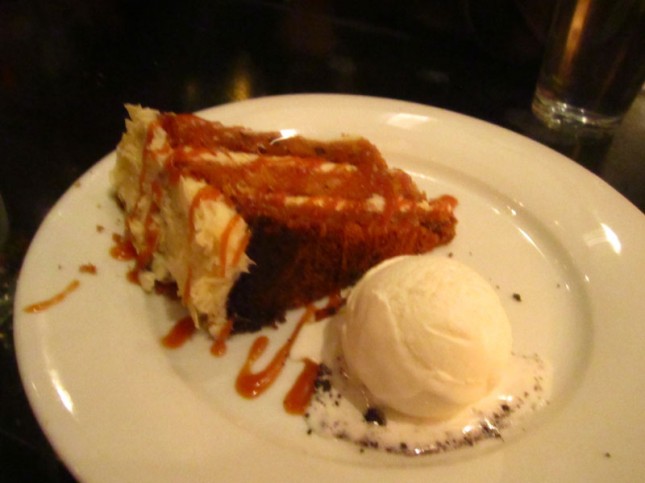 While everyone else sipping their alcohol, I was content with my water to keep myself hydrated.
Monday, October 24, 2011
We had to fly back to LA at 9 am but we left the hotel around 6:30am. Apparently Atlanta Airport TSA line was ridiculously SUPER LONG. I thought LAX TSA was bad enough, I guess I should be thankful it's not like this.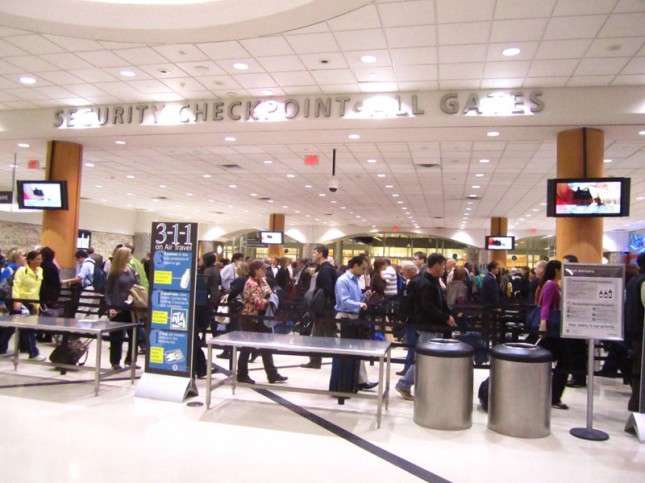 After we passed it, we went to Chili's to have our breakfast, which took F.O.R.E.V.E.R to come out. Literally, we had to keep asking the waitress to check if our orders went thru yet. So funny how slow they were despite the place was quite deserted and we had a flight to catch for goodness sake!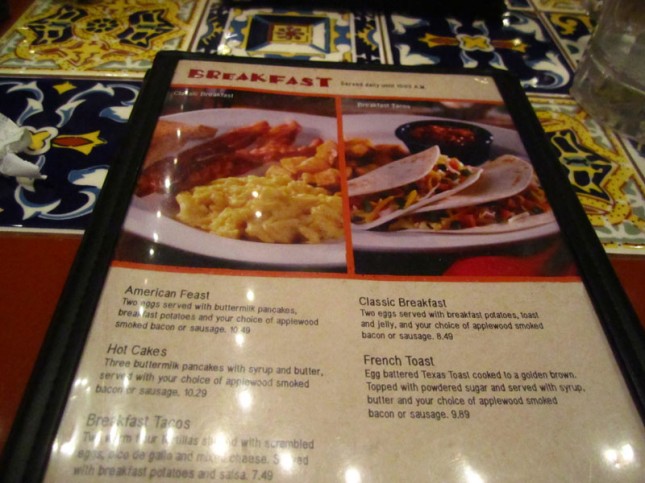 Not much choices for breakfast as mostly are gluten laden stuff so I requested no toast and potatoes and asked for extra egg and sausage patties. One of my colleague was generous enough to offer some of her bacon. YUM!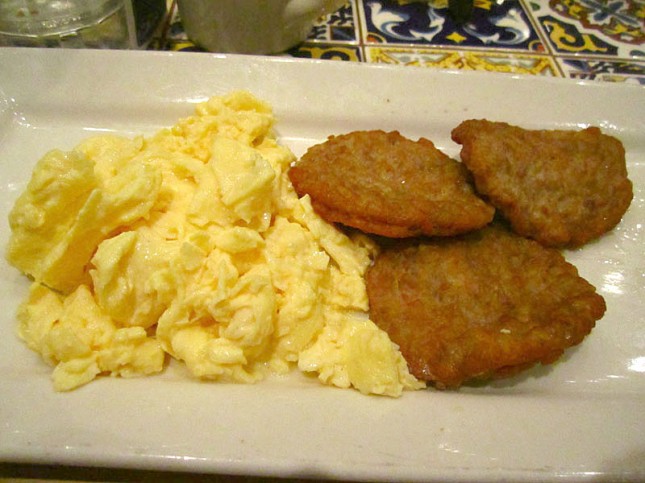 Then we flew back to LA and arrived around noon after 35 minutes delay. I couldn't wait to go home and eat REAL FOOD!