This is the second part of the Food post from my recent Alaskan Cruise Vacation.
Go here to read Part 1 – Overall Experience and Observations
Go here to read Part 2.1 – Food Porn
DAY 5
Breakfast
Typical well done fried eggs with pork sausages.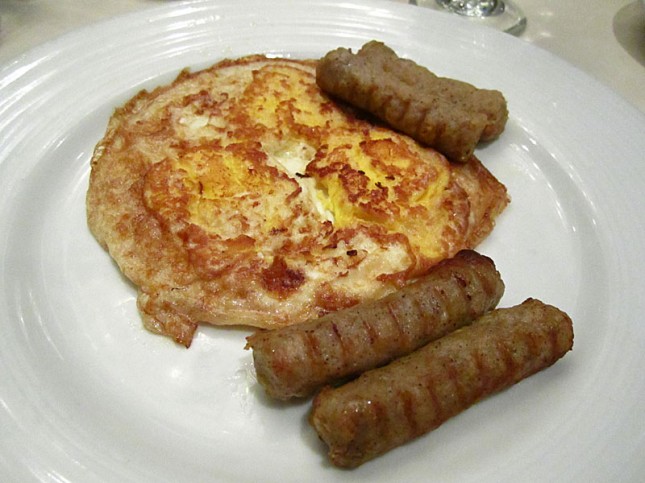 Plus hot tea as usual.

Lunch
Got some good workout in the morning PLUS some hiking so I got my appetite quite a bit for lunch.
A plate full of salad with some chopped avocado that I scooped up from sugary guava syrup and a plate of Jamaican jerk chicken and some beef stew.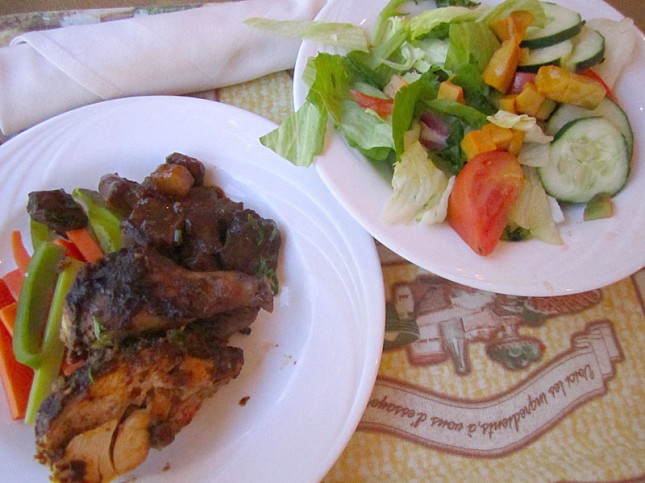 Another plate of bunless burger with sides of sauerkraut and grilled mushrooms.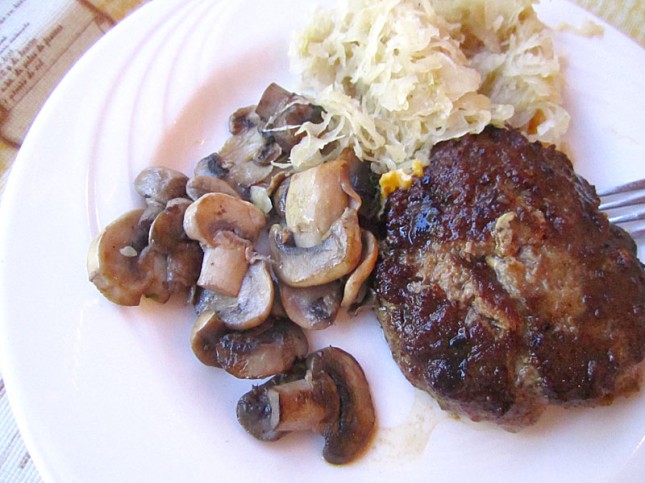 And I had a bowl of cut up fruits as snacks.
We bought Smoked Salmon Jerkies from TAKU Store. Unfortunately, they are not exactly 100% Paleo since there was some brown sugar in the ingredient list. However, strangely the jerky wasn't sweet at all so it might be very minimal. They also sell fresh frozen salmon, halibut and even salmon oil. I kinda regretted I didn't get the salmon oil when I was there.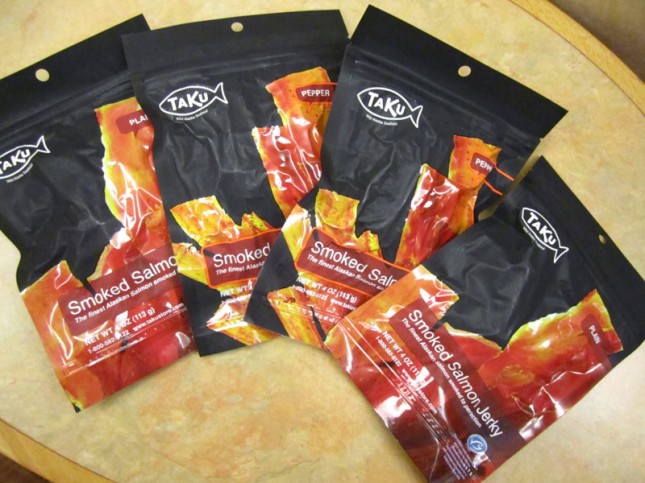 Dinner
My throat felt a bit scratchy so I asked for a cup of hot water plus sliced lemons.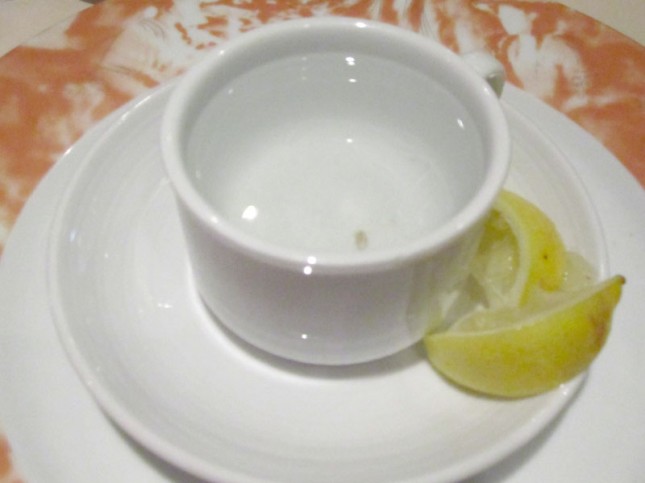 Starter 1: A bowl of wild cream mushrooms – didn't look appetizing, but taste was good although a bit salty for my taste.

Hubby K got Shrimp cocktail for his appetizer.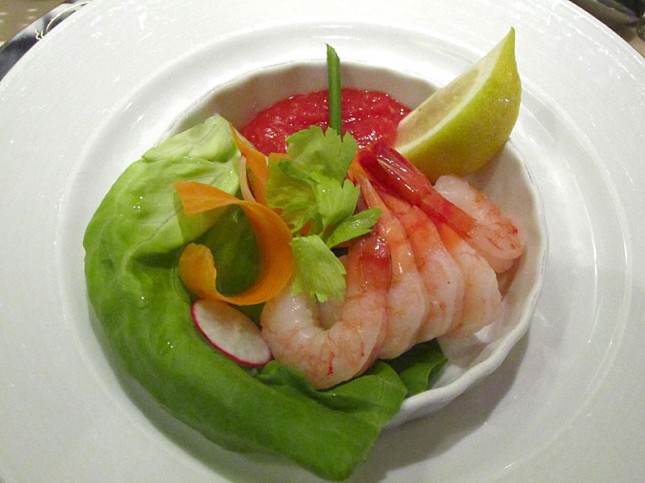 Starter 2: We shared sweet, sour and a bit spicy chicken tenders – they actually tasted pretty good!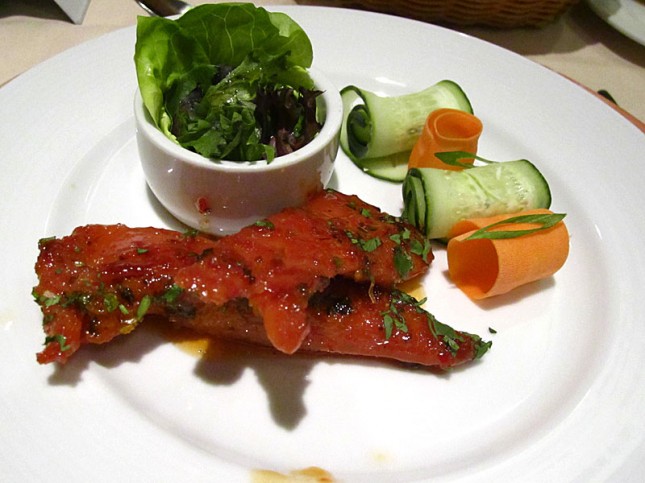 Entrée: We both ordered the Fillet Mignon dish. My only modification was substituted baked potatoes with steamed veggies. I had to specifically say "No potato steamed veggies" or else they'll put steamed potatoes together with the steamed veggies*sigh*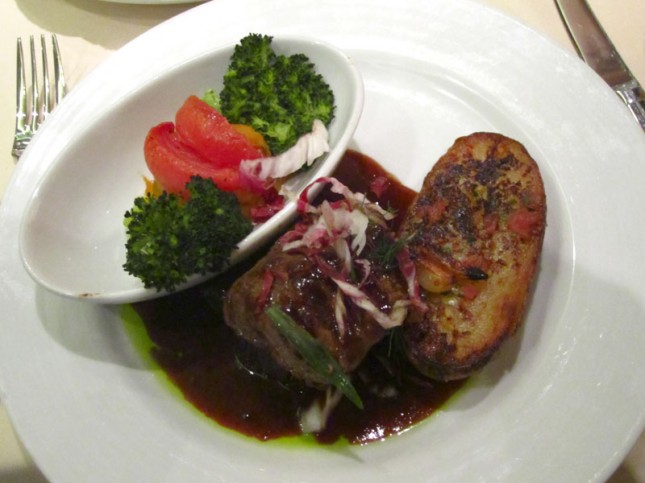 We both requested DOUBLE SIDES of no potato steamed veggies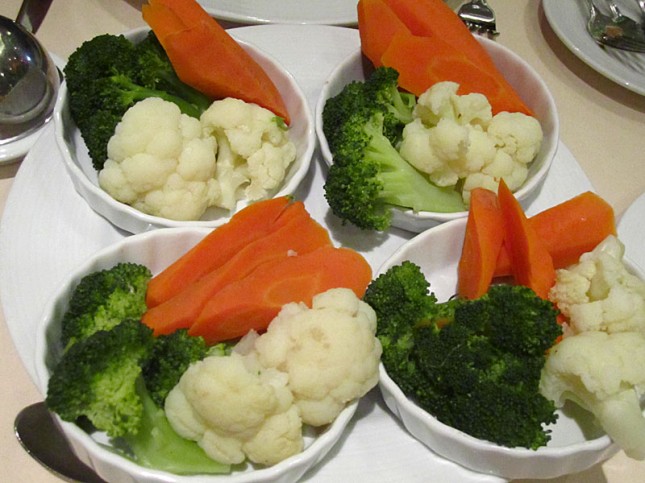 Someone who passed by our table was laughing when looking at the amount of steamed veggies that we ordered. HA! Maybe we should do the same when we saw how many desserts they ate huh? Uh better not, I think they might get offended.
DAY 6
Breakfast
I tried something different this time. Instead of the usual fried eggs, I tried poached eggs since my throat still felt a bit dry.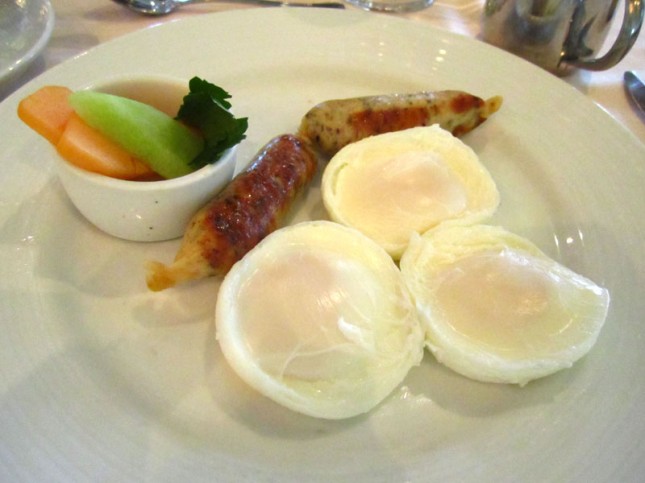 According to one of our cruise shopping expert, Salmon Etc. is a store which we should go if we are looking for good salmon goodies.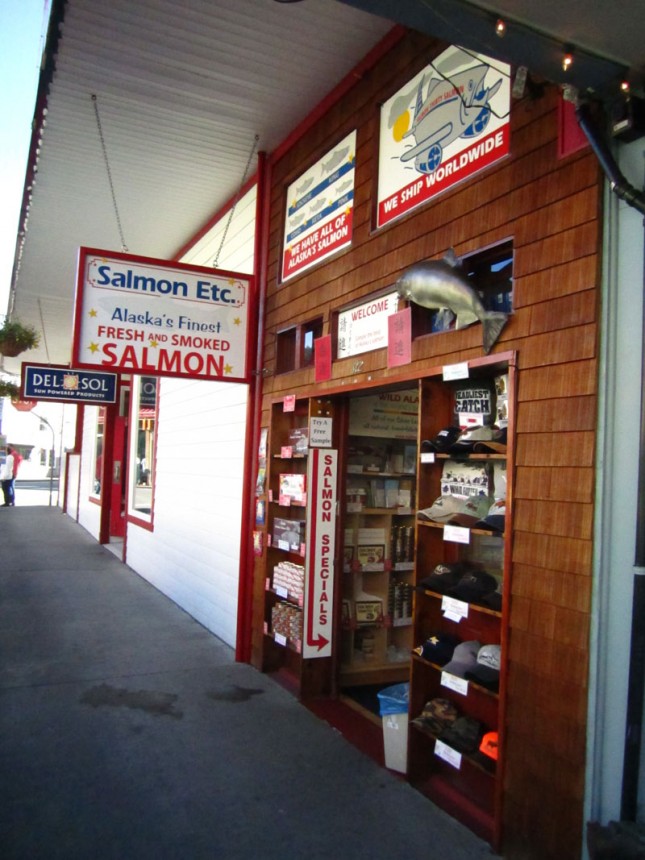 Honestly, most of the canned salmons had added sugar so these were the only ones that were pretty paleo friendly. Ingredients were salmon and salt or just salmon.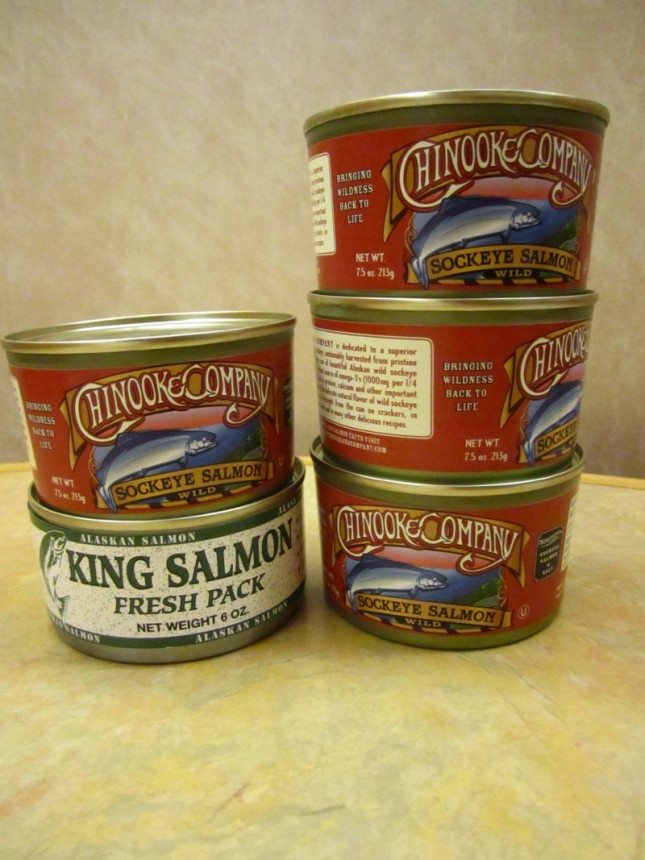 Lunch
It was a pretty short stop so we hauled back to the ship around afternoon and headed straight to the buffet dining room to have lunch.
First round: A plate full of veggies (no dressing), a plate of pickled veggies and dill pickles and a cup of decaf tea.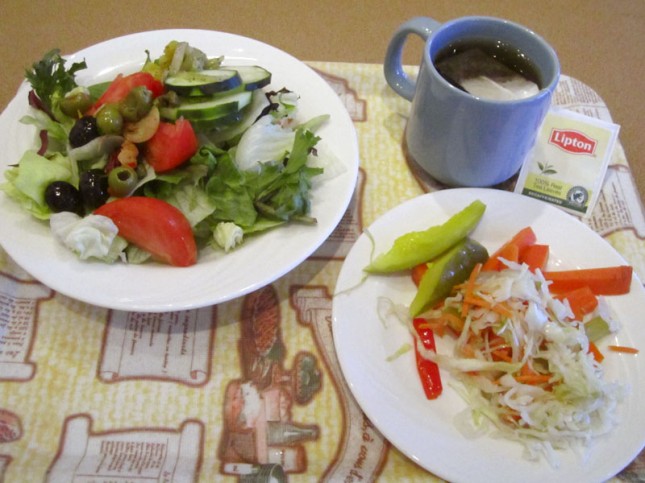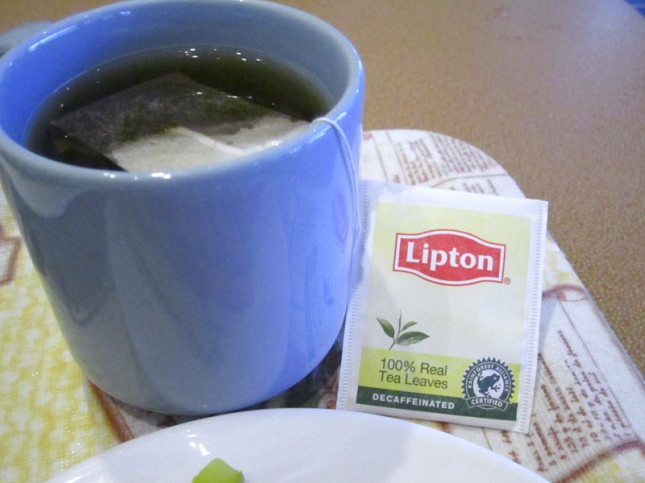 Second round: Pork chop with more pickled veggies and dill pickles and kraut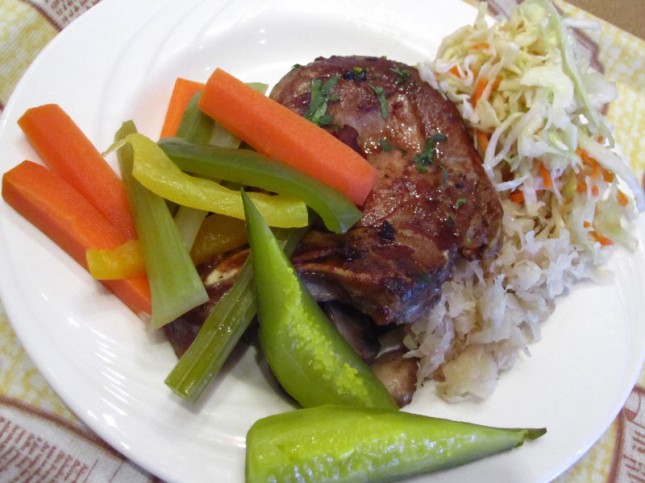 The pork looked a bit under cooked

So I finished all the veggies, tossed the chop and got another plate of pork chop and some roasted turkey breast slices.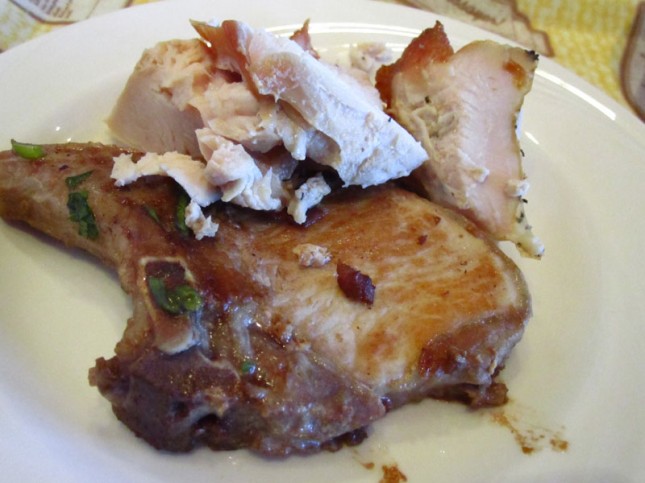 I washed everything down with a small bowl of fruits (mainly melons and today they had some grapes)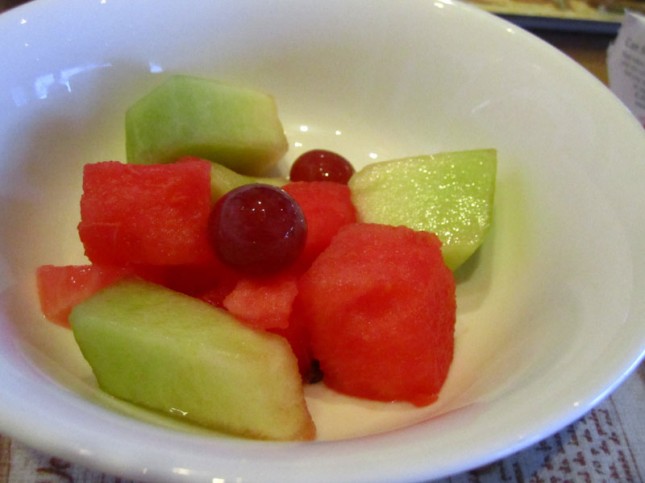 Dinner
Starter 1: Escargot (snails in creamy cheese with some gluten free cracker on top)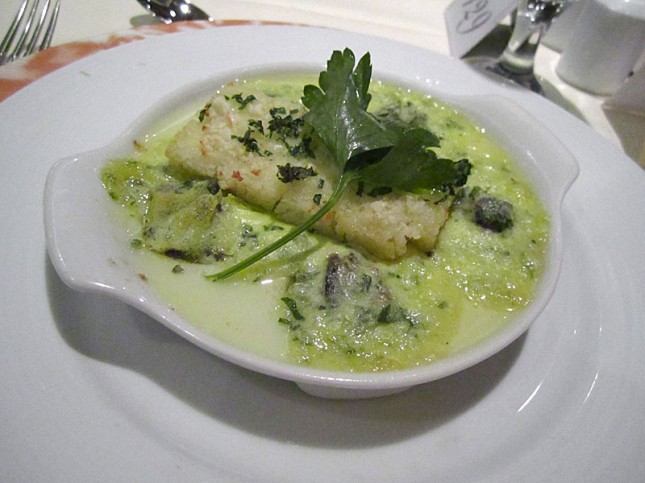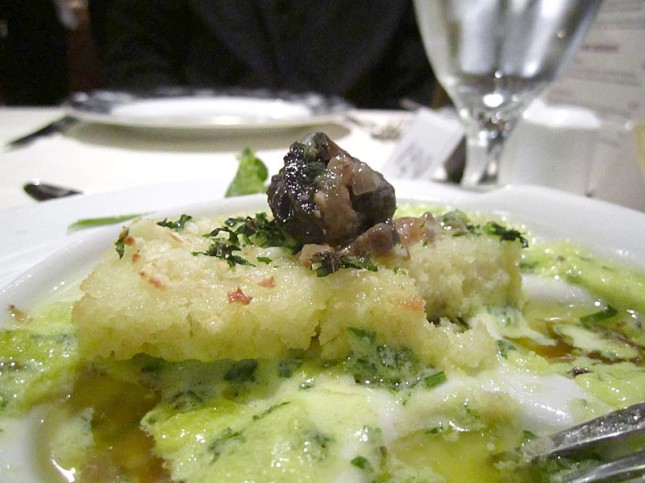 Starter 2: Mixed fruits with arugula – I left the cracker chip behind.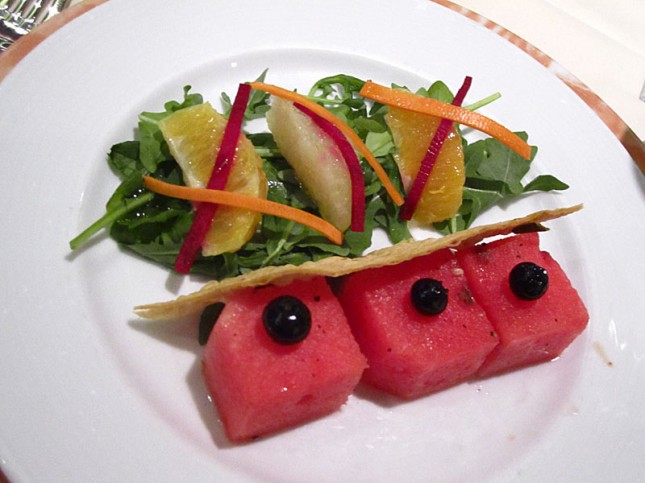 Hubby K ordered 2 starters as well.
Ocean Delight (cured salmon, ahi tartare and shrimp) with some cream cheese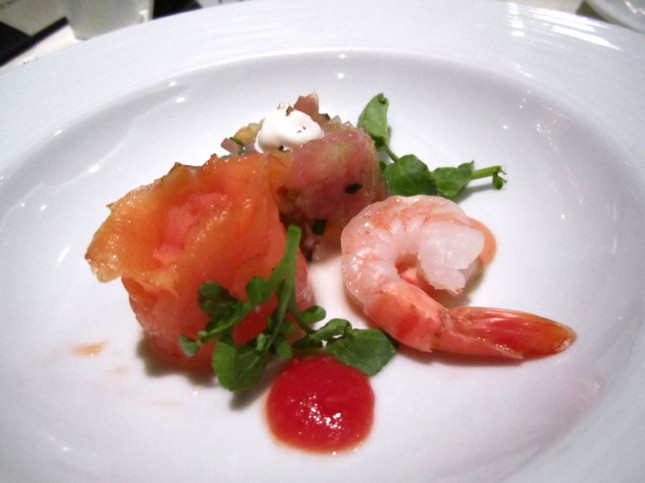 Shrimp Cocktail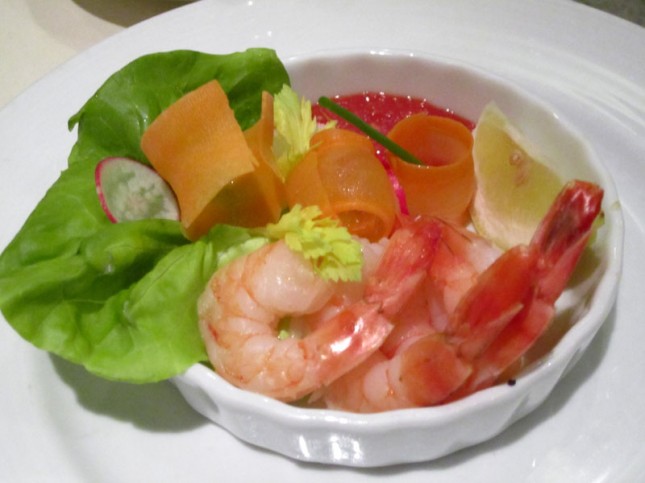 Entree: I ordered the fish special of the day: Bacon Wrapped Cod with a side of no potato steamed veggies on the side.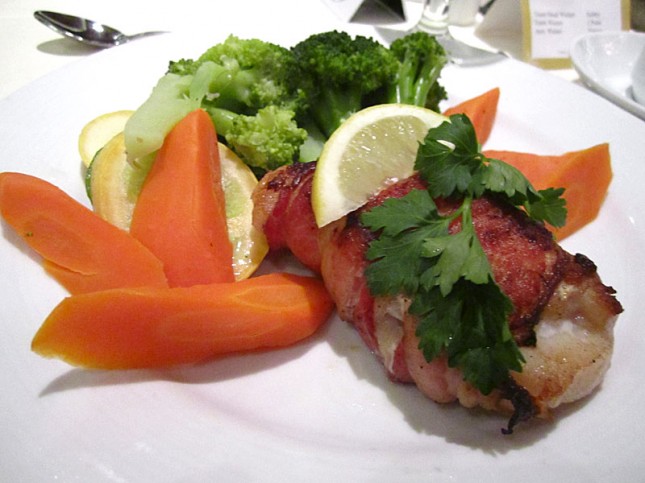 Hubby K ordered Jumbo Tiger Shrimp with Roasted Cauliflower with Chimicurri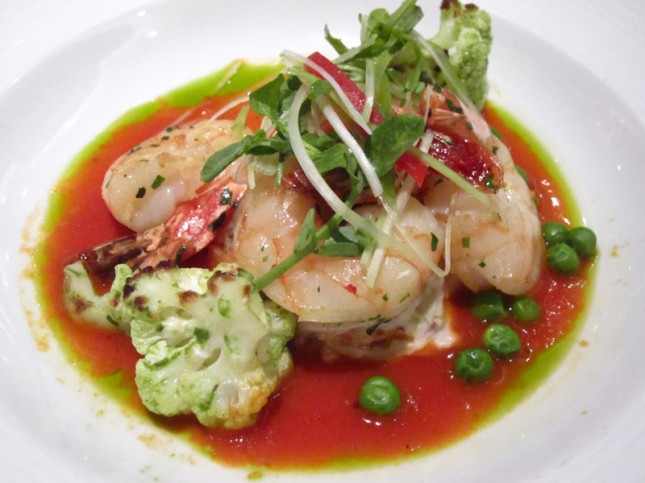 DAY 7
Today we mostly spent the time on the ocean and wouldn't be on the land until later at night.
Breakfast
Back to my usual fried eggs, sausages and a little bit of fruit.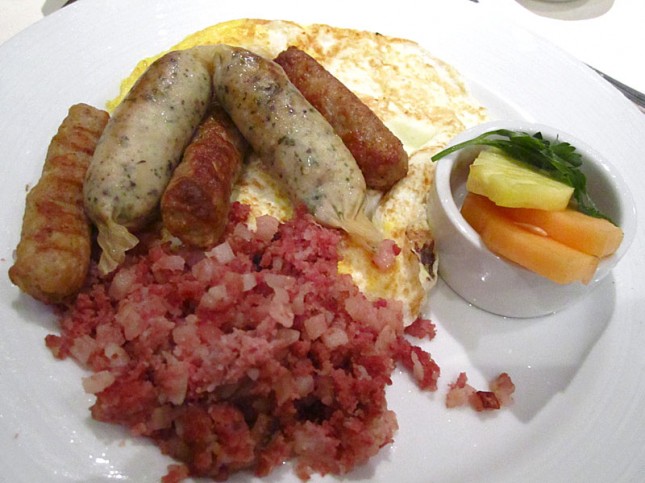 Lunch
I wasn't that hungry so I kept my lunch light. I had a plate of salad no dressing. Instead I topped with sweet and sour slaw and pickled carrots.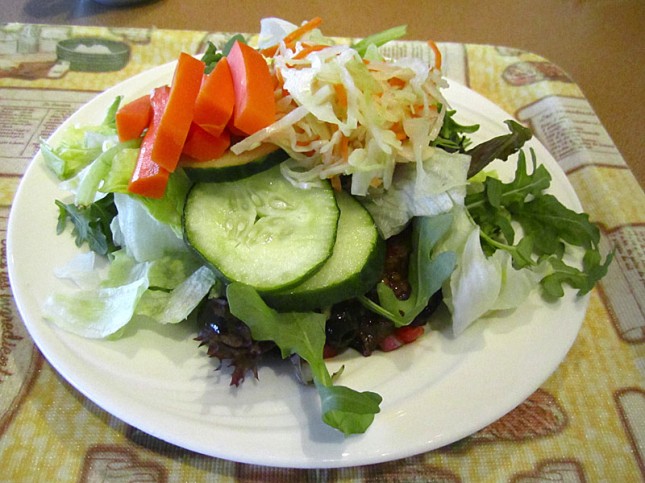 I called this day a Sugary Bomb Day. TONS of sugary food were being served at the buffet area since today was our last cruise day.
The sugary counter was the most beautifully decorated. (Note: all displayed fruits are REAL)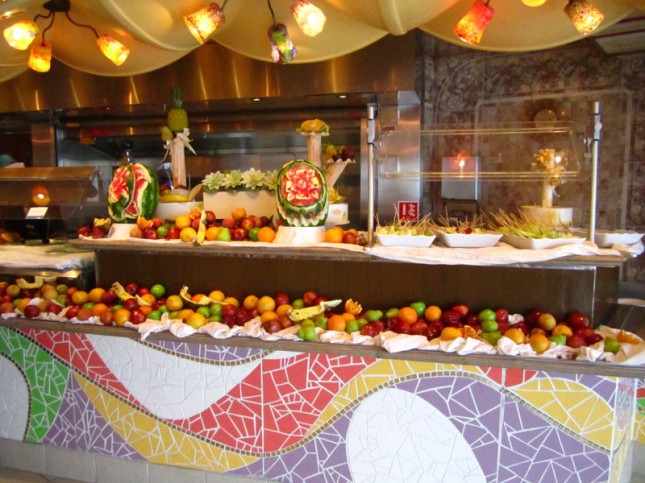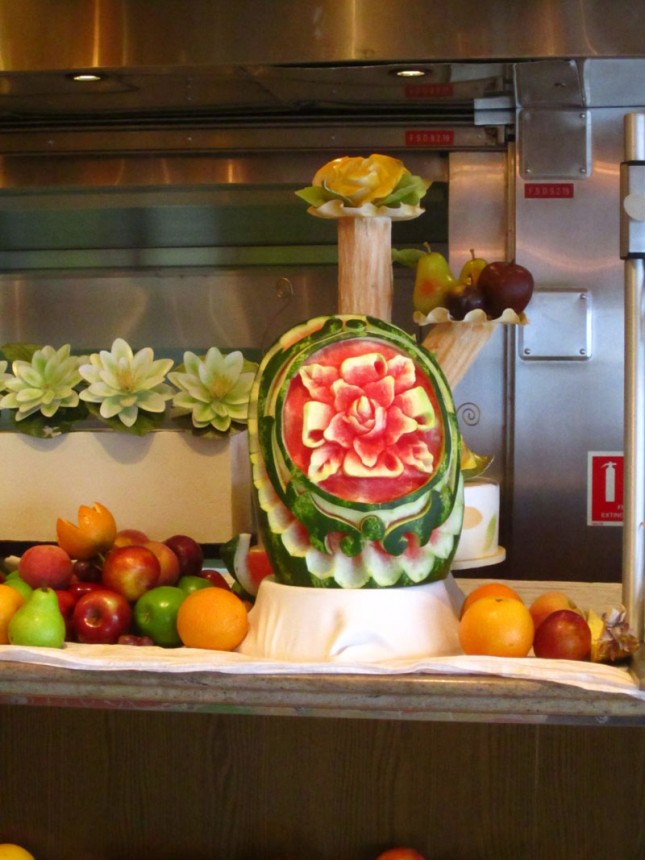 Skewered fruits, chocolate rum balls and donuts which would later slathered with MORE SUGARY melted chocolate.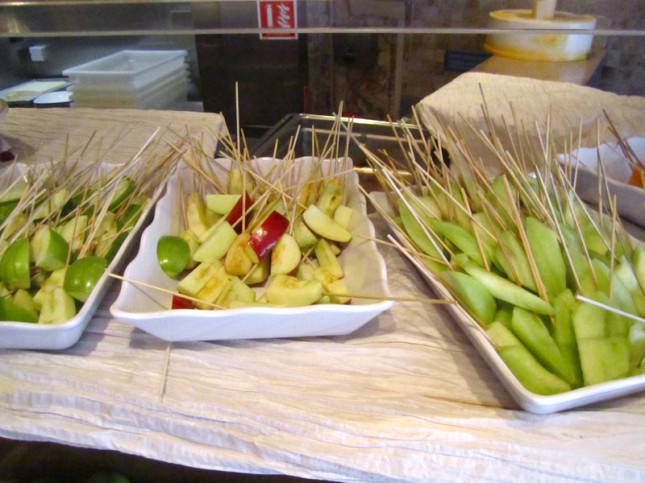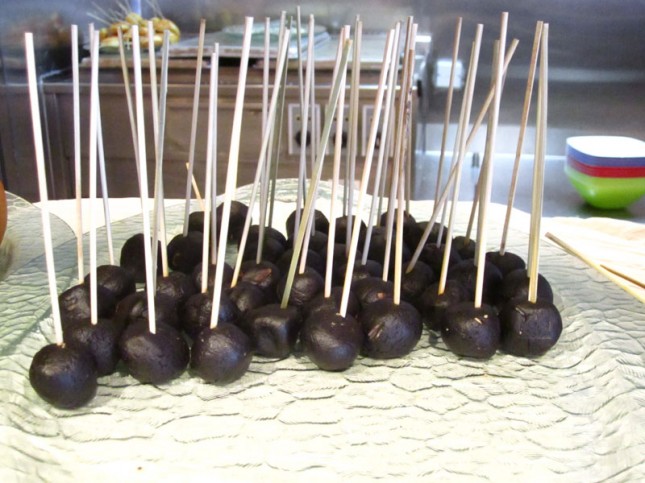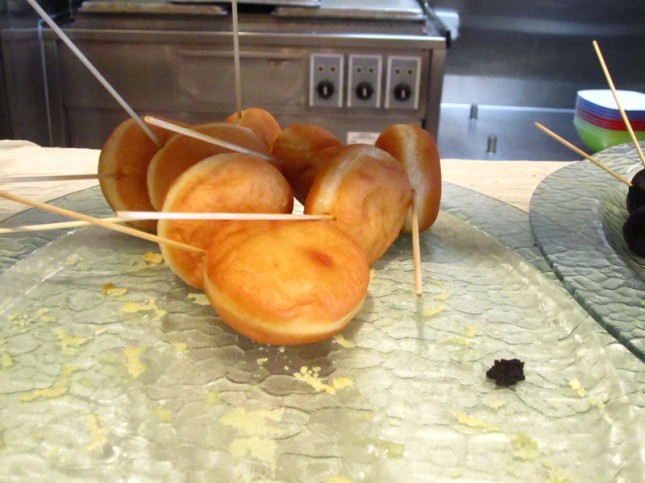 Rum Chocolate and Strawberry Mousse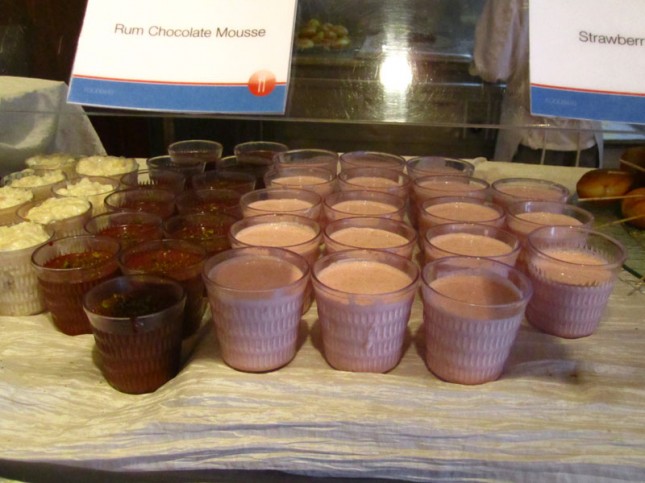 Chocolate Sushi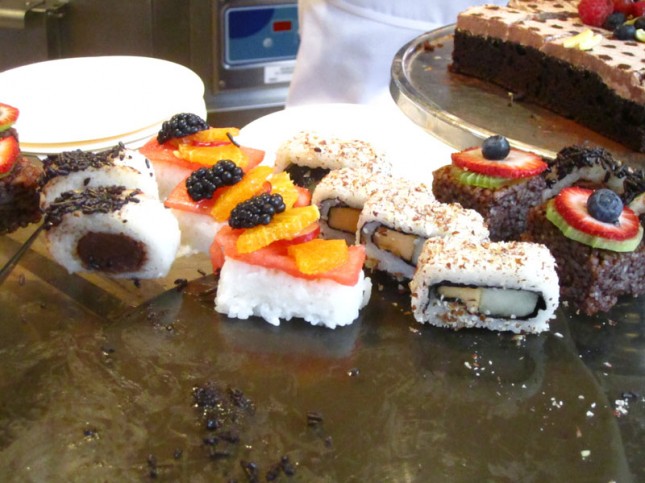 Tons choices of cake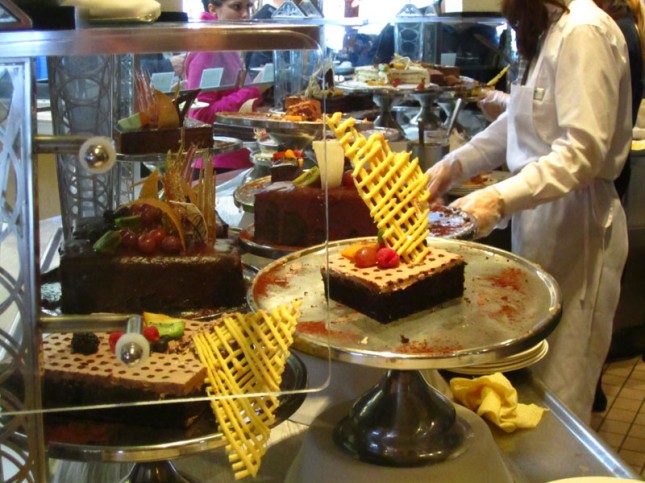 While everyone else were busy slathering their skewered fruits with more sugary melted chocolate, we were happily content with just the skewered apples. Yum Yum!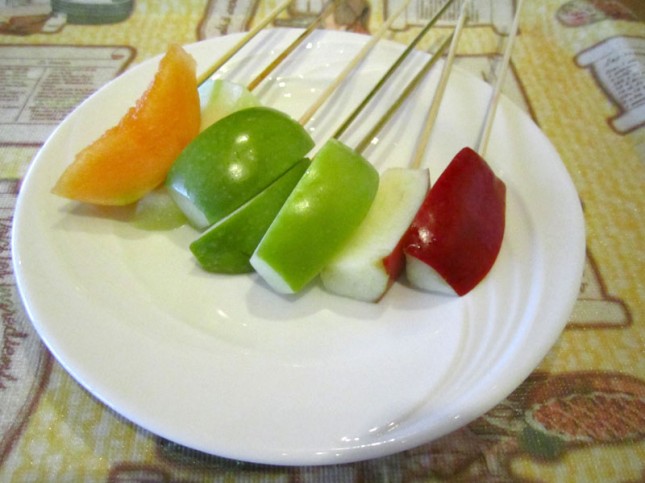 Dinner
Early bites at the buffet dining room: steamed veggies!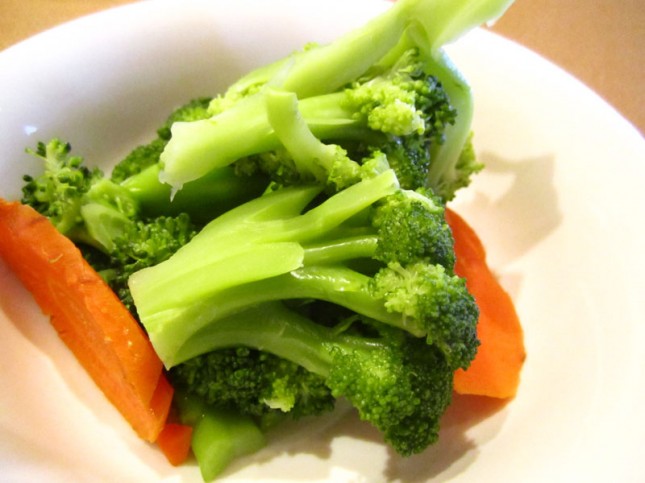 Then we hopped to the other dining room when it was less crowded so we could get seated right away.
Starter 1: We both ordered Lobster Bisque – mine was minus the cracker.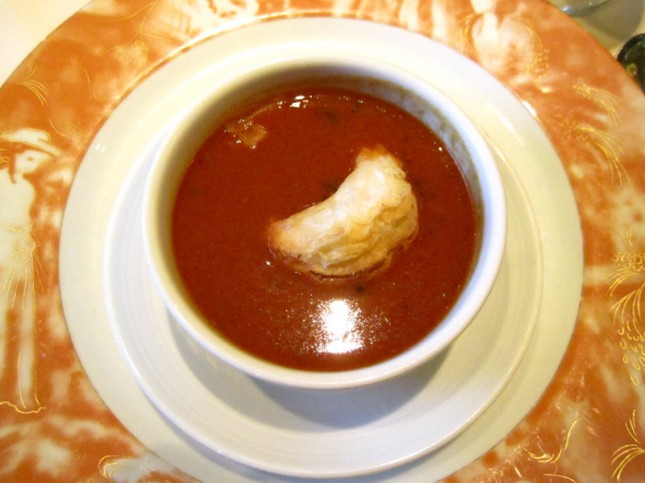 Starter 2: I ordered Grilled Portobello Mushroom with Mesclun Lettuce seasoned with Balsamic Vinegar, Fresh Basil and Extra Virgin Olive Oil.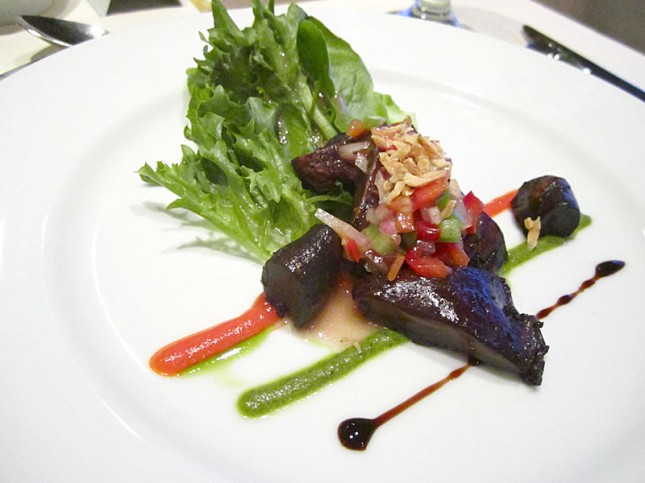 Entree: I ordered Norwegian Salmon with Dill Mousseline (Lemon Butter Sauce) with a side of steamed veggies. I am not sure whether I forgot to tell the hostess no potato steamed veggies or she missed it. Anyway, I was quite hungry so I actually ate the potatoes this time.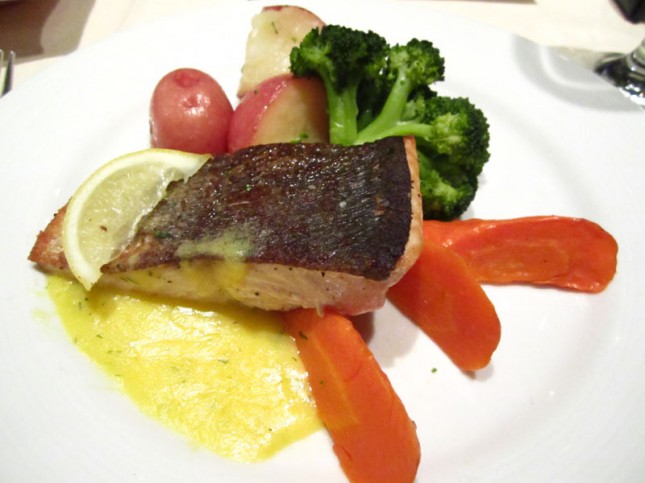 I forgot to take Hubby K's entree food picture but I remembered he ordered the fish of the day dish: Coho Salmon Steak.
SEATTLE – LOS ANGELES
Breakfast
This was our last meal on the cruise ship. I ordered Egg Benedict minus the English muffins, 2 fried eggs and sausages. I didn't finish all the ham since it was VERY SALTY!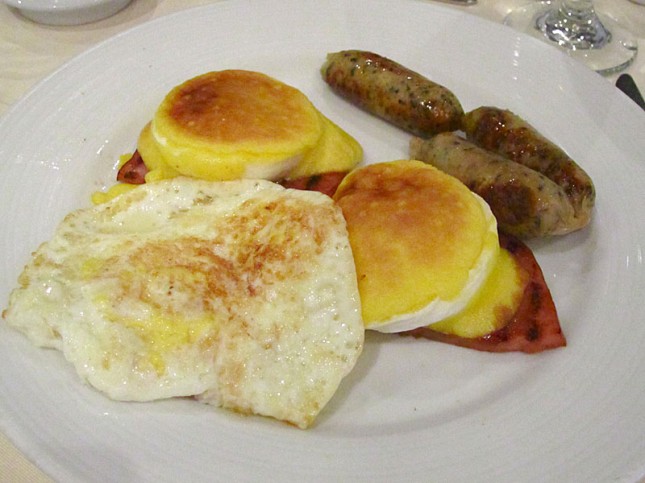 We had a very short day in Seattle but we couldn't get around much except hanging out at the Pike Place Market.

I was expecting the berries price should be lower than California, but that wasn't the case and I thought they are local fruits in Washington? Hmm…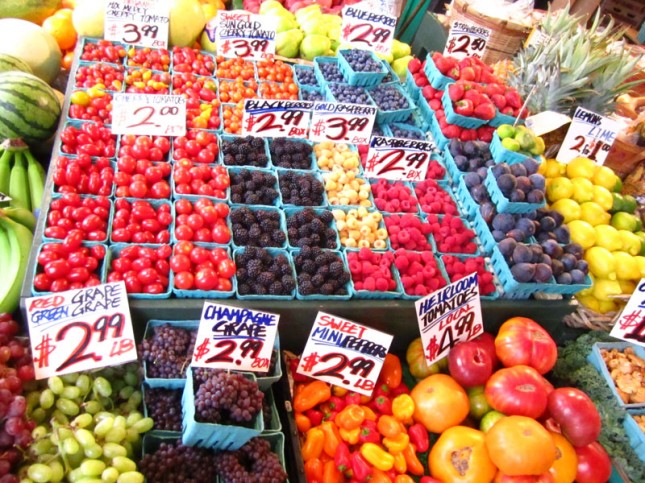 Lots of fresh wild caught salmon and other seafood. The only bummer was the gills were all removed. According to my mom, who's an expert in picking fresh fish, checking the fish gills color is one way to see if the fish is still fresh or not.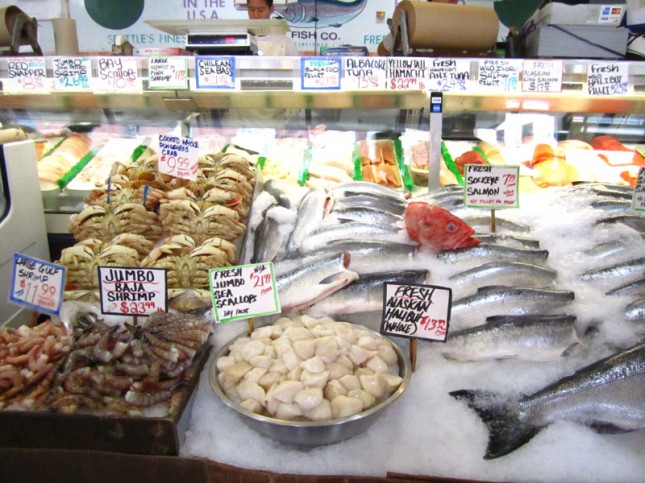 Lunch
We picked The Crab Pot to have our lunch. Ok don't laugh, since we don't eat out that often, when we thought it was a local restaurant in Seattle, after we were seated we found out this restaurant has its chain in Southern California as well..DOH!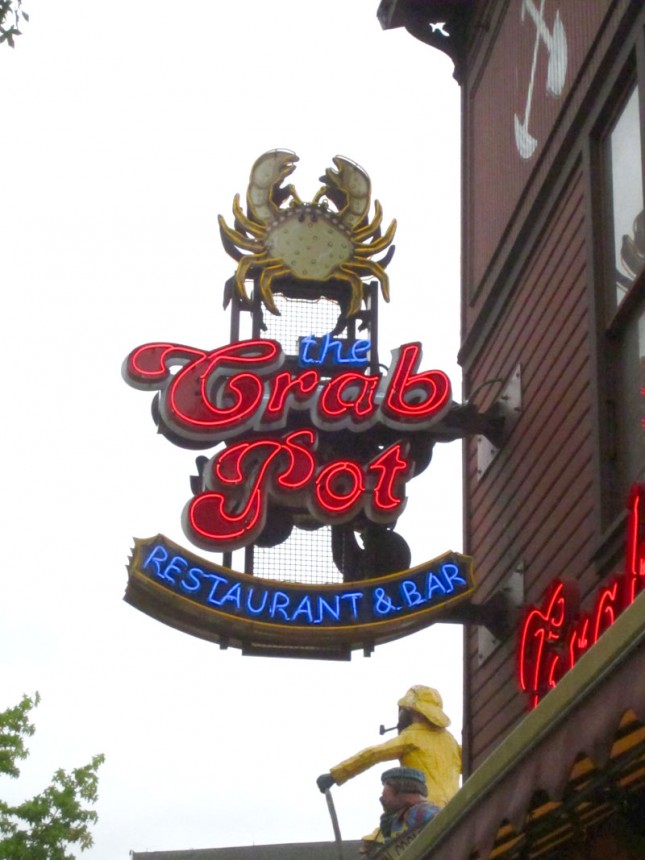 We both lost interest of ordering anything fancy so we only ordered Salmon Salad Sandwich. Hubby K ordered Sandwich style, I ordered Salad Style.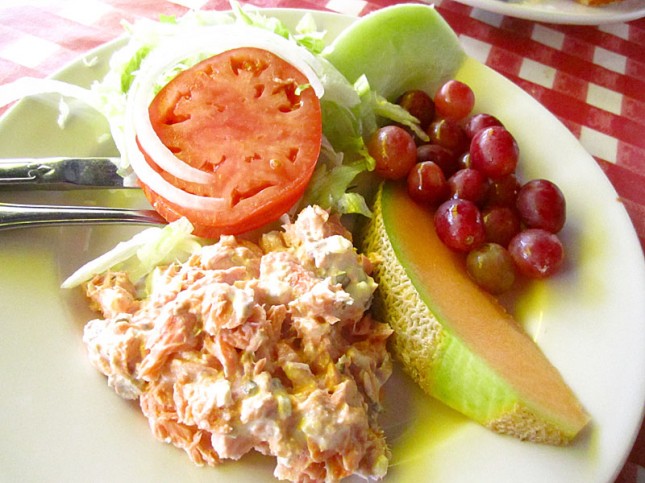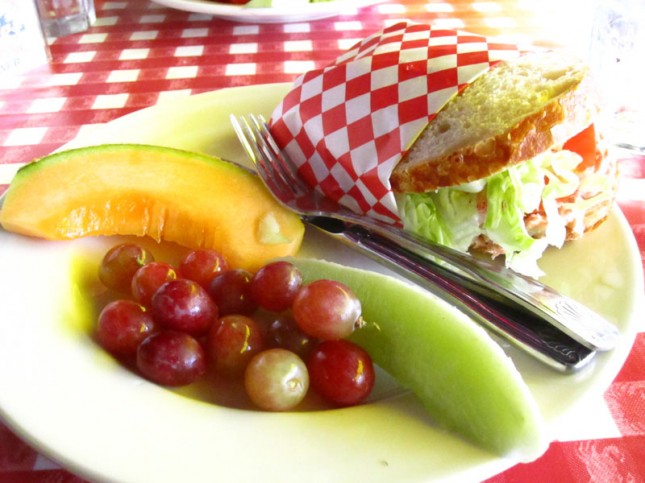 We walked around a bit and I was so happy I got to Penzeys Spices store and got myself a jar of Fox Point Seasonings.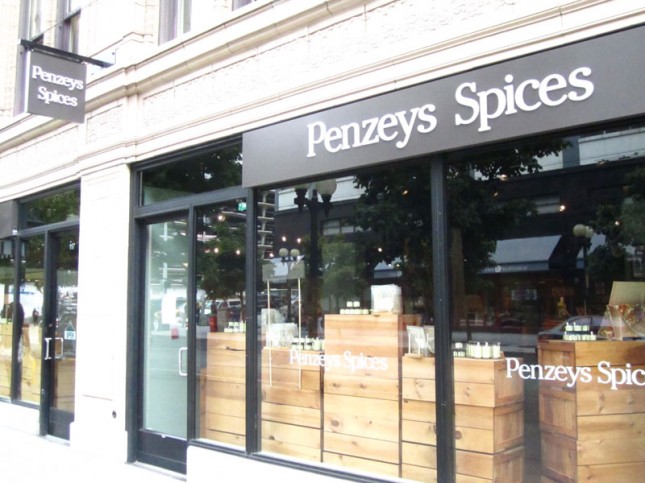 Then we went straight to the airport waiting for our flight. Our flight was in the evening and we both were pretty hungry. Thank goodness for salmon jerky, we could have something healthy to snack on while on the flight and passed on the grain snacks from the airplane.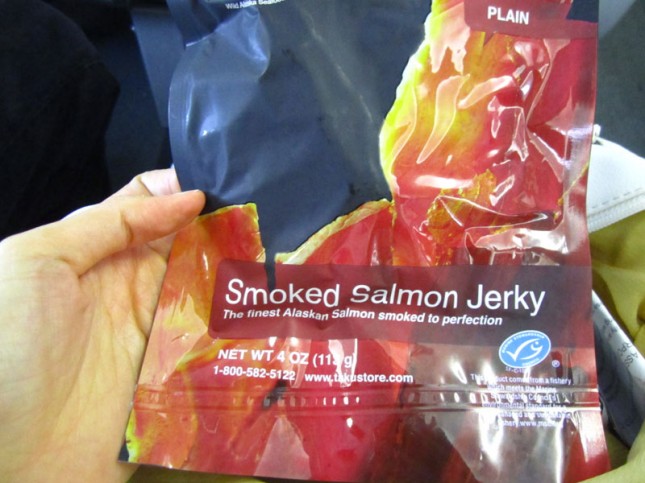 After we got to LA, I was pretty hungry and suggested we had In-N-Out as our dinner. I ordered double patties protein style, no spread with pickles and mustard.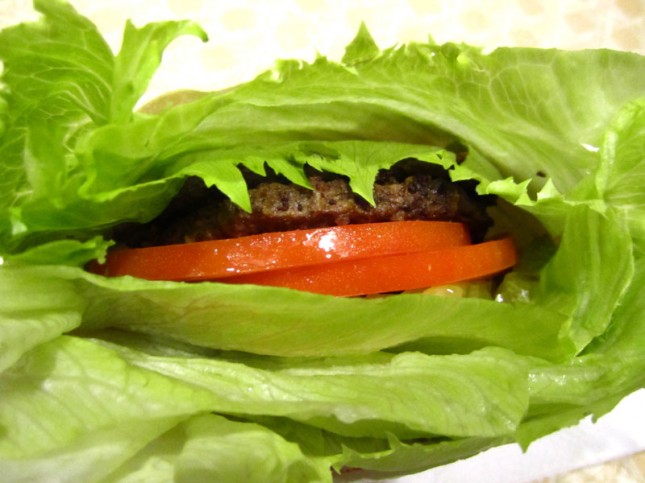 As you can see, my eats weren't exactly squeaky clean paleo but at least I skipped majority of the insulin spiking food. One thing that affect me was the grease. I had this annoying pimple underneath my lower lips which is still hanging underneath the skin. It's not hurting anymore but I could still feel the bump. Hopefully by jumping back on my typical Paleo eats, my body would heal itself quickly. Another note, most of the food (minus the salad) were VERY SALTY! I'm so glad I could finally cook my own food again. It's nice that we didn't have to cook and clean up after eating, but in a long term, I don't think we could survive if we had to stay on a 14 day cruise.
Next: Part 3 – The Adventures and Sightseeing 🙂