This is Part 2.1 of my Alaskan Cruise Vacation. You can read Part 1 here.
Ok now we are on to the FUN stuff…what did I eat during the entire 7 day cruise to keep on the Paleo bandwagon and still stayed sane and had fun. Truthfully, I know it wouldn't be squeaky clean paleo eats, judging how the food was prepared (99.9% most food were cooked in industrial vegetable oil and with added sugar, no questions asked) but it WASN'T HARD at all.
Ok enough blabbering let's get into the fun stuff! Sit back and relax, this post will be LONG.
DAY 1
Breakfast
While I was on my flight to Seattle, I had hardboiled eggs and some green grapes plus hot tea.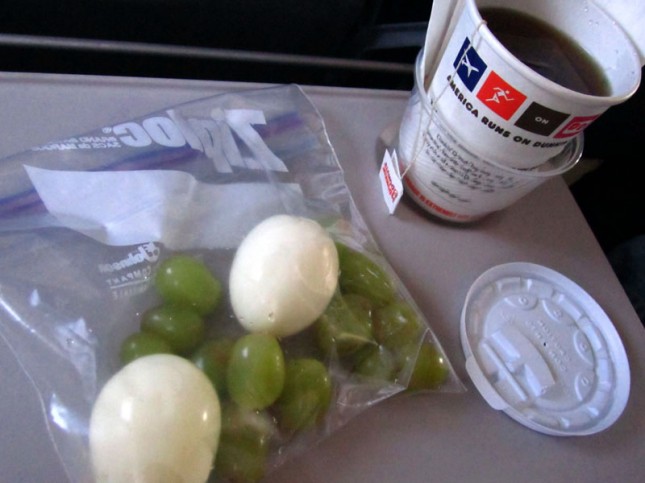 Prior this I was munching on half portion of baked Japanese yam.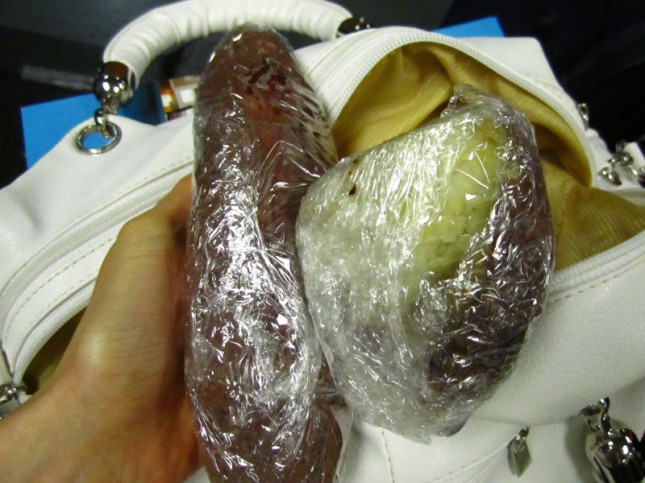 Lunch (on the cruise ship buffet area)
First plate – salad plate with cold cut meat slices topped with bacon bits and sunflower seeds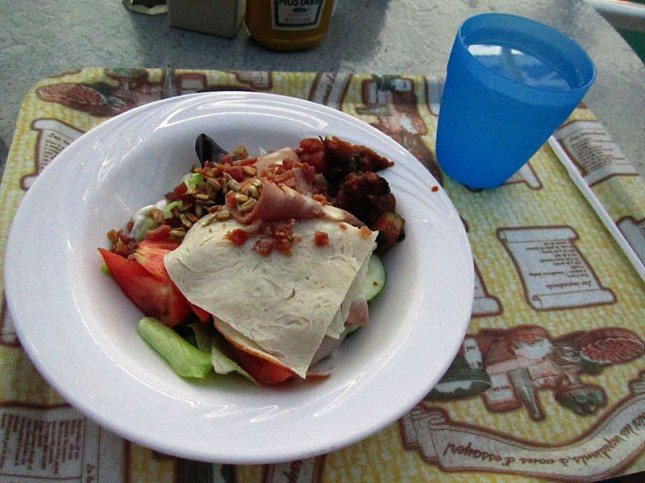 Second plate – Grilled stuffed eggplants, fish fillet (I'm sure they were breaded but I didn't sweat much on it), topped with olives.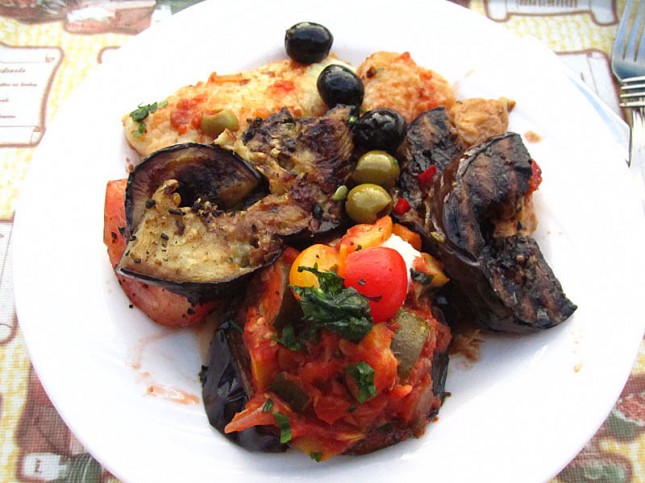 Afternoon snacks
Cut up fruits (mostly melons)

Dinner (dining room)
I kept it simple so I chose the basic Grilled Mahi Mahi with side of steamed veggies. I didn't order any appetizers nor desserts.

Hubby K's plate – Not exactly sure what it was but could be some ribs with fries and grilled corn on the cob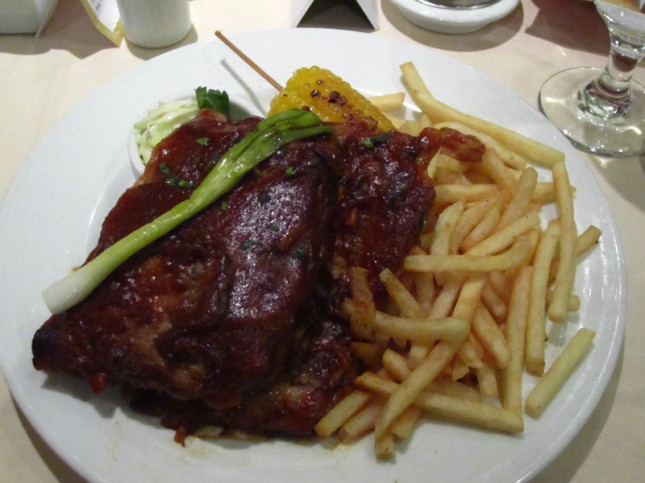 DAY 2
Breakfast (at the dining room)
The ride was a bit wavy and bumpy. I finished my morning workout as planned (Burpees are Forever) with some modifications.
Afterward I showered and we went down to the dining room for breakfast. As usual, I always start off my morning with a cuppa tea(bag).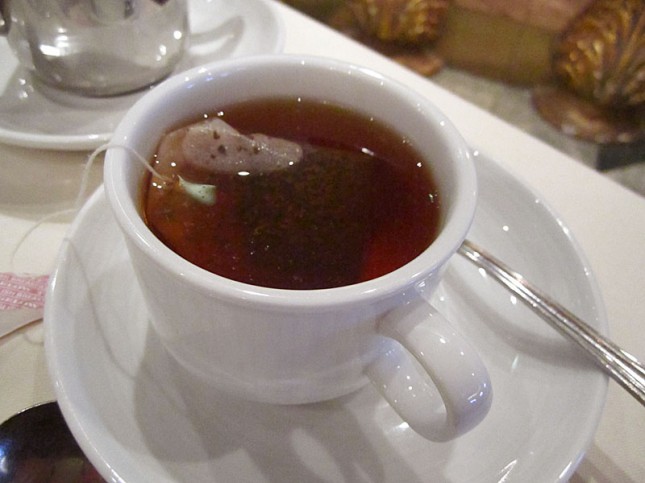 As I mentioned before, breakfast menu was pretty limited for Paleo, so mostly I stick with eggs, hams, bacon, some fruits and sausages. Today I had the usual well done fried eggs with bacon strips, hams and some fruits.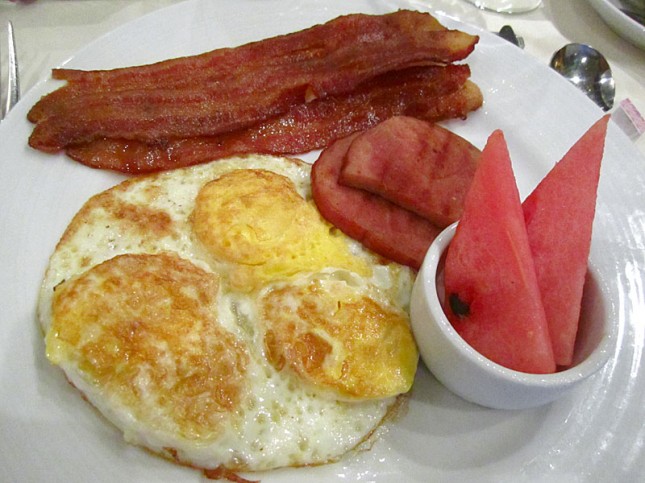 Hubby K's plate – sunny side up eggs, hams, bacon strips and some fruits.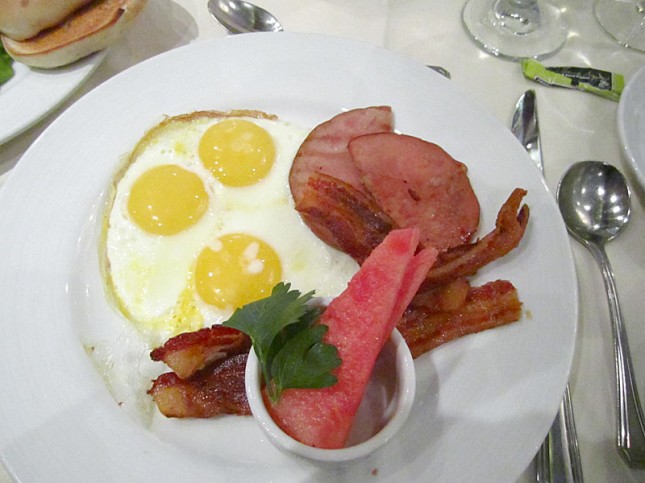 He also ordered an extra breakfast entree – cured salmon with cream cheese, veggies and a toasted bagel. I sampled the salmon and passed on the gluten. It was ok but then I am not a big fan of eating raw fish.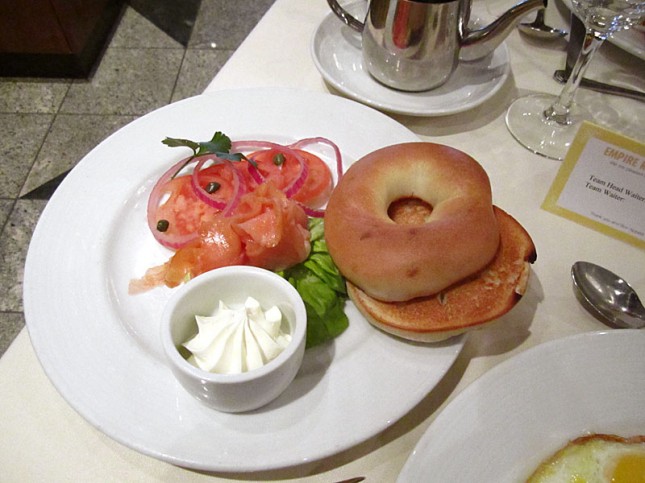 Apparently I was super ambitious that I did another workout post breakfast workout to utilize the gym space.
5 rounds (not for time)
10 prisoner squats & front kick
10 dive bomber push ups
10 ninja jump tuck
10 side lunges
One lady asked whether I was in some kind of acrobatic show when she saw me doing the ninja jump. Lesson to learn: no more working out after eating (even after 2 hours later!). I felt super crappy from the jumping plus the bumpy ride. I felt the crappiest ever in my life – had to stand up for a bit or I had some kind of acid reflux when sitting down. Good thing I didn't throw up, although I thought I might since my mouth felt so acidic.
Lunch
The lunch buffet food wasn't too appealing to me plus I feared I might throw up from getting sick of eating. I was extremely starving and I had the worst energy withdrawal EVER!
It was too late to go back to other dining room so we went back to our room and I broke open the last Primal Pacs and I instantly felt A LOT BETTER! I guess my body was desperately needed some fuel after I tortured it from the second workout. I also gobbled up the last remaining baked yam.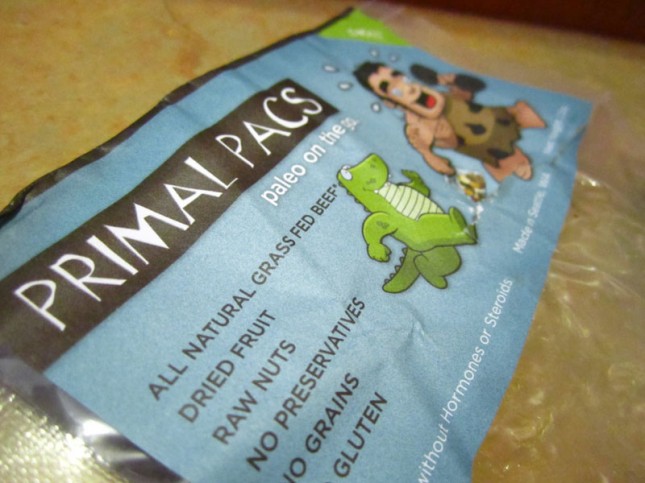 Dinner
After I told them I'd like to be gluten free, they served this basket of gluten free bread when we were seated.

I only had a slice and gave the rest to Hubby K. Plus he had his own bread basket as well. Besides this was the only time I had gluten free bread.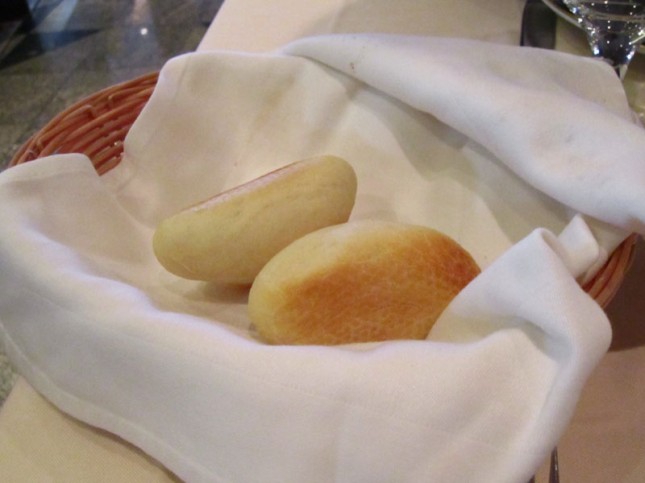 Since I had special order, I had the advantage to pre-order all my food the day before. For starters, I gave this strawberry cream a try. It was pretty refreshing and not overly sweet, reminded me a lot of yogurt.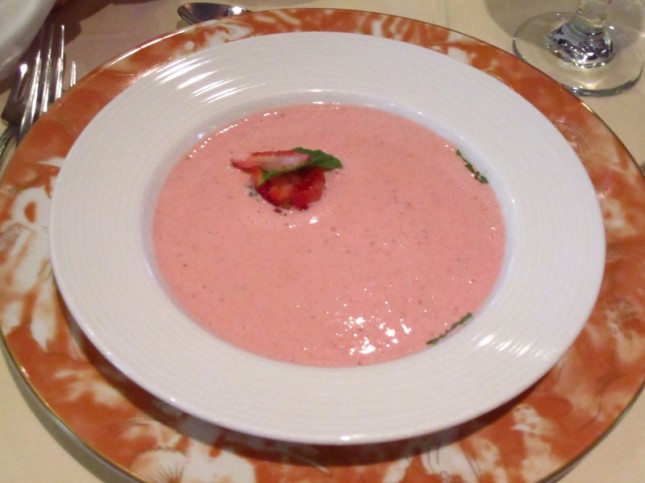 Hubby K had some Stuffed Mushroom with cheese dish- I took a little bite (minus the breadstick). It was ok.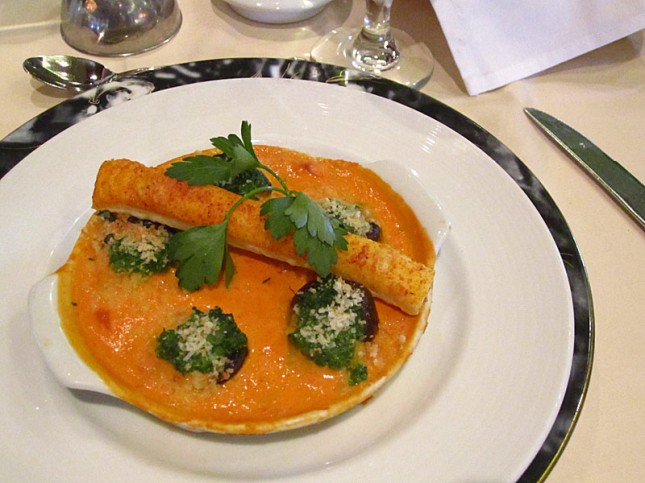 I also requested some Tropical Fruit platter since I didn't have much fruits during the day.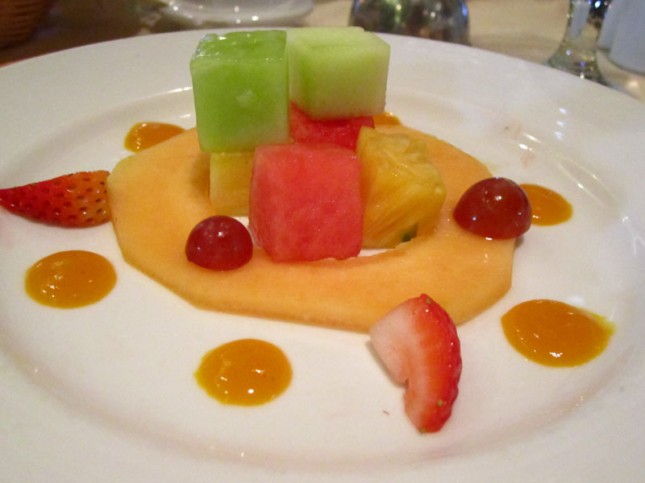 Entrée: We both ordered the Lobster Tail and Black Tiger shrimp dish. I requested to have steamed veggies on the side as opposed to mashed potatoes.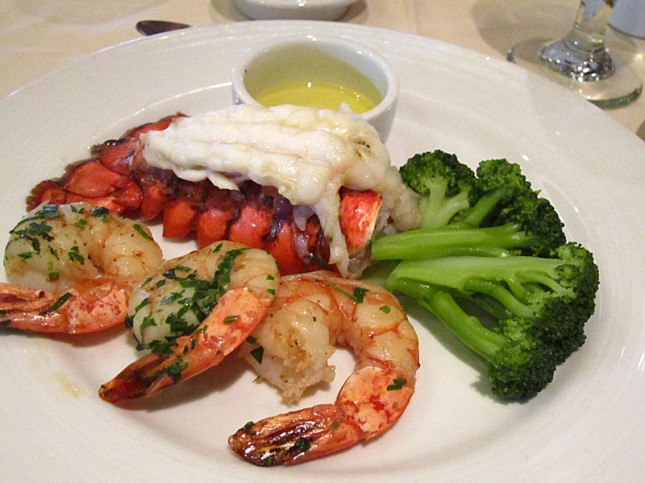 Plus we also requested another extra dish of steamed veggies.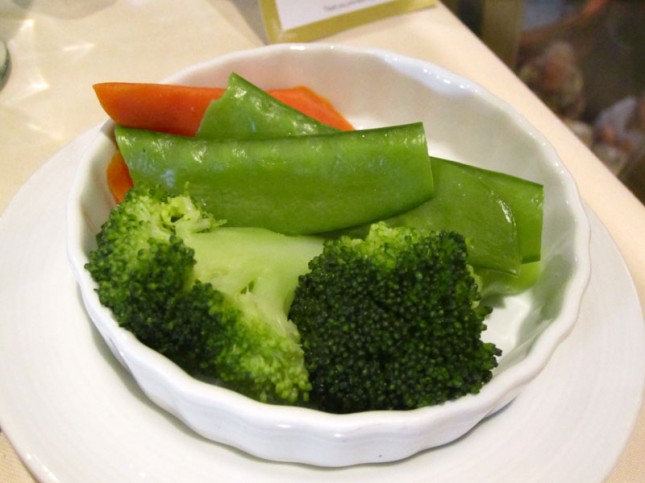 Day 3
Breakfast
Similar as yesterday: over well fried eggs with turkey bacon and some sausages and corned beef.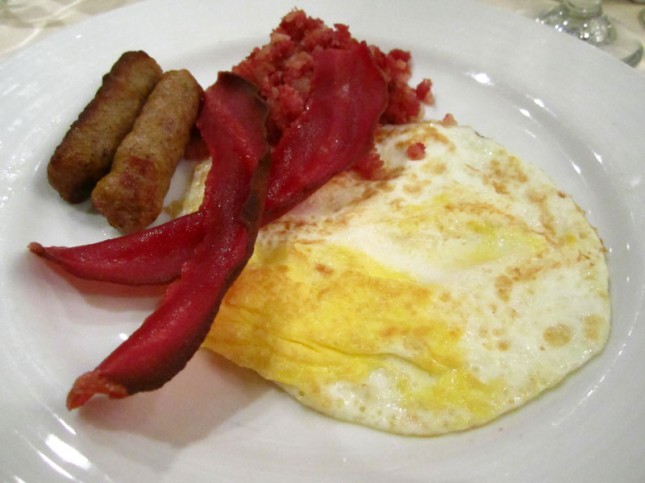 Early lunch bites at the buffet area: pork loin dish, mahi mahi, curried chicken and chopped avocado in guava juice. I MISSED avocado so much that I scooped up some even though they were drenched in this sugary juice.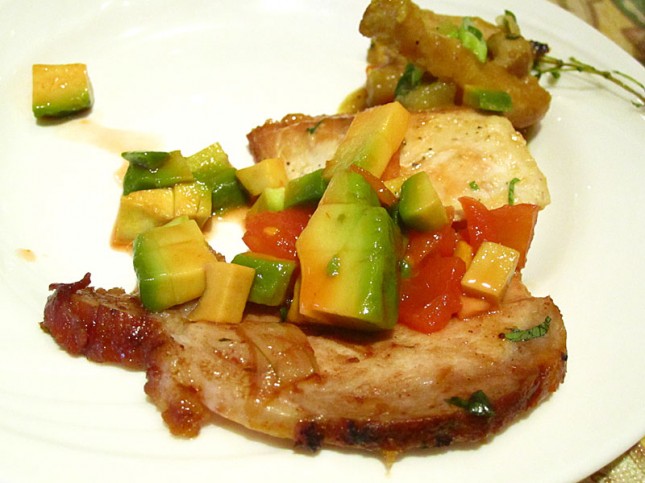 Hopped to the dining area for another lunch bites:
Fruit platter with a side of cottage cheese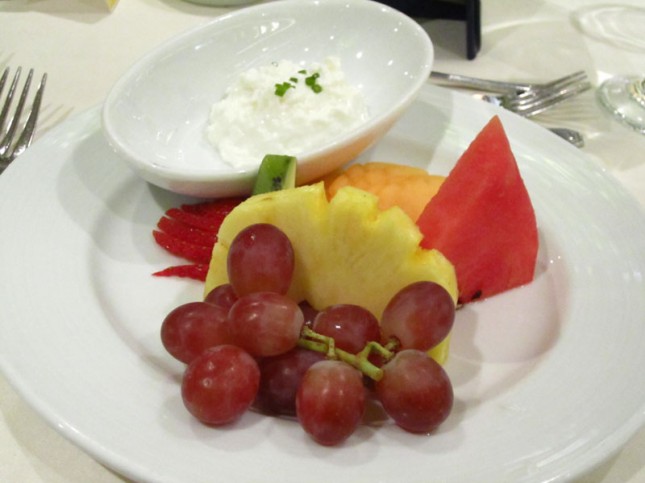 Hubby K ordered a plate of burger without the bun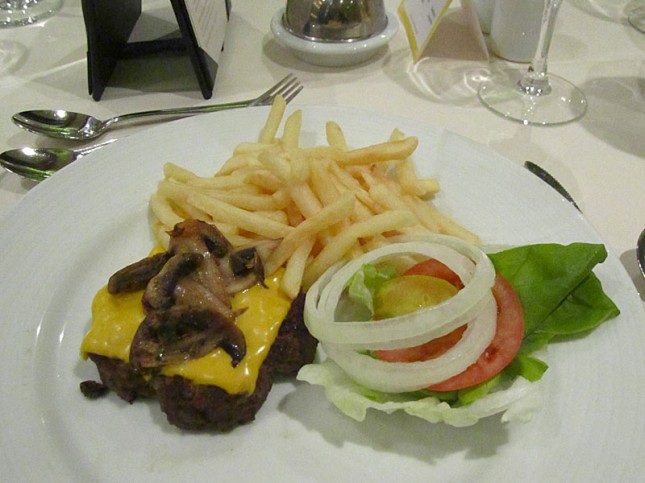 I ordered fresh salad green topped with guacamole (from Hubby K's burger topping)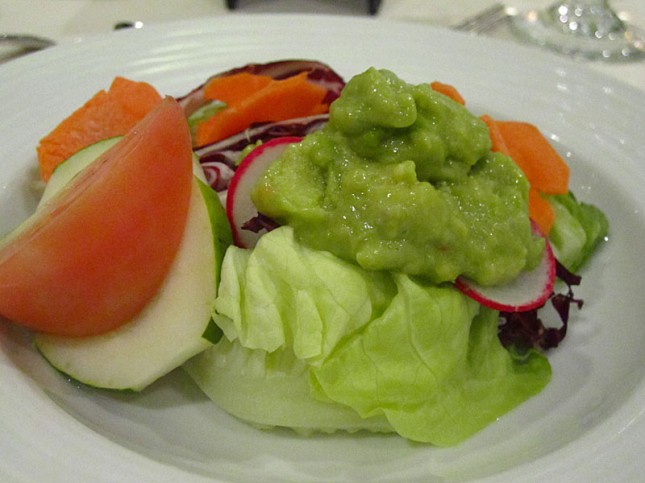 For the entree I ordered Baby Back ribs (gluten free but I'm sure the sauce was pretty sugary) with steamed veggies on the side (skipped the potatoes).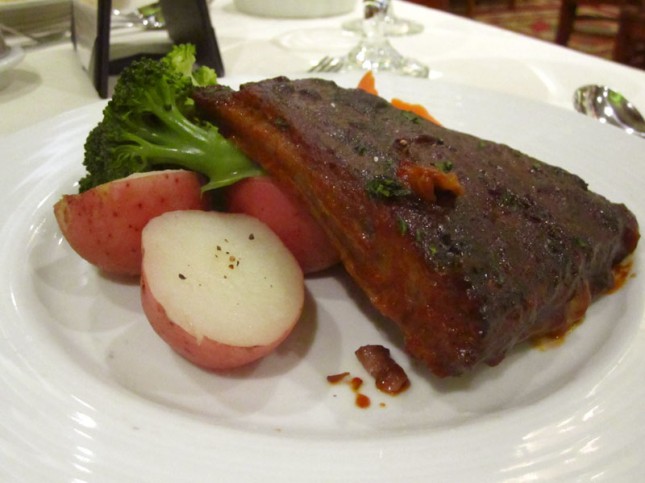 Dinner
I ordered Tom Ga Kai Chicken Coconut Soup with Lemon Grass for appetizer.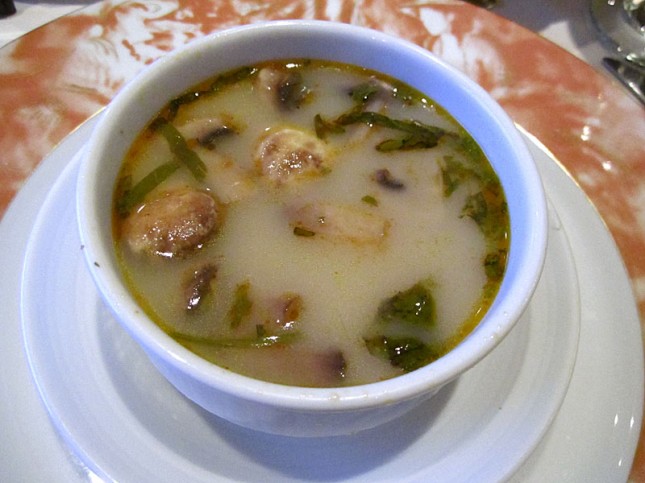 Hubby K had the Smoked Duck with Caramelized Oranges – I took a little bite, it was pretty good.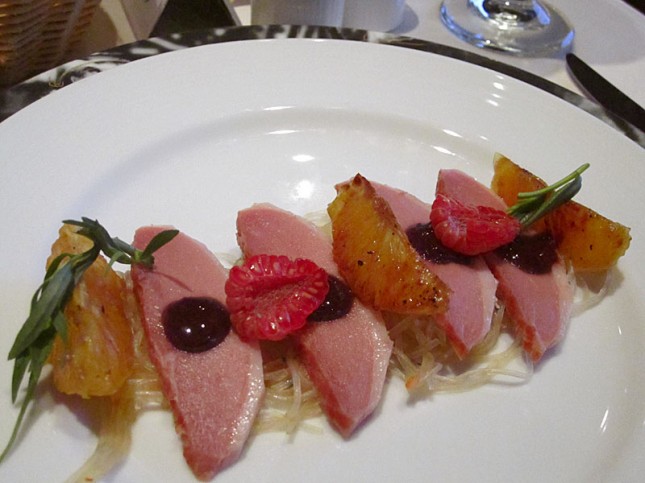 I had Lamb Chops and Lamb Leg with steamed veggies on the side (I gave the potatoes to Hubby K)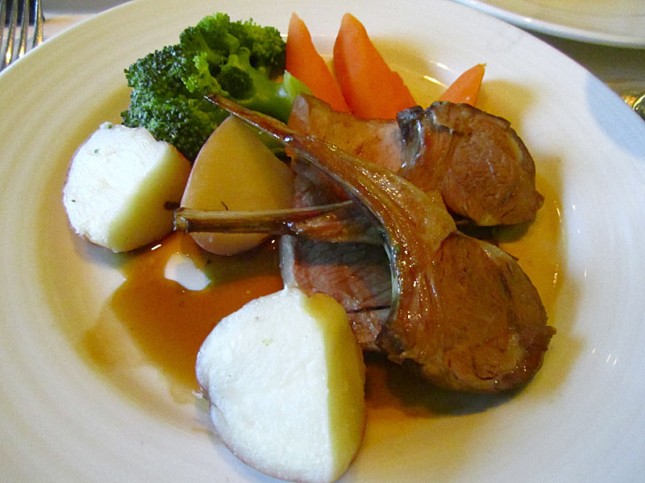 Hubby K had some Salmon dish with mashed carrots and turnips on the side.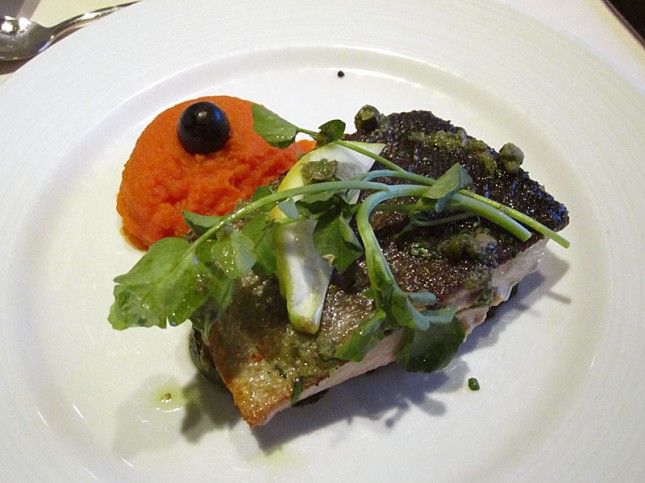 DAY 4
Breakfast
2 orders of egg benedicts (sans muffins) plus chicken and pork sausages on the side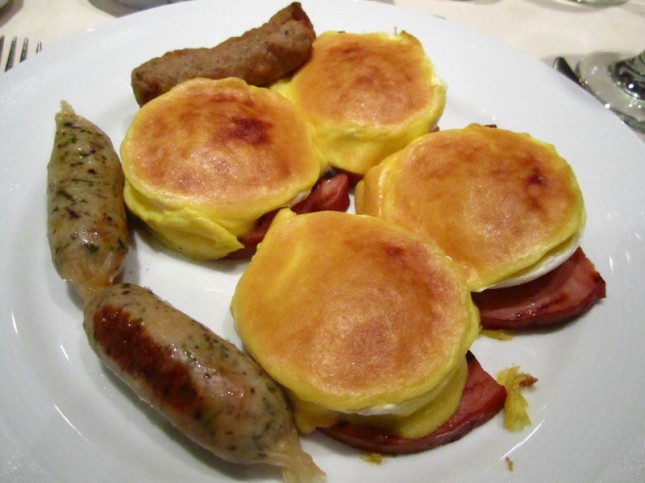 Plus a banana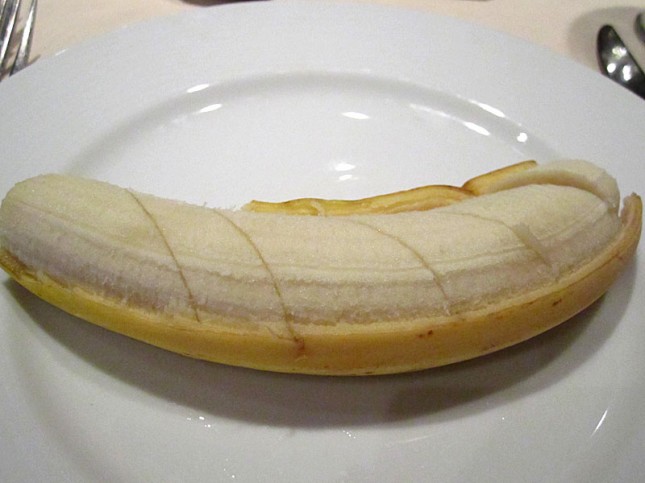 Lunch
We took an inland tour which included lunch. My breakfast kept me very full so I wasn't overly hungry thank goodness because the lunch wasn't that great either: BBQ Chicken Leg which I believed 99.9% slathered with HFCS BBQ sauce and half baked potato, which I gave to Hubby K. They also served cole slaw for the veggie dish, but I passed on those.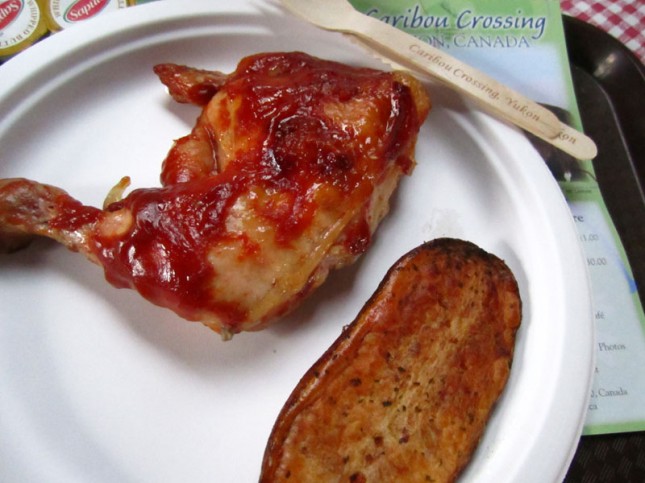 I didn't take a pic but they served unlimited bread rolls and donuts. Take a guess which ones were the most popular.
Dinner
Appetizer: Snow Crab Legs with butter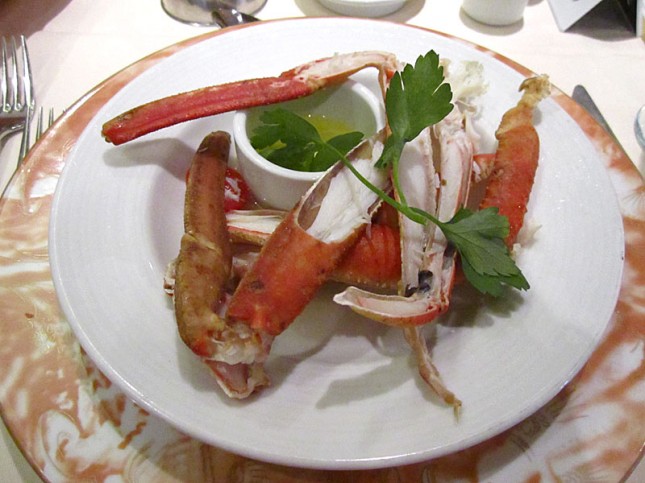 Some yogurt berry dish – very refreshing and not overly sweet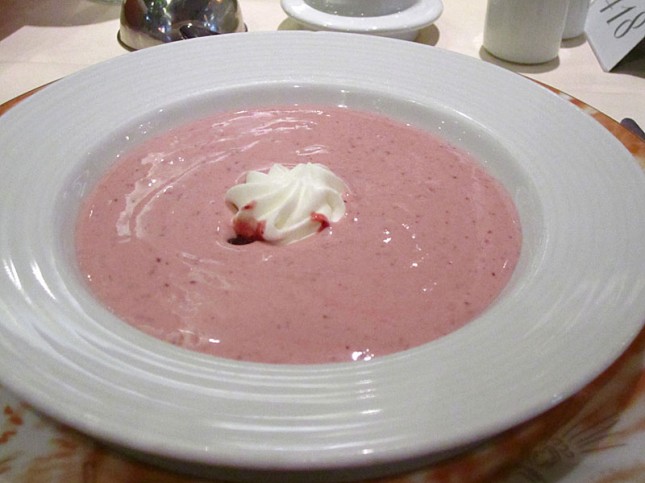 Hubby K's appetizer, not quite sure what it was. It might be some cured salmon dish.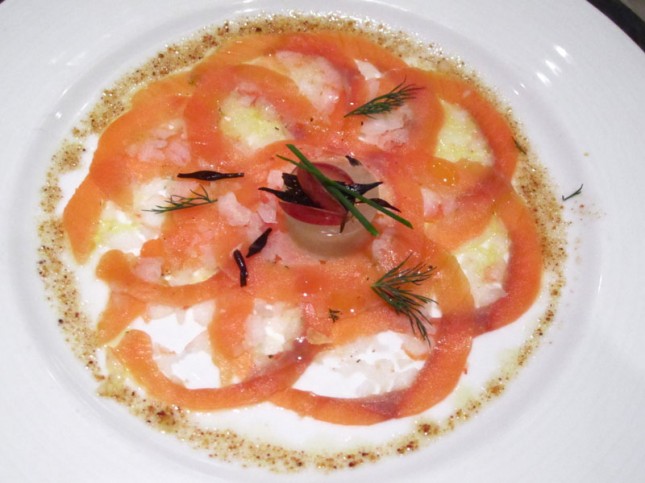 My entree: Poached Alaskan Salmon dish with steamed veggies (passed on the potatoes)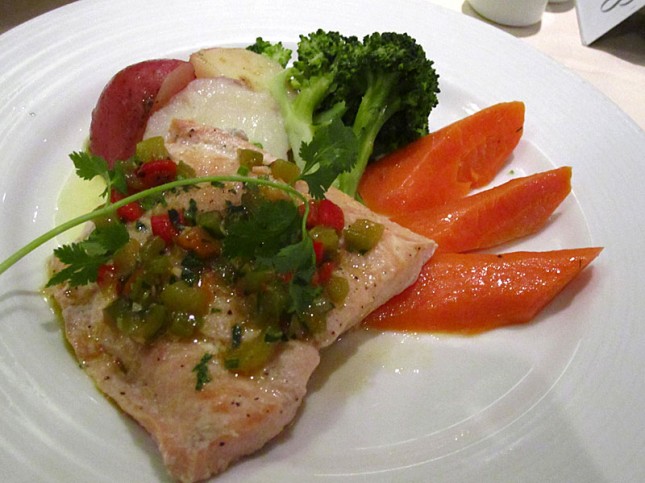 Hubby K ordered the special fish of the day- pan seared salmon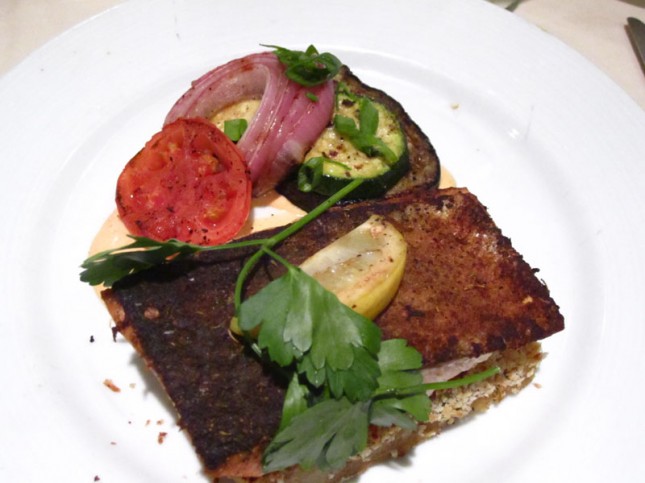 He also ordered some shrimp pasta dish but wasn't aware the dish came with pasta. He still finished it cuz he doesn't like to waste food.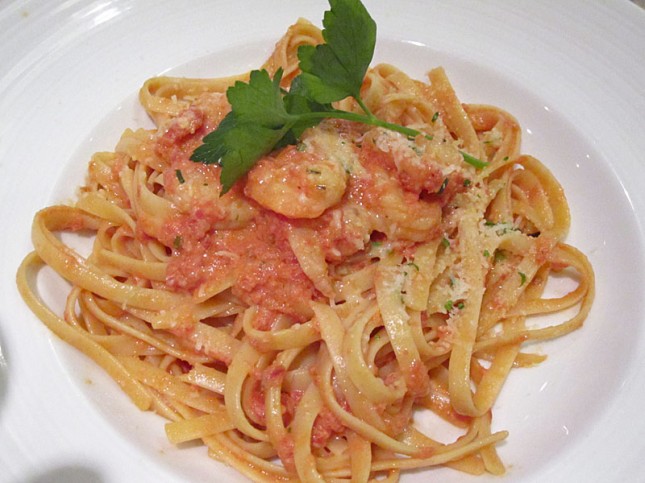 Dessert: Surprise, surprise, I actually ordered some dessert since the hostess told me the day before that this dish was pretty much gluten free and not overly sweet.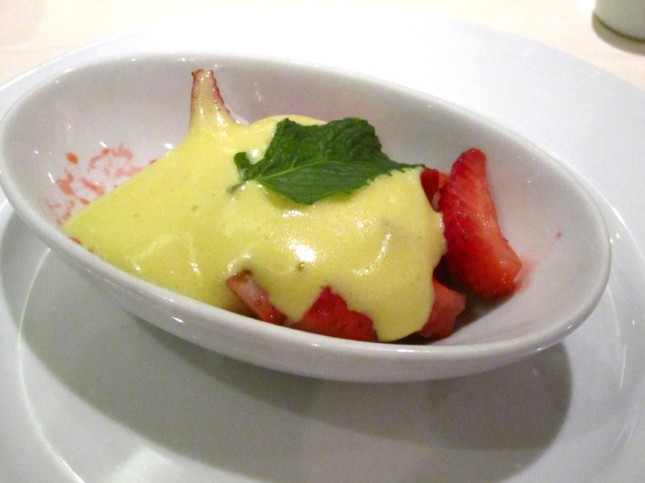 My thought? Meh…I think I'll stick to my own rule for not ordering any desserts at all. The strawberries were good but I wasn't keen on that yellowish cream sauce. True it wasn't that sweet, but my taste buds detected the taste of artificial sweetener, which I dislike.
After finished, we hopped to the buffet dining room and I loaded up on veggies. I was so happy they had brussel sprouts!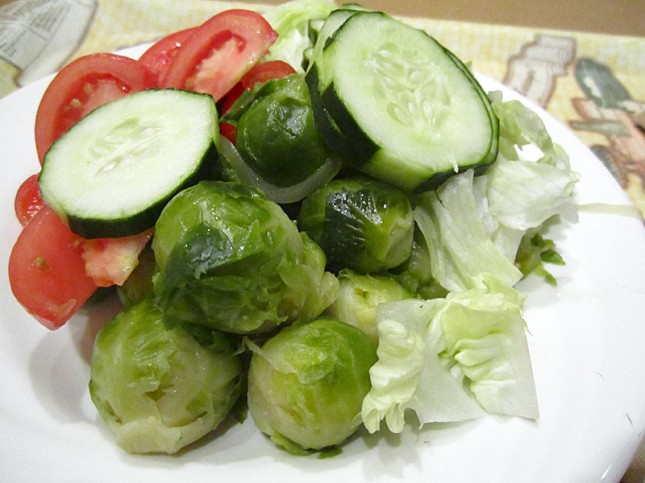 To Be Continued to Part 2.2 – Food Porn
I had to cut this post into two since it was waaay too long!