Couple weeks ago, all sudden an idea of going on a cruise came in my mind so I told Hubby K we should go on Alaskan cruise before summer is over. Luckily for us, after calling various Alaskan cruise lines without much luck, we finally got the last space at Carnival Spirit. After that, we quickly booked our plane tickets to fly to Seattle, where our cruise would depart.
After checking out the weather, looks like it's been raining a lot there (boo) and we crossed our fingers that the weather would be nicer once we got there. I didn't pack much stuff, but for sure I packed my workout equipment: jump rope and an exercise mat.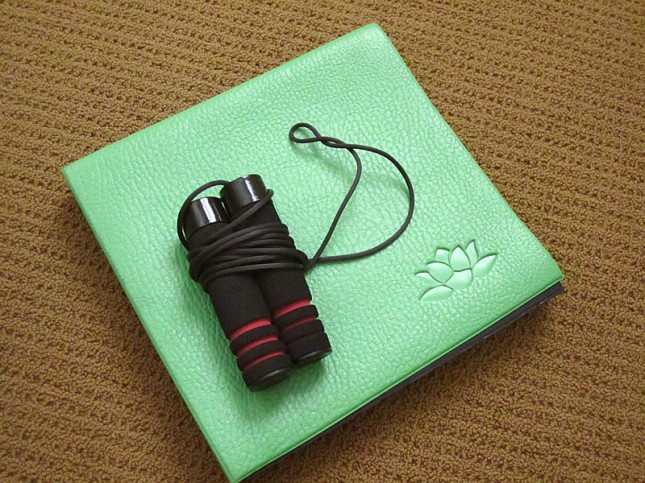 I also pre-arranged my Bodyrock.tv workouts for the entire cruise. In the end I didn't use the jump rope unless I did it on the open deck which wasn't a good idea judging how the water could sometime splashed on the deck. Indoor jumping rope was no go because of the low ceiling.
The cruise itinerary mentioned that there were times we might need to dress up a bit so I also packed one of my black dress. Can you believe that this dress been with me ever since I was in high school (and I still can fit in it)?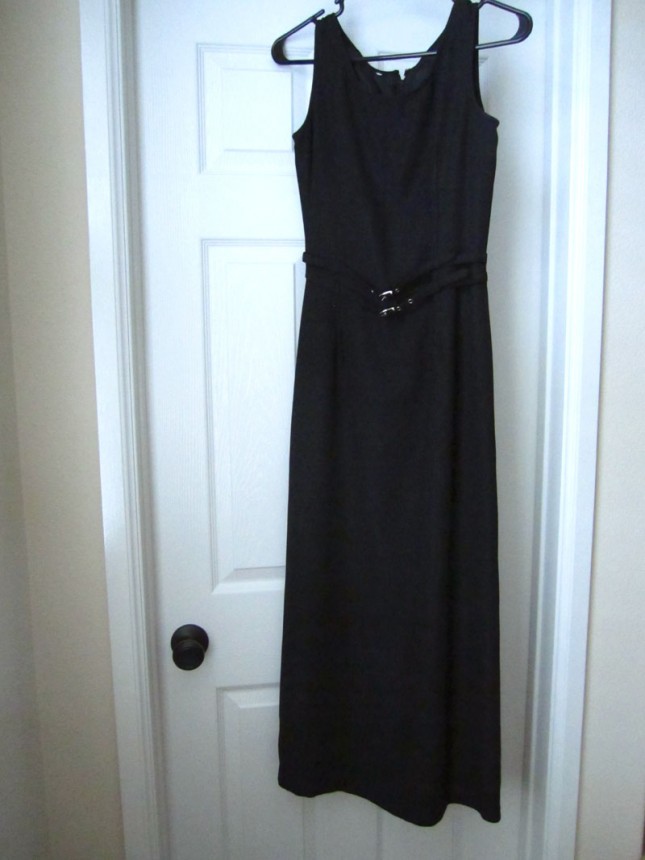 We had an early flight to Seattle on Tuesday.

Learning from other's horror story of delayed domestic flight/lost luggage drama, we packed some of our essentials on our carry on bags. Good thing none of those happen, prolly because we had a direct flight. One bummer thing was we had to pay extra $35 for more leg room seats because the regular ones were already SOLD OUT! But we got regular seats on our return flight.
Apparently, we brought California sunshine to Seattle because it was so damn sunny when we got there!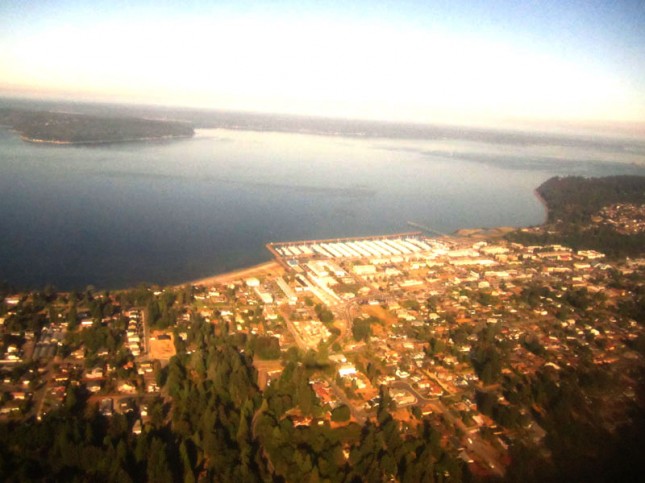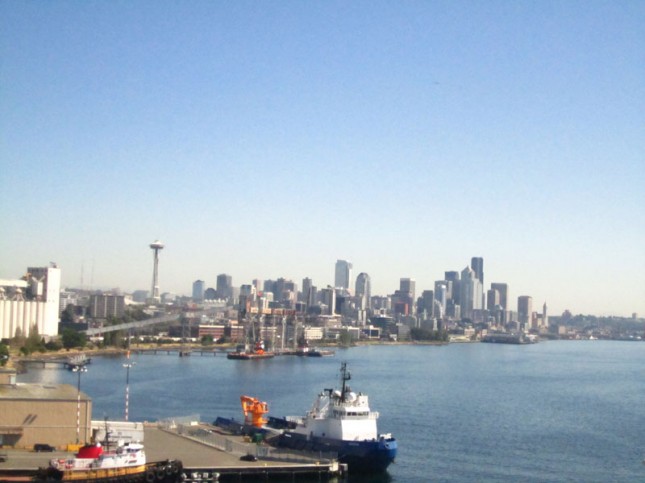 After arriving, we got on a shuttle which brought us to the Port to start boarding on the ship.

Our room wasn't too bad, but no ocean view though (blocked by the lifeboat).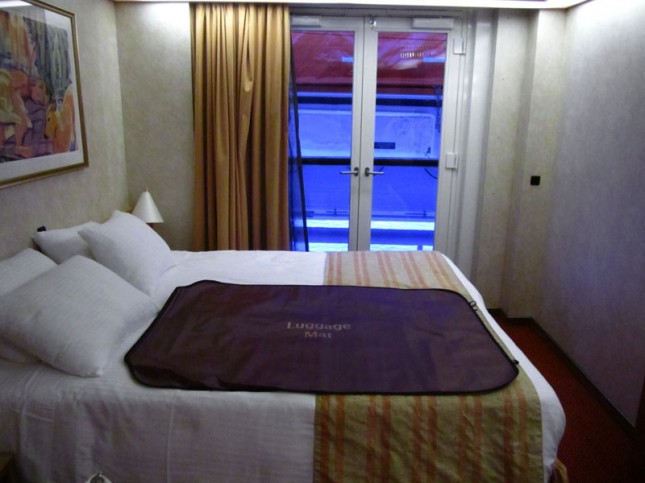 The other side of the room (restroom on the right, closet on the left)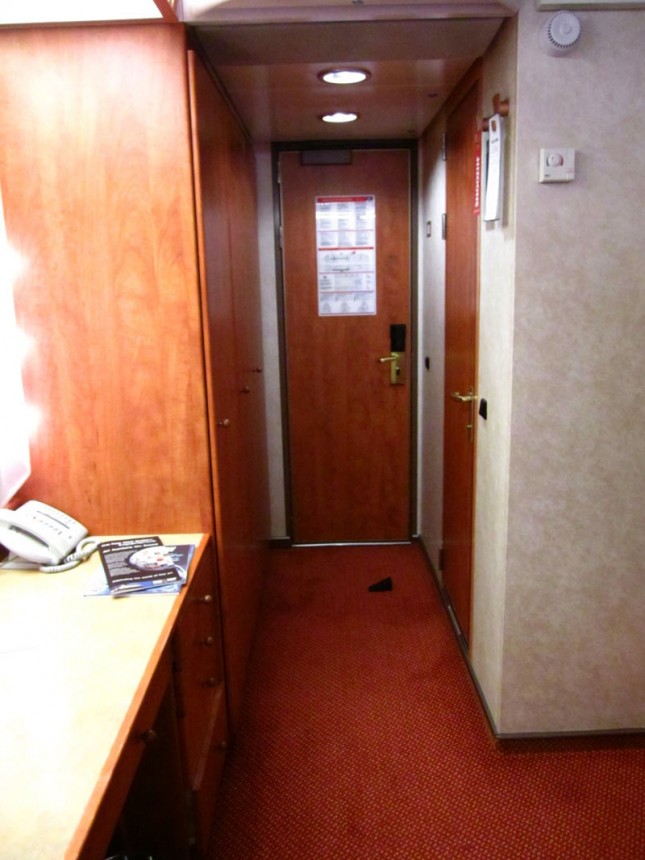 But the small space didn't stop me doing my pre-planned Bodyrock.tv workouts.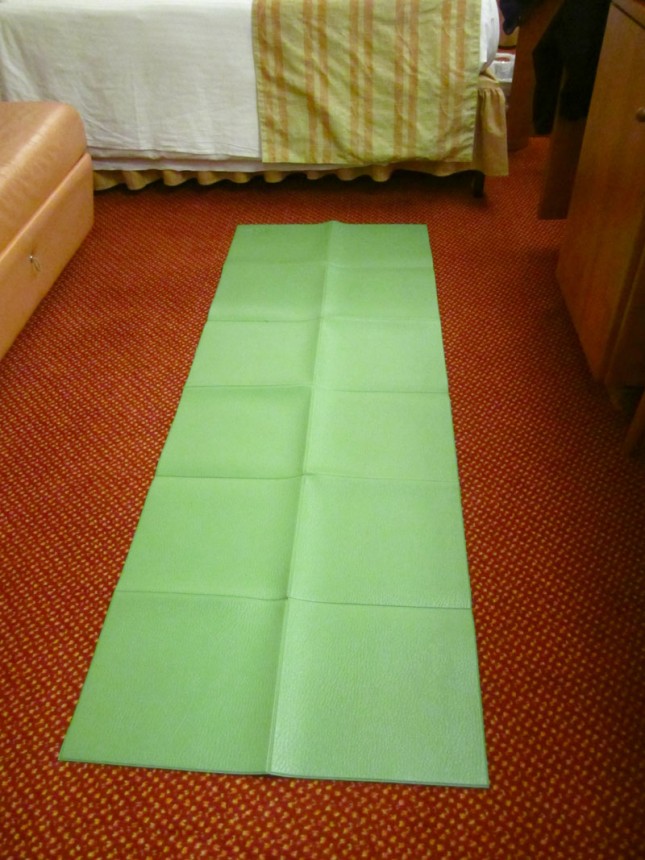 Although the elevators looked super fancy,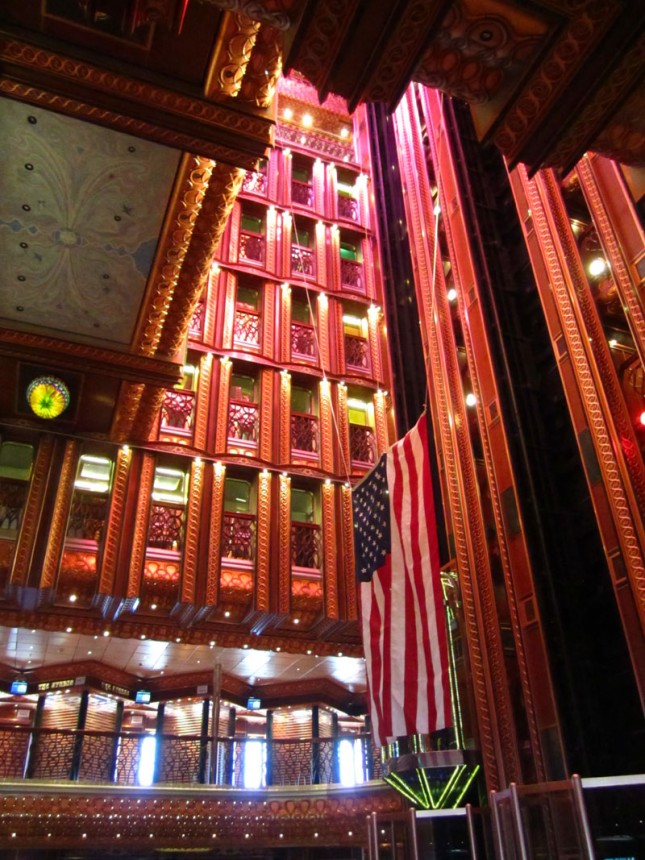 we still preferred to use the stairs more. It was a nice way to get our butt move while we were on the ship most of the time.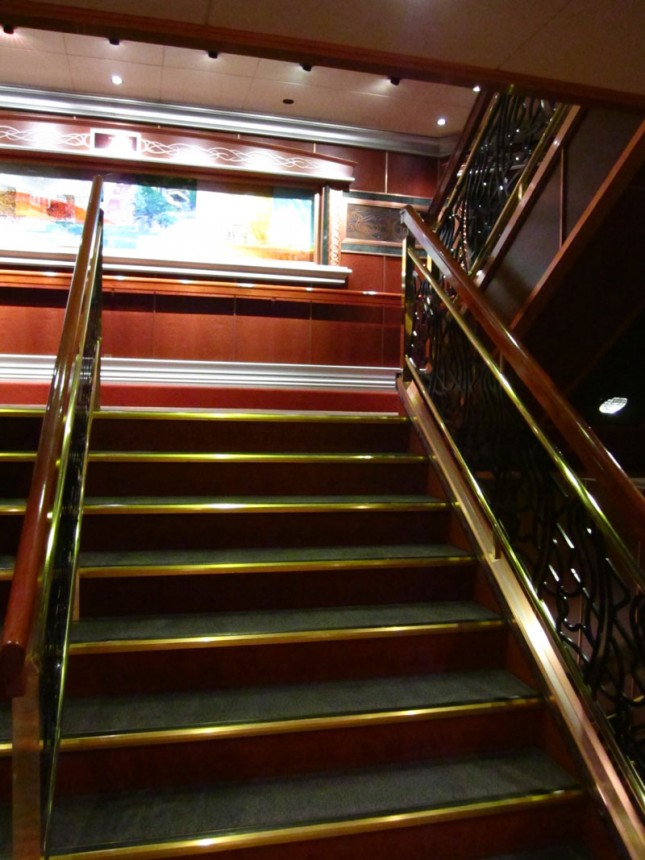 After we checked into our cabin, we instantly toured around the entire ship to get ourselves familiar with.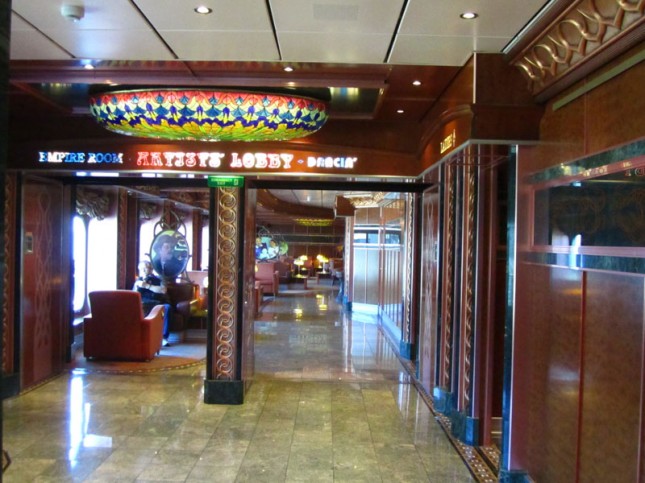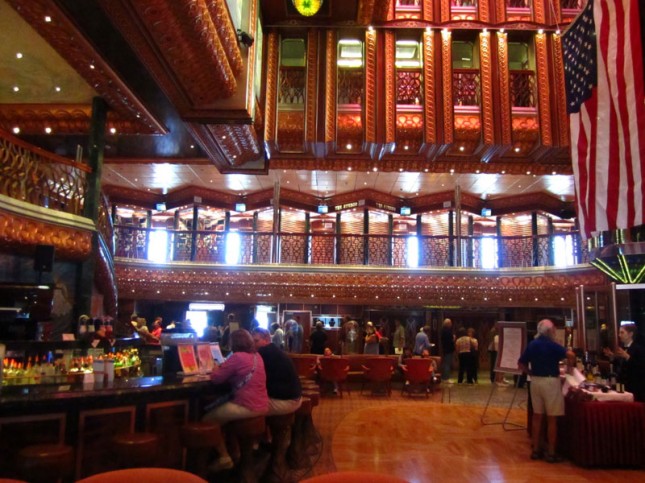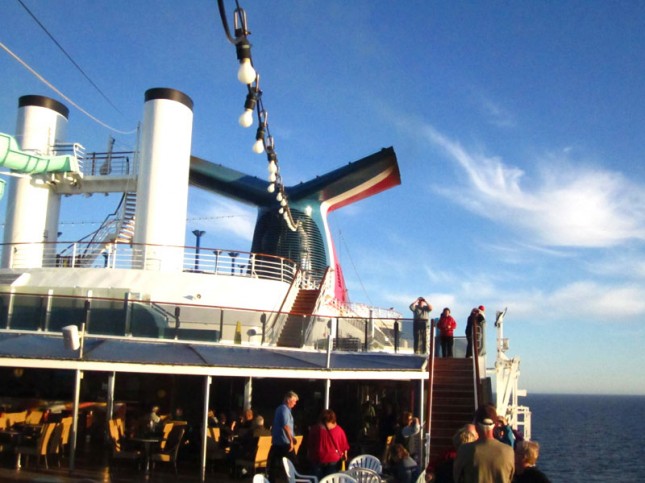 Of course, right after we were on board, the first thing we visited was the buffet dining room, which was super packed!
The buffet dining room served various cuisines from various nation cuisines to burger and hotdogs. LOTS OF FOOD for sure!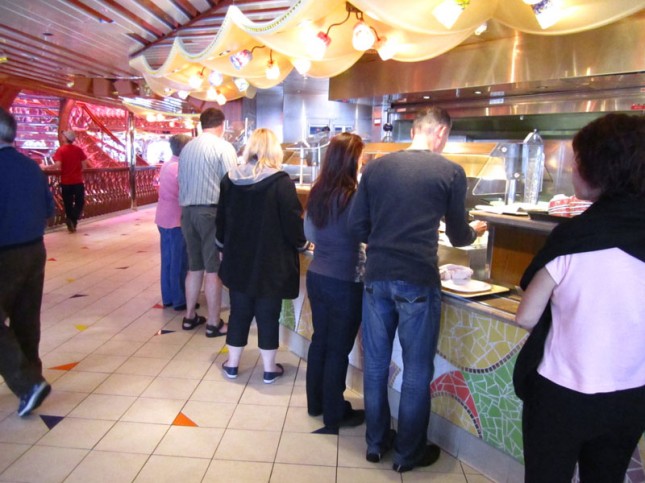 There were 24 hour of carb and sugar loaded foods such as pizza and ice cream which I didn't even bother to touch. It makes sense to make those foods available all the time because they are empty calorie and just make you hungrier all the time. *sigh* I will do a separate post specifically for FOOD!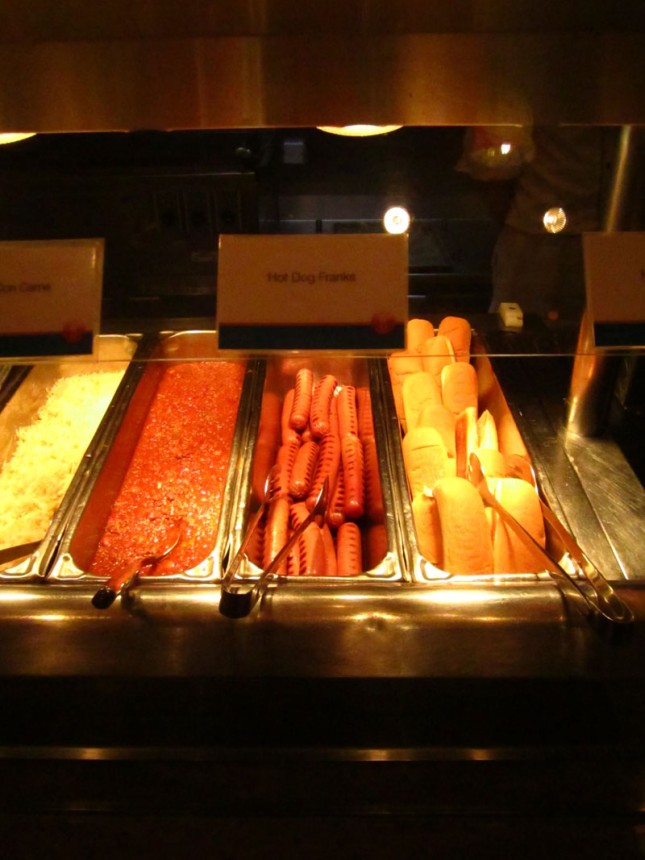 Typically for lunches we had an option for a buffet or a sit down style dining rooms, which all the food were already included in our itinerary. For the sit down style dining room, we only needed to pick any food from the menu of the day.

The hostess was nice enough to accommodate my requests for being gluten free. Although I didn't request it, they gave me some gluten free bread during dinner, which later I politely told them that they didn't need to bring me any bread anymore. I am not a super sensitive to gluten, but at least I took the advantage to know if the food has some kind of flour as thickener and stuff. Plus I got to get an early peek of the next day menu.
Breakfast was the only meal time with a very limited food choices since 90% of them were grains, sugar and gluten laden – cereals, bread, and pastries so I mostly just stick with eggs, hams and sausages.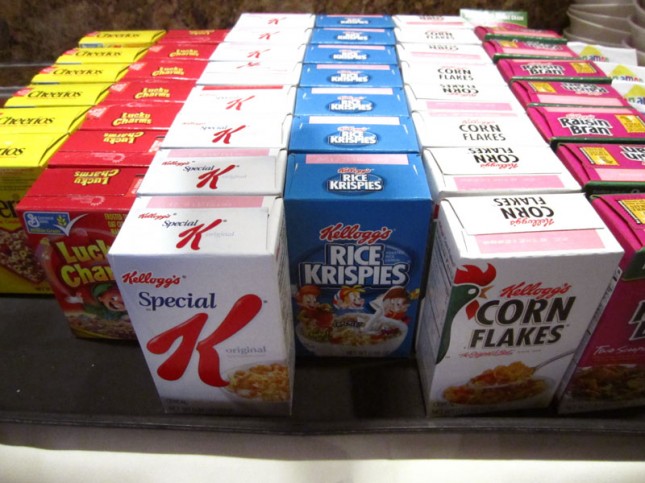 Another observation I had was majority of cruise groups were retired people and a lot of them were overweight. On our first day, we sat with a retired couple, which were kinda on the heavy side. They didn't eat much, but it was amazing how much dessert they had (bowl of ice creams and couple pieces of cake) and yet they made a claim how much Hubby K ate seeing him kept coming back with plates full of food. He was not completely grain/gluten free but it wasn't like he consumed tons of pizza at once. Another interesting note, even waiters were a bit puzzled when we told them we decided not to have any desserts or we ordered 3-4 eggs for breakfast.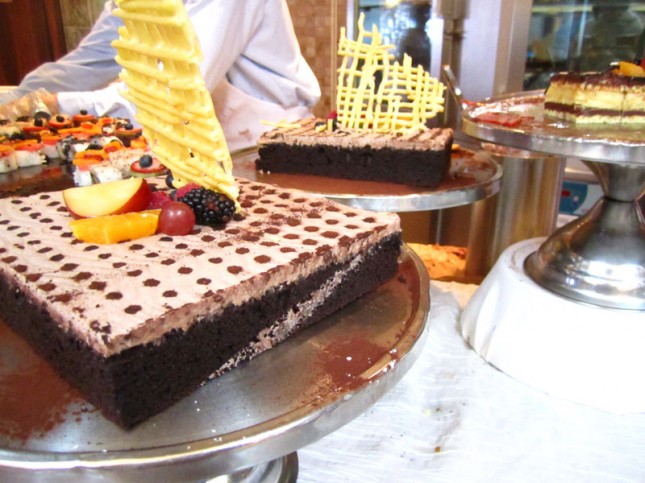 I did take a look of their fitness center but wasn't quite impressed. Mainly it was filled with cardio machines like elliptical, treadmill and weight lifting machines. The only machine that interest me was the rowing but I was too chicken to give it a shot. Besides I already prepared Bodyrock.tv workouts which were excellent without any equipment so in the end I mainly working out in the room most of the time and I only went to the gym twice when I felt like to have more space.
Truthfully speaking, not much to do on the ship except sleep, eat, sleep and eat more. There were some entertainments on board such as live music, karaoke, bingo, dance, singing, and gambling. Both of us weren't exactly into any of those so we mostly just skipped them. Majority of our time was spent either eating, sleeping, walking around, working out or just sitting down chilling and listening to our audio book/podcasts on our iPods while looking at the ocean. Or we went out to the deck and took some nice pictures.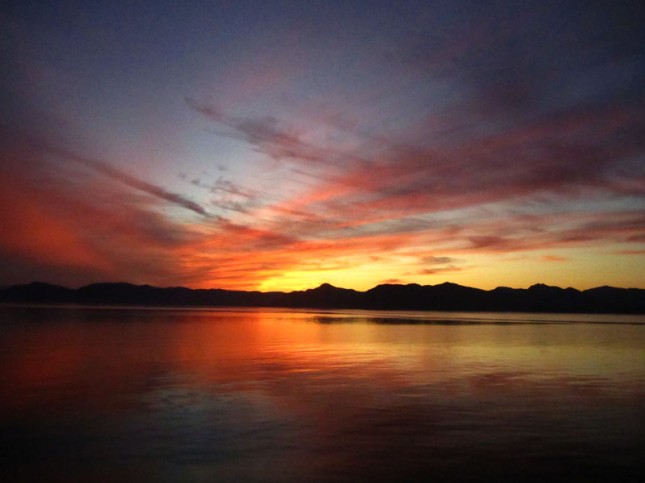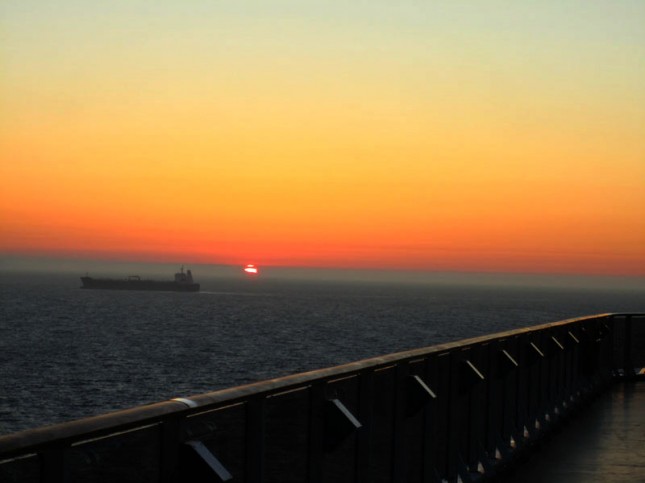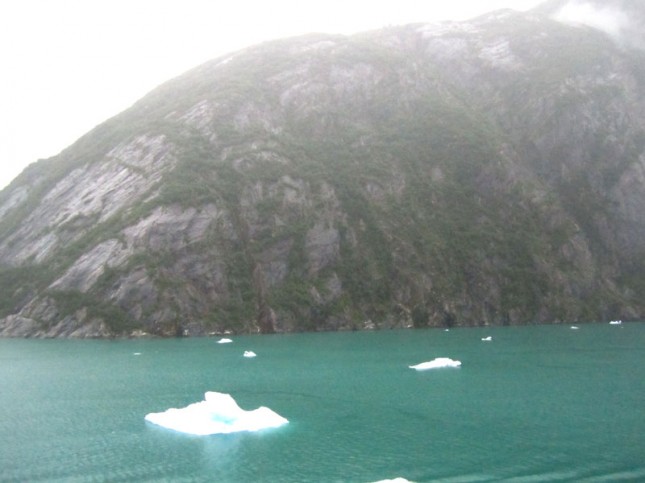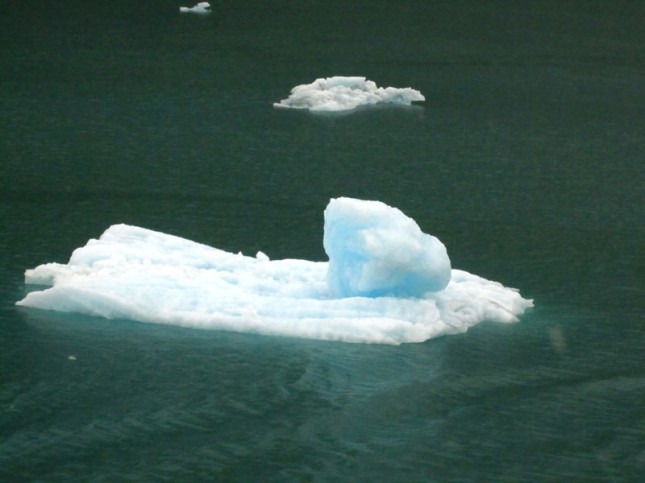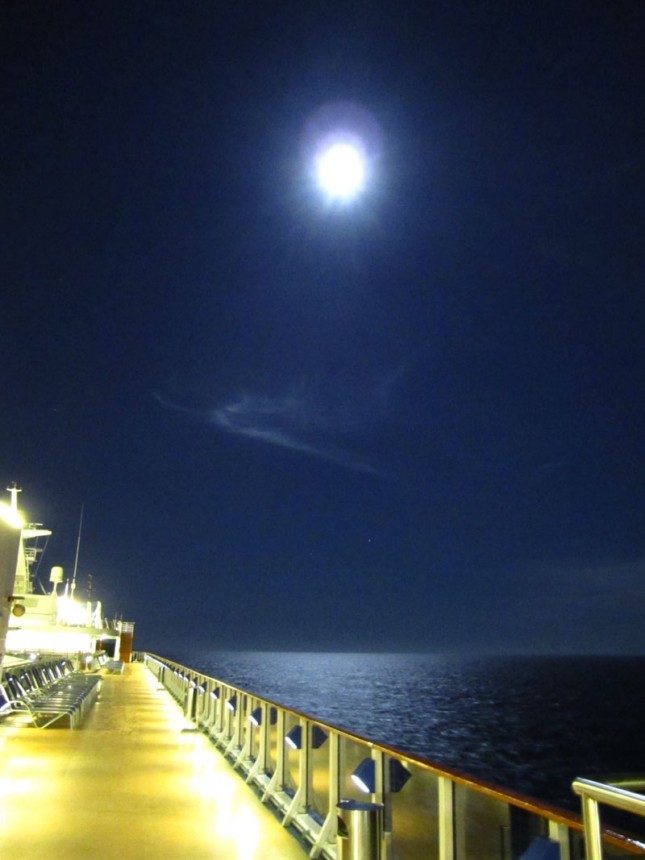 I usually have a hard time to go to sleep whenever I sleep at a new place/different bed etc but NOT this time. The rocking ship actually helped me to sleep like a baby..haha! Probably my body remembered the time when I was a baby and my mom used to rock the bed to make me fall asleep? 😀 But I do have another problem when traveling – I usually have a hard time to go to the bathroom (second one) and this one was no exception but in the end it wasn't too bad.
How about you? Do you have any trouble adjusting while travelling?
Stay tuned for the next post, which will be about THE FOOD!