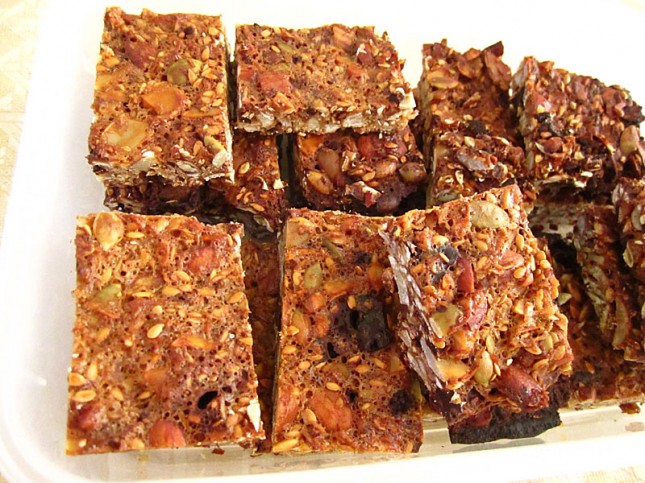 Once in a blue moon I do crave some good granola bars, but as you all know Paleo and grains are not exactly good friend. So when I saw Civilized Caveman Cooking Creation's Caveman Crunch Bars Recipe, I knew these would perfectly satisfy my cravings. After looking through my pantry, I modified his recipe to my liking.
Dark Chocolate Almond Bars (modified from Caveman Crunch Bars)
Ingredients:
1 1/2 cup raw almonds
1/4 cup raw pepitas
1/4 cup golden flaxseeds
1/4 cup Let's Do Organic Unsweetened Shredded Coconut
1/2 cup melted coconut oil
1/4 cup raw honey
2 eggs
1 tsp vanilla powder
1/4 cup chopped unsweetened baking chocolate (about 1 square)
Note: If you don't like strong bitter chocolate taste, reduce to 1/8 cup or use semi sweetened baking chocolate. I personally enjoy 100% chocolate with just a hint of sweetness from the honey.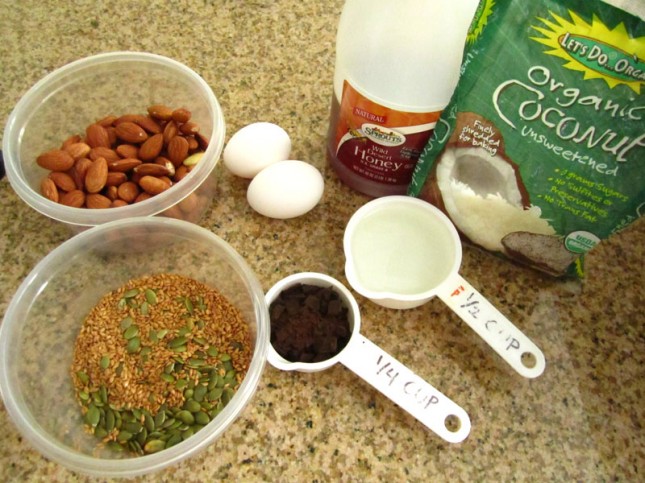 Directions:
1. Pulse the almonds in your food processor until they are coarsely chopped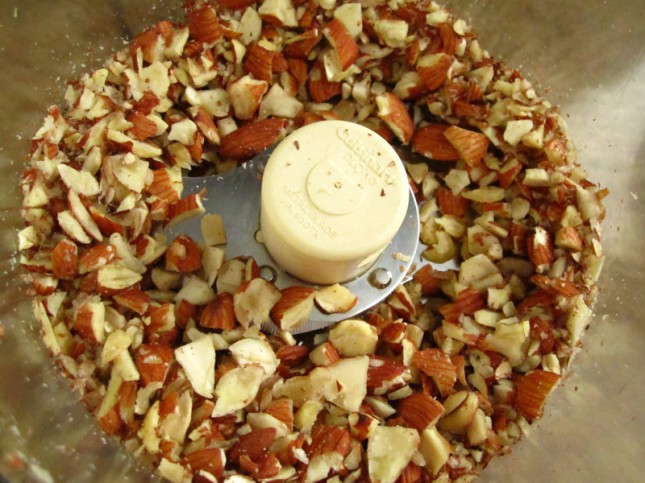 2. Mix all the dry ingredients (chopped almonds, raw pepitas, golden flaxseeds, shredded coconut, shredded chocolate square and vanilla powder) together, set aside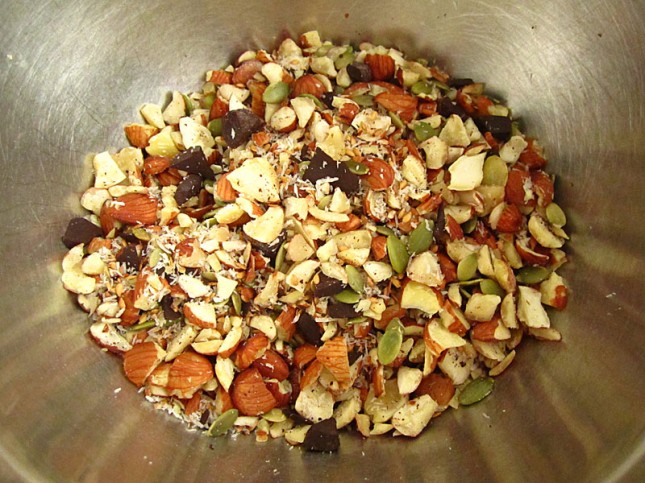 3. In a separate container, lightly beat 2 eggs then mix in the coconut oil and honey.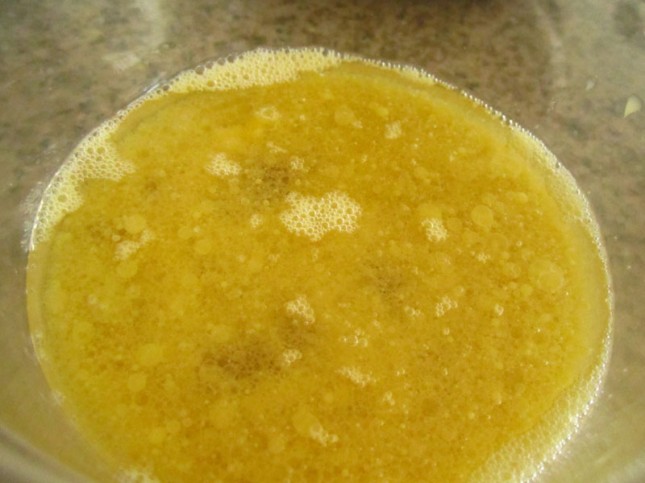 4. Mix the wet ingredients to the dry ingredients until everything incorporates. Line 9″x9″ baking square pan with parchment paper. Spread out all the mixture until it covers the pan evenly. It should be thin, not too thick.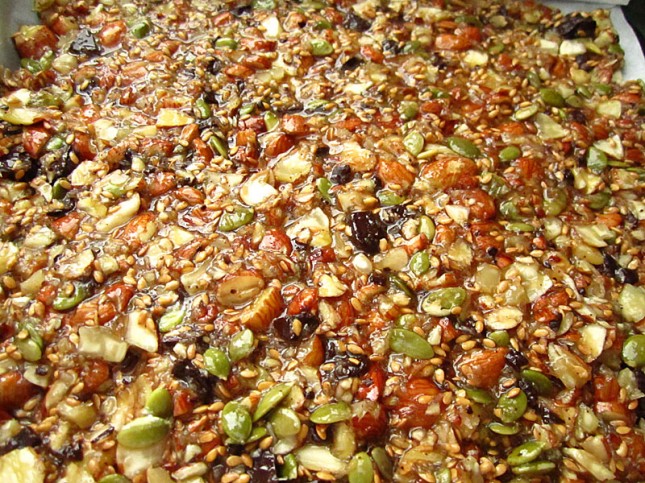 5. Bake in the oven at 350°F for about 20-25 minutes.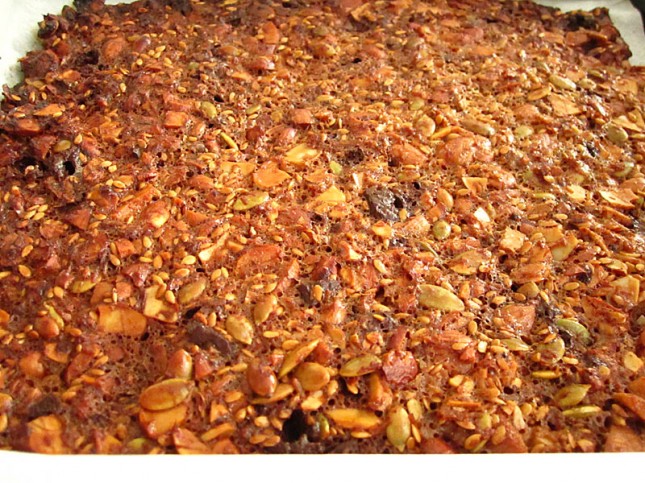 6. Remove from the oven, and let it sit until it cools down. After it cools down, place in a fridge for about 1 hour. Then slice them to any size you like. Wrap them individually in a plastic wrap or if you're like me, just put them in an air tight container. The bars develop some crunchiness after they cool down completely. I store mine in a fridge.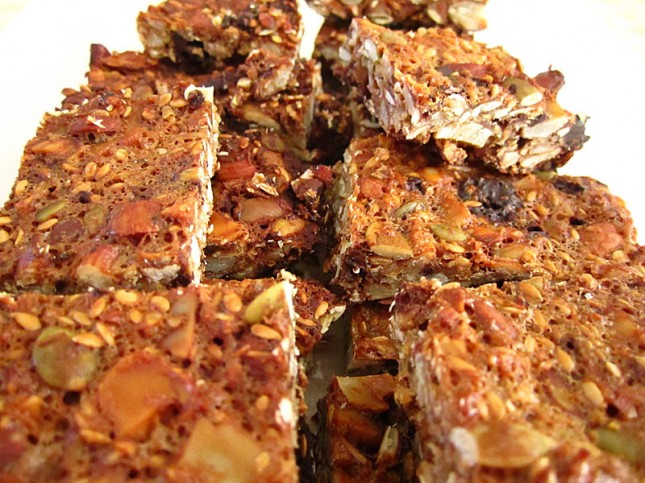 Again, these ARE TREATS so do not consume this as your main food source. Nothing beats fresh veggies, meat and fruits. These are only when you are in a pinch and need some healthy alternative snacks that are Paleo friendly. As usual, enjoy!