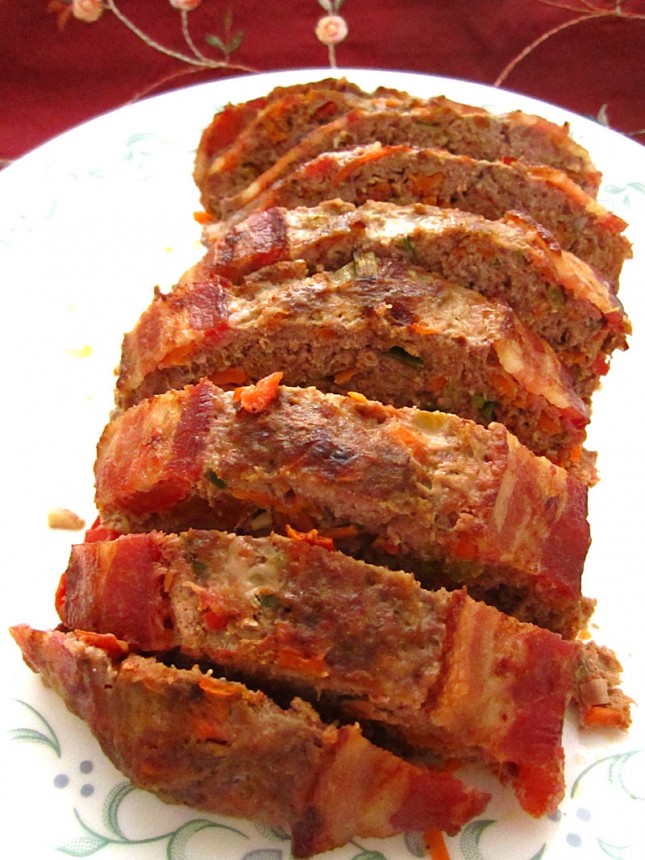 I don't usually eat pork because factory farm raised pork are just plain nasty and I can't afford pasture-raised pork. So when Henry's Market was having a sale on their game meat, I was super happy to stash some and one of them was ground Wild Boar from Durham Ranch. Since I was thinking of preparing this in the most convenient way, I decided to make it into a meatloaf.
Ingredients:
1lb ground Wild boar (or any ground meat you have)
1/2 big carrot – julienne and chopped
3 green onion stalks- chopped
1 egg -lightly beaten


1/2 tsp salt
1/2 tsp ground mixed peppercorns
2 slices of bacon
1 tsp 7 spice powder
1 tsp coconut flour
2-3 Tbsp Homemade Tomato Sauce (or organic canned tomato paste)
Directions:
1. Mix the ground meat with beaten egg until everything incorporates.
2. Season the ground meat with salt, pepper, chopped julienne carrot, 7 spice powder, tomato sauce/paste, coconut flour and chopped green onions. Mix together.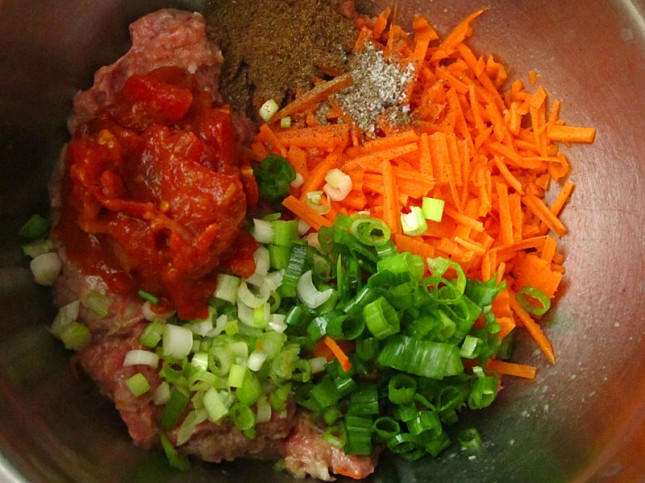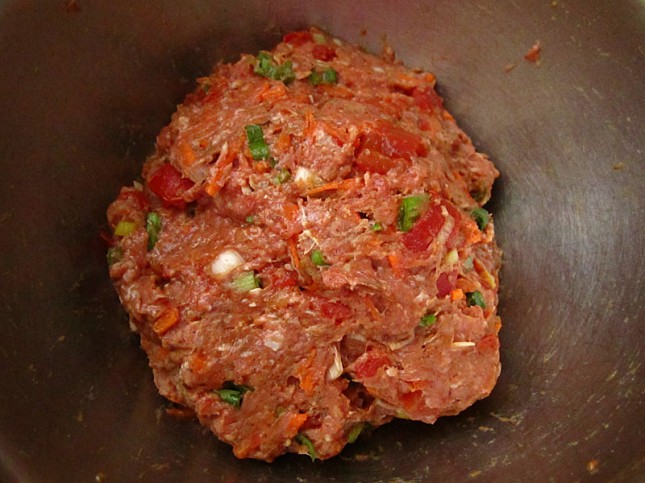 3. Place 2 slices of bacon on your cutting board.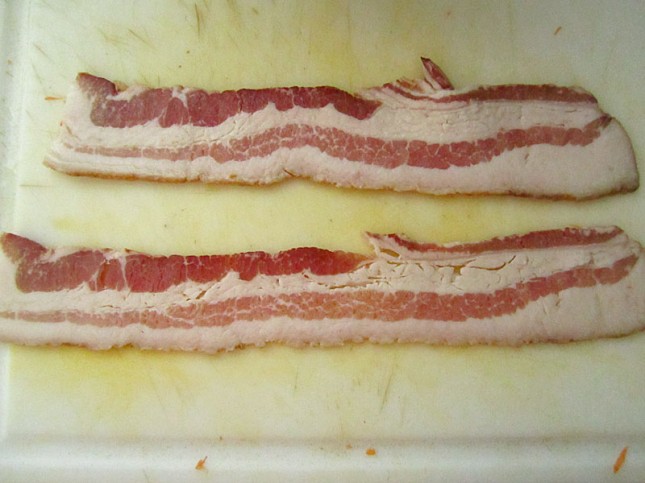 4. Using your hands, carefully grab the meat mixture then place it on top of the bacon.
5. Carefully, flip it upside down so the bacon slices are now on top of the meat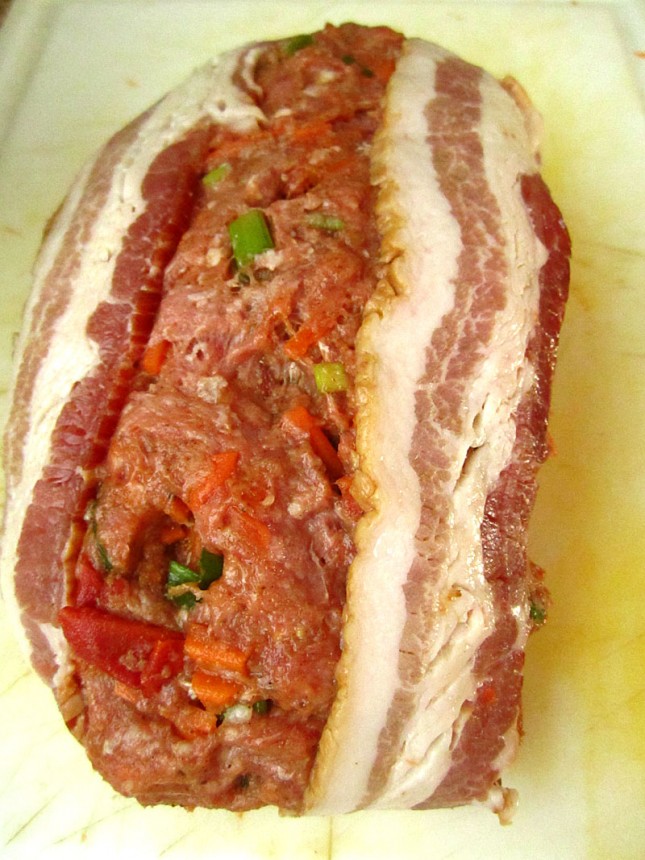 6. Place the raw meatloaf in 9″x 5″ ungreased loaf pan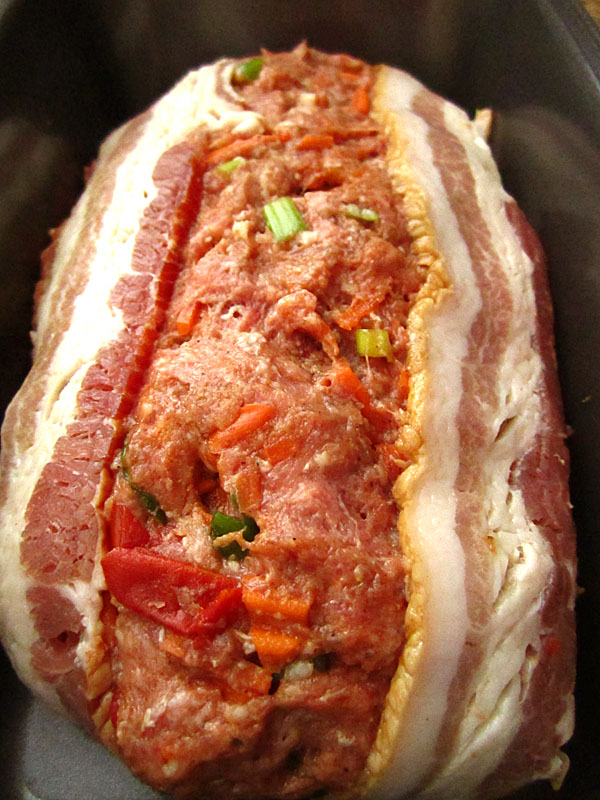 7. Cover the pan with foil, bake in 350°F for about 20 minutes then turned on the broiler and broil for another 10 minutes in 400°F to crisp up the bacon slices (no soggy bacon for me!)
8. Carefully remove the loaf pan from the oven and scoop out the meatloaf from the pan to a plate. Discard the liquid.

9. Let the meatloaf rest a bit (for about 10 minutes) before slicing it up. As for me, while the meatloaf was resting, I took TONS of pictures 😀
Enjoy!