It was kinda late when I was writing this post so I'll try to be as short as possible cause my brain just wanted me to hit the sack btw. But I can't leave my readers wonder what I had on my Day 16 of Whole30, right?
Today was my rest day so no workout for me. After got up, I quickly made fried eggs along with left over Curried Ground Beef from yesterday and a whole avocado for breakfast.

Confession: I usually don't eat sweet potato if I didn't do my workout prior, but I couldn't resist the purple yams so I devour the entire thing plus another skinny one (not pictured)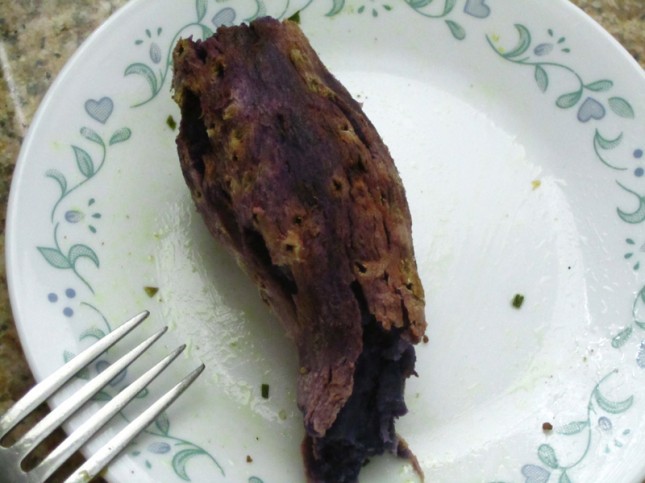 We were out of veggies and fruits so I hit up the Farmer's Market a little further than my neighborhood area to pick up some.
I came back with these:
Bunch of Thai Basil (they smell WONDERFUL!) from Beyond Bok Choy Farms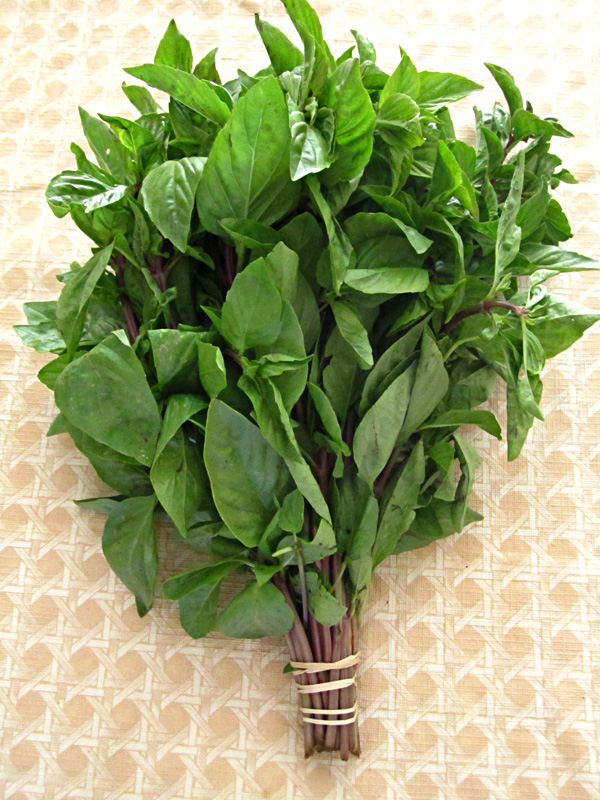 Tuscany Kale from Beyond Bok Choy Farms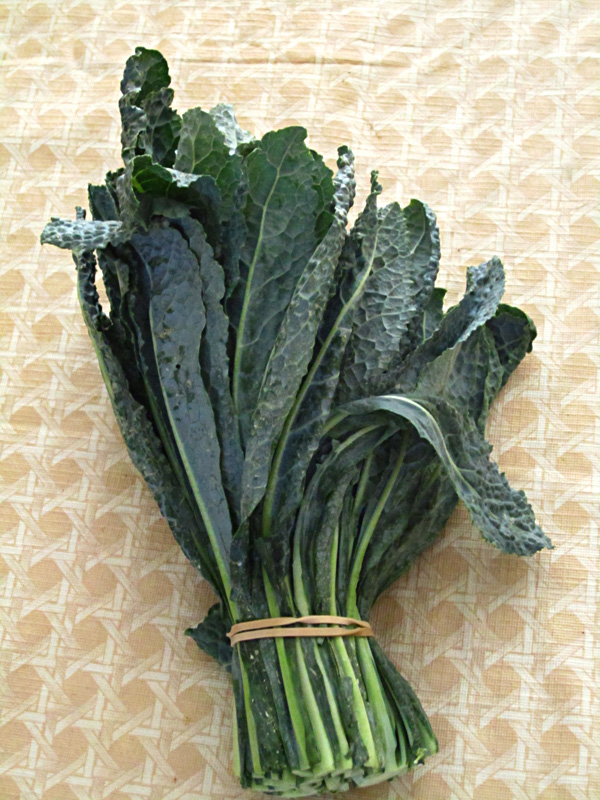 A bag of 3 kinds of summer squashes for $1 – forgot the farm's name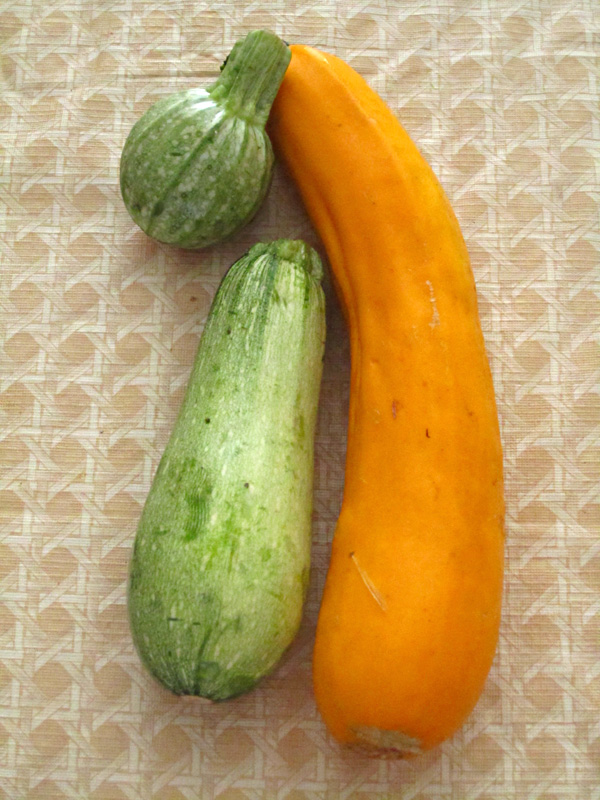 Confession: Kale is considered to be "exotic" veggies for me since I don't usually buy them on regular basis and I'm still learning how to properly prepare them. Since I got a huge bunch of basil, I expect to incorporate those in my dishes for this week cause I don't want them to go bad and got wasted 🙁
For lunch I made Basil Lime Squash Chicken.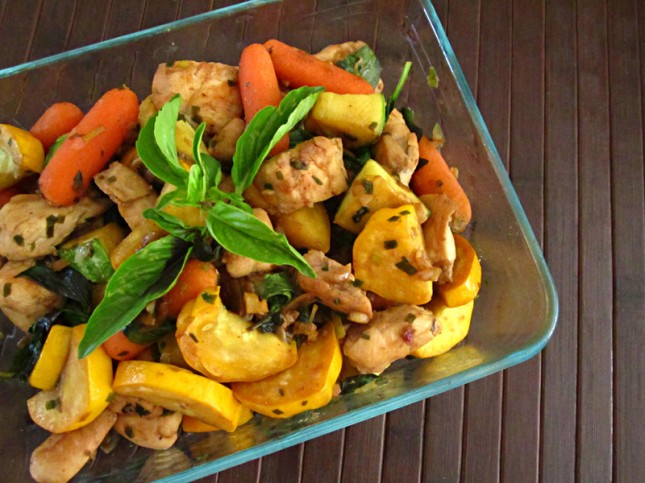 Tuscany Kale cooked with Balsamic Vinegar reduction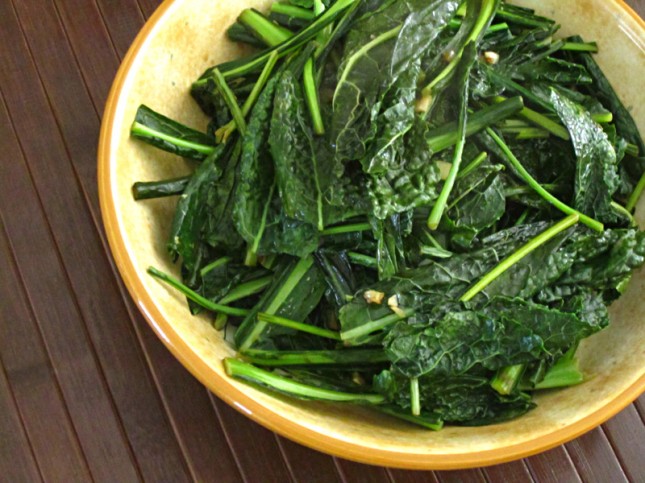 My lunch plate: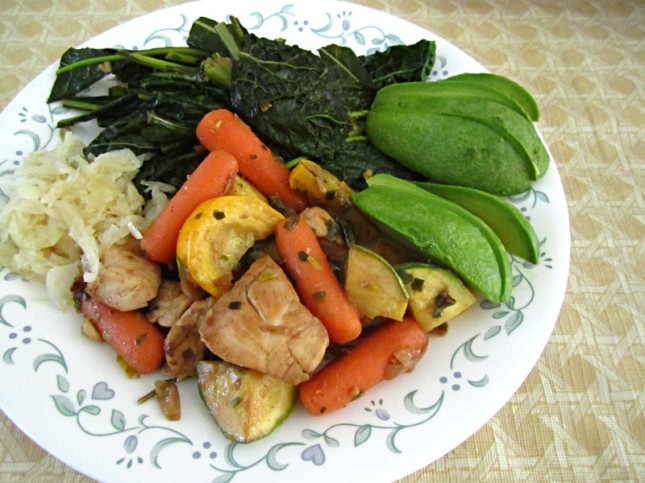 I had one yellow nectarine that I got from Farmer's Market afterward. I love yellow nectarines! The yellow peaches were actually pretty sweet too (same price) but I dislike eating the fuzzy skin and since I know I'll be so damn lazy to peel it, I rather get the nectarine which I don't mind eating the skin. Besides, the yellow nectarine tastes sweet and sour which I prefer than just sweet.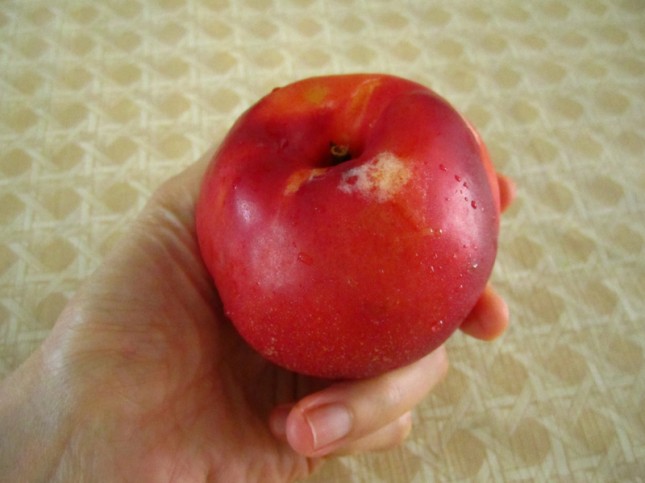 Hubby K and I spent the afternoon watching Horrible Bosses and we thought it was pretty funny (even better than Bridesmaids). Afterward, we realized we didn't have enough veggies to last us for dinner and tomorrow's lunch (Hubby would have dinner with his fam tomorrow and since they live in Asian area, he usually picks up our usual veggies from local market there), so we drove off to nearby Korean market.
I picked up some dried seaweed and made it into Apple Cider Seaweed Salad with Apples.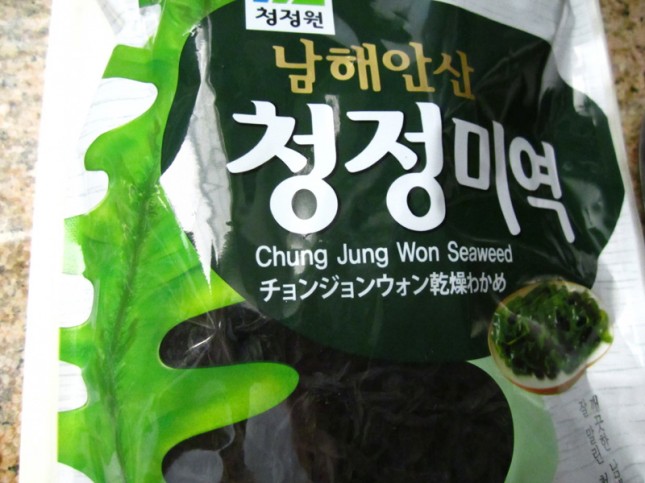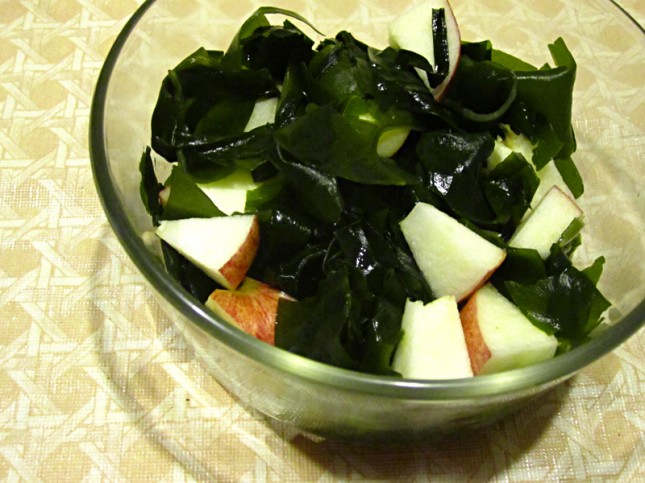 Also a bag of kelp noodles!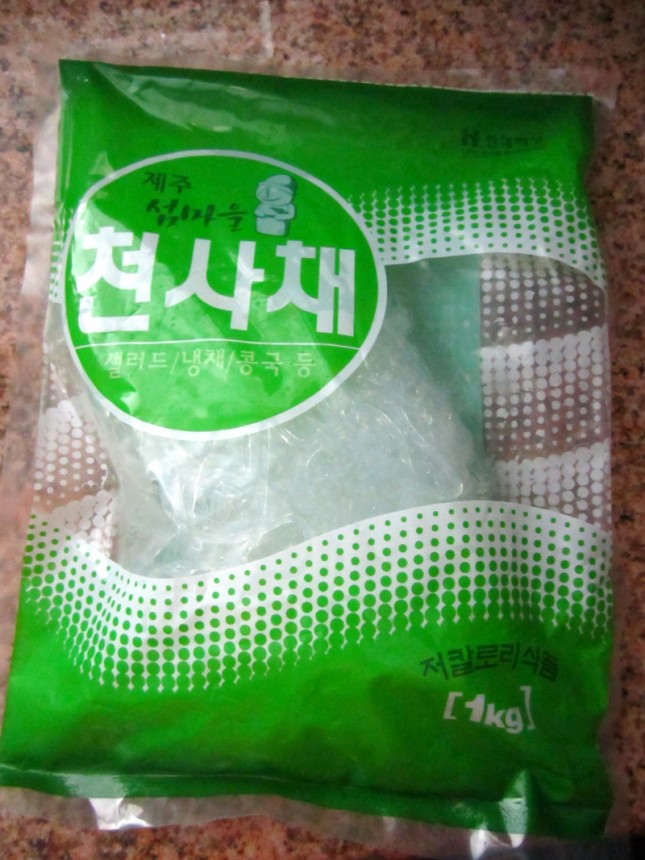 Didn't I mention when you stir fried kelp noodles, they resemble A LOT with rice vermicelli noodles when in fact kelp noodles are made from seaweed- GRAIN FREE!
I made stir fried kelp noodles (similar with my Stir Fried "Vermicelli" Noodle recipe), just the combo this time was summer squashes, baby carrots, Thai Basil and chicken meat.

Hubby K helped me roasted some broccoli, but he put way too much pepper this time that they were super spicy to my taste!
My dinner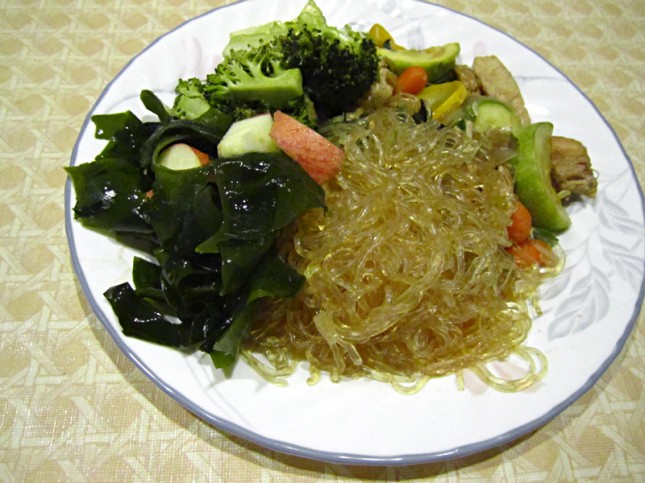 Whole30: Day 16 – I need to explore more veggies at Farmer's Market so I could add more variety in my dishes. Besides, it's fun to experiment with different types of veggies. 😀
Any vegetables that considered to be exotic for you?