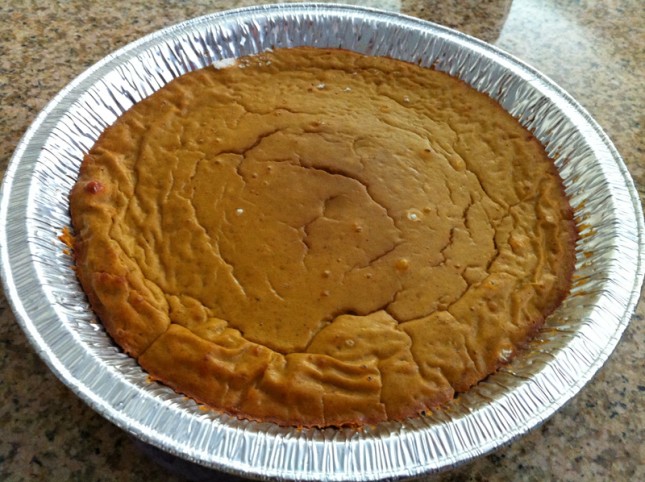 It's not pumpkin season but there's no reason for making a pumpkin type of treat, right? The pumpkin has been sitting in my fridge for a while and I don't want it to go bad. Plus I need to make something that I could bring to a get together so at least I could still eat something and wouldn't be an odd ball. Besides a host usually likes it when a guest bringing a dish to the party, right?
Crustless Pumpkin Pie

Print recipe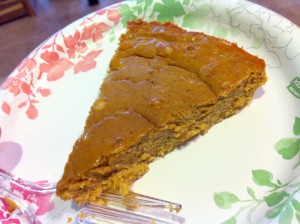 Ingredients
1 cup pumpkin (canned)
1 cup Coconut Cream (I used Aroy-D Coconut cream but you could use full fat coconut milk))
1 Large Egg
30g Whey Protein Powder (About 27 gram protein - varies depending on what whey protein powder you are using)
1 tablespoon Egg white protein powder (I used NOW Foods Unflavored Egg White Protein powder)
1 teaspoon vanilla
1 teaspoon ground cinnamon
1/2 teaspoon stevia powder
1/2 teaspoon baking powder
1 pinch salt
Directions
Step 1
Pre heat oven to 375⪚F. Grease 8" pie pan with coconut oil
Step 2
Mix all the dry ingredients in one bowl (whey protein powder, egg white protein powder, salt, baking soda, vanilla, ground cinnamon)
Step 3
Lightly beat egg and mix thoroughly with the pumpkin. Slowly mix in the dry ingredients into wet ingredient to prevent lumps. I didn't do this thus I had to work extra to get those lumps mixed into the batter.
Step 4

Pour the batter to your 8" pie pan. My recipe came up with approximately 2.75 cup batter (29 Tablespoons)

Step 5

Bake in 375°F for about 20-25 minutes or until the batter is no longer runny. Do not over bake or it'll be way too dry. We want it to be a bit moist 🙂

Step 6
Once done, remove from the oven and let it cool a bit before slicing it.
Note
This nutrition facts is for 1/8 slice of the pie, NOT the entire thing!
Nutrition Facts
Serving Size (1/8 slice)
Servings Per Recipe 8
Amount Per Serving

Calories 85

Calories from Fat 49

% Daily Value*
Total Fat 5.5g
8%
Saturated Fat 4.5g
22%
Monounsaturated Fat 0.3g
Polyunsaturated Fat 0.1g
Trans Fat 0 g
Cholesterol 23mg
8%
Sodium 46mg
2%
Total Carbohydrate 4.1g
1%
Dietary Fiber 1g
4%
Sugars 1.7g
Protein 5.2g
Vitamin A
96%
Vitamin C
2%
Calcium
3%
Iron
4%
* The Percent Daily Values are based on a 2,000 calorie diet, so your values may change depending on your calorie needs. The values here may not be 100% accurate because the recipes have not been professionally evaluated nor have they been evaluated by the U.S. FDA.