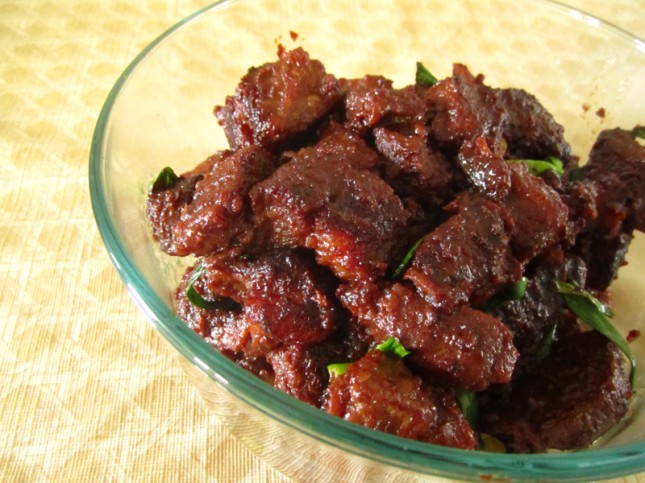 This recipe was inspired by She Cooks He Cleans Vietnamese Clay Pot Pork (Thit Kho To) recipe when I saw it posted on Chowstalker a while back.
Since I don't have a claypot nor I had the time to baby sit for hours, I used my beloved pressure cooker to cook this and also figured out a way to make this dish without using any sweetener (not even honey or palm sugar). Why you asked? Well sometimes I just like the challenge 🙂
Caramelized Beef and Scallion (adapted from She Cooks He Cleans)
Ingredients:
2-3 lbs grass-fed beef brisket – cut into small cube
2 shallots – peeled and minced
1/2 garlic clove – peeled and minced
1/4″ ginger knob – peeled and sliced thinly
2 Tbsp coconut oil
2 Tbsp date paste (I grounded pitted dates with my food processor -roughly around 10 dates)


1/4 cup Red Boat Fish Sauce
1/3 cup water
Bunch of scallion – cut into about 1″ length – set aside
Directions:
1. Heat up 2 Tbsp coconut oil on a skillet in medium heat.
2. Pan sear the beef brisket until they are browned evenly on all sides. Do not crowd them too much as they will steam instead of pan fried. Set aside.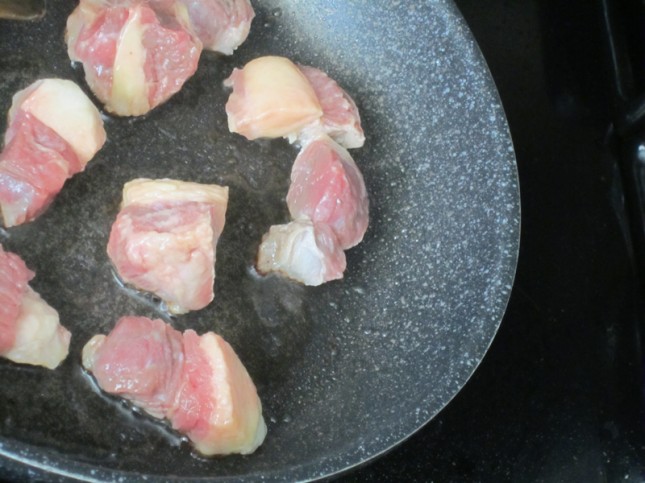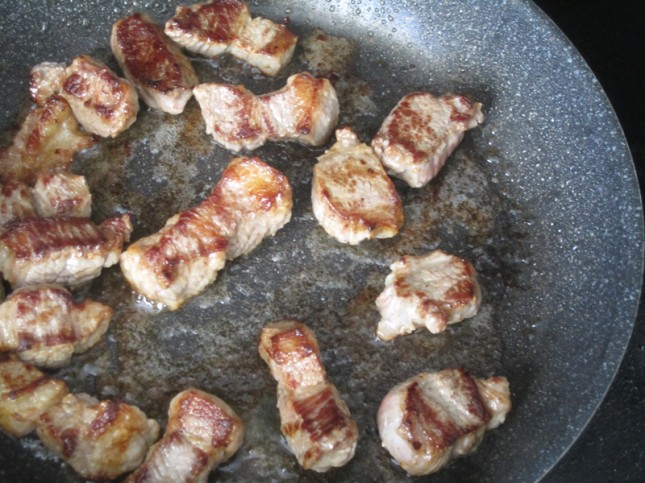 3. Add an additional 1 Tbsp coconut oil if you need it. I didn't add more since the brisket that I used had nice fat around the meat so they contributed the grease already. Saute the chopped garlic, shallots and ginger until fragrant.
4. Then add in 2 Tbsp date paste – break them apart and mix thoroughly.
5. Add in the fish sauce and water.
6. Next dump the liquid to a pressure cooker along with the browned meat. Close and lock the lid, turn up the heat to bring up the pressure.
7. Be careful not to keep the pressure too high or you will risk burning the meat into char because of the high sugar in dates. Once the pressure cooker reaches its pressure (in my case, it's already hissing), turn the fire all the way down to medium low.
The hissing sound might not as loud but it's still there, just quietly and we want that. Cook for about 30 minutes.
8. After 30 minutes, turn off the fire and wait until the pressure goes down before opening the lid.
9. Since I wanted to caramelize the beef a bit further, I pan seared the meat on the skillet on high heat until everything was reduced.
10. Mix in the chopped scallion and the dish is ready!