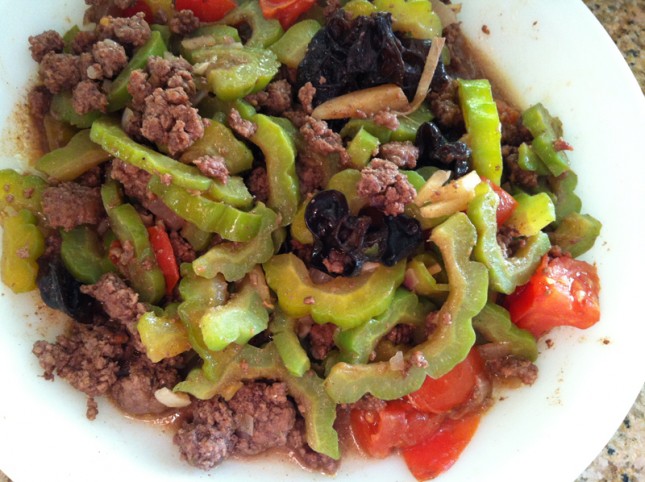 I've made Stuffed Bitter Melon based loosely from Fit Daffy's recipe, which turned out super yummy. But during weekday when I practically only have 2 hours to finish up whatever I need to do before going to bed, I need to cook something that's simple and yet yummy! Also not taking too much time either. If you've been following me on Facebook, you might seen that I've eaten this bitter melon dish a couple times during the week.
Stir Fry Bitter Melon
Ingredients:
2 medium size bitter melon – sliced lengthwise – scoop out the seeds and slice thinly across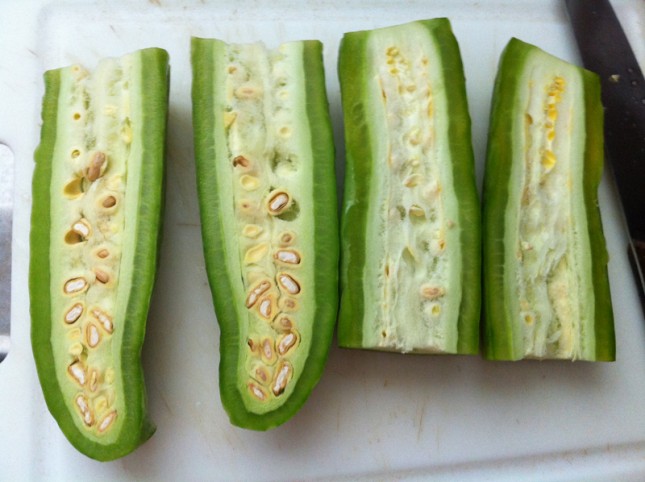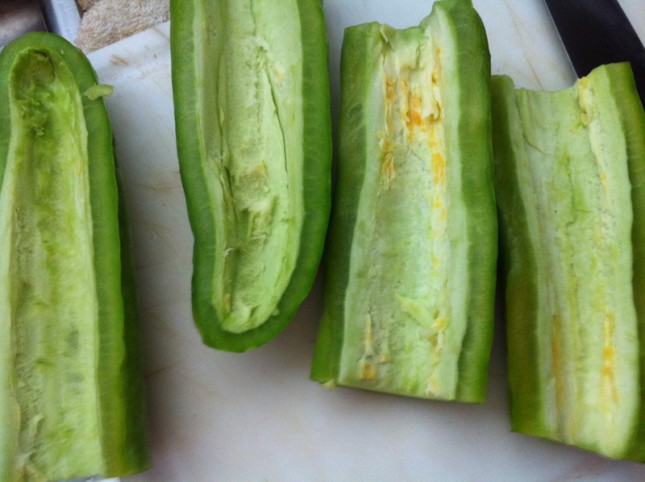 1-3 Tbsp coconut oil
1 medium shallot – minced
3 garlic cloves – minced
1″ ginger knob – julienne
1 lbs grass-fed ground beef
2 roma tomatoes – diced
1-3 Tbs Coconut Aminos
2 tsp Red Boat Fish Sauce
1 tsp Five Spice Powder
1 1/2 tsp salt
1/2 tsp white pepper powder
2 cups of dried wood ear mushrooms – re-hydrate in water (or any other type of your favorite mushrooms)
1-2 tsp sesame oil (optional)
Directions:
1. Heat up the skillet in medium high heat with 2 Tbsp coconut oil. Saute half of minced garlic and shallots until fragrant.
2. Pour in the sliced bitter melon, mix until they are slightly wilted. Season a bit with 1/2 tsp salt and add a bit splash of water. Remove from heat – set aside.
3. Heat up another 1 Tbsp coconut oil in medium heat and saute the remaining minced garlic, shallots and julienne ginger until fragrant.
4. Pour in the ground beef – break into pieces so they will cook evenly. When the ground beef is about 80% browned, mix in the cooked bitter melon – mix thoroughly. Mix in the cut up tomatoes as well.
5. Season with coconut aminos, white pepper powder, salt, and fish sauce. Adjust taste accordingly.
6. Drain the water from soaking the wood ear mushrooms. Mix in the wood ear mushrooms and cook for about 1 minute.
7. Turn off the heat and splash the dish with sesame oil.
Super easy and yummy! Bitter melon is an acquired taste so you may or may not like the taste. But I could assure you, it's not that bitter like a medicine! In fact it's bitter with some slight sweetness into it 🙂