I don't post dessert recipe that often, especially those are high carbs and starch. But when I saw this recipe on the website that Debby told me a while back, I was so intrigue to make it.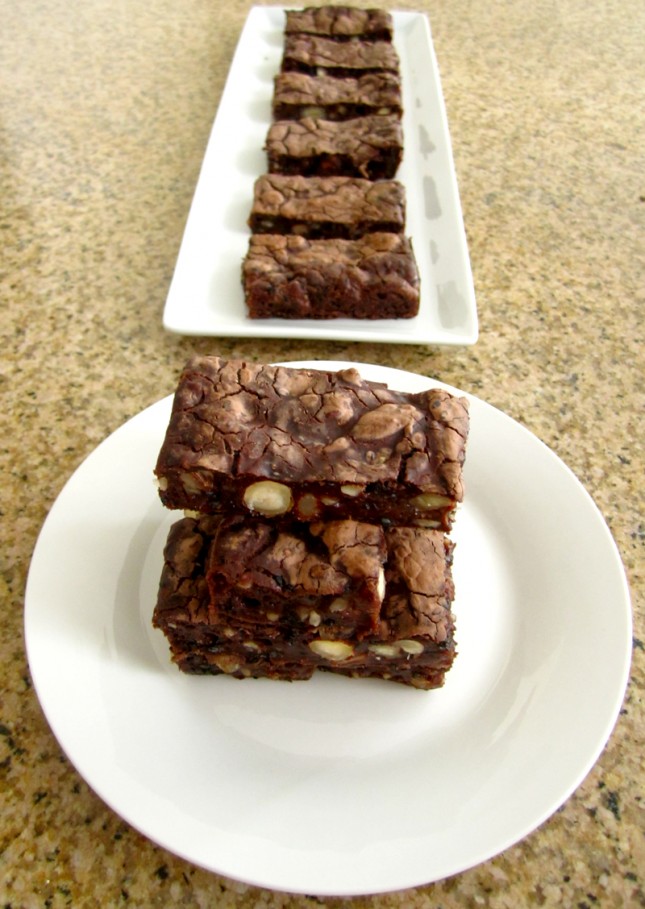 This recipe obviously not originally mine but I made some tweaks to it with whatever I had in my pantry. Since I only use my handy dandy countertop oven, I cut down the original recipe into 1/2. But in the end, it yields quite a bit of servings that last me for quite a while. In fact, I still have some of these sitting in my freezer.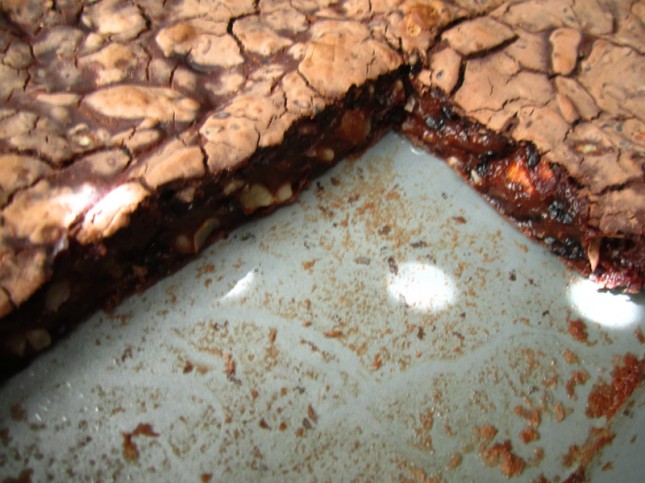 The original recipe called it Sweet Rice Cake Bars but mine looks so much like brownie so I named this Gluten Free Chewy Brownie.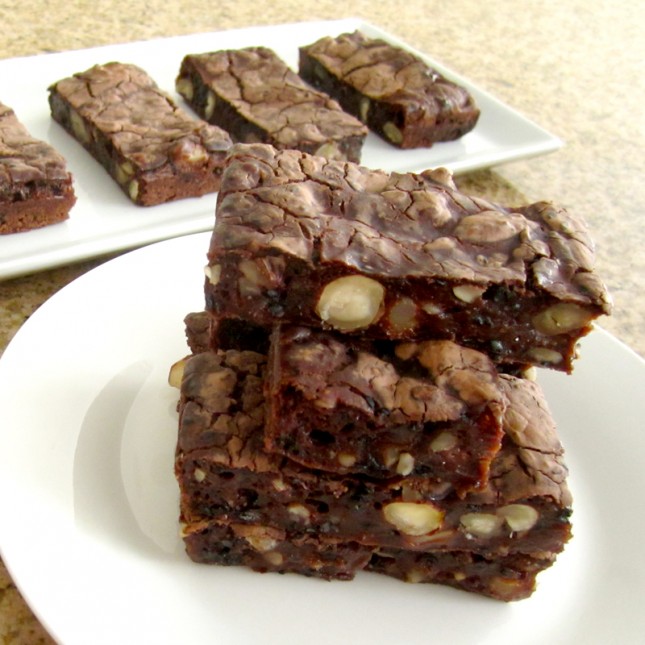 Just like the original author mentioned, this cake or brownie freezes well. I wrapped them individually in saran plastic wrap and freeze it. Whenever I want to eat it, I just defrost it by leaving it sit on the kitchen counter for 15 minutes. I'm sure it surely taste like chewy ice cream if you eat it half-frozen. I haven't tried it, but I think I might.
For the Glutinous Rice Flour, I'd suggest you go to your local Asian market to buy it. They are usually pretty cheap and make sure it says either Glutinous Rice Flour, Sticky Rice Flour or Sweet Rice Flour. Glutinous Rice flour is GLUTEN FREE.
Since this dessert is HIGH CARB & HIGH STARCH, I'd suggest to limit these for your post workout meal or on the day that you lift heavy. If you don't really care and just want to eat it whenever you want, I won't stop you either. However, this snack is quite filling so 1-2 pieces actually good enough for me.
The nuts combo is really up to you. It just happened I only had almonds and hazelnuts in my freezer so those are the only ones I used. However, if you choose to use more nuts/seeds variety, keep in mind the macros might change from what I provided below. I also included the 2 tsp coconut oil into the fat count.
Now enough with rambling and let's get to the recipe. I hope you enjoy this.
Lastly, without even trying, this recipe is VEGAN FRIENDLY.
Gluten Free Chewy Brownie

Print recipe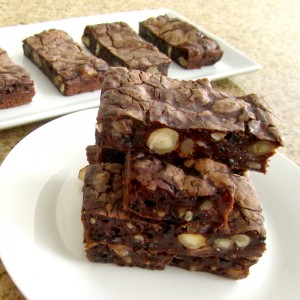 This chewy brownie is perfect for your post workout snack or once a week treat whenever you want to have a little dessert kick. This recipe is very high starch and high carb so it will be best to have these after your heavy lifting workout.
Ingredients
Dough ingredients
1 1/2 cup glutinous rice flour (AKA sweet rice flour or sticky rice flour)
1/4 teaspoon baking soda
14g unsweetened cocoa powder (about 1 Tablespoon)
1/2 cup powdered sweetener of choice (I used granulated Splenda but a combo of Eryhtritol and powdered Stevia might work- I suggest 1/4 cup erythritol + 1/2 tsp powdered stevia)
1/2 cup whole hazelnuts
1/4 cup whole almonds
2 tablespoons black sesame seeds
1 cup unsweetened almond milk
1 pinch salt
1 teaspoon liquid vanilla extract
For Greasing the pan
2 teaspoons melted coconut oil
Directions
Step 1
Preheat oven to 350°F. Grease 6.5" x 9.5" pan with coconut oil.
Step 2
Roughly chop the almonds and hazelnuts into bite size. Set aside.
Step 3
Combine glutinous rice flour, salt, powdered sweetener of choice, salt, and cocoa powder in one bowl.
Step 4
Pour in the unsweetened almond milk and vanilla extract into the dry ingredients. Stir until everything combined. Make sure there's no lumps.
Step 5
Lastly, pour in the chopped nuts and black sesame seeds and stir until combined.
Step 6
Pour the batter into the greased pan. Make sure to even out the surface. Shake the pan a bit to make sure the batter leveled evenly on the pan.

My batter was a bit sticky and not as watery as the original recipe, but I didn't bother to add more liquid. In fact I actually like it the way it was.
Step 7
Bake for about 30-35 minutes or until the top dry.
Step 8

Remove the pan from oven and let it sit on the counter until it completely cools down.

Step 9

After it cools down, using a spatula, carefully remove from the pan. Slice into 8-12 pieces or whatever number you'd like to have.
Note
Some Ingredients you might need:
Erythritol
Powdered Stevia
Whole Almonds
Whole Hazelnuts
MACROS:
For Serving size: 8
Approximate macros for 1 serving
Calories: 181
Fat: 10gr
Protein: 4gr
Net Carbs: 18gr
For Serving size: 12
Approximate macros for 1 serving
Calories: 121
Fat: 7gr
Protein: 3gr
Net Carbs: 12gr