Hello dear readers!
Welcome to September. Woot only 3 more months before we're going to end this year of 2014 and welcoming year 2015.
Anyway I have a super simple and easy recipe for you to make. It's been so hot and humid in LA lately that I haven't been in a mood of cooking in the kitchen. The solution? I use my slow cooker to make my batch meal.
This time I tried to create a very simple recipe that my mom used to make while we were growing up in SE Asia. Granted she didn't have a slow cooker and had to cook this on the stove, which require baby sitting.
I don't want to baby sit a cooking dish in front of a stove while it was 90°F in the kitchen. Not to mention humid..YUCK.
So using just very easy and simple ingredients, I threw this together and just walked away.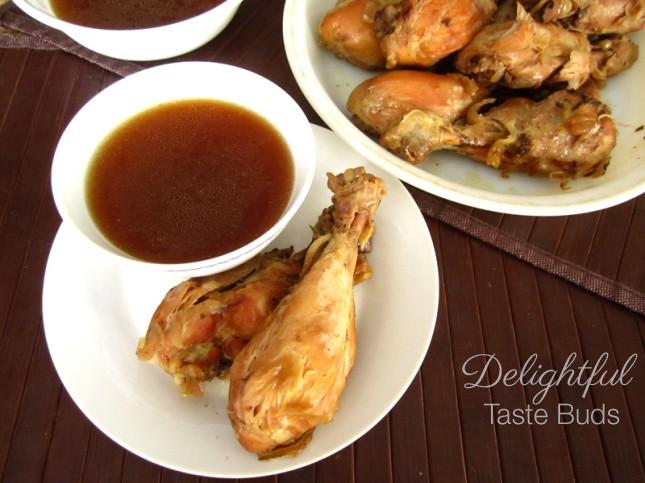 Not to mention I got a batch of protein dish ready whenever I want to eat so I don't always have to keep cooking whenever I wanna it. Another extra bonus, I got a yummy broth that I could use to season any dish that I make.
I hope you enjoy this simple recipe.
Chicken Drumsticks Stew

Print recipe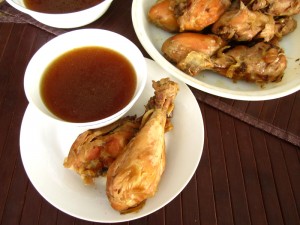 Ingredients
10 pieces chicken drumsticks
1 Medium onion
1 " ginger knob (sliced)
1 tablespoon Red Boat Fish sauce
2 tablespoons tamari soy sauce
1/2 teaspoon salt (to taste)
1/2 teaspoon ground white pepper
1/2 tablespoon garlic powder
3 pieces star anise
Directions
Step 1
Peel and slice the onion into half moon. Set aside
Step 2
Slice ginger into 1/4" slices. Set aside
Step 3
Rinse and pat dry chicken drumsticks.
Step 4
Using a paper towel, gently remove the skins from the drumsticks. If you prefer to keep the skins on, you could skip this step. Personally, for stews, I rather have skinless chicken drumsticks
Step 5
Line the bottom of your slow cooker with some onion and ginger slices.
Step 6
Top with the skinless chicken drumsticks.
Step 7

Season with salt, pepper, garlic powder, fish sauce, tamari soy sauce and 3 pieces of star anise. Top with remaining onion and ginger slices. Stir with a wooden spatula making sure all chicken are covered with seasonings. Do not add any liquid.

Step 8
Cover the slow cooker and cook on low for 4 hours.
Step 9

After about 4 hours, they should look something like this. Take this opportunity to adjust the taste (add more salt, soy sauce or whatever your taste buds telling you to).

Optional
Step 10

This next step is completely optional. If you are at home while making this dish, you can do this extra step as a bonus.

Open the cover of the slow cooker.
Turn up the cooking setting to high for about 1 hour
This will dry out the excess liquid and will deepen the taste of the broth.

Step 11
When the chicken is done, separate the chicken from the broth
Step 12

Using a strainer, pour broth into a heat safe bowl. Discard the onions and ginger remains. Now you got yourself a bowl of yummy broth that you could use to season any dishes you cook or you could use it a sauce for the chicken
Note
INGREDIENTS/TOOLS YOU MIGHT NEED:
Red Boat Fish Sauce
Edens Food Tamari Soy Sauce (Gluten-free)
A Slow Cooker
MACROS:
For Serving size: 5
Approximate macros for 1 serving
Calories: 303
Fat: 9gr
Protein: 53gr
Net Carbs: 2gr
For Serving Size: 8
Approximate macros for 1 serving
Calories: 190
Fat: 6gr
Protein: 33gr
Net Carbs: 1gr