We had a gorgeous 4th of July weekend in SoCal here! Last week we were hit with a heatwave but this week, Mother Nature spared us and gave us this nice, sunny and breezy weather. I liked that I got a day off on the 4th of July and worked from home on Friday, however, I didn't quite enjoy the fireworks on 4th of July. They were so noisy and I hated noise.
Anyway I had a great simple and super easy recipe for you today. The taste reminds me of those chicken snacks that you usually get at Asian Boba Tea place (minus the vegetable oils and MSG!). Plus they are for sure Ultra-Low Carb and Paleo friendly as well.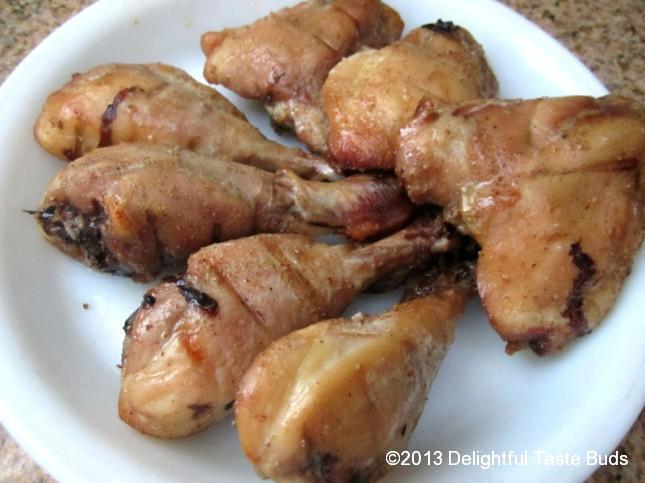 I ordered these pastured-raised chicken drumsticks from Tendergrass Farms.
Hope you like it!
Baked Garlic Basil Chicken

Print recipe
Ingredients
4 pieces skinless chicken drumsticks
3 pieces skinless chicken thighs
1 tablespoon garlic powder
1/2 teaspoon salt
1 teaspoon white pepper powder
2 teaspoons coconut oil (or enough to brush the chicken)
1 handful fresh basil leaves
Directions
Step 1
Wash and pat dry the chicken drumsticks and thighs. Mix all the dry ingredients in one bowl and rub generously over the chicken. Cover and let it marinate for at least 2 hours or overnight (for best taste) in the fridge.
Step 2
On the day you are about to cook the chicken, take it out from the fridge and let them sit on the counter for 15 minutes so they won't be too cold.
Step 3
Preheat oven to 400F. Line a baking sheet with aluminum foil and place a wire rack over. Line the chicken, brush lightly with some coconut oil. Spread out the basil leaves over the chicken as well.
Step 4
Bake the chicken for about 1- 1.5 hour depending on your oven. Mine took about a total 1.5 hour. In the midway, you can take out and flip the chicken and lightly brush with coconut oil.