If the other night, I had hard time falling asleep, last night was the opposite and I got up quite late! 8 AM! The plan was to get up earlier maybe around 6 am if I was lucky or 7 so I could squeeze in some kind of full body workout HIIT since tonight I will have my carb feast.
Well that couldn't be done obviously since I will have a workout session with MovNat at 9am and I was hoping I could catch a little bit of the first panel discussion session regarding Paleo for Elite Athlete which Kiefer would be in.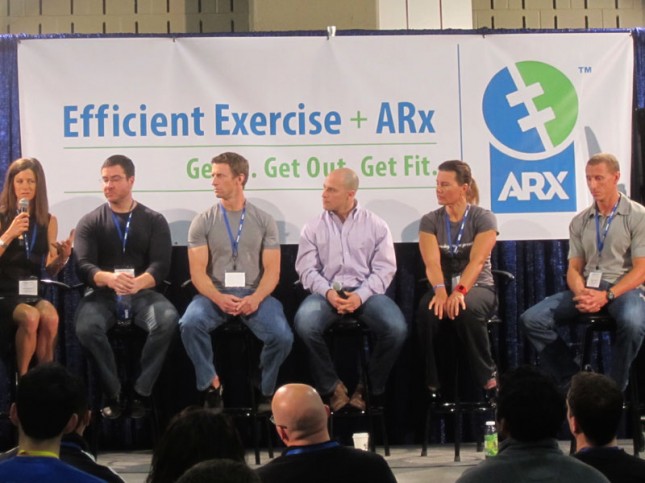 But I magically could still whip out my quick breakfast to pack! I forgot to bring my glass container so an idea came in my mind: let's make a good use of these coffee cup that were provided by the hotel's continental breakfast! VOILA! I didn't have to wait for the food to cool down!! Problem solved!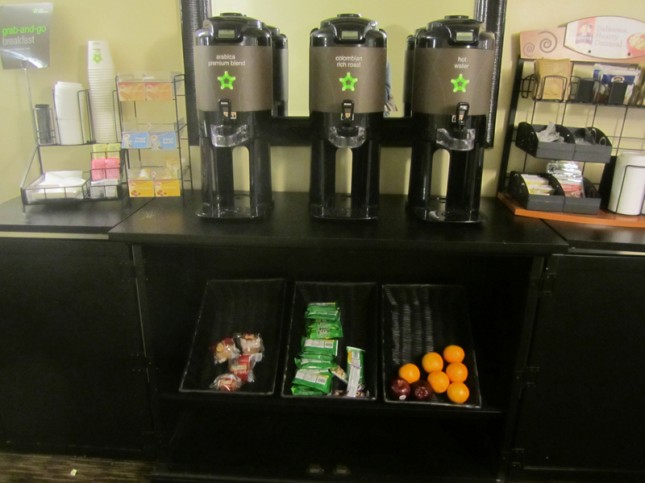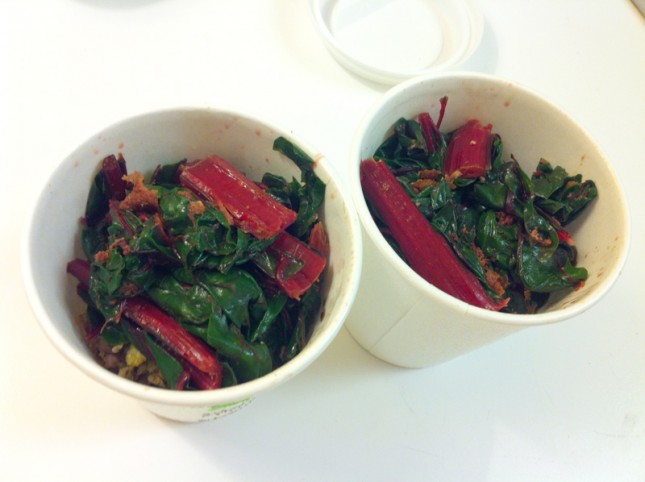 The food? Well you guessed it: ground beef, scrambled egg and red swiss chard!
I caught a bit of glimpse of the Paleo for Athletes panel talk with Kiefer before I went to MovNat workout session outdoor.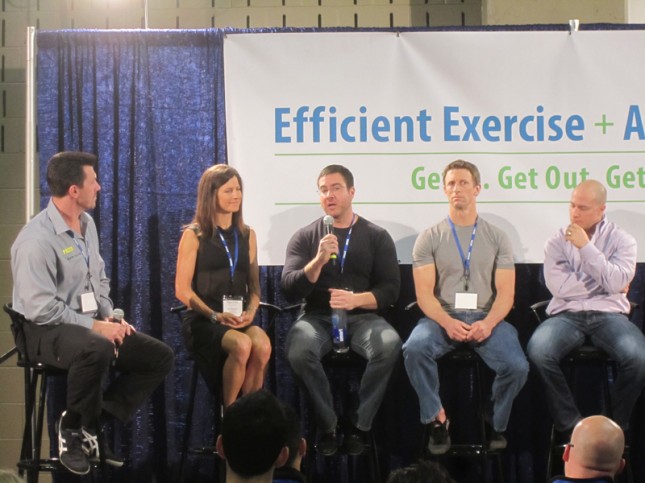 No pictures for MovNat but basically we were introduced to our natural body movements that will help us for our daily life task. Bear crawls, crab walk, balancing, how to broad jump etc. It was fun anyway and bear crawls can get challenging especially if you have to go uphill!
Afterward, I felt like I need to get in some HIIT so I picked a little corner in the convention center, and did 1 min/15 sec for 9 rounds of 3 exercises: burpee, squats with my backpack & shoulder press with my backpack. That gave me quite a sweat!
Then I just popped into one of the room and I think this was another discussion panel about You're a Walking Chemistry. First time seeing Chris Kresser in person. He's very TALL!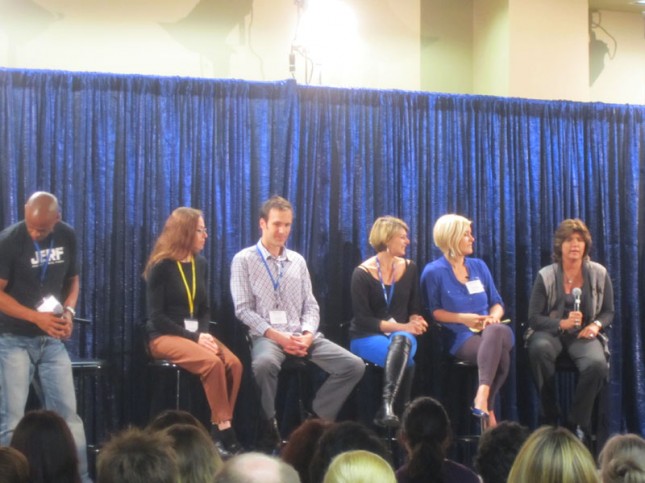 Since I got there halfway so I was a bit lost on what they were discussing so I hopped to the cooking demo by Diana Rodgers. Bummer I missed Nom Nom Paleo's earlier cooking demo, but I got a chance to talk to her and say hi. Also I met up with George from Civilized Cooking Caveman.
He's a very nice person to talk to.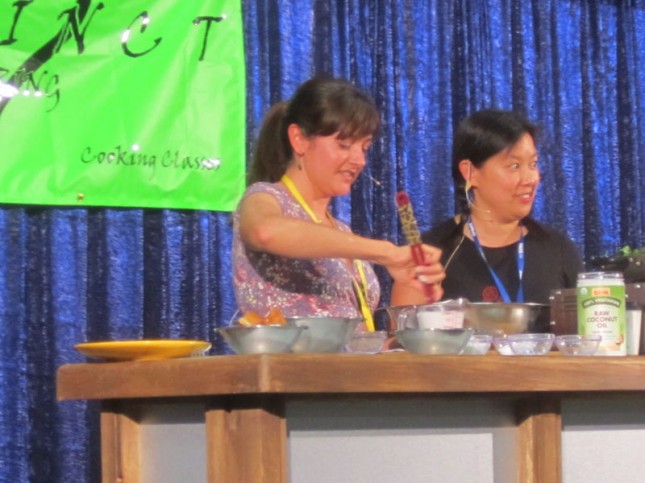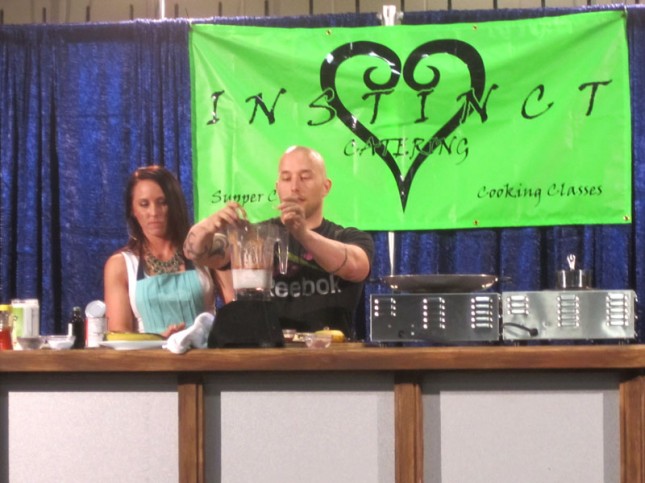 Then I was just hopping around the area, checking out various workout sessions that were going on. I gave these machines by Efficient Exercise a try. The one on the right was meant to get your heart rate up as a warm up by swinging it around with your arms – focusing on upper body movements. Believe me those things were HEAVY! My arms gave up only after for 1 minute. Then afterward, I sat down on the other one on left side picture and it basically tested how much maximum force I could do. In this case, it was a pull down. So the machine is controlled based on my current strength. When the handles are going down, I'm supposed to pull it down so it'll come down faster and when it's going up I'm supposed to try to resist it as much as possible. It took about a minute but I could feel my upper back got quite a good workout just from that!
Some other various movement sessions: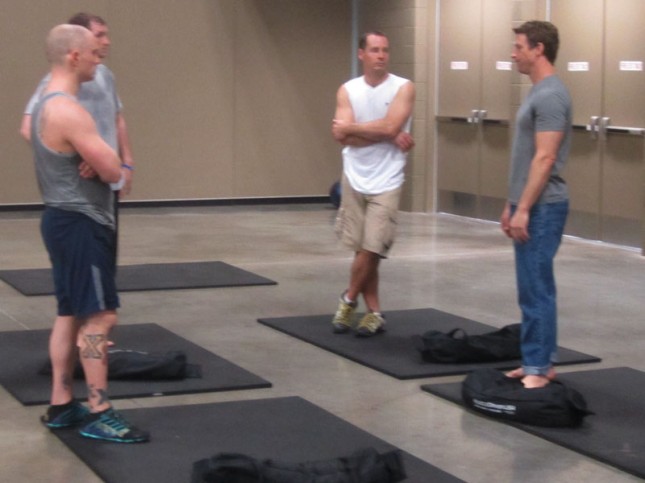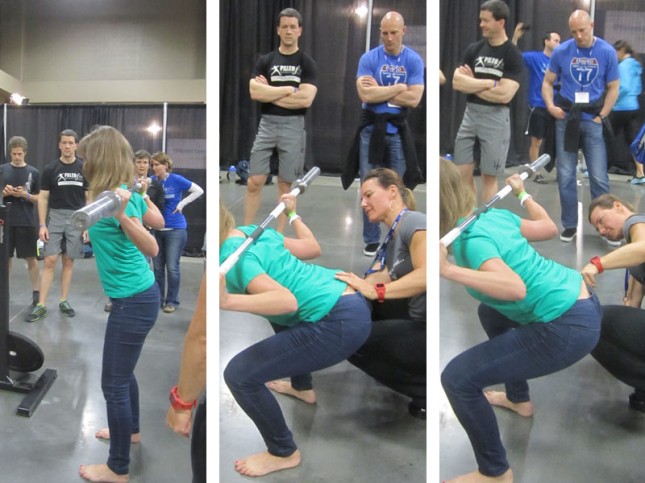 Darryl Edwards from The Fitness Explorer preparing for his long jump test.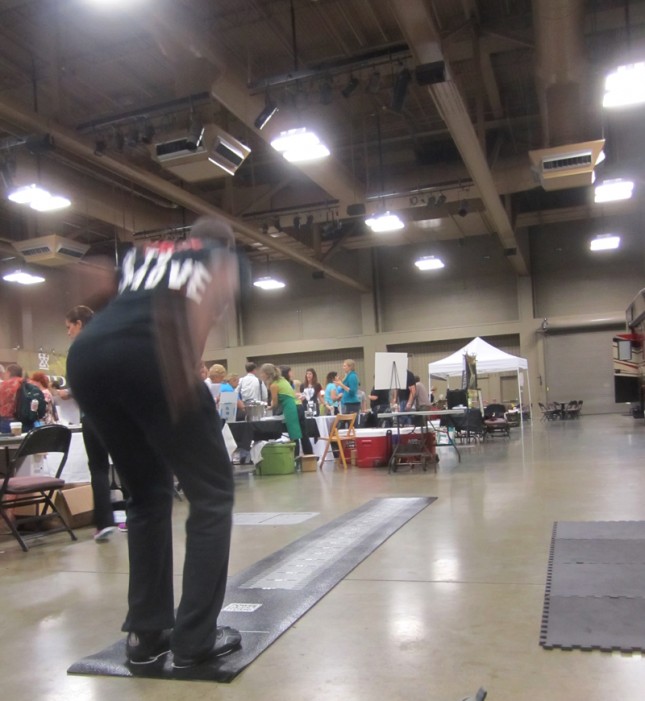 I gave my long jump a try as well. Not too shabby but definitely can be better. While waiting for my turn, Darryl said he will have an impromptu Primal Play Movement Session at noon and asked if I'd be interested to join. I actually signed up for his session on Saturday but hey since now I had the time, why not?
I quickly had my lunch at outside. It was still gloomy but not cold even though it was a bit humid and windy.
Primal Play was quite fun. Basically it turned a workout more into a play session so you won't feel like you are doing a workout. Plus most of the moves can always be applied into our daily life. I think I see some resemblance with MovNat.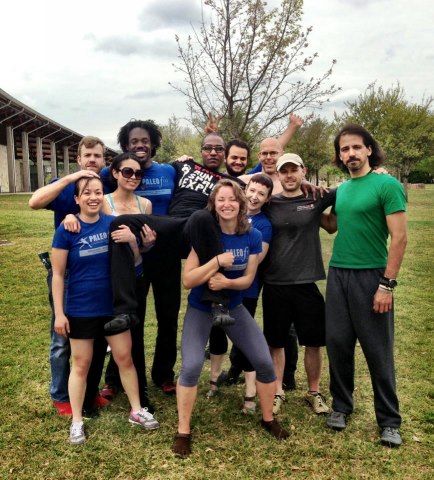 Then I went back inside to listen to Nell Stephenson's presentation regarding Paleo for Endurance Athlete. I actually admire her overall physique as a fit/strong and yet feminine. Quite an image that I'd like to achieve for myself in the future 🙂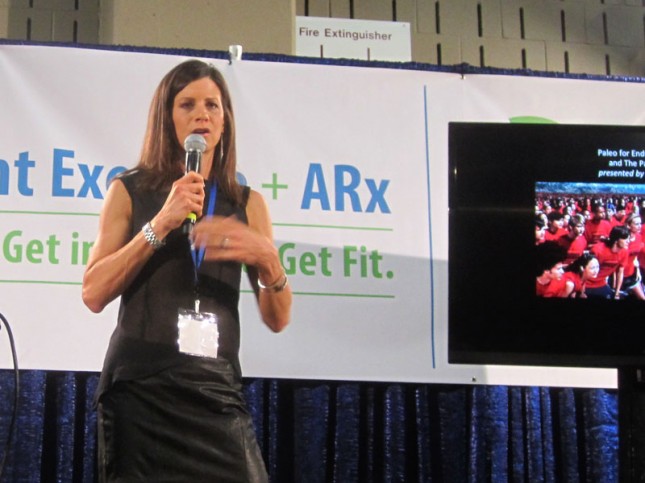 Right after her presentation was the most awaited one: Kiefer! His presentation was about nutrient timing for maximum fat loss. From what I've seen among presenters, he was the only one without any slides!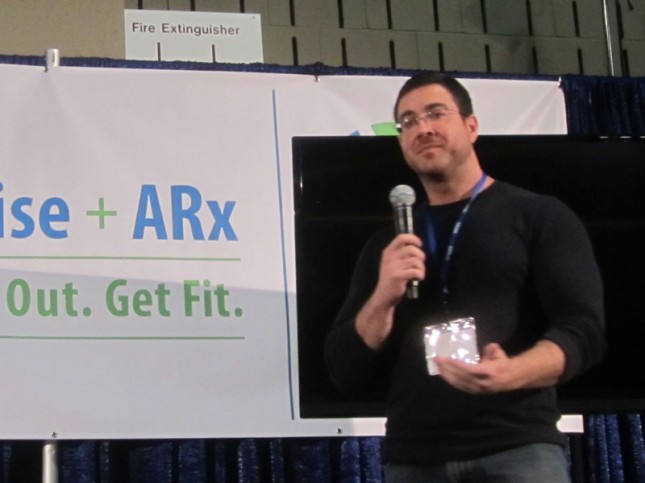 I enjoyed Kiefer's presentation and it was quite a bummer he only had 20 minutes. I wish he had more time slot like 40-50 minutes or even 2 hours!! So basically what he presented at PFX13 was something that either I've read on his blog, books or listened on his recent Video TubeCast. For those who aren't quite familiar with his Carb Nite or Carb Backloading, it might hard to grasp the whole principles behind it. He barely scratched the surface of this entire thing.
After Kiefer's presentation done, I didn't have exact agenda in my schedule on which panel/presentation I'd like to attend so I just hopped around from one to another. But majority of my time, I mostly enjoyed the exercise/training talk and the movement sessions the most.
Oh also some of the vendors.
Btw, I think I might find my new like on this veggie-biotic, Kvass.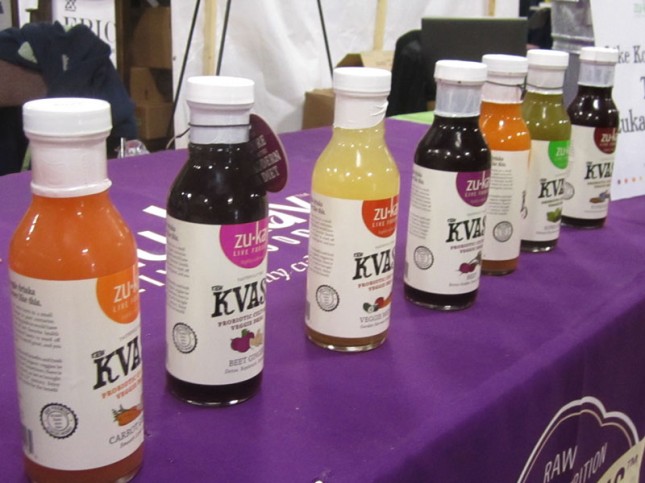 The only flavor that I tried was the Super Green since it only has green veggies in there. The rest either has carrots or all kinds of root veggies which not making it ideal to fit into my Ultra-low carb days. Clearly Super Green was the winner as I heard they sold out on that one!
Before I knew it, it was my Carb Nite time so I headed back to my hotel to enjoy my carb feast, which I prepared the night before.
This time was super simple: sweet potatoes, rice congee, kabocha and some chestnuts. I didn't finish the entire sweet potatoes as it was hard to eat them plain. If only this hotel comes with an oven *sigh*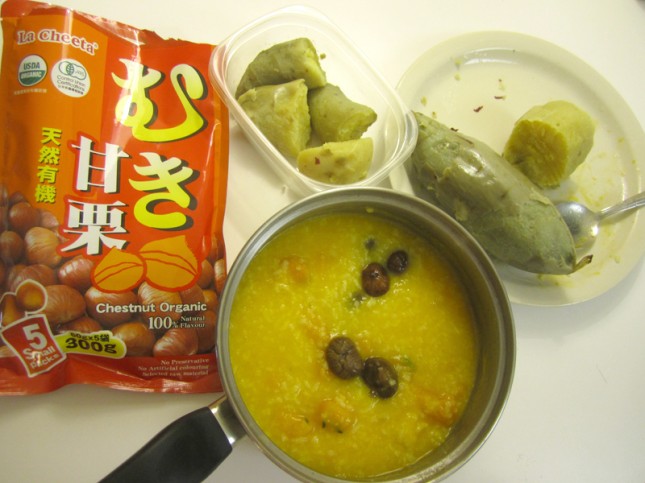 In the meantime, I prepared my food for tomorrow's ultra low carb day. I am so glad I finished my entire grocery. As you suspected, another ground beef and scrambled eggs and this time I gave Paleo Powder seasoning a try.
Ingredients: Salt, garlic powder, onion powder, chili powder, cumin, and a pepper blend – can't get more paleo than that!
I sniffed it a bit and it totally reminds me of my own taco seasonings. Hmm…looks like I could just make this on my own!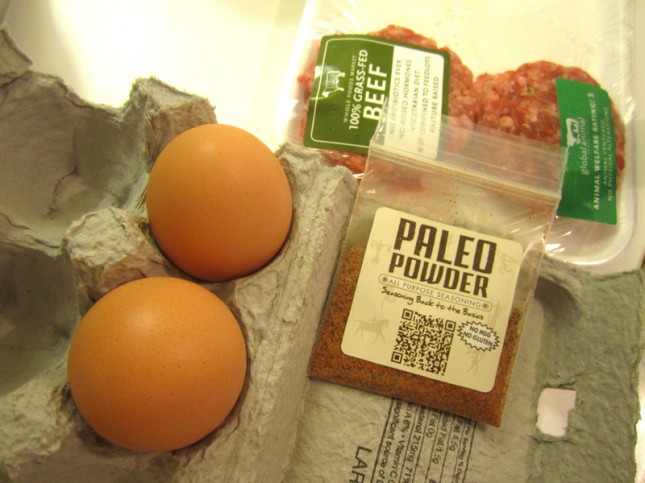 Plus green cauliflower and its greens. To be honest, I never thought eating cauliflower leaves until recently and I actually like it! Felt bummer that I've been wasting those for all of this time!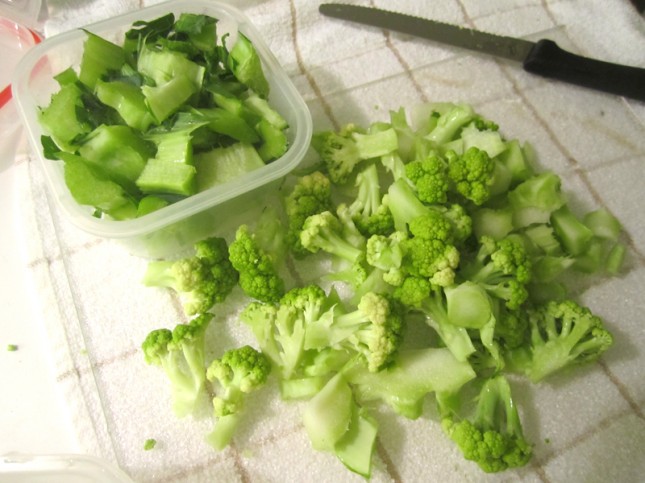 Then I got a skype call from my wonderful trainer, Debby Kaplan! Omg, I think we talked for hours even though we had to disconnect couple times until her laptop battery totally went dead and we couldn't connect anymore. I was only planning for skyping for about 1 hour but it ended up for about 3 hours and I didn't go to bed until 1 am..haha! It was so fun talking with her though, and our topics kept jumping from one to another: fitness talk, nutrition, lifestyle and other random stuff to even setting up a digital camera! It's so funny how we've never met in person and only communicated thru emails or FB but when we actually "talked in person" (more like a video conference call), all sudden we just connect like an old friend!
Anyway this will conclude my Day 2 in Austin. Stay tuned for the last recap, Day 3!