I hope you're enjoying your Christmas Day! Did you eat lots of yummy food? Bummer thing is tomorrow I have to go back to work so I need to make some quick dish that I could bring for my breakfast. Since I didn't have any plans today, I decided to putter around in the kitchen and made these amazing Italian-style Meatballs!
Italian Style Meatballs

Print recipe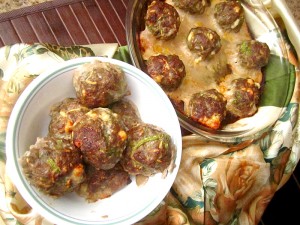 An easy recipe that can be made in advance. Perfect for go to breakfast or snack during ultra-low carb days. Low-carb, moderate protein and fat.
Ingredients
16oz grass-fed ground beef (80% lean/ 20% fat)
2 cups squash (shredded)
4 Large egg whites (lightly beaten)
2oz Kerrygold cheddar cheese (chopped/ shredded)
1 tablespoon coconut flour
1/2 tablespoon Red Boat Fish Sauce
3 teaspoons Italian Seasonings* (See below how to make your own)
Directions
Step 1
Preheat oven to 375-400°F
Step 2

Shred the squash with either your food processor with shredding disc attachment or you could use a julienne peeler

Step 3

Chop or shred the cheddar cheese

Step 4

Mix the lightly beaten egg whites, ground beef and shredded squash until everything incorporated. Season with Italian seasonings, coconut flour and fish sauce. Lastly, add in the shredded/chopped cheddar cheese

Step 5

Using a tablespoon, measure the balls roughly a little bit smaller than a tennis ball. Place on an oven safe baking dish. No need to grease since the meat yields quite a good amount of fat already. I got about 14 meatballs.

Step 6

Bake in 400°F for about 30 minutes, rotating halfway if you baked them stacked like the way I did. After that turn the oven setting to broil then broil to brown the top for about 10 minutes. Again if you stack them like the way I did, rotate them.

Step 7

Remove from the oven and let them cool down a bit.
Note
*Homemade Italian Seasonings
1 tsp salt
1 tsp dried rosemary
1 Tbsp dried basil flakes
1 tsp dried thyme
1 Tbsp dried chives flakes
1 Tbsp garlic powder
2 tsp ground oregano
2 tsp aleppo chili powder (optional)
Blend all ingredients in your mini food processor. Use it to season any Italian-style dishes.
Nutrition Facts
Serving Size (63 g)

Servings Per Recipe 14

Amount Per Serving

Calories 108

Calories from Fat 63 (58%)

% Daily Value *
Total Fat 7 g
11 %
Saturated Fat 3.4 g
17 %
Monounsaturated Fat 3.2 g
Polyunsaturated Fat 0.2 g
Trans Fat 0 g
Cholesterol 26 g
9 %
Sodium 112 mg
5 %
Potassium 155 mg
4 %
Total Carbohydrate 1 g
0 %
Dietary Fiber 0 g
0 %
Sugars g
Protein 7 g
14 %
Vitamin A
2 %
Vitamin C
3 %
Calcium
4 %
Iron
0 %
* The Percent Daily Values are based on a 2,000 calorie diet, so your values may change depending on your calorie needs. The values here may not be 100% accurate because the recipes have not been professionally evaluated nor have they been evaluated by the U.S. FDA.