In the past, my mom used to make rice congee when we got sick, especially digestion problems. But for me, I love rice congee in any occasion. It's very simple to do and there's no set in stone recipe. However, there's a certain way to make rice congee so you won't just end up with soggy rice or watery rice (bleah!)
If you have a fancy rice cooker with "congee" setting, then you are in luck. However, if you are like me who still own an ancient rice cooker, then this technique will be useful.
Rice Congee

Print recipe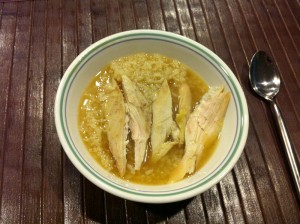 Ingredients
1/4 cup white rice
12-15fl oz water or homemade chicken stock
Directions
Step 1
Rinse white rice with water and drain
Step 2
Combine rice and 12-15 fl oz water or homemade stock in a pan. Cover and bring to boil
Step 3

Once boil, remove cover and reduce the heat to medium low.

Step 4

Stir once in a while to prevent the rice sticking at the bottom of the pan.

Step 5

Cover it again, but keep a close watch on it. If it looks like it will start to overflow, open the cover. Add more water if necessary.

Step 6

The rice congee is considered to be done once all the rice has broken down into "oatmeal texture" and the soup is nice and thick. If it's too thick, you can always add a bit more hot water. I personally like thicker rice congee.

Step 7

Season accordingly and topped with anything you like! I topped mine with sliced chicken breast meat.
As you can see it's quite simple to do. Just need a bit of patience. I haven't had rice congee for a while so last night when I had it for my Carb Nite meal, it was phenomenon! I think I will make rice congee again for my next Carb Nite feast!