I was about to post yesterday but when I saw Amy's Primal Hale FB shared Tom Naughton's video on Hulu, I couldn't resist not watching it and got hooked! Before I realized, it was kinda late and I felt like hitting the sack, thus abandoning this post. Tom Naughton really cracks me up but at the same time he backed up his points with science, so in some ways you're like watching a science-driven documentary comedy show. Unfortunately, the Hulu video is only available for those who are in the US. You can still watch bits parts of it on Tom Naughton's blog.
Ok let's move on to foods, shall we?
I took it easy with 15 minute short but still intense workout to kick off the day. For post WO/breakfast, I fried up some eggs seasoned with Sunny Herb Seasonings and salt, sauteed frozen veggies and a skinny purple yam.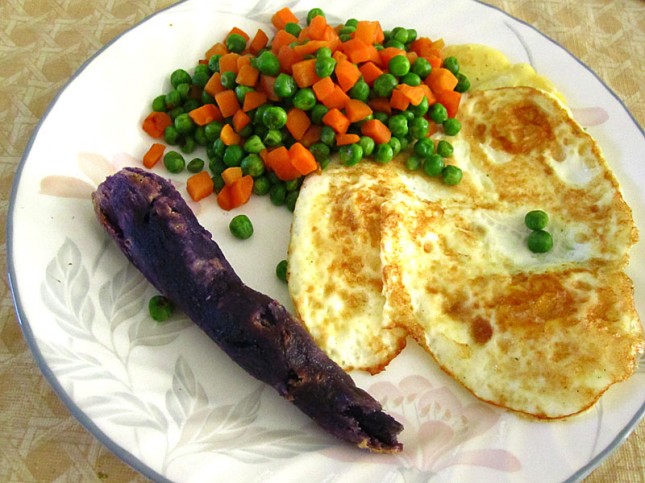 After finishing the breakfast, I sped off to Henry's Market, which is now officially become Sprouts to stock up some essentials.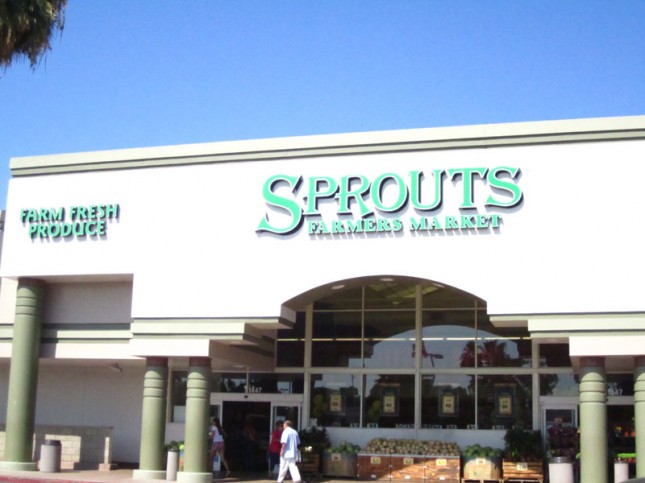 I also shopped extra protein for a dish that I'll bring for this coming potluck at my friend's place. She specifically mentioned that I bring 2 Paleo friendly dishes. 🙂 Anyway, she's the only real-life friend of mine who occasionally reads my blog so I guess she's sort of familiar with this Paleo concept?
I had an appointment in the afternoon and I knew that I didn't have any pre-cooked protein nor pre-seasoned ready-to-cook protein dish. Solutions?
More fried eggs cooked with tomatoes sauteed with Balsamic Vinegar Reduction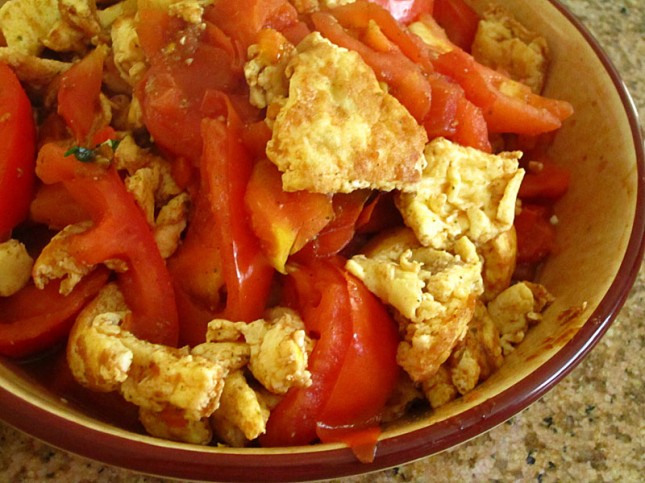 Stir fried Chinese greens with bacon bits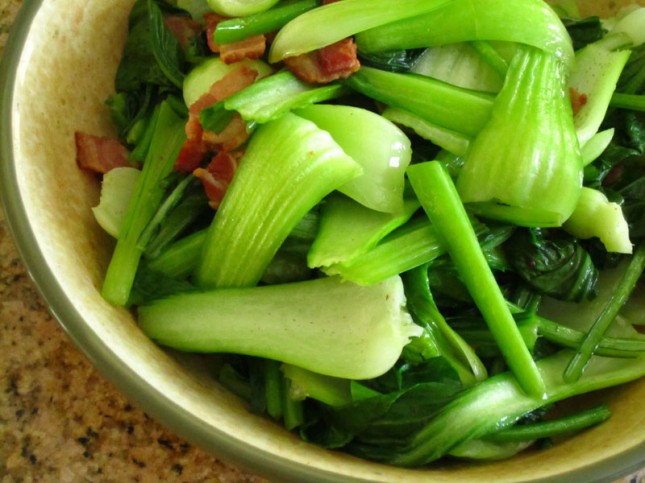 No protein, no problem! I loaded up the fat content by adding a chopped whole avocado to my lunch plate!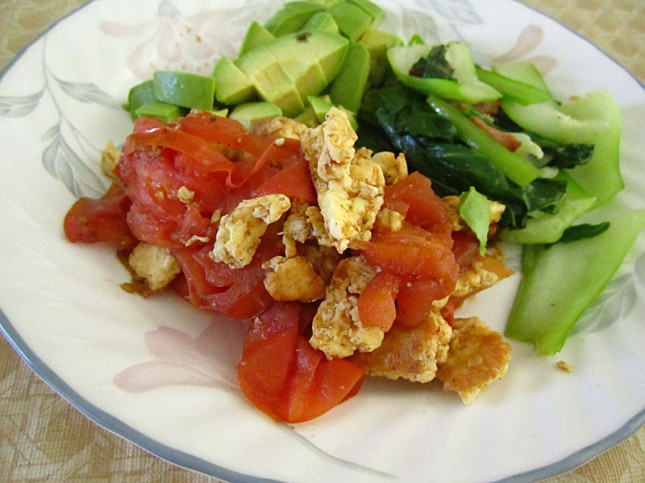 After I came back from the meeting, I felt snacky so I snacked a bunch of macadamia nuts that I just bought at Sprouts. Gosh, it was super addicting and I've been craving any salty crunchy snacks for the past few days. These nuts surely satisfied my cravings.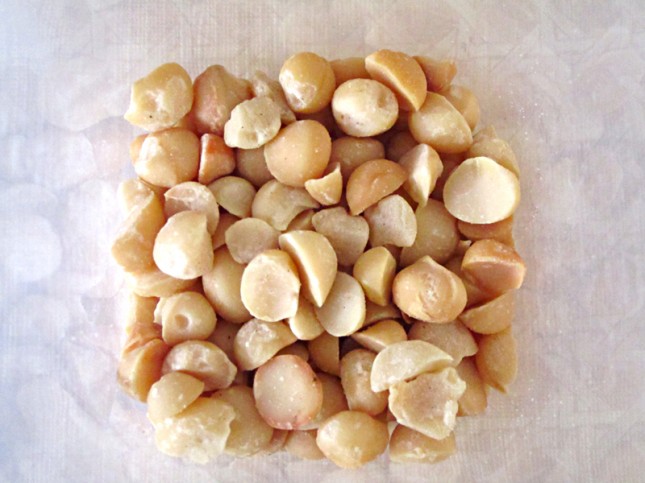 Plus Hubby K washed some grapes for me to snack on as well.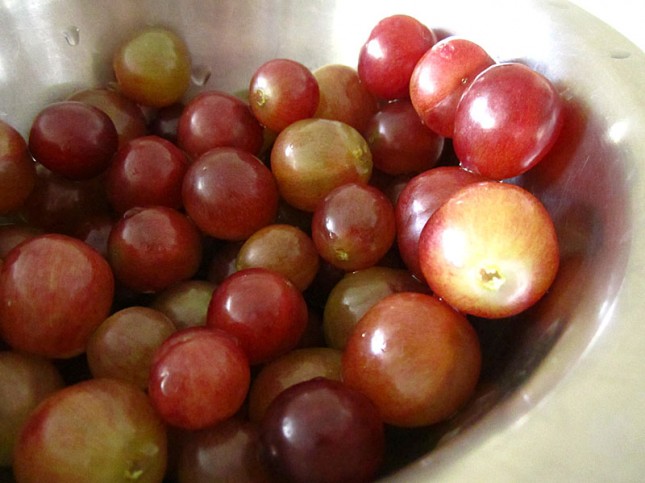 You'd think I'd have the same egg dish again for dinner, huh? WRONG. I could only eat as much eggs in one day. I don't mind to eat them at every single breakfast, but eggs for the entire day as my protein is not something that would appeal me much. Then I remembered I purchased this Groupon a while back and it was about to expire soon as well. Holy moly, what a lifesaver!
Hubby K and I drove off to downtown Long Beach to dine in at Gaucho Grill Restaurant, an Argentine Restaurant. Yeah I know their website is not updated. My groupon worth for $30 meal which I only paid $15 for it.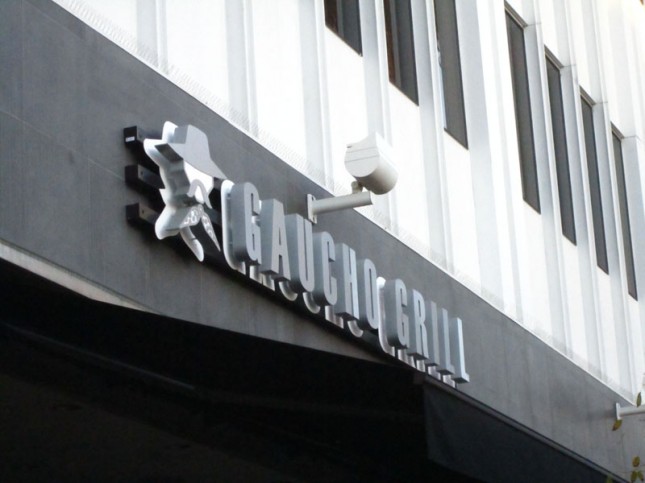 Reservation is not mandatory but might be recommended if you are coming here during weekends. But one good thing when making a reservation is they had our table ready when we got there. And it was a good seating area as well. 🙂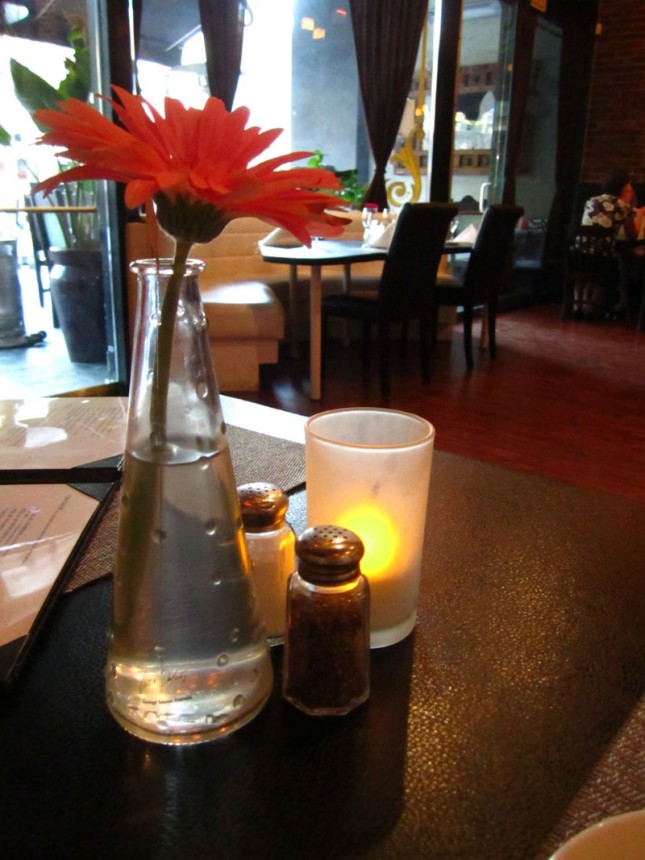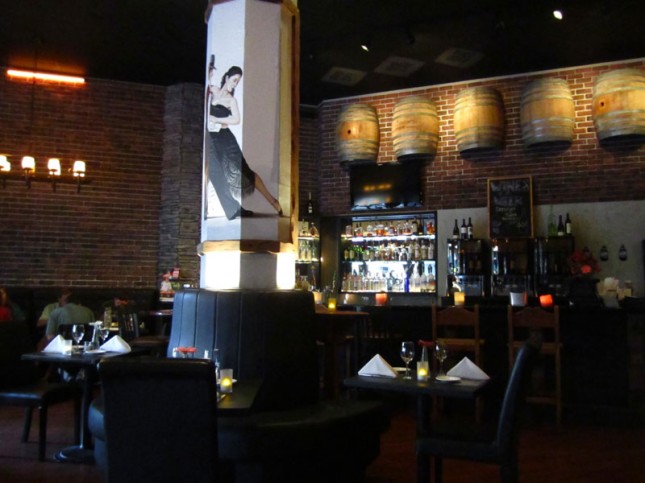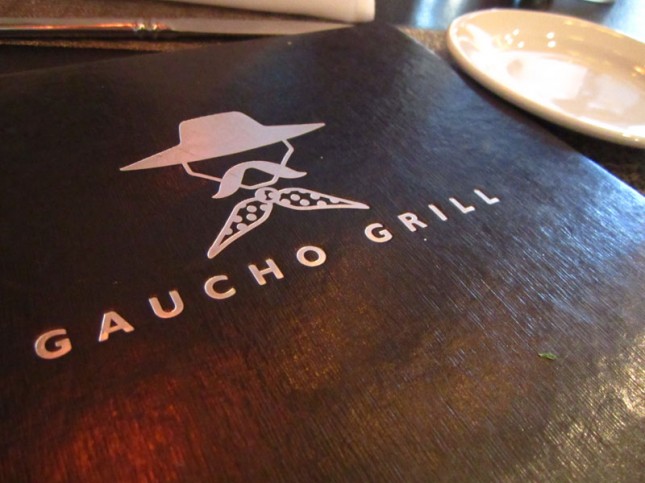 As usual we only ordered water without ice and with lemon slices for our drinks.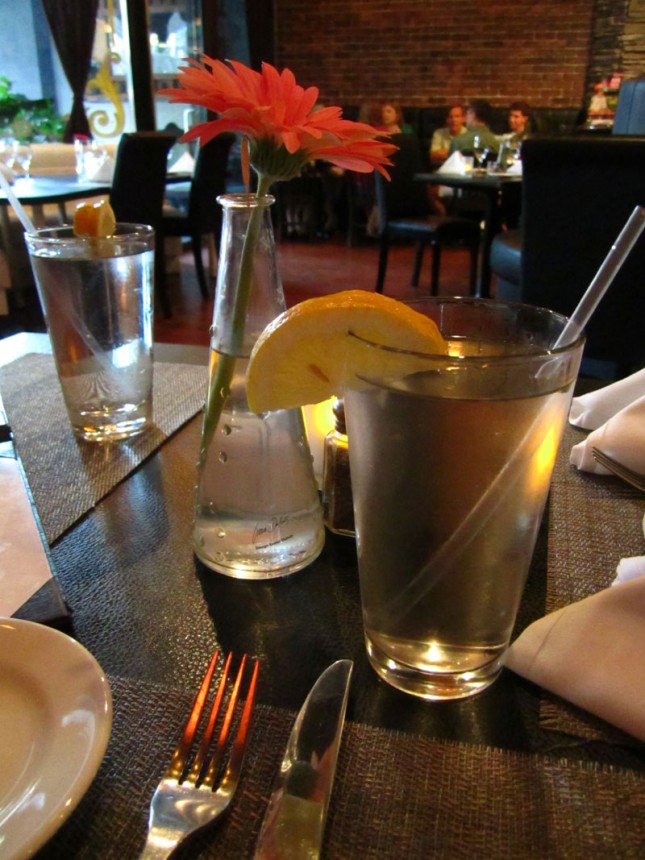 A complimentary bread basket with olive oil/herb dipping sauce. Hubby K pretty much the only one who finished the entire basket.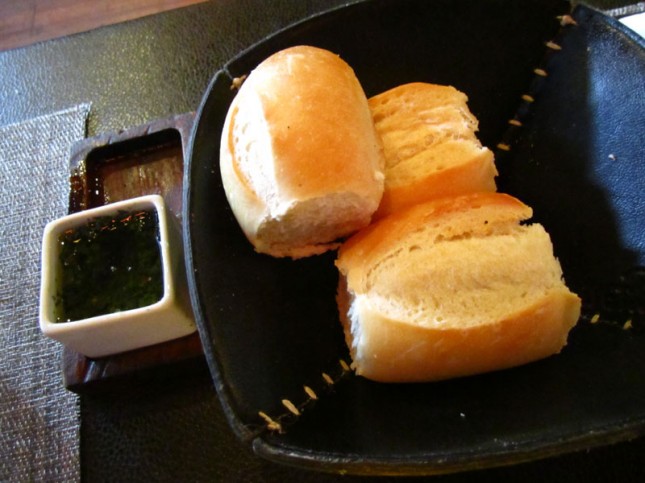 For starter, we ordered Argentine sausage. It was served on cast iron plate and came with a small salsa dish. It was pretty yummy.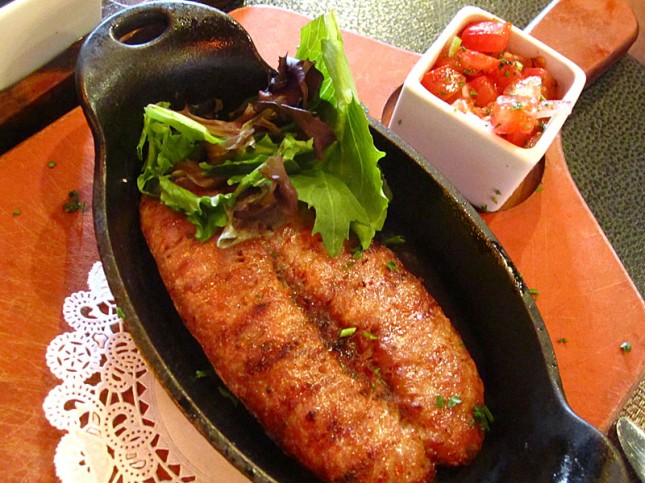 I snooped around on Yelp to see what mostly people recommended to eat here and Paleo-friendly in my agenda. It turned out the meat entrees are pretty much Paleo friendly.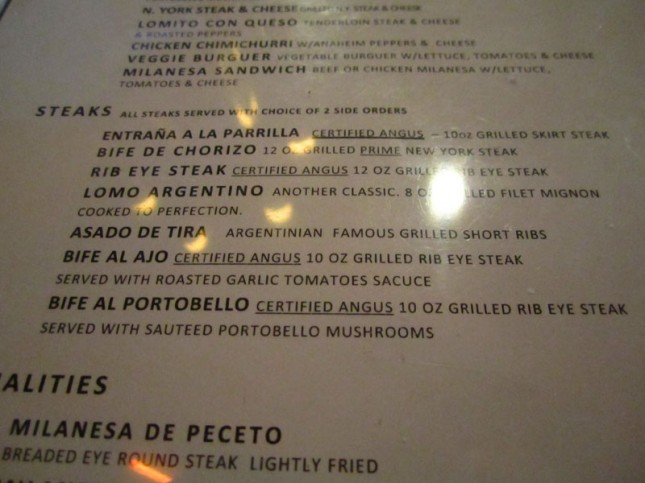 Each entree came with 2 side dishes of your own choice. I picked Bife Al Portobello (certified Angus 10 oz grilled rib eye steak served with sauteed portobello mushrooms) with grilled zucchini and sauteed broccoli as the side dishes.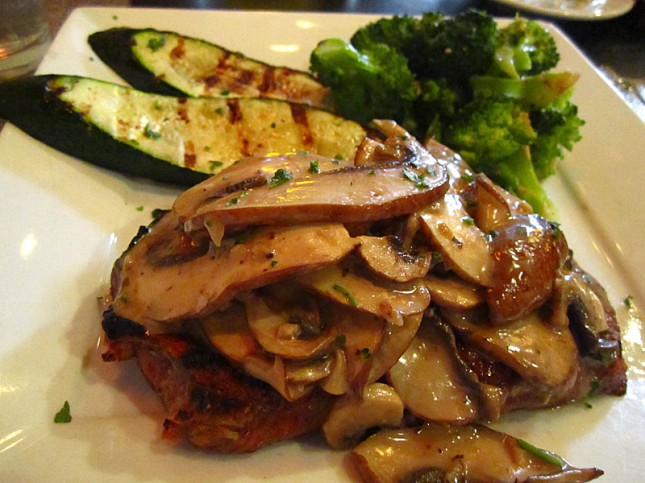 So many mushrooms, made me happy! But I assure you the steak was there!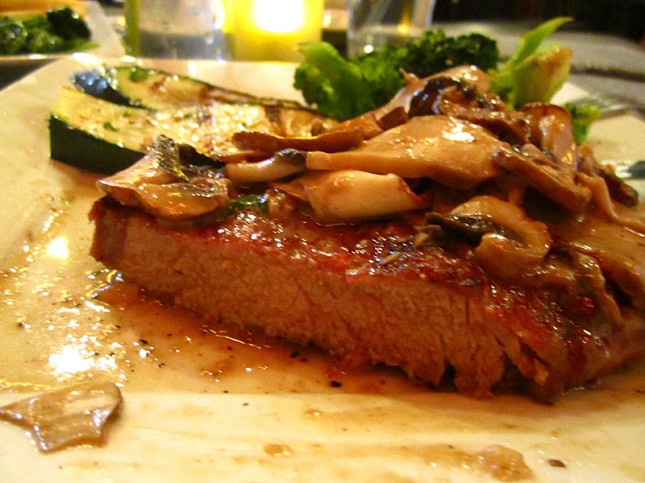 Hubby K ordered Asado De Tira (Argentinian famous grilled short ribs) with french fries and sauteed spinach as the side dishes.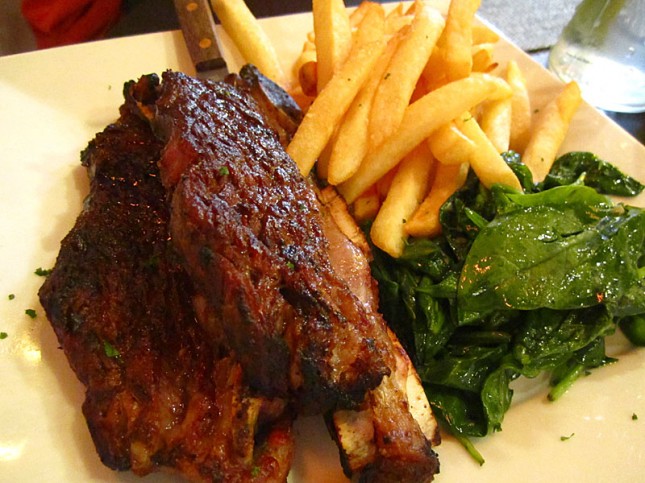 I won't lie, I did take some bites of those french fries and boy they were GOOD! I couldn't even remember the last time I had french fries.
Since I snacked quite a handful of macadamia nuts prior dinner, I wasn't super hungry so I boxed the steak (finished all the veggies though) and I'm happy that I'll have some ready-to-eat protein for the next day meal! 🙂
Our bill came up around $27 and the restaurant already applied 18% tips as well. Without Groupon, we might have to spend around $50 for this kind of meals.
Overall, I like the overall dining experience at Gaucho Grill and would love to come next time.