Happy Monday everyone!
It's very unusual for me to update this blog during weekday but hey I am trying to keep up posting at least 1 post per week.
Anyway I've been in love with this mini tuna patties as my go to snack. Perfect for in between meals when you need to eat something to tide you over before your main meal.
The best thing is, this recipe is super easy to make and doesn't take that much effort either! In the past, I've made some kind of patties but it needs to be pan fried, which took more time and I just wanted to make it simpler by baking them instead!
All you need is some canned tuna (make sure they are wild-caught). I really like Wild Planet brand and if you order in bulk in Amazon, you'll get some discount as well.
For seasonings, you can always use whatever seasonings to your like. Personally, I've been loving this homemade taco seasonings as my go to seasonings for most of my foods.
My hubby told me that these patties taste like Crab Cakes.
Without further adieu, here's the recipe. Simple and easy!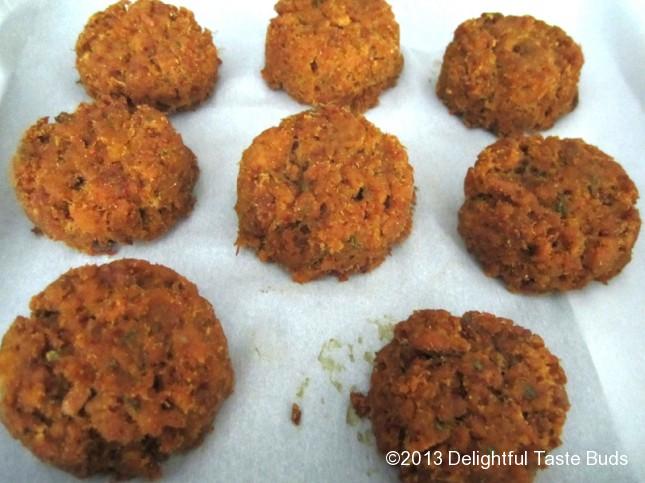 Mini Tuna Patties

Print recipe
Ingredients
10oz Canned Light Skipjack Tuna (salted) (I used Wild Planet brand)
2 Large eggs
1 teaspoon Aleppo chili pepper
1/2 teaspoon smoked paprika powder
1/2 teaspoon taco seasonings
1/4 cup coconut flour
1/2 teaspoon salt (if you are using unsalted canned skipjack tuna)
Directions
Step 1
Take out the canned tuna on a bowl along with its liquid. Mash the tuna until all the liquid integrated with the tuna.
Step 2
Crack 2 eggs and mix it throughly with the tuna meat. Add all dry seasonings.
Step 3
Lastly, mix in 1/4 cup coconut flour into the tuna mixture. Mix everything until no more lumps. The mixture will be thick but shouldn't be too dry
Step 4
Line a baking sheet with parchment paper. Pre heat oven to 400°F.
Step 5
Using 1/4 measurement cup, scoop the tuna mixture and plop it on the lined baking sheet. I got about 7.5 tuna patties.
Step 6
Bake for about 20-30 minutes or until the patties are no longer soggy looking.
Note
This nutrition facts is for 1 patty, NOT the entire thing!
Nutrition Facts
Serving Size (1 patty - 1/4 cup portion)
Servings Per Recipe 7.5
Amount Per Serving

Calories 82

Calories from Fat 28

% Daily Value*
Total Fat 3.1g
5%
Saturated Fat 1.3g
6%
Monounsaturated Fat 0.5g
Polyunsaturated Fat 0.2g
Trans Fat 0 g
Cholesterol 71mg
24%
Sodium 201mg
8%
Total Carbohydrate 2.5g
1%
Dietary Fiber 1.6g
6%
Sugars 0.4g
Protein 11g
Vitamin A
2%
Vitamin C
0%
Calcium
1%
Iron
4%
* The Percent Daily Values are based on a 2,000 calorie diet, so your values may change depending on your calorie needs. The values here may not be 100% accurate because the recipes have not been professionally evaluated nor have they been evaluated by the U.S. FDA.