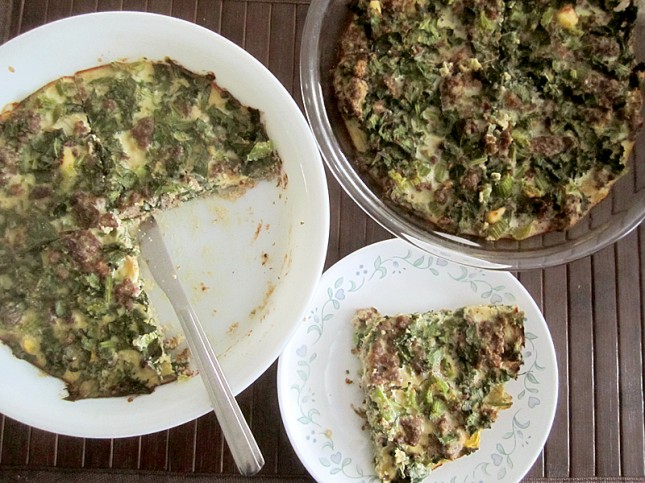 After I teased you a bit on my Facebook page couple days ago, here's the recipe for this gluten-free, crap-free, highly nutritious breakfast pizza. I've been enjoying these for my breakfast and love it. Sometimes I need to take a little break from those single egg cup serving just to get more variety.
Hope you enjoy it! 🙂
Breakfast Pizza

Print recipe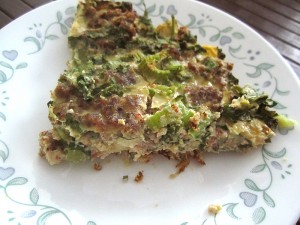 Easy and simple way to make nutritious gluten-free breakfast food that can be made ahead. High protein, fiber and moderate fat.
Ingredients
1 3/4 cup squash (chopped)
3 Large whole eggs
3 tablespoons egg white protein powder ((mixed with 9 Tablespoons of water) or you can use 3 fresh egg whites)
2 cups kale (chopped)
1 cup celery (diced)
1oz cheddar cheese ((I used Kerry gold Cheddar cheese - 1 thin slice))
1 dash salt to taste
1/2 teaspoon black pepper powder
1/2 tablespoon Red Boat Fish sauce
8oz cooked grass-fed ground beef ((I cooked 1lb ground beef and measure it from there))
1 tablespoon coconut flour
1 teaspoon red chili pepper ((I used aleppo chili pepper powder))
1 teaspoon coconut oil, melted (for greasing)
Directions
Step 1

Heat the skillet with medium high heat. Cook 1lb ground beef until browned and most of the liquid evaporated. When the beef has cooled down, measure them to get 8 oz. Reserve extra for other use.

Step 2

While the meat is cooking, chop your squash and measure it with your measurement cup. I used 1 medium size and it yield 1 3/4 chopped squash.

Step 3

Put the chopped squash into a blender and puree it.

Step 4

Prepare the kale and celery as well.

Step 5

Using the same skillet to cook the ground beef earlier, saute the chopped celery until half cooked.

Step 6

Lightly beat eggs and egg whites then combine all ingredients together (ground beef, cooked celery, chopped kale, chopped cheddar cheese, and the seasonings)

Step 7

Preheat oven to 350°F. Lightly grease two 9" oven safe pie pans with coconut oil

Step 8

Using 1 cup measurement, scoop out about 2 cups to one pan.

Step 9

Do the same with the other. Arrange mixture so it covers the plate evenly.

Step 10

Bake for about 30-35 minutes, rotating the plate halfway so the top will be browned evenly.

Step 11

The pizza will be done once it's set and toothpick came out clean. Set aside and let it cool prior slicing.

Step 12

Using a sharp knife (of if you are fancy, use a pizza cutter), slice the pizza into 4 equal slices per pan so you will get about 8 thin slices.
Note
Here's the nutrition facts per 1 slice. The recipe makes about 8 slices in two 9" pie pans. Each slice is about 1/4" thickness.
Nutrition Facts
Serving Size (120 g)
Servings Per Recipe 8
Amount Per Serving

Calories 127

Calories from Fat 63 (49%)

% Daily Value *
Total Fat 7 g
11 %
Saturated Fat 3.2 g
16 %
Monounsaturated Fat 3.1 g
Polyunsaturated Fat 0.5 g
Trans Fat 0 g
Cholesterol 111 g
37 %
Sodium 215 mg
9 %
Potassium 302 mg
9 %
Total Carbohydrate 4 g
1 %
Dietary Fiber 1 g
4 %
Sugars g
Protein 9 g
18 %
Vitamin A
57 %
Vitamin C
42 %
Calcium
8 %
Iron
6 %
* The Percent Daily Values are based on a 2,000 calorie diet, so your values may change depending on your calorie needs. The values here may not be 100% accurate because the recipes have not been professionally evaluated nor have they been evaluated by the U.S. FDA.