Happy Saturday peeps! Sorry for the lack of updates lately. A lot of things going on and if you are my friend on FB, you might catch my "bold statement" last week. It's not that bad in reality but I don't want to make myself feeling stuck at the current place because I KNOW that I could do a lot better and I have more skills than what they utilize me working there. Not looking to jump out right away, gotta plan things properly, you know.
Enough boring talk! I'm more excited to tell you my first kettlebell class today. For the past 2 years, I've been only working out at home by myself without any supervision from any professional trainers. Whatever I'm doing are just by watching online videos, website such as LovingFit or Bodyrock.tv (when Zuzana was still a host, not anymore now. I don't even bother to click there anymore!)
Having a professional trainer supervising my every moves definitely made a difference. I understand more why we need to do thing certain way and why not another. Overall he said my forms are pretty good, especially my squats. I do have a lot of work to do for my upper body as it is my weakest part!
Here what I've learned today: KB swing, clean, snatch and press, squat, turkish get up. In addition to that I also got a chance to practice assisted pull ups, sled push and rope.
Since there was no scheduled class on Saturdays, the trainer set this fundamental class at 9am and I was the only one there. It was quite cool because it was almost I had a one to one training. The class went longer than what was planned. I didn't even believe I was there until 11 am! And since there were nobody came after ward, I asked him to put a little workout together using the techniques that I just learned today.
2 Rounds:
10 KB swing (withg 22lbs KB)
10 1 arm clean and press (R/L)
20 KB goblet squat (22lbs then 25lbs on 2nd round)
1 turkish get up (10lbs KB) – R/L
Then 5 assisted pull ups and 40 yards x2 sled push
Just by those I was sweating quite a lot despite the freezing gym. Another thing that I like, I could actually use the other facilities in the gym. The front part of the gym has the typical weight lifting and cardio machines. Overall, the whole gym set up is pretty much like a CrossFit gym since they share the same facility. The only difference is we are not doing any Olympic bar for any liftings. It's good in some ways because that thing scares the hell out of me and I know myself that I might injure myself easily doing those.
Long Beach Kettlebell Club is a nice place to go. The only bummer thing for me it's a bit far to drive (20 miles one way!). I wish there's similar facility nearby where I live. I might only have time to go there on Saturdays and Sundays at 9am. For now I might just stick with drop-in instead of committing to a class package. We'll see from there.
Btw I had a great Carb Nite last night! I think I ate about 150g worth of starchy carbs. No bloating, no cramping like last week. Definitely I won't try to do some funky new kitchen experiment when doing Carb Nite. For now I'll stick to basic steamed sweet potatoes and yucca fries.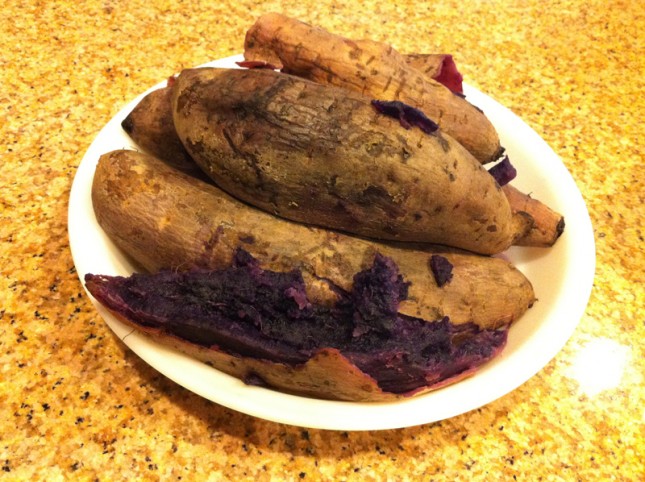 Have you tried something new lately?