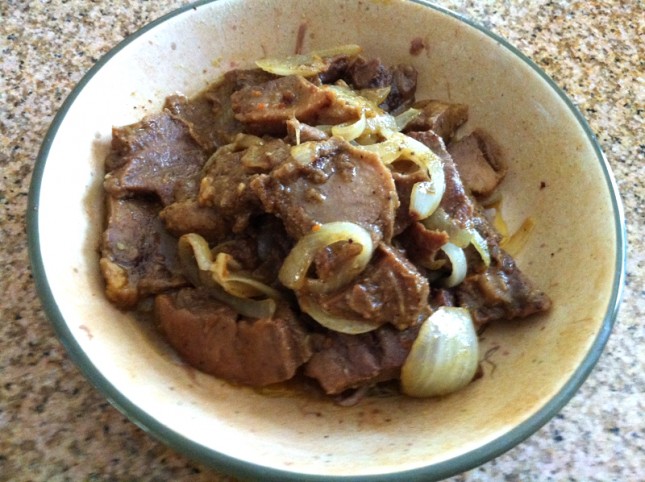 Ingredients:
2 lbs grass-fed beef tongue
3 cups water
1-2 Tbsp Red Boat Fish Sauce
4 garlic cloves
2″ galangal root (or subbed with ginger root)
1 tsp salt
1 tsp turmeric powder
1 tsp coriander powder
1 tsp cumin powder
1 tsp aleppo chili pepper
1 tsp cloves powder
1 tsp black pepper powder
1 Tbsp coconut oil
1/2 white onion – sliced
2 Tbsp coconut butter
Directions:
1. Rinse and pat dry the beef tongue.
2. Place in a pressure cooker with 3 cups of water, 1-2 Tbsp fish sauce, 4 garlic cloves, and galangal root (or ginger).
3. Lock the pressure cooker and turn up the heat until it reaches its pressure. Once it reached its pressure (when it's hissing pretty hard), turn the fire to low without completely losing the pressure. Cook in this low heat for about 1 hour to 1 hour and 10 minutes.
4. Meanwhile, mix the dry spice ingredients (salt, turmeric powder, coriander powder, cumin powder, aleppo chili pepper powder, cloves, black pepper)
5. Take out the beef tongue from the pressure cooker (after the it's safe to take it out) and peel off the hard skin from the tongue also any of the taste buds texture. Sorry if this might look gross to some of you.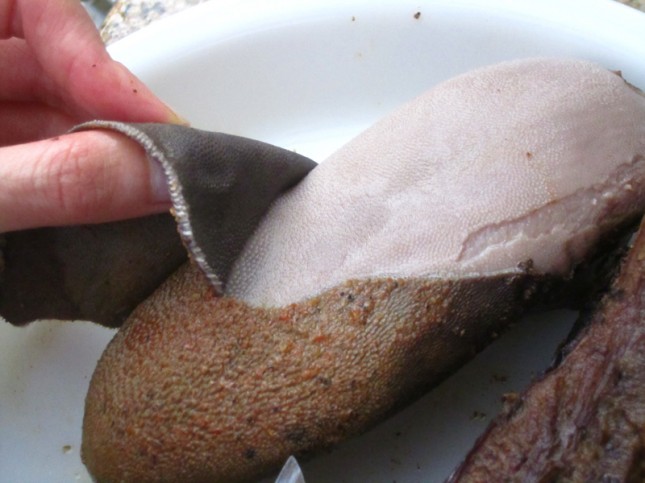 6. Slice the tongue into pieces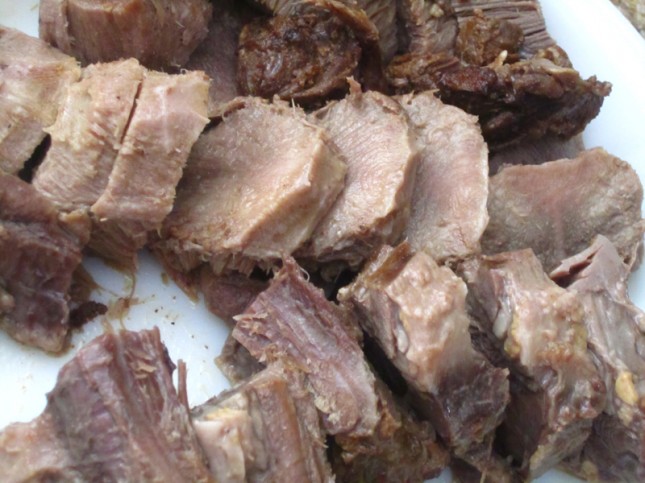 7. Heat the skillet with 1 Tbsp coconut oil in medium high heat.
8. Sautee the sliced onion until brownish. Mix in the cut up beef tongue. Sprinkle with the spice combo powder.
9. Pour in the remaining braising liquid earlier and turn up the heat to high to reduce the liquid. Mix in 2 Tbsp of coconut butter.
10. When the sauce appear to thicken, turn off the heat.
Enjoy! This dish is very simple to make. The only time consuming is cooking the tongue so it'll be tender enough. If you don't have a pressure cooker (go out and get one, will ya?), you could also cook them in a slow cooker. Just adjust the timing accordingly. I don't have a slow cooker so can't really guide you with that.