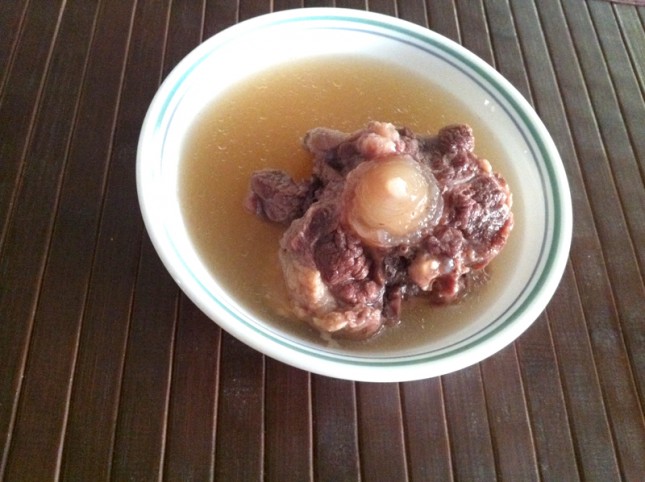 We love oxtail soup and it has become one of our staple dish lately. Eventhough it's not quite an ideal dish for this summer, but oxtail soup just like Chicken broth is a good source of non-dairy calcium for our bones health. Besides I like enjoying this kind of bone broth better than just cooking beef bones without much meat.
Ingredients:
2-3lbs grass-fed oxtails
1 garlic bulb
1 onion, peeled and cut into wedges
1″ ginger knob
3-4 star anise
1 Tbsp Red Boat Fish Sauce
1 tsp salt
1/2 tsp white pepper powder
3-4 lemon grass stalks (optional)
3-5 quarts of water
Directions:
1. Dump all ingredients in a pressure cooker. Add more water if necessary. Make sure the oxtails are submerge in water.Lock the lid and bring to boil.
2. When it starts hissing, turn down the fire to medium low without bringing down the pressure. Cook for about 1 hour to 1 hour 15 mins. Turn off the heat and wait for about 10 minutes to bring the pressure down.
Very simple, easy and yummy to the tummy! 😀
As I never own a slow cooker, I am not exactly sure how to do this. But pretty sure you could dump all the ingredients in the slow cooker, then cook them in low for about 8 hours. Correct me if I'm wrong.